Some of the most insanely talented sneakerheads from around the world have been using their impressive art skills to recreate their favourite Nike silhouettes. The reason? I suppose, much like us, they can't get enough of the sneaker king that is Nike. I mean, you know you've got to be a dedicated fan of the Swoosh brand if you are willing to spend hours painstakingly piecing together an awe-inspiring LEGO Air Jordan sneaker or carving out intricate details on a cake to ensure you perfect a custom Nike Dunk Low dessert. And some of these incredible artists continue until even the most intricate details have been captured. From meticulously recreating every stitch on a marble LeBron xx sculpture to ensuring no logo is misplaced on an Air Jordan 1 created out of e-waste (yes, e-waste). In short, these artists go above and beyond to showcase their most beloved Nike sneaker models in original artworks. 
RELATE: Nike Air Jordan 1 "Tainos" Custom Sneakers Are Marvellous
So, naturally, when we stumble across these marvellous odes to Nike's body of work, we can't help but be prompted to share these fantastic creations with the rest of the sneaker community. While I may be slightly jealous that I don't possess even an inkling of the creativity and patience to pull off such feats of artistry, I am still more than happy to share some of our favourite Nike sneaker artworks. Hopefully, you'll be just as blown away as we were (and still are).
Matthew Senna "Bronze Air Jordan 1"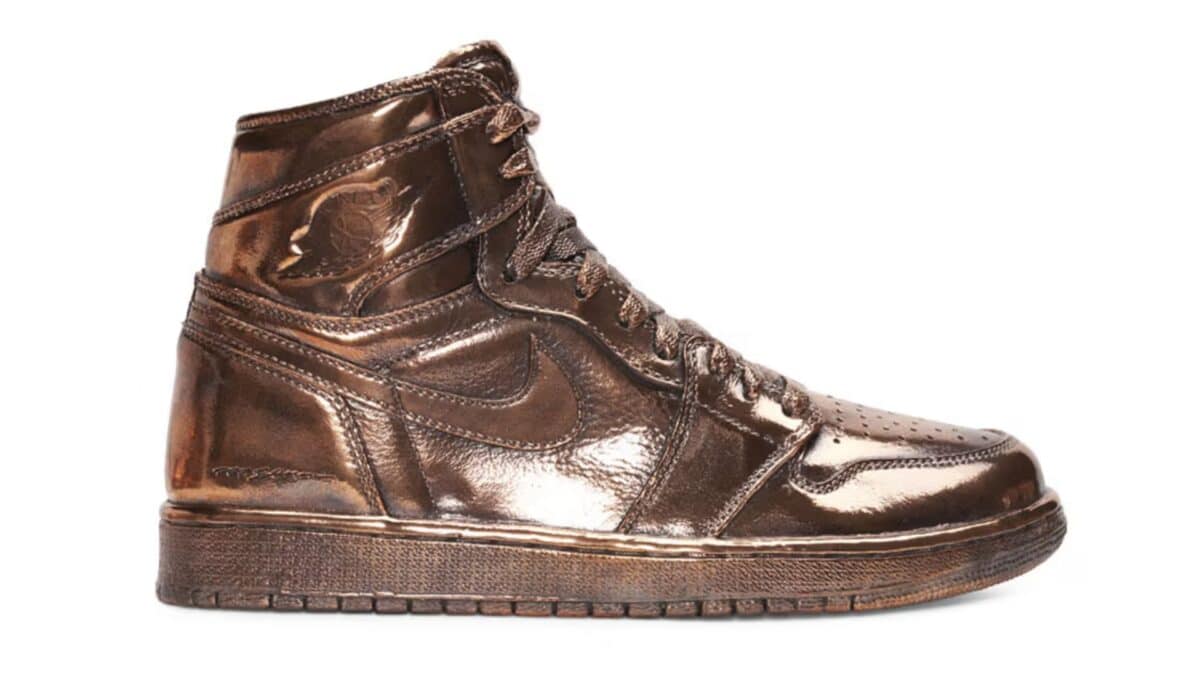 I am sure by now, many sneakerheads are familiar with Matthew Senna's work. This incredible artist has created amazingly detailed sneaker sculptures for celebrities like Drake, Jay-Z, and more. While this bronze-cast Air Jordan 1 sneaker is one of his older works, it hasn't lost its shine (pun intended). The way he was somehow able to capture the creased leather look and the intricate details of the Air Jordan 1 is truly remarkable.
Of course, this creative isn't limited to only bronze sculptures. Senna has also experimented with other materials, which you are welcome to view with a quick scroll through his Instagram page @msenna.
Michael Murphy, "AIR"
This three-dimensional artwork by Michael Murphy is another oldie but a goodie that we can't get enough of. "Air" is a mind-bending sculptural masterpiece that shifts into a completely new perspective depending on the viewer's angle. The piece consists of various suspended objects that create the illusion of weightlessness and floating mid-air. This is probably why this talented artist is Jordan Brand's go-to for creating stunning installations for their stores and events.
Murphy's ability to manipulate space and challenge our perception makes "Air" a captivating and unforgettable experience for anyone who encounters it. If you want to be mystified by more of his work, then don't hesitate to scroll through his Instagram, @perceptual_art.
Our favourites. Available now at Nike.com
Gabriel Dishaw, "Upcycled Air Jordan 1 OG"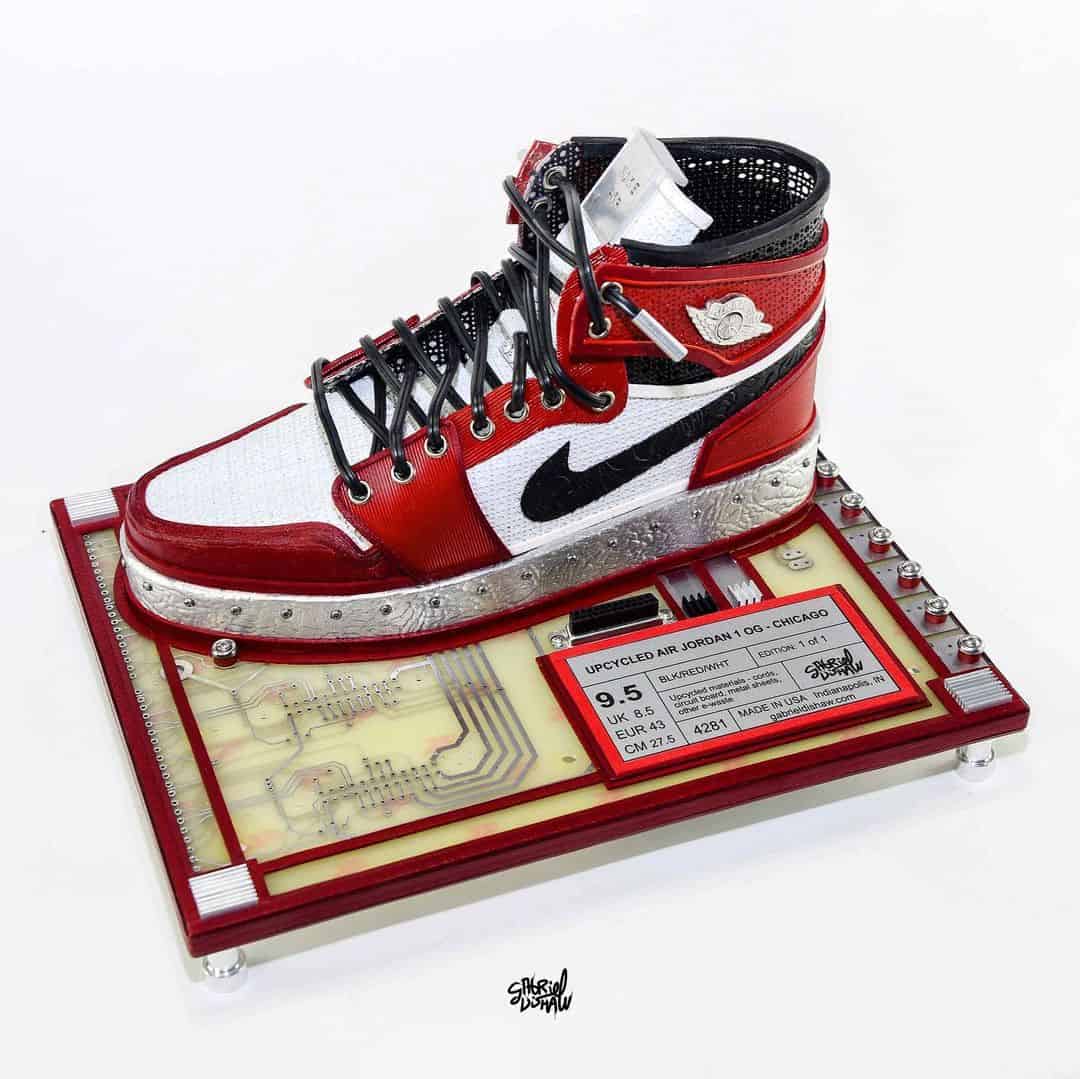 Have you ever imagined creating an Air Jordan 1 sneaker from old cords, circuit boards, and other e-waste? Well, artist Gabriel Dishaw did just that with his "Upcycled Air Jordan 1 OG" masterpiece. Who would have thought that some old electronic components would create such a beautiful work of art?
Dishaw has also created sneaker sculptures based on his idea of their appearance in an 8-bit digital world. Needless to say, I am highly impressed with these creative works. Even more so because they combine two seemingly unrelated elements—sneakers and electronic waste—to create something visually stunning and thought-provoking. Check out these upcycled sneaker sculptures via @gabrieljunkart. You may need to scroll through a few Star Wars posts (which are also super cool) before you get to the Nike sneaker artworks, but they are there, I promise.
RELATED: PUMA X Bradley Theodore Brings Street Art To Life With Suede 50
Tom Yoo, "Forever One"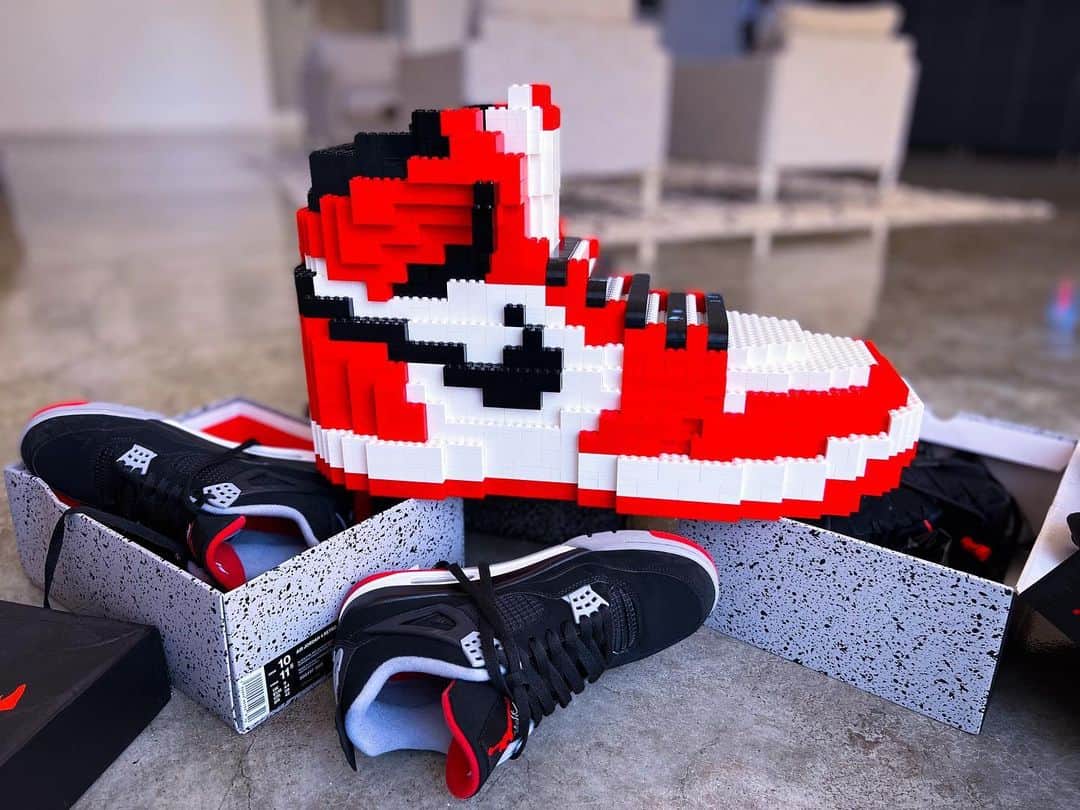 Is there anything you can't do with a bit of imagination and some LEGO blocks (or a lot in this case)? Tom Yoo proves just how endless the possibilities are with his sneaker-themed building block sculpture. Weighing 18 pounds and boasting over 6500 LEGO pieces, Yoo's creation is a BIG nod to the Air Jordan 1 silhouette. I can only imagine how long it takes to create a sneaker from LEGO, let alone one as big as this. Thankfully for us, Yoo has done all the hard work, and we can sit back and be amazed.
You can find more pictures of this fantastic LEGO build and others on Tom Yoo's Instagram page, @tomyoo23. While he has been quiet lately, we hope this only means he has more amazing Nike sneaker artworks in the pipeline.
Aymeric Gillet, "Air Jordan 1 Retro High Off-White Chicago"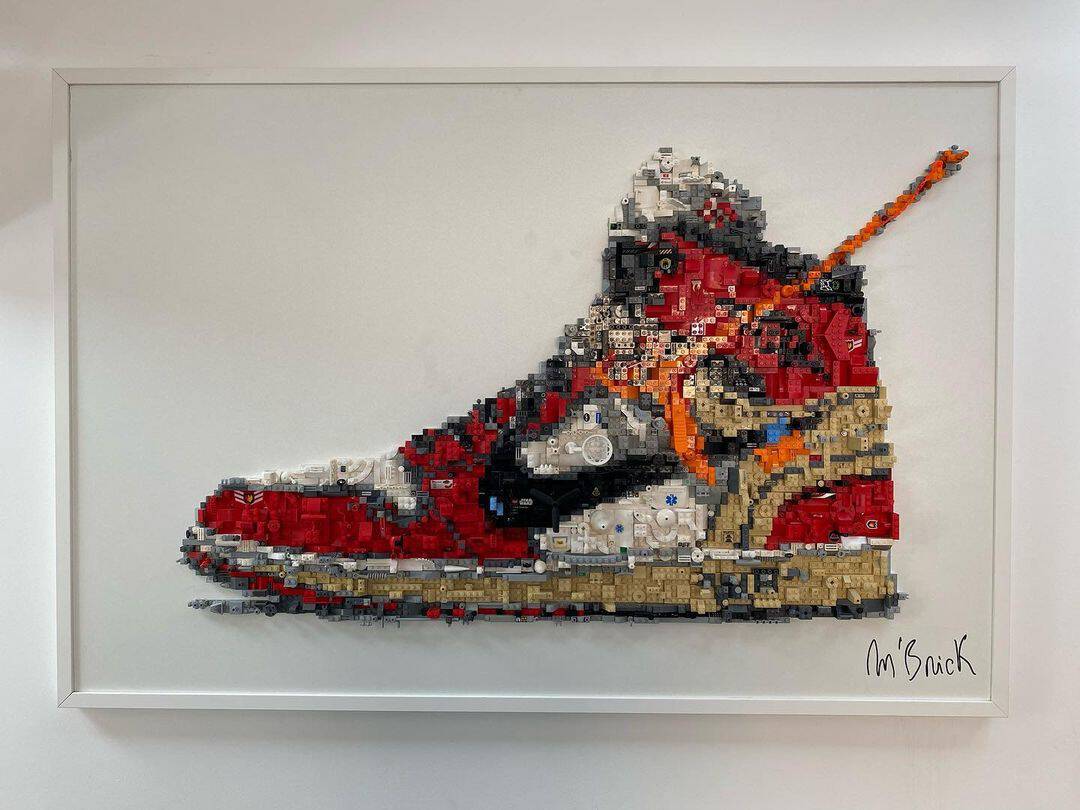 From a Lego sculpture to framed Lego art, Lego and Nike are clearly a match made in creative heaven. This artwork, created by Aymeric Gillet, or M'brick, if you will, takes inspiration from the Air Jordan 1 Off-White "Chicago". We all know just how difficult (and expensive) it is to get your hands on this legendary sneaker, so why not get your hands on this playful Lego rendition instead? Gillet did an excellent job on the details of this artwork. And seeing all the tiny little pieces that go into making this build is crazy.
Get a closer look at this amazing LEGO creation on @mbrick_art's Instagram. And Lego, if you can hear me, we could really use some LEGO and Nike collaboration sets. Please, and thank you!
Danielle Rovetti, "The Originals"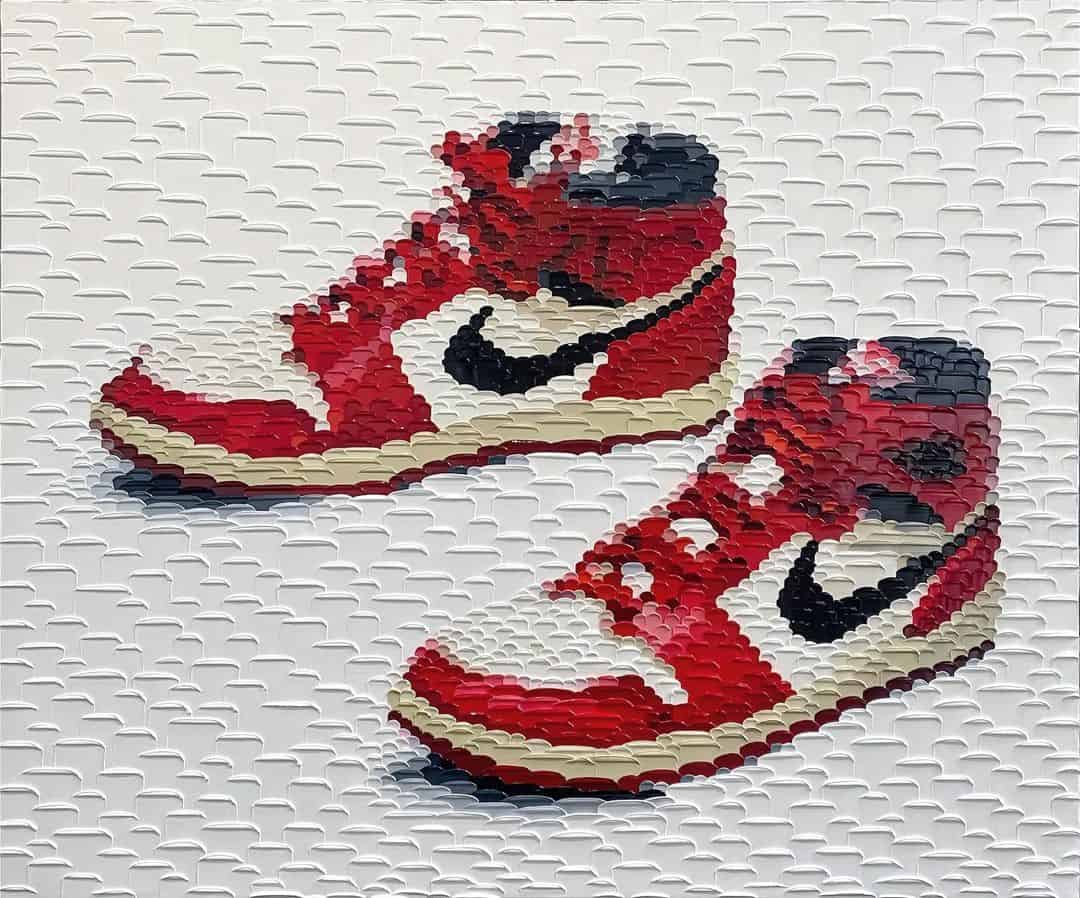 While Danielle Rovetti may not be a sneakerhead, this stunning canvas oil painting was most certainly created for one, which is why I am unquestionably adding "The Originals" to this list. Thanks to the incredible palette knife technique, the painting produces a striking 3D effect. I would probably stare at this beautiful artwork all day if it hung on my wall. So, it's probably a good thing that I do not have the budget to own one of these paintings (insert laughter and tears).
While you may not find other Nike sneaker artworks on her page, Rovetti has other fantastic pieces on her Instagram, @danielle_rovetti_art. From a portrait of the legendary Kobe Bryant to a skilfully rendered Batman painting, you will undoubtedly want the chance to see these stunning works for yourself.
Steph Morris, "Nike SB Dunk Low Paris"
If you look at this picture of the Nike SB Dunk Low "Paris", you will swear it's a photograph, but you'd be wrong. This hyper realistic drawing is an artistic marvel by the oh-so-talented Steph Morris. How is it even possible to get that amount of detail into a hand-drawn image? From the details of the canvas texture to the wrinkles on the leather swoosh, Morris doesn't miss a thing. Every element is captured with such precision that it blurs the line between reality and art.
Morris's mastery of shading and perspective creates a three-dimensional effect that makes her drawings come to life. Be sure to view some of the other Nike sneaker artworks she has created @stephfmorris. Her page will undoubtedly have you wondering what is real and what isn't.
RELATED: PUMA X AkaBoku Brings Street Art to Life with Debut Collection
Gracey's Cakes, "Custom Nike Dunks x Gracey Cake"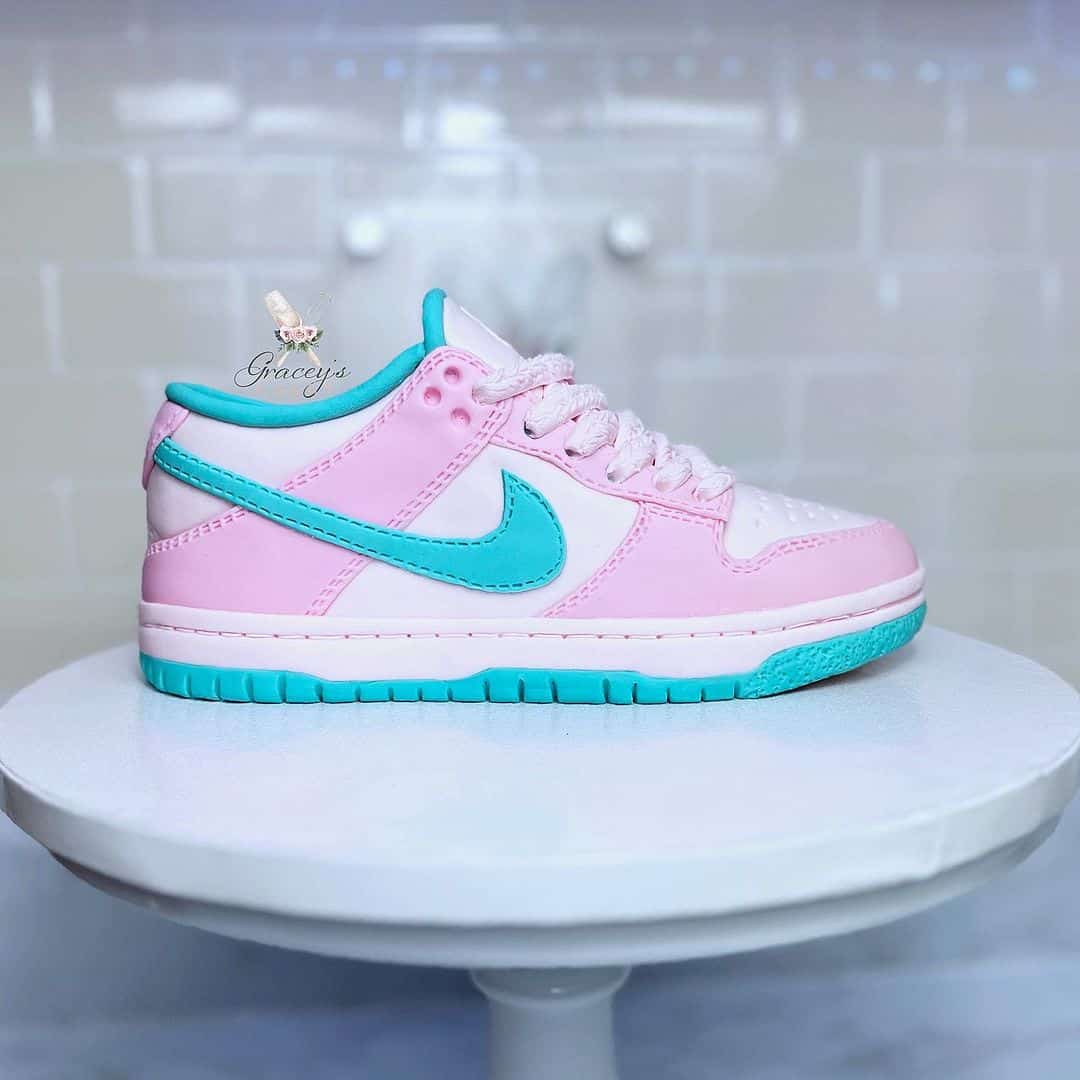 Anyone who has baked a cake before knows the sheer amount of effort that goes into getting fondant to look smooth and flawless. So, when you find a custom sneaker cake sans lumps and bumps, it is definitely a feat worth celebrating. Gracey's cakes did a fantastic job capturing the intricacies of the Dunk Low silhouette in edible form. If it were created in a darker colourway, I would have trouble picking up that this design is just delicious cake. From the detailing on the laces to those realistic stitches along the sole, Gracey's cake created a sneaker cake masterpiece. You can check out some of her other delicious sneaker artworks (like how she perfectly captures the patent leather look of the Air Jordan 11 Retro) via her Instagram, @graceys.cakes.
Monsieur Plant, "BIGWOOD: Nike Air Force 1"
I never imagined coming across a massive Nike Air Force 1 carved from a tree. But I did, and it's beautiful. Monsieur Plant is taking the concept of land art to a new level with his Nike sneaker artworks. Not only does this talented artist and exceptional gardener create stunning sculptures from carved wood, but he also dresses up Nike sneakers with delicate florals, bark, and moss to create wearable art pieces. However, I'm sure most people wouldn't dare step foot in these marvellous creations for fear of damaging them.
If you want to see more of this incredible nature-meets-fashion fusion, Monsieur Plant's Instagram page, @monsieur_plant, is a must-visit.
Brock DeBoer, "Toile de Jordan 1's"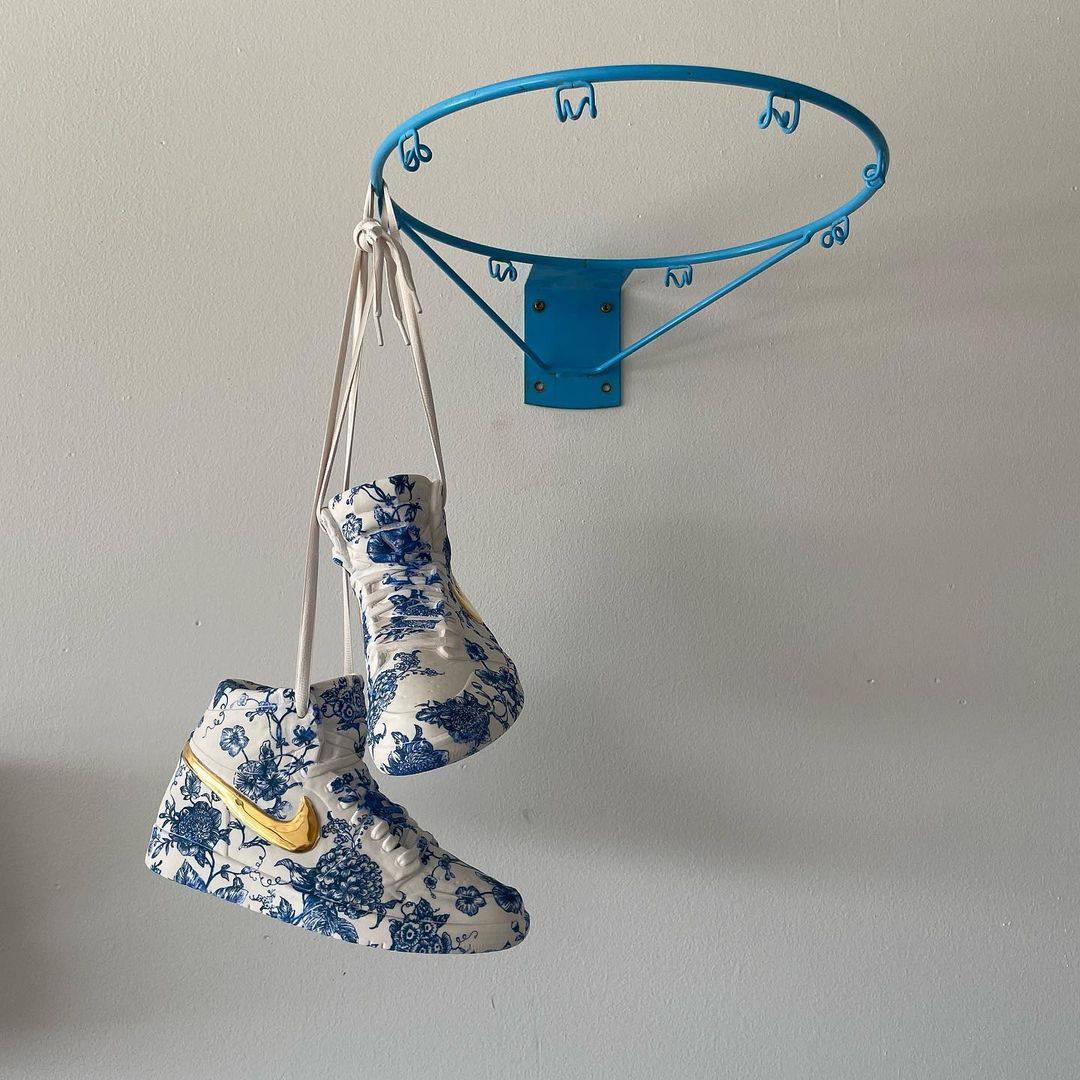 A porcelain Air Jordan 1 sculpture covered in cobalt blue toile de jouy-esque patterning? Uhm, yes, please! I don't know what I would do with this stunning piece of art by Brock Deboer, but I know I want it. The stunning gold swoosh and perfectly detailed traction patterns only add to the elegance of this design. Is it strange that I wish Nike would make this an actual colourway in the Air Jordan 1 lineup?
DeBoer has an entire collection of these amazing designs to peep at on his Instagram page, so take some time to look at these stunning creations from @b_r_o_c_k on Instagram.
RELATED: PUMA Drops Second Collaboration With Graphic Artist, Shantell Martin
Alasdair Thomson, "LeBron XX Marble Scultpture"
Sculptor Alasdair Thomson created a beautiful sculpture from Italian Carrara marble to honour King James becoming the NBA's all-time leading point scorer. With the LeBron XX sneaker as his muse, the talented artist carved a stunning tribute reminiscent of the monuments sculpted during the Renaissance era. With its fine details and smooth marble finish, this beauty is a sight to behold.
Alasdair has some incredibly detailed creations under his belt. He has also created a massive Jordan 3 sculpture installed outside Sneakersnstuff in Tokyo. Do yourself a favour and check out this skilled creative's work on Instagram via @alasdairctomson. You won't regret it.
Are there any amazing Nike sneaker artworks you have come across?