Fashion trends ebb and flow, often drawing influences from years gone by. This enchanting cyclical pattern is the reason behind the popularity of custom Nike sneakers boasting vintage aesthetics. But designs don't only need to pull from major clothing trends of that era. Sometimes, it's as simple as the porcelain patterns on a vintage teacup or the intricate embroidery on an old tapestry that sparks inspiration for unique and personalized Nike sneaker designs. And the results are absolutely breathtaking. Take a look for yourself.
RELATED: The 5 Best Nike Sneaker Collaborations of 2023
1. "Vintage Rice Sack" Nike Dunk Low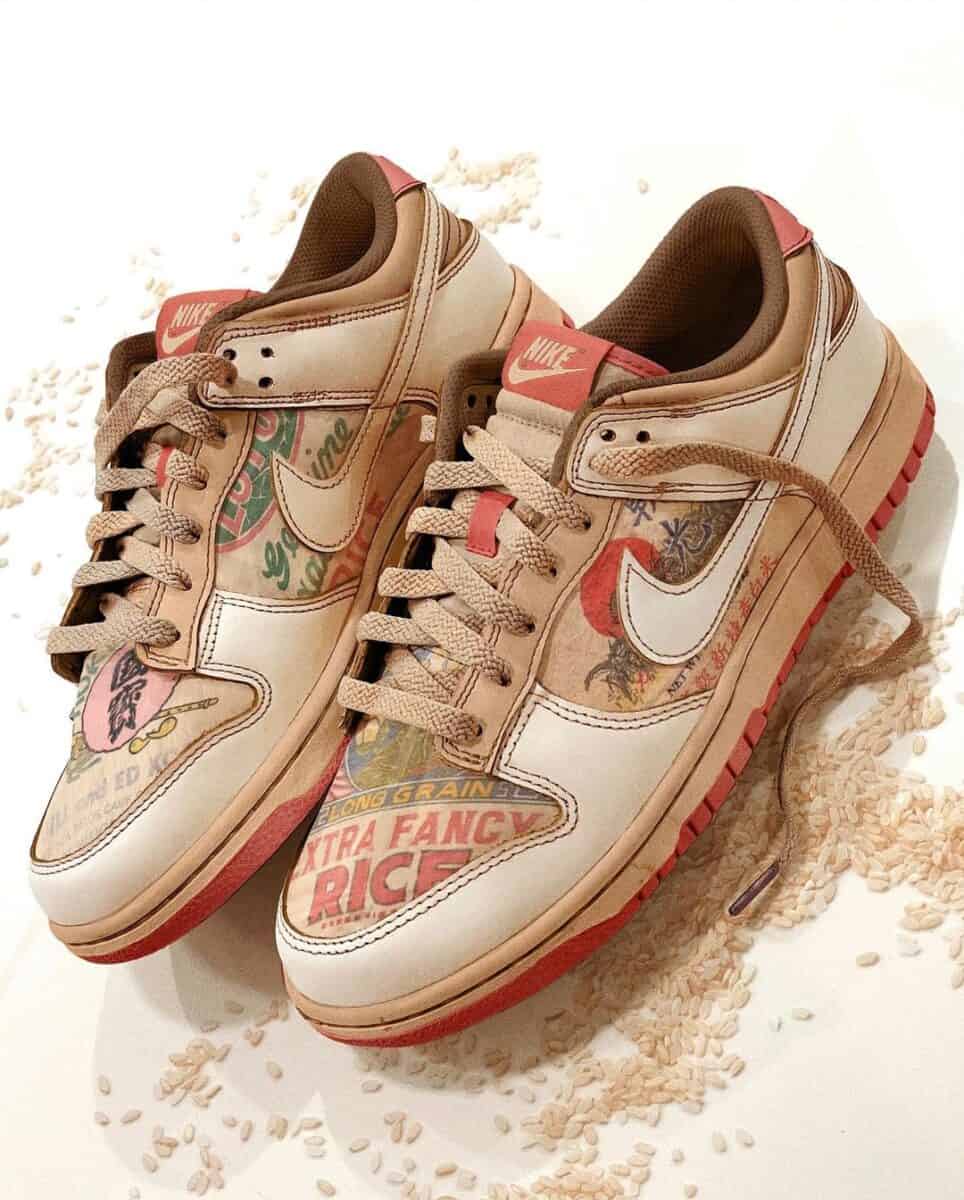 Andrew Chiou, better known as @andu.c on Instagram, brilliantly repurposes the unassuming vintage rice sack into an enchanting Nike Dunk Low design in this sneaker concept. His unique design sees cut-outs of vintage rice sacks enliven the Dunk Low's toe box and quarter panels while the remaining parts exhibit a weathered, vintage vibe. Artfully spread pops of red, then add a splash of colour to the otherwise muted tones of the design, perfectly tying the vintage theme together. Who knew a simple rice sack could birth such an incredible pair of stylish kicks?
2. Grandma's Bowl AJ1 Mid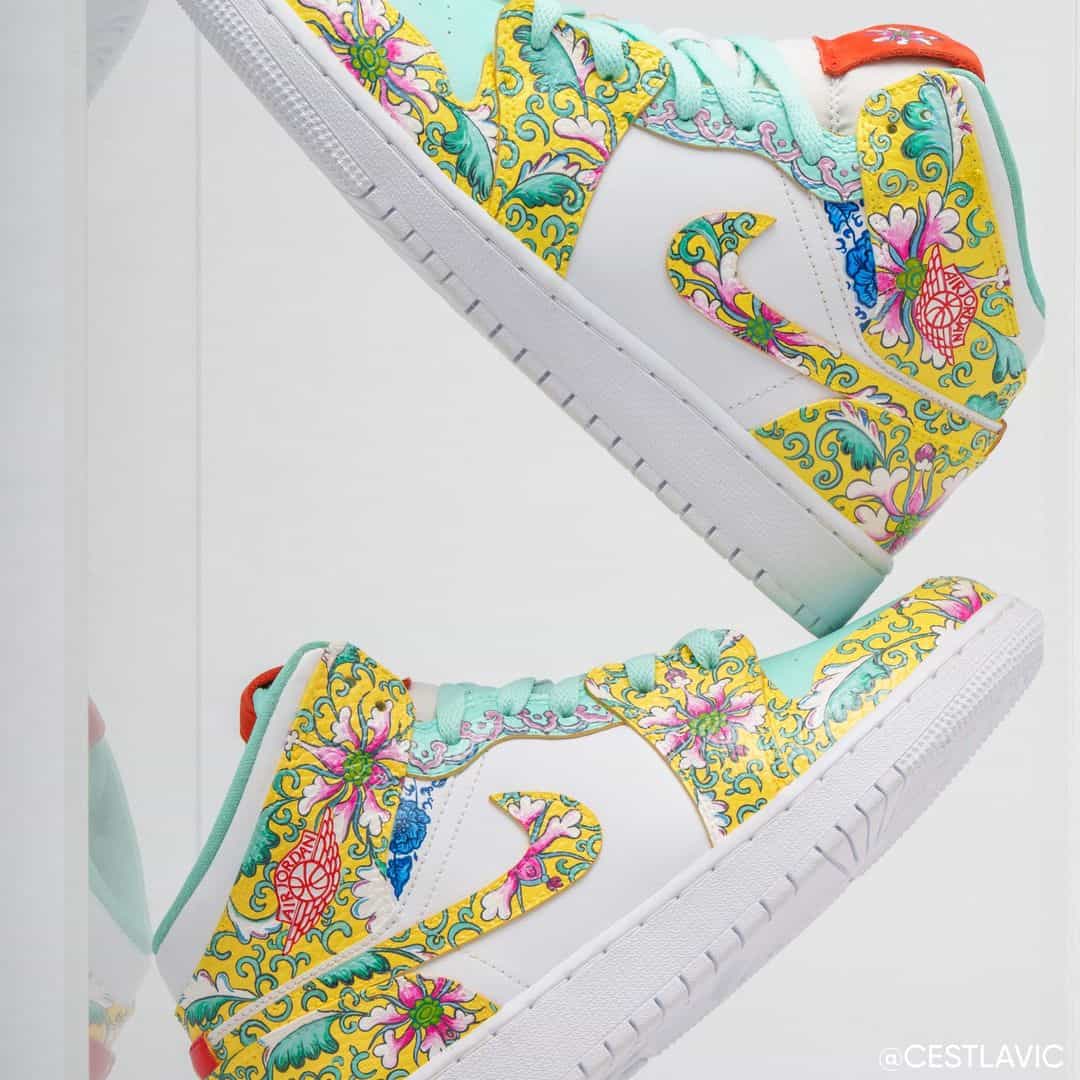 Vicky Vuong, the creative mind behind the Instagram handle @cestlavic, brings an infusion of nostalgia to this Grandma's Bowl AJ1 Mid, reminiscent of the comforting aura of her grandmother's home. This fetching sneaker draws inspiration from the vintage peony design on a porcelain bowl that once sat proudly in her grandma's shrine. The sneaker boasts a pristine white base counterbalanced with mint green detailing. The shoe's overlays then flaunt a radiant floral print against a yellow background. The tongue of the shoe spotlights a hand-painted peony, encapsulating the blooming creativity Vuong is known for. This Air Jordan 1, taking a leaf from vintage Chinese porcelain, is a literal walkable masterpiece.
RELATED: These His & Hers Mario & Peach Air Force 1 Low Sneakers Are Perfect For Couples
3. Flow Blue Porcelain AJ1 Lux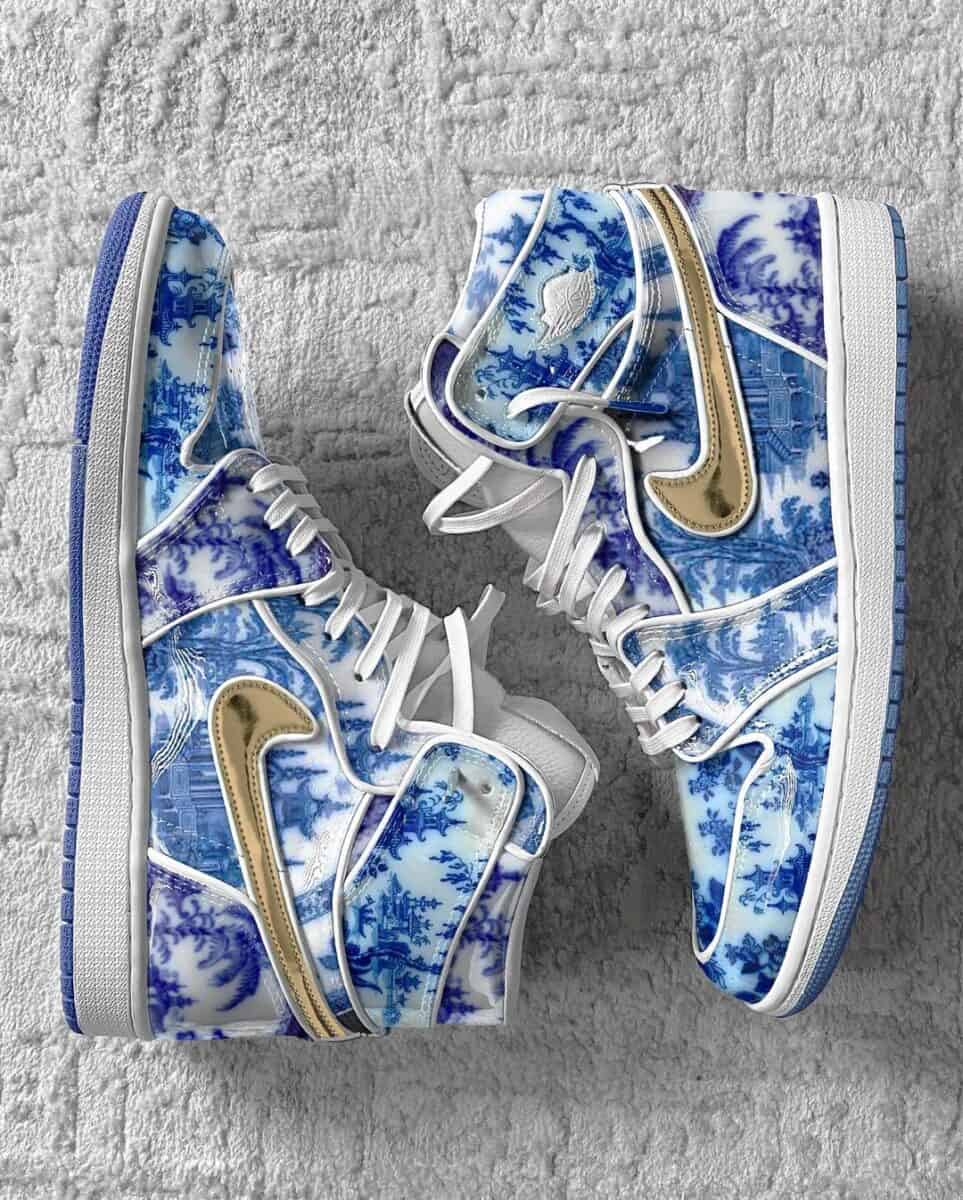 Another awe-inspiring creation drawing from the fine China we are all too familiar with, the Flow Blue Porcelain AJ1, was conceived by John Trottier, who goes by @johnnyskicks_ on Instagram. This luxurious sneaker is a stunning replica of the classic blue porcelain design often seen on fine china and pottery. High-quality white patent leather provides the perfect blank canvas while mimicking the glossy look of porcelian. Trottier then out does himself artistically by adding intricate blue Chinese inspired motifs. The pair's inherent beauty is further elevated by a gold patent leather swoosh paired with a white trim. A strategically added blue smear mimics the handmade quality of porcelain art. I've always thought this design would look stunning on an Air Jordan 1– and lo behold, case and point.
4. Tapestry AJ1 High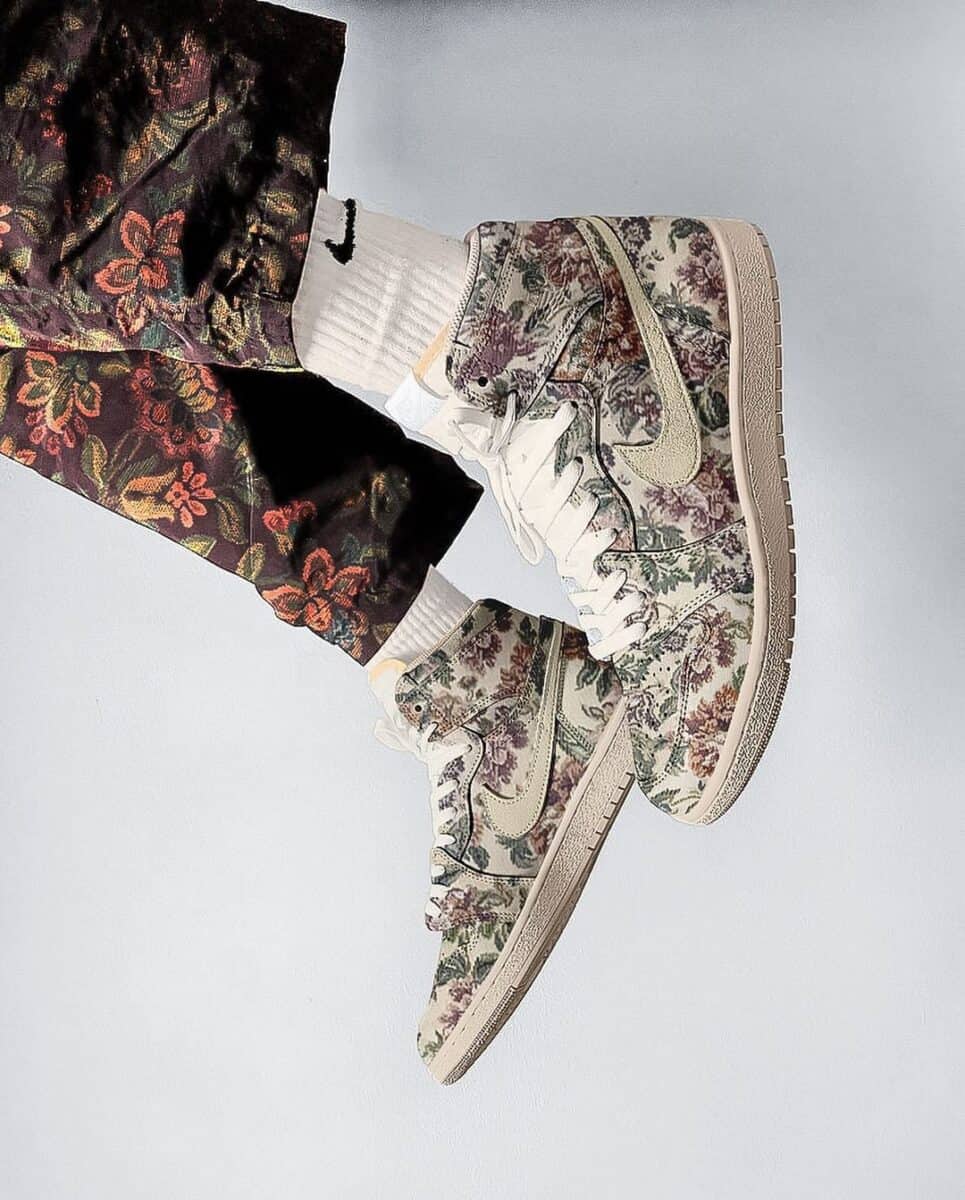 Trottier also uses vintage aesthetics as a muse for his Tapestry AJ1 High. The design draws from opulent tapestry fabrics in subtle beige and mauve hues reminiscent of antique textiles. The intricate floral motifs add a romantic and nostalgic touch to the shoe. A beige Nike swoosh and beige sole unit then complement the overall colour scheme, while the high-top silhouette adds a classic and timeless feel. If you haven't considered changing that old curtain into stylish sneakers, here's your inspiration.
Our favourites. Available now at Nike.com
RELATED: Airwolf Takes Flight In These Nike Air Jordan 4 Sneakers
5. Air Victorian 1s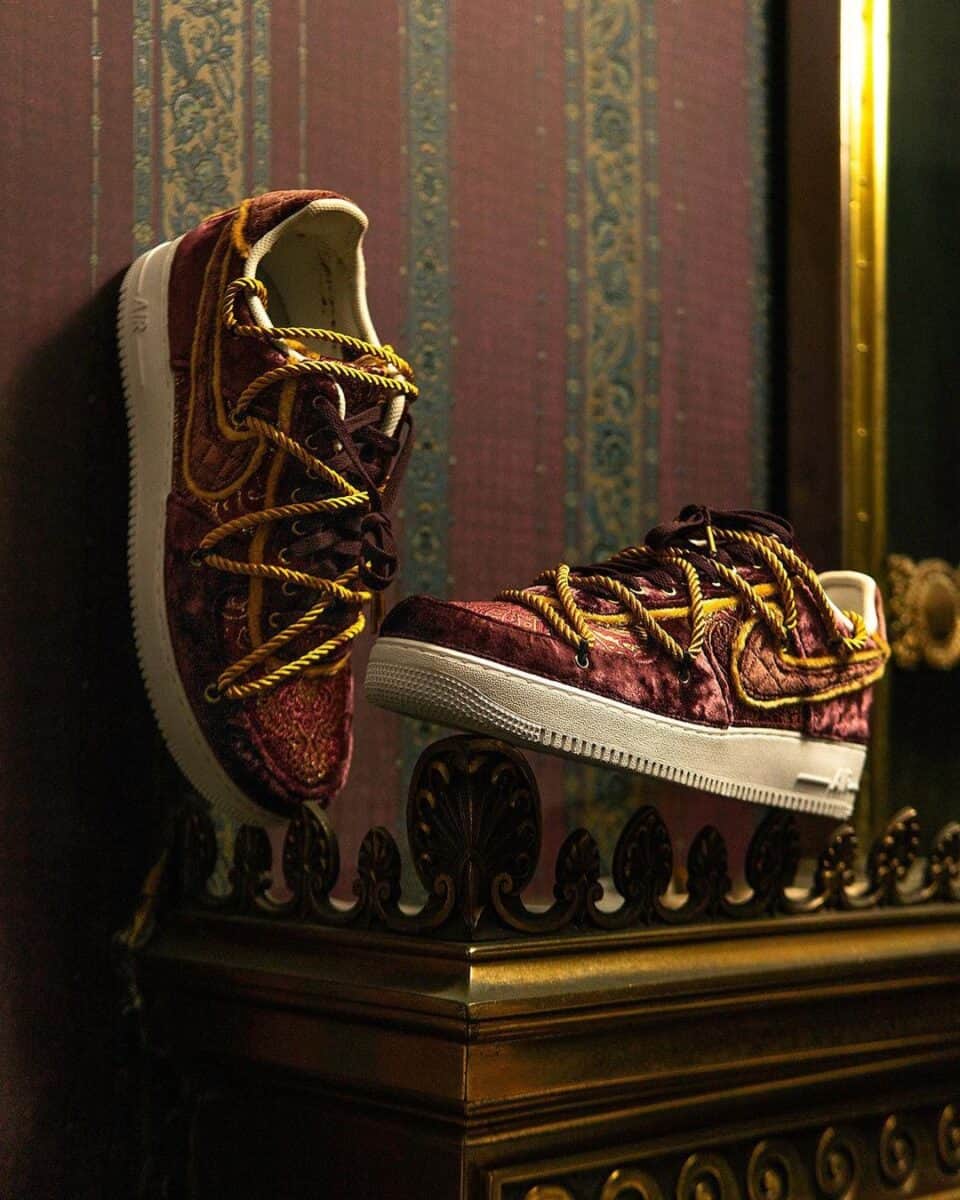 Behold the regal beauty of the Air Victorian 1s. The royal aesthetics of the Victorian era inspired this velvety pair created by Jesse Woods of @jessewoods_archives. The primary colour, burgundy, captures a sense of luxury and sophistication. The vintage Nike sneakers showcase an opulent mixture of fabrics in this plush hue, including quilted velvet on the Nike Swoosh and heel tabs and a paisley pattern on the toe box, tongue, and quarter panels. Pair that with striking gold accents, such as the gold cords resting atop the shoe, the gold velvet trims embellishing the Nike Swoosh, heel, eye stays, and backside of the tongue, as well as the gold detailing on the paisley print, and you get footwear fit for royalty. These sneakers exude elegance and sophistication with their intricate design and luxurious materials. These Air Force 1's are certainly a pair of custom Nike sneakers made for a king.
So what do you think? Would you wear any of these custom Nike sneakers inspired by vintage aesthetics?