Since Nike announced they would be bringing back Kobe Bryant's beloved signature shoe line, we have been eagerly anticipating all the future Kobe releases. So much so that we compiled a list of all the known Nike Kobe releases for the 2023–24 season. Over this period, some much-loved colourways will be returning. I am sure fans cannot wait to get their hands on a slightly different take of the "Italian Camo" Kobe 6 Protro and the Kobe 4 "Philly" with its Protro update. But there are also many new colourways expected to make their way to the market, including the Nike Kobe 4 Protro "Bicoastal.
RELATED: A List Of All The Known Nike Kobe Releases For 2023/24
In August, @sneakerfiles gave us a speculative glimpse into what the new "Bicoastal" colourway could look like. Their rendition showcased a predominantly green upper and midsole, complemented by a black outsole. However, sneaker account @xcsnkr has offered yet another look at the highly anticipated colourway, and it's a complete departure from the previous mock-up.
New images of the Nike Kobe 4 Protro "Bicoastal" reveal a subtle green hue throughout the sneaker's upper. A scale-like texture can then be found on the toe box, Nike swoosh and collar with a stunning iridescent effect. This is an obvious nod to Kobe Bryant's "Mamba" persona and the scale detailing found on many Kobe models. However, the textural detail and iridescence also reference a sea creature present on both U.S. coasts. Hence, the fitting name of the Kobe 4 colourway.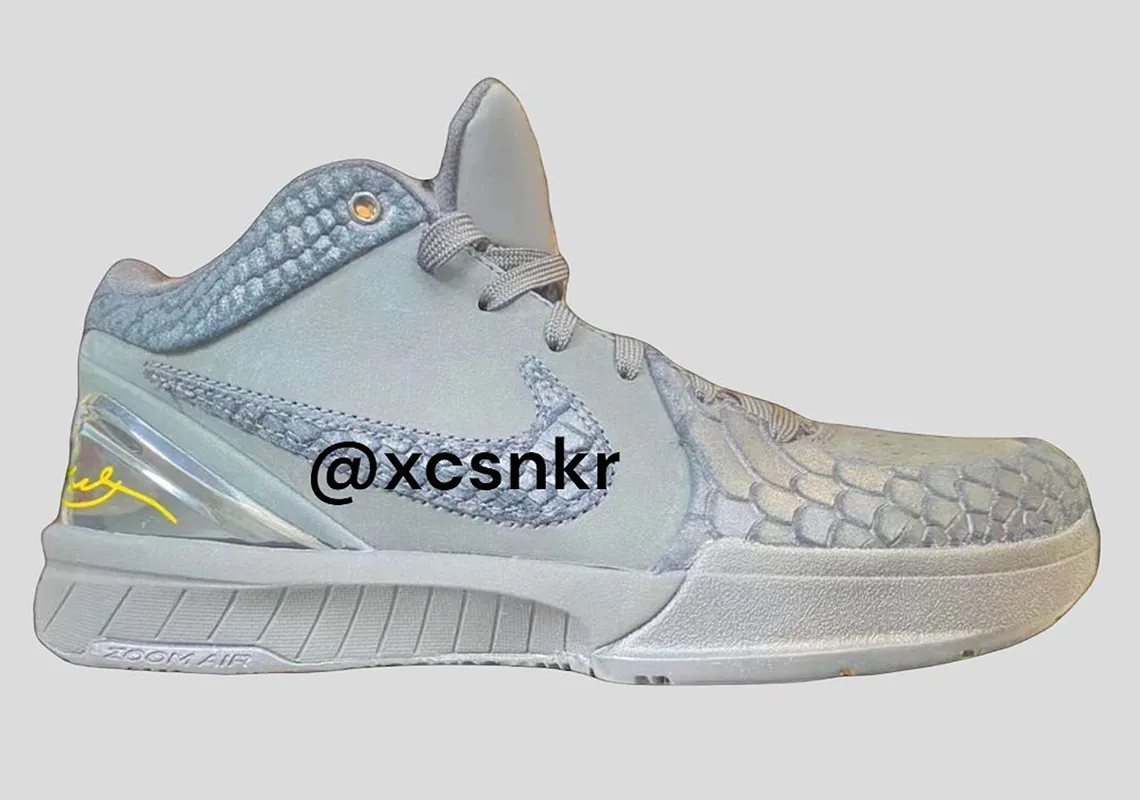 Notably, the mock-up by @sneakerfiles mimics the patent leather upper and Flywire mid panels associated with many other Kobe 4 Protros. In contrast, this new image showcases what looks to be a mix of various materials across the upper. However, it is difficult to tell which exact materials were used, given the quality of the image.
RELATED: The 13 Best Kobe Bryant x Nike Sneakers Of All Time
The latest Nike Kobe 4 Protro "Bicoastal" images also showcase a versatile grayscale palette on the Zoom Air-infused sole unit. The colour scheme of the sole unit perfectly echoes the accents found throughout the sneaker. Then, adding a pop of colour to the plastic heel clip, Kobe Bryant's signature is done in a vibrant yellow hue. A much-welcomed pop to an otherwise monochrome colour scheme.
Our favourites. Available now at Nike.com
Unfortunately, we will have to wait on official images from Nike before we know precisely which image reflects the upcoming colourway. However, the caption from @xcsnkr's Instagram post does tout this as a first look at the Nike Kobe 4 Protro "Bicoastal". Either way, we are happy to get a glimpse of what the shoe might look like.
The Nike Kobe brand officially relaunched in August with the stunning Kobe 8 Protro "Halo". However, this particular model, the Kobe 4 Protro "Bicoastal", is only set to release sometime in summer 2024. You can expect this drop (and many more) via Nike.com and select retailers at a retail price of $180 USD. The anticipation for its release is building, and fans of the Kobe line will surely be excited to add this model to their collection.
RELATED: Buy The Nike Kobe 8 Protro "Halo" Here
What do you think of these mockups for the Nike Kobe 4 Protro "Bicoastal"? Which version would you like to see hit the shelves?
Source: Sneaker News