We've all owned a pair. In a realm where sneaker trends ebb and flow like the tides, one iconic footwear luminary has remained an immovable colossus, transcending the relentless march of time. The Adidas Samba, a name synonymous with excellence and resilience, has etched itself indelibly into the hallowed annals of sneaker lore, embarking on an astounding 74-year odyssey and achieving an astonishing feat – over 35 million pairs of sneakers sold. While that may seem hard to believe, it's completely true. This is no mere shoe; it's a legend.
RELATED: The 9 Best adidas Samba Sneakers To Buy in 2023
The History of The Adidas Samba
To truly grasp the enigma that shrouds the Adidas Samba sneakers, we must embark on a temporal expedition, transporting ourselves all the way back to the year 1924. In the heart of Bavaria, Germany, two visionary brothers, Adolf (yes, that's his real name) and Rudolph Dassler, sowed the seeds of what would burgeon into an international sensation – the "Dassler Brothers Shoe Factory."
In 1928, their footwear creations gained acclaim when the illustrious runner, Linda Reike, clinched Olympic gold in Amsterdam by donning a pair of Dassler shoes (they weren't called Adidas back then). Yet, history's twists and turns were inescapable, and the Dassler brothers found themselves ensnared in the tumultuous currents of their time.
By 1933, their enterprise was thriving, propelled by the winds of changing political fortunes. It wasn't until 1936, however, that the world stood in awe during the Berlin Olympics. German athletes, together with the American sensation Jesse Owens, graced the global stage wearing Dassler shoes, catapulting them into the limelight.
As the ominous clouds of World War II loomed large, the Dassler brothers' shoe factories were requisitioned for munition production, serving the German military. Rudolph was conscripted, creating an unbridgeable chasm between the siblings. In a surprising act of reverence, American troops spared one of their factories in April 1945, a nod to Jesse Owens and the iconic shoes he wore.
In 1949, the schism between the Dassler brothers reached an irreparable nadir. Adolf, who would become known as Adi Dassler, founded Adidas, while Rudolph embarked on a rival venture, Puma. It was in this very year that Adidas conceived a football shoe, initially designed to assist players in navigating icy, unforgiving terrain—an embryonic precursor to the Samba.
Our favourites. Available now at Nike.com
The Adidas Samba, as we now recognize it, did not acquire its illustrious name until the 1950 FIFA World Cup in Brazil. Adidas, aiming to infiltrate the South American market, christened this nascent football shoe "Samba." Little did they fathom that they were introducing a legend.
RELATED: adidas Not Done with Yeezy? Check Out the Yeezy 150 Samba
An Icon
Over the ensuing decades, the Adidas Samba underwent a remarkable metamorphosis, evolving into an emblematic masterpiece. Its allure transcended boundaries, captivating footballers, skaters, athletes, and streetwear aficionados alike. Its versatility and perceived value endeared it to all who dared to lace up its hallowed silhouette.
Fast forward to the year 2023, and the Samba's resurgence has left us stupefied. This revival, propelled by luminaries such as A$AP Rocky, Kendall Jenner, and Hailey Bieber, has defied all expectations. In fact, early 2023 witnessed shortages of the Adidas Samba, which bore testament to its newfound popularity. This is a far cry from its unassuming origins.
RELATED: Adidas Crazy IIInfinity Is A Sneaker From The Future
Supreme Quality
Amidst this resounding resurgence, of course, questions regarding the Samba's enduring quality have arisen. Can a sneaker with such a storied history uphold its lofty standards in 2023?
A scrutiny of the shoe's constituents proffers some insights. The upper, predominantly draped in authentic leather with fleeting synthetic accents, underscores an unwavering commitment to authenticity. A toe cap, a rare sighting in contemporary sneakers, harkens back to its roots as a football shoe, prioritizing protection.
Nevertheless, the faux leather composition of the lining and tongue backer raises concerns about breathability and comfort. Adorned with deep lugs and an intricate pattern, the outsole promises unrivalled traction and unyielding durability. Its impressive puncture resistance bears testimony to its robustness. The outsole isn't an afterthought; it's a performance-driven marvel.
RELATED: Push the Limits with the adidas adiZero Boston 12 and adiZero Adios 8
The Legacy Persists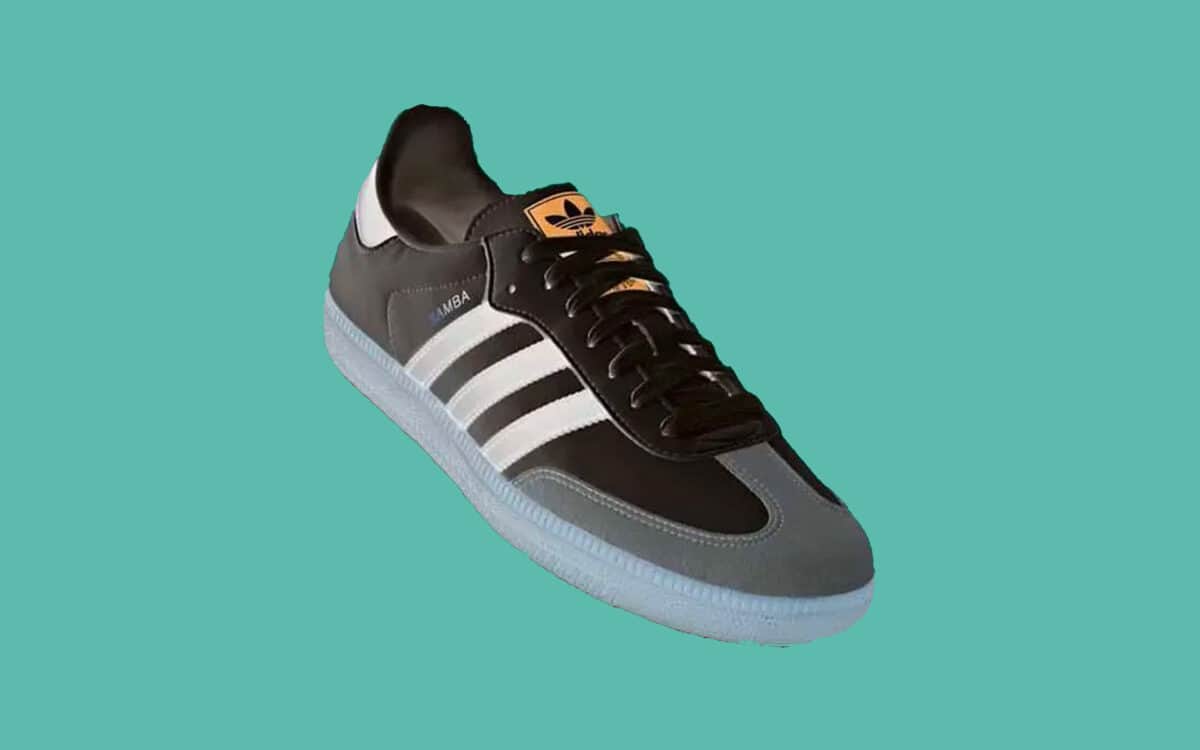 In summation, the Adidas Samba sneaker hasn't merely endured; it has flourished for a remarkable 74 years. Its current surge in popularity in 2023, reaching unprecedented heights, has firmly ensconced it as a cultural cornerstone. While modern iterations might entail certain compromises, the Samba's steadfast commitment to quality remains unshaken.
In a realm where trends come and go with the swiftness of a summer breeze, like Nike's Air Jordan 1, the Adidas Samba stands unwavering, a steadfast beacon in the kaleidoscope of sneakers—a masterpiece that shows no signs of fading.
RELATED: adidas X BAPE Collaboration Brings Campus 80s
Tell us, do you own a pair of Adidas Samba sneakers?