It's about that time again when Gore-Tex works together with Jordan Brand to work together, bringing another pair of fall and winter weather-perfect sneakers, adding to their growing collection with a stunning "Brown/Olive" colourway. Without further ado, let's take a look at the stunning upcoming Air Jordan 1 Element Gore-Tex "Brown/Olive" sneakers.
RELATED: The Air Jordan 1 Retro High "Dark Mocha" Gets A Low
The name says it all, as these sneakers have a colourway that interchanges olives and browns with cream to bring a beautiful pair of sneakers together. The sneakers start with rich brown on the outsole with a tip of olive before transitioning into a cream midsole, providing a stark contrast between the two.
From there, the sneakers move into soft, rich leather in a brown on the mudguard, the lower lace stays, the lace unit, up onto the vamp and the heel counter. Unlike most sneakers that have an overlay piece that makes up the Nike Swoosh symbol, this time, the symbol is printed onto the section of cream on the mid-foot panel. The tongue matches the cream of the mid-foot panel before it is subtly covered by brown and cream-patterned laces.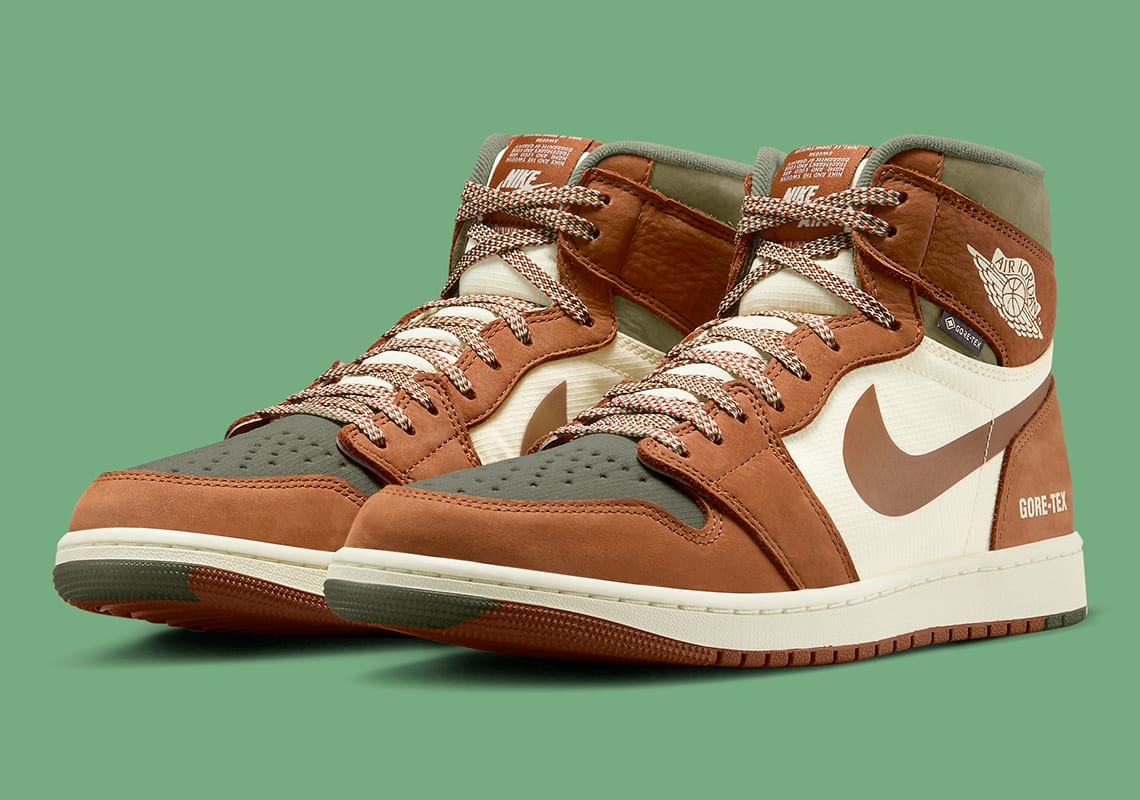 What is left is the toe box and the heel collar that wraps around the ankle, both of which are treated with olive soft-touch leather, the collar in particular beautifully contrasting the tumbled leather that wraps around it and lays over it before it the brown gives way to the Nike Air Jordan winged insignia.
RELATED: Parris Goebel x Nike Dunk Low Sneakers Have The Midas Touch
The winged insignia is not the only cream-coloured branding on the sneaker, as the heel of the sneakers shows GORE-TEX just above the midsole, making sure that you won't be able to forget who made these stunning sneakers happen.
Our favourites. Available now at Nike.com
The same coloured branding also appears on the brown tongue label. Still, instead of having just the plain Nike branding, this time, the label appears to have much more information, including that for Gore-Tex.
While many of us are falling in love with this Air Jordan 1 Element Gore-Tex "Brown/Olive", and they would be absolutely perfect for the upcoming holiday season, there aren't any release details that have been shared as of just yet other than that we can probably expect them before the end of the years. Release dates usually come soon after official images, so keep your eyes peeled to see more information soon.
RELATED: 5 Best Mens Boots Currently Available From Nike
Are you looking forward to these stunning Fall-appropriate Air Jordan 1 Element Gore-Tex "Brown/Olive"? Let us know what you think of this pair in the comments.
Source: Sneaker News