Vampires. These shadowy beings of the night have mystified us for centuries. Among them, one immortal predator reigns supreme – Count Dracula. This iconic vampire, known for his enchanting gaze, deadly fangs, and sweeping cape, has inspired countless reinventions. Now, the legend lives on as we translate Dracula's potent power into a spine-tingling Air Jordan 3 sneaker concept. Prepare your garlic and holy water because the vampiric allure of this Air Jordan 3 "Dracula" sneaker might just be too hard to resist.
RELATED: These "Jack Torrance" Nike Dunk Low Sneakers Are All Work & No Play
Created by Bram Stoker in his 1897 novel, "Dracula" introduced the world to this complex and captivating character who has since become synonymous with the vampire genre. In fact, nowadays, regardless of the vampire's individual story or mythos, many reach for the name 'Dracula' as a reflex.
But what keeps Dracula so vivid in our minds? Well, it's his blend of magnetic allure and dark menace. His ability to tap into our unconscious fears and longings. His hypnotising gaze. His insatiable lust for, um, his choice of red drink. His immortal life. These are all aspects that continue to both fascinate and strike fear in audiences. Hopefully, we've managed to capture some of his allure in what we think is a striking Air Jordan 3 "Dracula" concept design.
Once again, our talented Brandon Krige deserves an encore for infusing life into this supernatural sneaker concept. For this design, Brandon has drawn inspiration from Dracula's timeless aesthetic. For many of us, the iteration of this vampiric being that we have come to know and love often includes a magnificent black cape accentuated with a vivid red lining. As such, our design pays tribute to that classic and iconic look.
Thus, the hauntingly stylish Air Jordan 3 "Dracula" features a sleek black and red colourway synonymous with the iconic vampire. The sneaker's sleek upper comprises black tumbled leather with a smooth black leather trim that ornately wraps around the front and sides of the Air Jordan 3.
Of course, the iconic elephant print with its distinctive texture is present on the toe and heel in a fitting crimson red with deep black cracks. The crimson-red hue and deep black cracks on the elephant print add a touch of sinister elegance to the overall design.
Our favourites. Available now at Nike.com
RELATED: Vampires of Hollywood: The History of Dracula in Cinema
Further shades of red make their way to the perforated tongue, while the eyelets throughout the sneaker design echo the red colour scheme. However, the showstopper in this pair is undoubtedly the Dracula fangs featured on the tongue, engorging a dripping red Nike Swoosh. Complementing the fangs is a striking white swoosh on the sides of the sneaker, a brilliant contrast against the dark black leather backdrop.
In another tribute to the vampires ghostly white fangs, a clean white midsole finishes off the design – stark against the grey rubber outsole. While the grey is added for some extra visual contrast it can also be seen as a subtle nod to Gary Oldman's attire in the 1992 film, which is a must see for any fans of Dracula movies. The usually clear window in the air unit of the sole is then captured in a deep red, reminiscent of the Dark Lord's favourite liquid drink- so definitely not grape juice. Then, tying the shoe together is a pair of sleek black laces that perfectly stand out against the red tongue.
Adding to the spooky thrill, we've developed a concept box that perfectly complements the design. Our concept box showcases a sleek, matte black exterior adorned with eye-catching Dracula-inspired imagery. Picture evocative bats and the unmistakable outline of the legendary vampire himself, regally perched atop his terror-inspiring throne. All this is seamlessly melded with the iconic Nike branding. You will also find subtle hints of red splatter, another nod to The Count's elixir of life. The side of the box echoes the branding on the sneaker's tongue (minus the vampiric fangs); hence, you'll discover the Nike logo, complete with the dripping Swoosh, adding an additional element of distinctiveness.
We sincerely believe that the Air Jordan 3 "Dracula" design honours the revered horror legend in grand style. One could effortlessly slip into these sneakers, whether it's for Halloween or any day of the year! Honestly, wearing a pair of these Air Jordan 3 "Dracula" sneakers throughout the year wouldn't raise an eyebrow in our books! In all likelihood, you may even catch a glimpse of our team members strutting around in them shortly.
But for now, stay tuned for more exciting sneaker customs and concepts. We have other bone-tingling Halloween designs bubbling in our creative cauldron, all for you.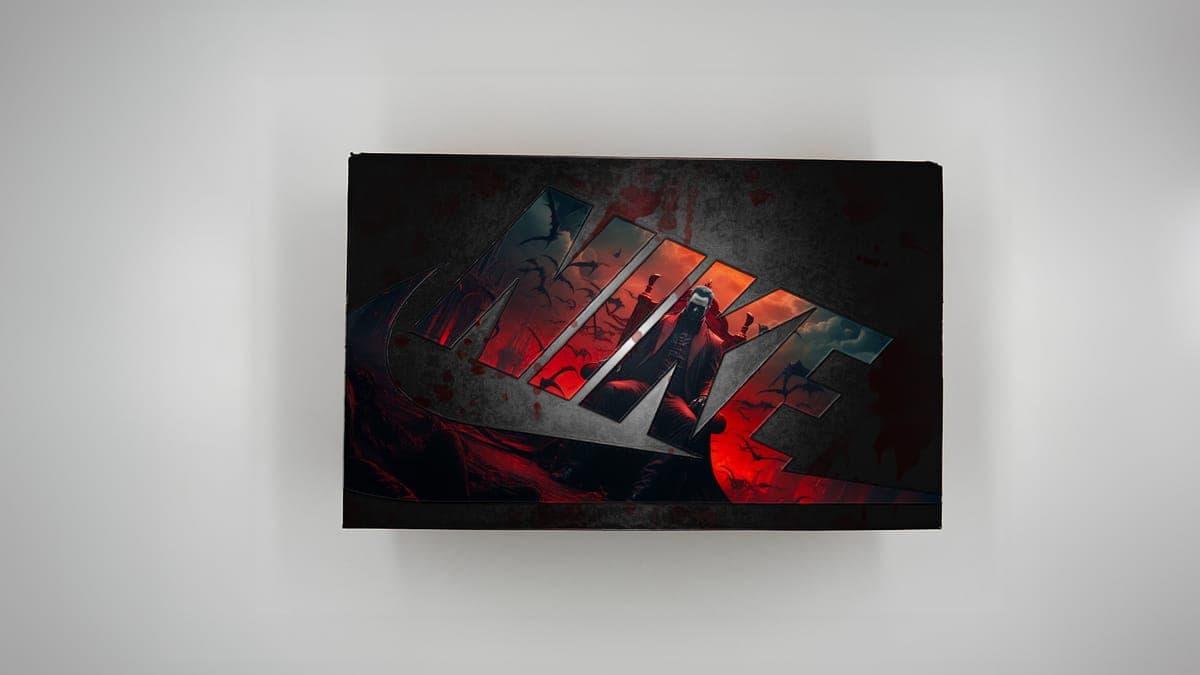 RELATED: The Nightmare Before Christmas Jack & Sally x Nike SB Dunk Low Sneakers Are Perfect For Halloween
Would these Air Jordan 3 "Dracula" sneakers make the perfect Halloween pair?