Travel back to the 80s, the golden era of military drama series. Centre stage was undoubtedly the sensational show Airwolf, a delicious cocktail of action, mystery, and cutting-edge technology. Characters like the enigmatic pilot Stringfellow Hawke and his trustworthy co-pilot Dominic Santini not only entertained audiences but imprinted themselves in our memories. Sadly, this series was short-lived and only aired for four seasons, from 1984 to 1986. However, if you thought you'd seen the last of Airwolf, think again. The spirit of Airwolf is about to be revived with our novel Airwolf Jordan 4.
RELATED: Airwolf Comes Alive In These Nike Air Jordan 11 Sneakers
We've already shown you what the Air Jordan 11 could look like dressed up in an Airwolf-inspired colourway. But thanks to our brilliant (and very patient) creative Brandon Krige, the beloved 80's series is back for its sneaker sequel – The Airwolf Jordan 4. In this thrilling design, Brandon has once again taken the sleek black aesthetic of the technologically advanced helicopter and translated it into a stunning sneaker concept starring the Air Jordan 4. But if you're expecting to see the same fabric choices as the Air Jordan 11, you'll be pleasantly surprised.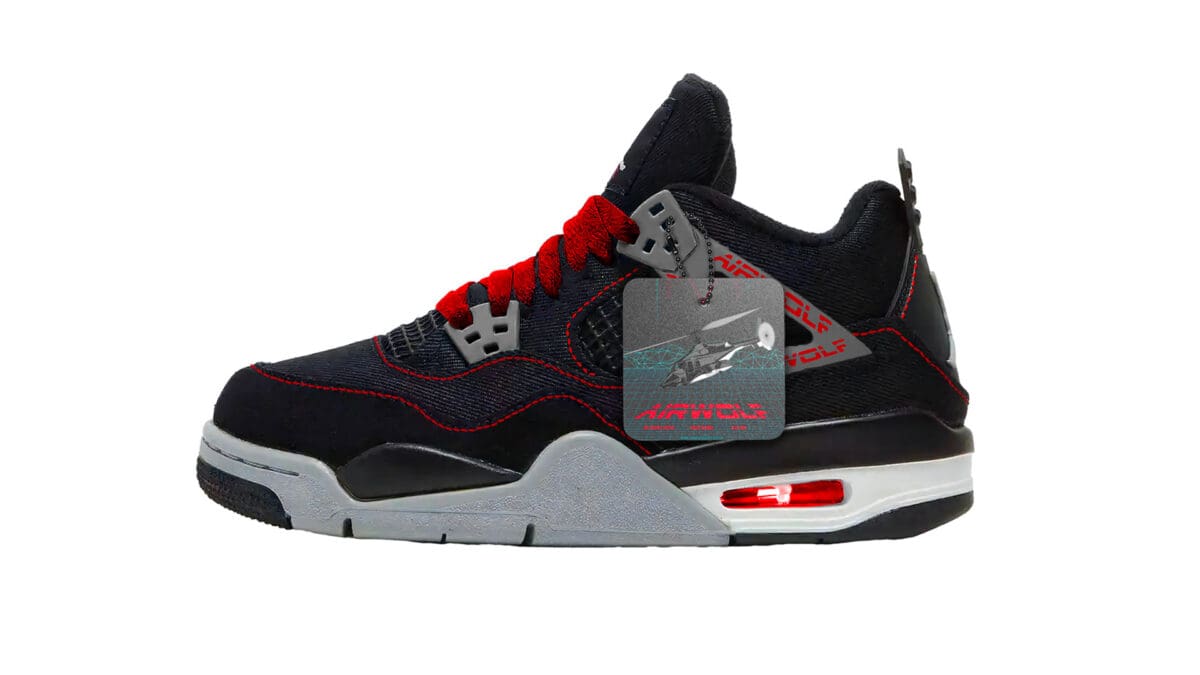 In this iteration, Brandon fuses canvas with nubuck, lending unparalleled texture and a visual punch to our Airwolf re-imagination. The black canvas is the predominant feature of the shoe base, whilst the AJ 4's mudguard is adorned in an even darker nubuck. The support wings and mesh netting then exhibit a touch of grey, forging a subtle distinction against the black. This colour scheme mirrors the sleek, stealthy appeal of the original Airwolf helicopter.
Drawing inspiration from the striking colour palette of the Airwolf logo, the laces and Air unit sport a dazzling red shade. This vibrant colour extends to the sneaker's stitching and the Airwolf lettering on the support wings, providing a vivid contrast to the dominant black design.
RELATED: Would You Cop These RoboCop Air Jordan 9 Sneakers?
Whilst the striking red resonates with the Airwolf logo, it casually acknowledges Airwolf II's Redwolf copter as well (check out season 3 episode 2). Fans might remember Hawke's boastful rival, Harlan 'Tex' Jenkins, who helped design this covert helicopter, marked by a striking red and black look that mirrors our sneaker concept.
Our favourites. Available now at Nike.com
Of course, the details don't stop there. We've added a smidgen of elegance with a removable "Airwolf" tag depicting the print of the beloved 80s series' high-velocity aircraft. It is absolutely the perfect accompaniment for this Air Jordan 4 sneaker.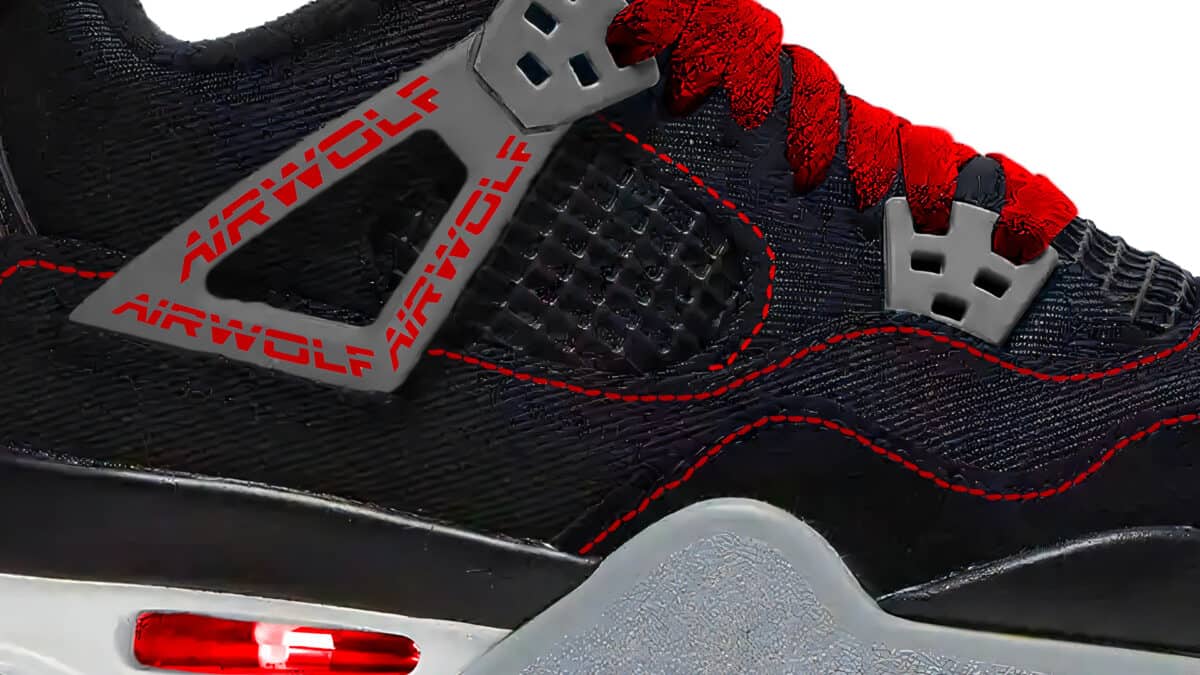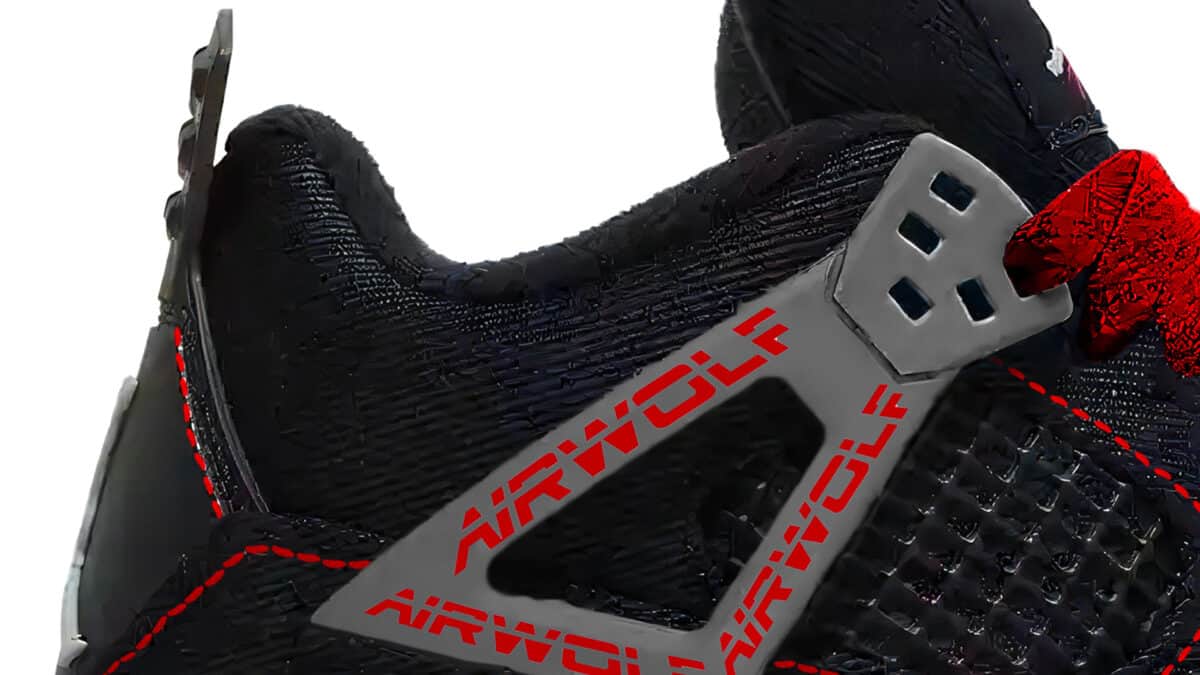 One last touch is a suave grey and white midsole combined with a black rubber outsole, providing a chic contrast to the powerful black upper. This blend of colours, enhanced by the iconic "Airwolf" tag, transforms this sneaker into a distinguished tribute to the cherished 80s series and its celebrated aircraft.
We're excited to make this Airwolf Jordan 4 concept design a reality soon. So, hold your breath, stay connected for more updates, and follow us for more sneaker customs and concepts.
RELATED: Level Up With The Air Jordan 1 Mid "Tron" Sneaker
Does this Airwolf Jordan 4 sneaker bring back nostalgic memories of the popular 80s television series?
Sources: IMDB