This week marks the 90th-anniversary celebrations of Disney's Mickey and Minnie Mouse. With numerous events and competitions across the world, we celebrate The True Original in style. Among many other collaborations, ASICSTIGER has dropped their three new silhouettes as part of the #Mickey90 celebrations.
Marking 90 years since Mickey and Minnie first Mickey film was produced, commemorating the film, Plane Crazy (the first film to feature Mickey), the ASICSTIGER designed team were inspired by the classic Mickey Mouse cartoon. Inspired by aviator, Charles Lindbergh's trailblazing journey from New York to Paris, Mickey sets out to reproduce the feat using his own plane and, together with Minnie Mouse, embarks on a maiden flight.
Plane Crazy laid the foundations for the animated world of Mickey as we know it today and it is this landmark moment of innovation that the ASICSTIGER brand has captured in their latest collection. The three silhouettes include the low and mid-top GEL-PTG™ shoes, which are accompanied by the classic GEL-LYTE™ HIKARI shoe, designed exclusively for kids.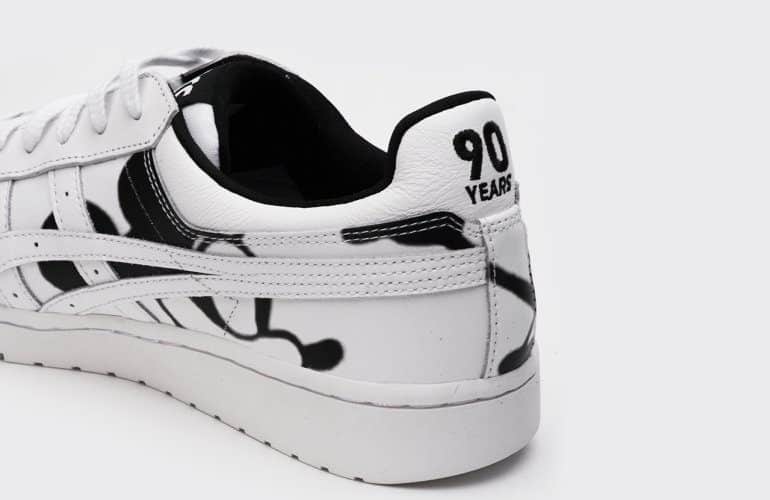 The GEL-PTG™ silhouette is a reimagining of the ASICS FABRE POINT GETTER, which was first released in 1983 in Japan. Both the low and mid-top iterations feature a still from the Plane Crazy film on the upper. The GEL-PTG™ low model will come in three separate styles, two of which will feature the detail of Mickey's first flight on the toe box.
The third silhouette will feature a black print of Mickey and Minnie on the side, alongside the ASICS Stripes. All three designs will include a rubber sole, serving as a throwback to the basketball shoes of the 80s. Presented in a range of monochromatic styles, the sneakers ooze retro vibes that recreate the minimalist charm of the cartoon couple's debut.
The GEL-LYTE™ HIKARI sneaker pays homage to Mickey throughout the years, which is represented in classic Mickey Mouse colours – black, red, white and grey. The GEL-LYTE™ HIKARI shoe is a lightweight reinvention of the original GEL-LYTE™ silhouette, designed for mobility and comfort.
The collaboration between ASICSTIGER brand and Disney helps to round off Mickey's anniversary year in style, celebrating the iconic charm of a character that has captivated audiences for the best part of a century. The ASICSTIGER X Disney collection is available at Superbalist.com.
View this post on Instagram