While many may be talking about Jimmy Butler's new "emo" look for NBA Media Day, sneaker fans like us were captivated by something entirely different. With their game on and off the court, our NBA stars surely stirred the sneaker world with their bold and stunning designs. They exquisitely showcased a sublime balance of nostalgia and novelty, bringing back vintage classics whilst painting the court with unique, player-only colourways we could only dream about. That being said, let's dive into the most noteworthy NBA Media Day sneakers worn by some of the league's biggest stars.
RELATED: Nike Reveals Kids "What The" Sneaker Collection
1. DeMar DeRozan: Nike Air More Uptempo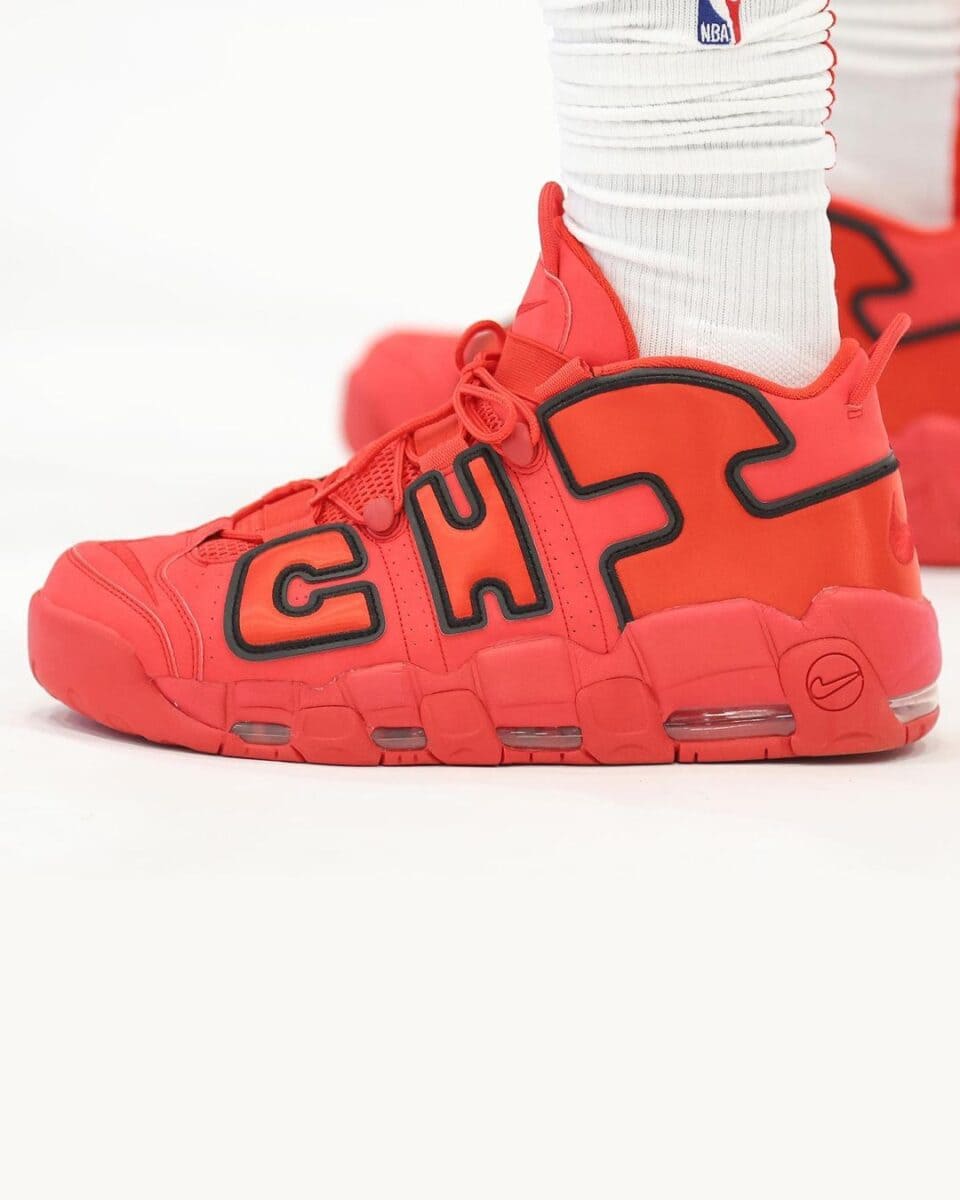 In the fascinating realm of the NBA, it's DeMar DeRozan, the formidable forward for the Chicago Bulls, who is nearly synonymous with Kobe Bryant's iconic Nike sneaker line. Known for his dedication to this line, he is now widely seen as the torchbearer for Kobe's signature shoes. This anticipation has sneaker enthusiasts eagerly awaiting each new season to see the latest Kobe colourways tied to DeRozan. However, this media day proved to be a surprising diversion from his usual flair.
Pulling off an unexpected style switcharoo, DeRozan proudly showcased the Nike Air More Uptempo QS "Chicago" sneakers during NBA Media Day. This selection exuded his unwavering loyalty to his team – the Chicago Bulls. Celebrating a twist in design, the Air More Uptempo was reimagined in 2017, swapping out "Air" for "Chi". This lends the sneakers a special touch, reflecting not just DeRozan's current team but also his surrounding city.
2. Scoot Henderson: PUMA Scoot Zero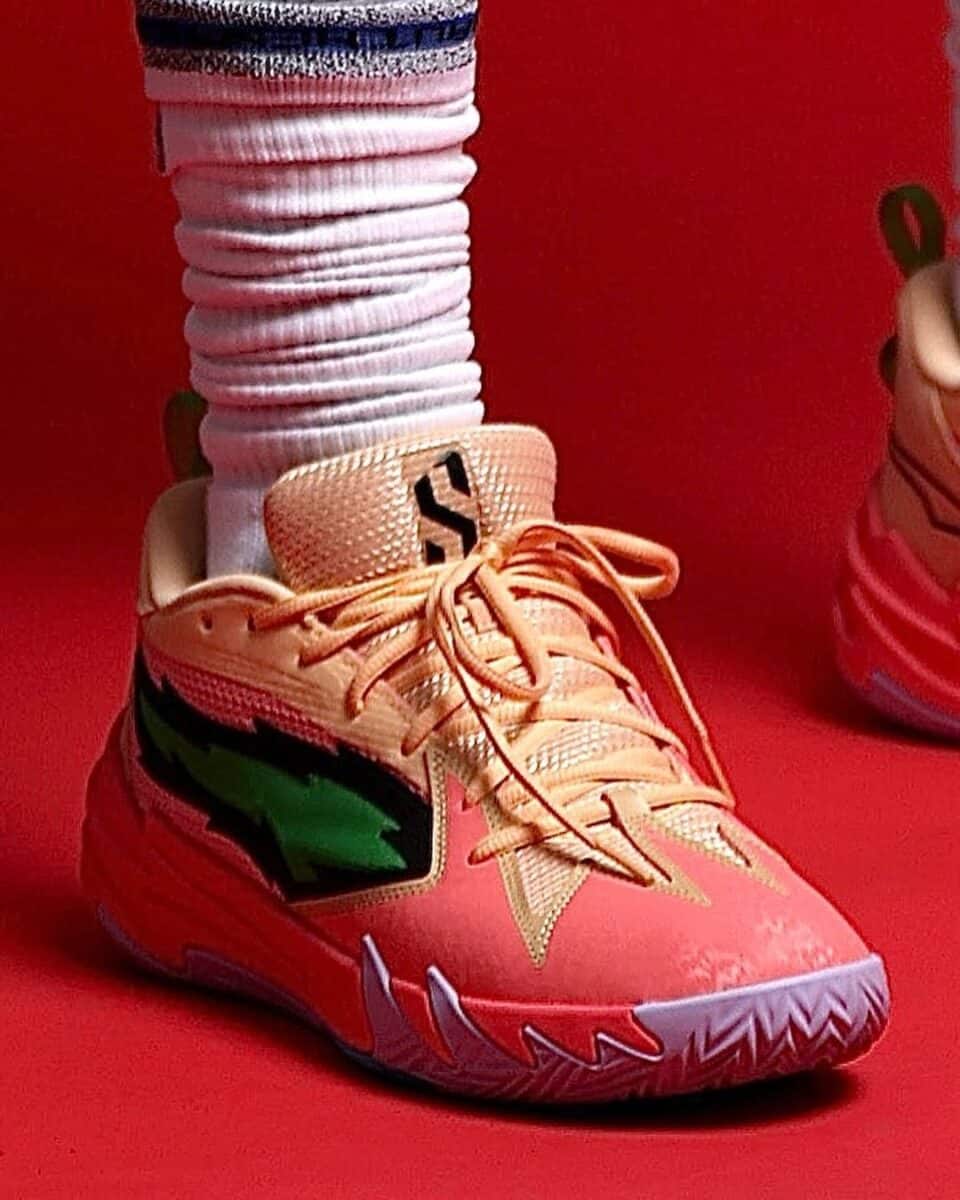 Another sneaker to steal the limelight among the long list of NBA Media Day sneakers is Scoot Henderson's Puma Scoot Zero. The rookie elegantly utilised the NBA media day to unveil his exclusive debut signature shoe, courtesy of Puma. As an upcoming luminary for the Portland Trail Blazers, he's set to make a significant impact both on and off the court. Perfectly aligning with his unique persona, the PUMA Scoot Zero cleverly blends his first name and jersey number.
To give you an idea of just how special this is, he's only the 7th player in the grand history of the NBA to sport his own signature sneaker in his inaugural rookie game. While we're all thrilled and eager, the release date and official details for these kicks remain under wraps. So, let's stay tuned for the grand unveiling!
3. Anthony Edwards: adidas AE1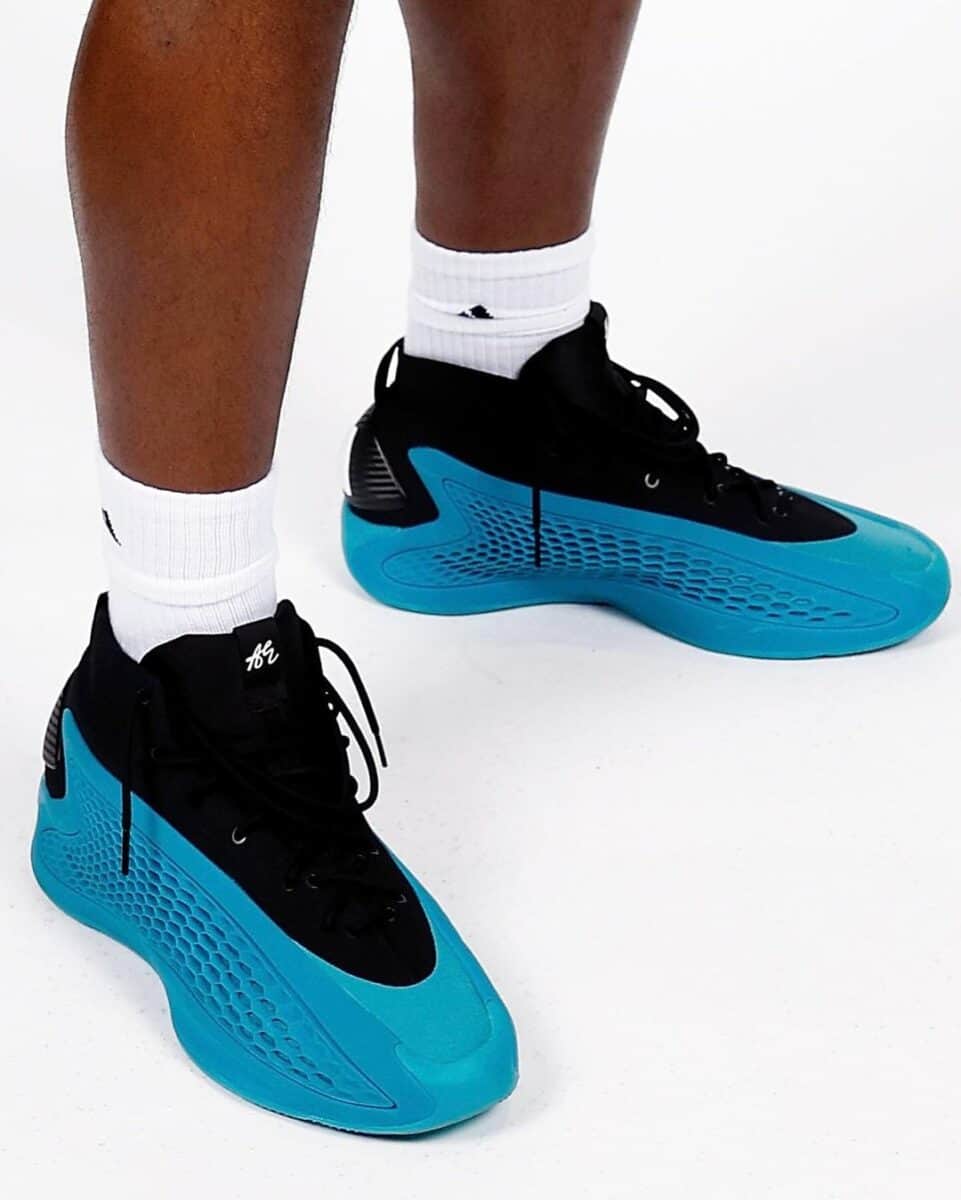 Indeed, the vibrant line-up of NBA Media Day sneakers can't be discussed without mentioning the remarkable debut of Anthony Edwards' signature kicks from Adidas, the dazzling "AE 1" in the dynamic "New Waves" colourway.
Our favourites. Available now at Nike.com
Inspired by his visionary flair, the unique colourway leans into the hues of his team, the Minnesota Timberwolves. More intriguing revelations about the highly awaited AE 1 are due to be unrolled this December. So, keep a close eye out for more updates on this highly anticipated sneaker release.
4. Tyrese Haliburton: Nike Kobe 6 PE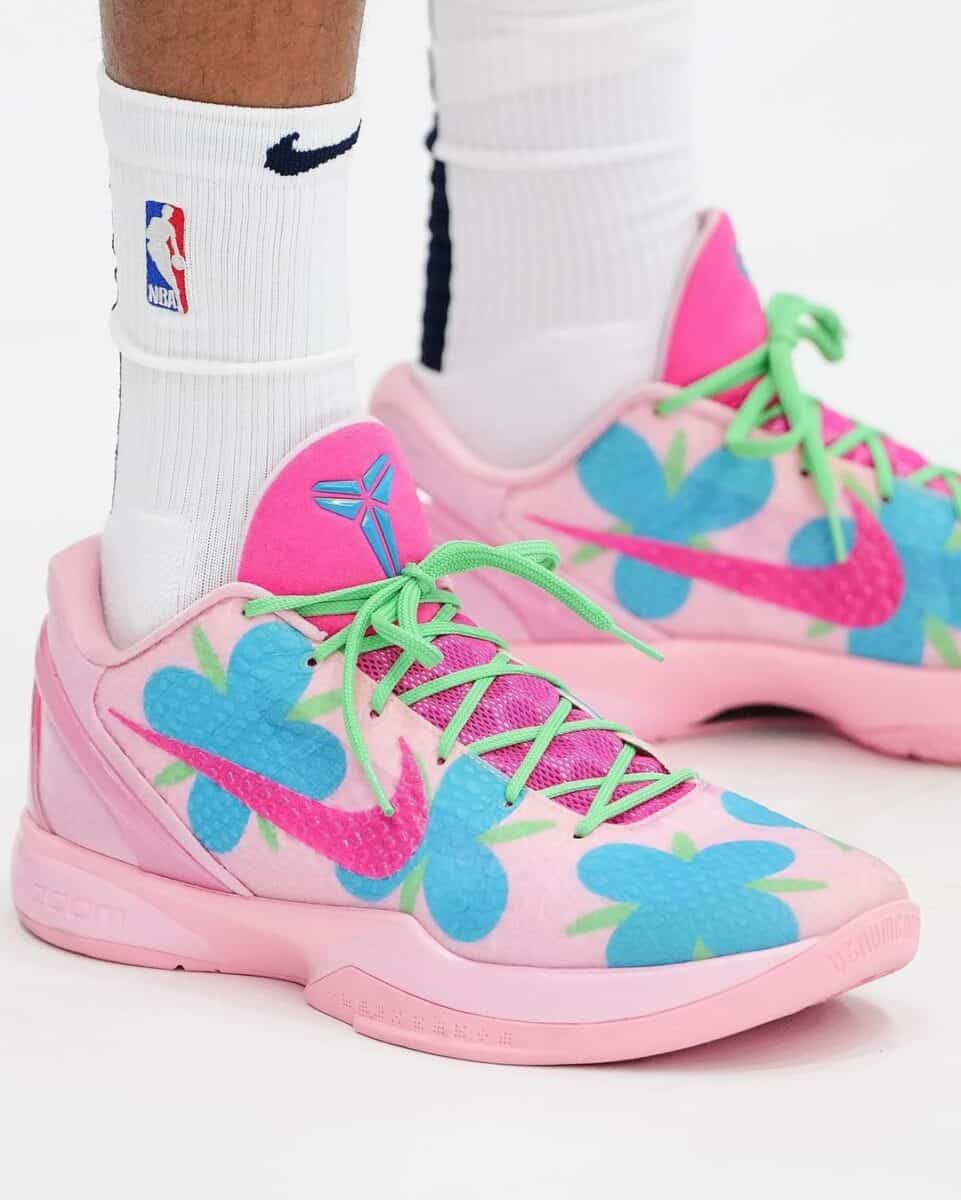 Tyrese Haliburton, from the Indiana Pacers, swaggered onto the NBA Media Day scene, sporting a Nike Kobe 6 "DeMar DeRozan" player-exclusive sneaker. This particular colourway was initially curated for DeMar back in 2021, thanks to the creative minds of his own daughters.
It's no secret that Hailburton has a penchant for donning Kobe Bryant's signature sneakers on the court – he's been known to flaunt both exclusive Kobe's and general release pairs. Therefore, it's no shock to see him opt for this vibrant pair to kickstart the first official event of the season. An exciting choice indeed!
RELATED: This Nike Air Flight Huarache 2023 Celebrates The Chicago Bulls
5. Stephen Curry: Under Armour Curry 11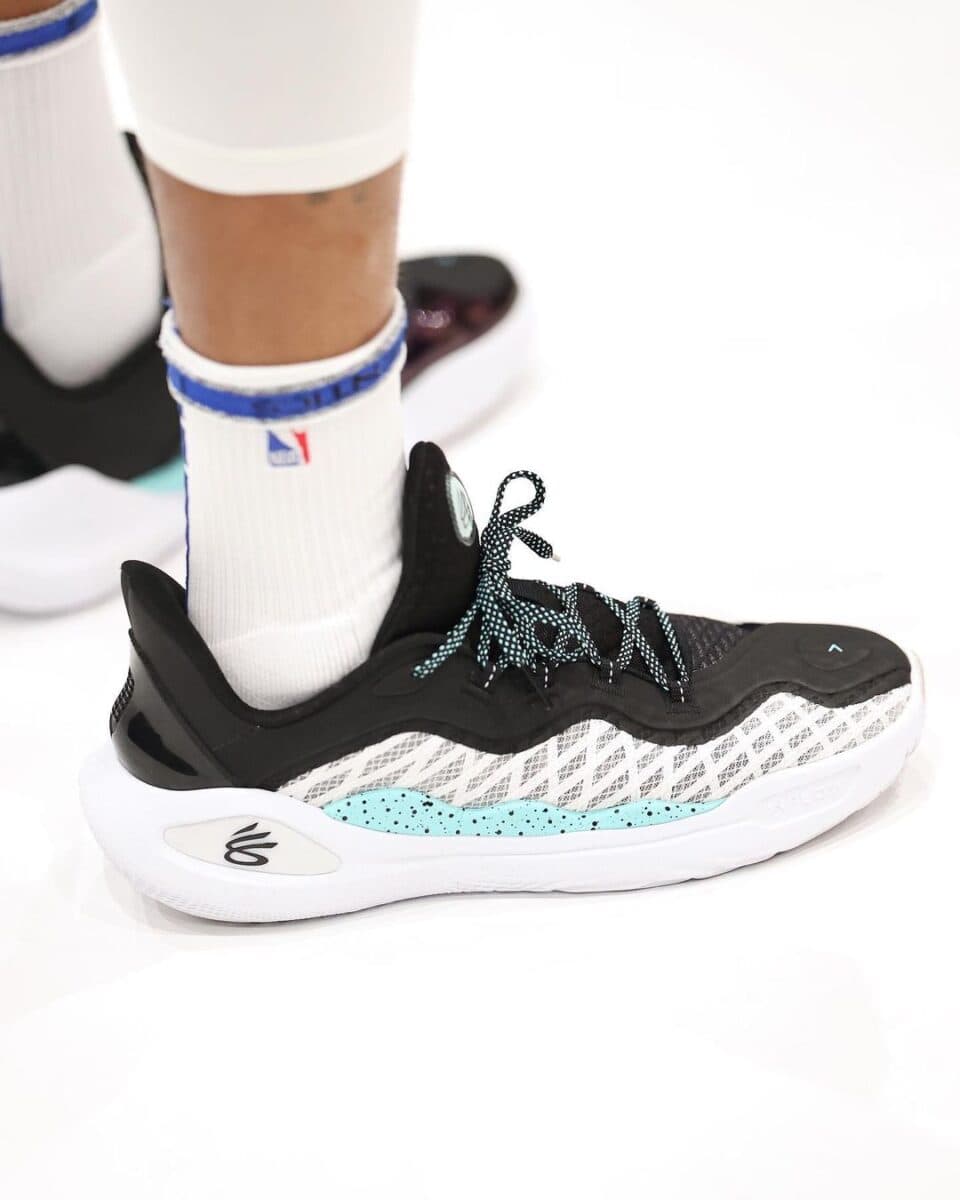 The NBA Media Day offered sneakers enthusiasts a feast for the eyes as Stephen Curry unveiled his latest footwear creation, the 'Under Armour Curry 11'. Known as "Future Curry," this much-anticipated sneaker is no surprise, considering Curry's decade-long relationship with the iconic American sportswear brand Under Armour.
For those who are fans of Curry or simply love this style's futuristic aesthetic, mark your calendars for the lucky day of October 13 (never mind that it's a Friday)! This is when you get your opportunity to add these spectacular sneakers to your collection. Embracing the essence of futuristic style and exceptional craftsmanship, the Curry 11 promises to be a must-have for any sneakerhead.
6. Victor Wembanyama: Nike GT Hustle 2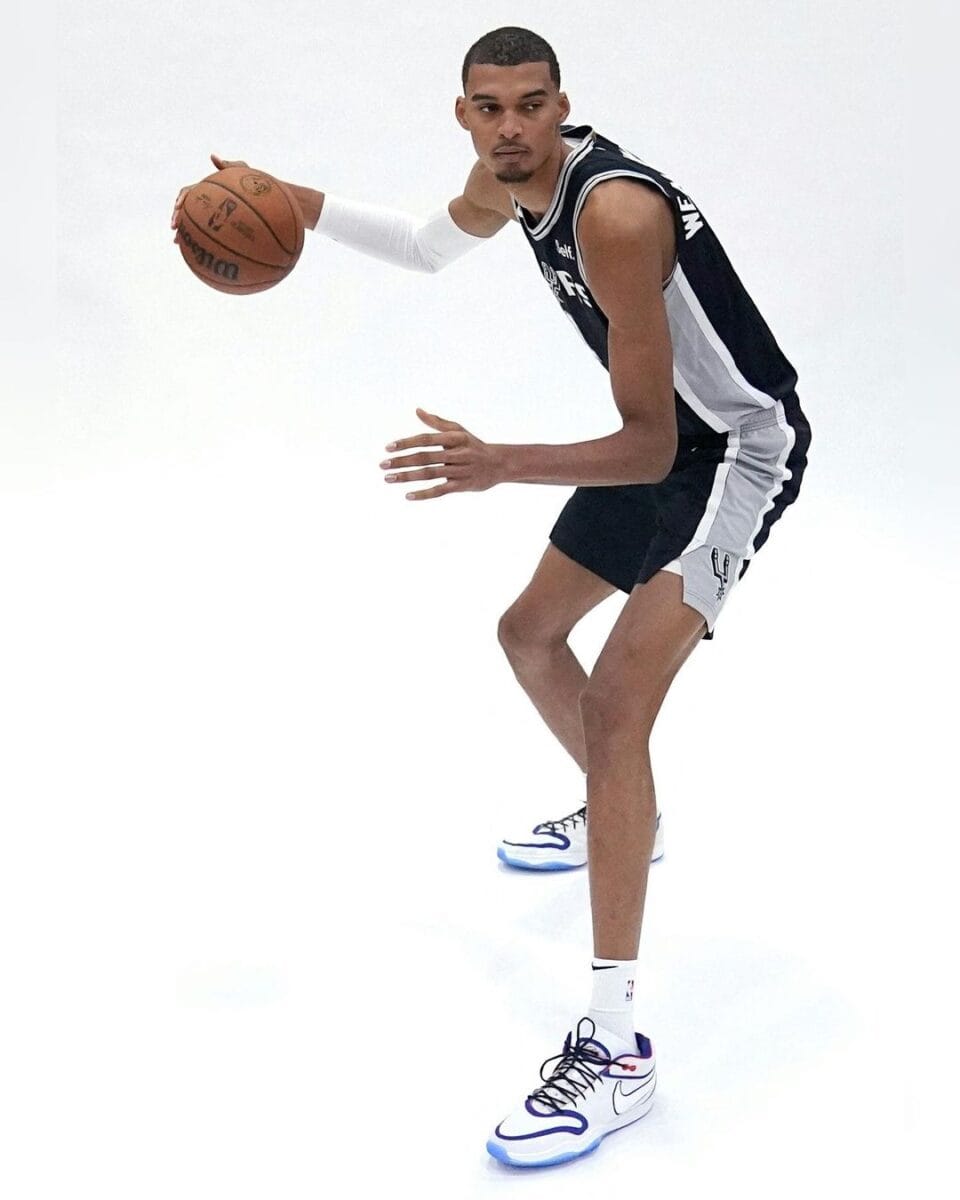 Victor Wembanyama of the San Antonio Spurs rocked up to Media Day confidently sporting the Nike GT Hustle 2. This towering 7'5″ newcomer didn't hesitate to make a bold statement with his striking white and black kicks. There's much anticipation surrounding Wembanyama's sneaker choices for the upcoming season. We're keeping our eyes peeled for fresh colourways and potential player-exclusive designs as the season unfolds.
This bright-eyed Spurs newbie is expected to fly the flag high for the Nike G.T. sneaker line in the upcoming season. With his impressive entrance, we wouldn't be stunned if he soon leads the way with a signature sneaker line of his own. Let's watch this space!
7. Zion Williamson: Jordan Zion 3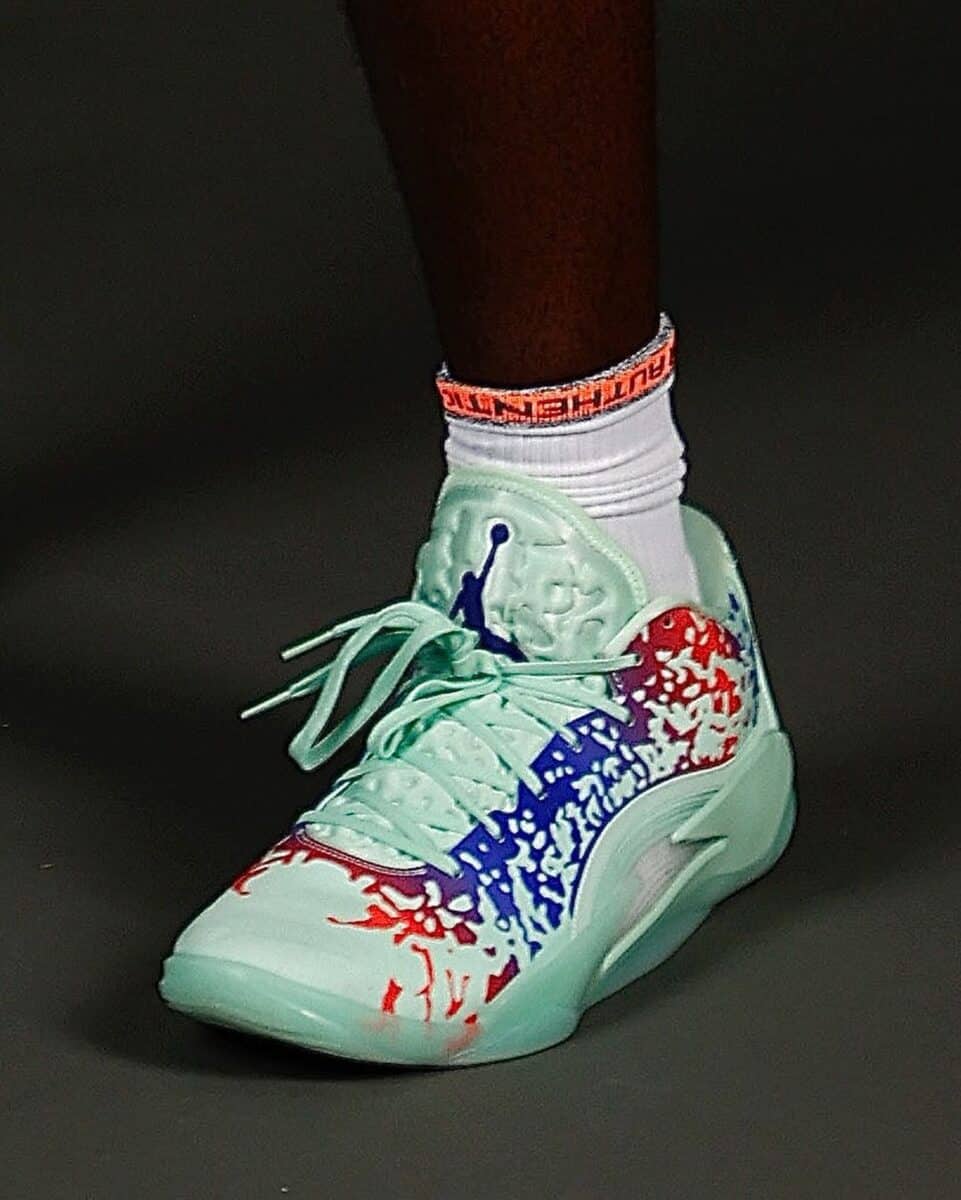 The New Orleans Pelicans' Zion Williamson made a radiant splash during Media Day with the latest shoe from his Jordan Brand signature line — his third one, in fact!
In a bold statement, the powerful forward opted to show off his fresh kicks in the striking "Mud, Sweat, and Tears" colourway on NBA Media Day. This vibrant, multi-hued masterpiece is set to drop on October 17th. So, go ahead and make a note in your schedule because you won't want to miss snapping up this eye-catching pair.
8. LaMelo Ball: PUMA MB.03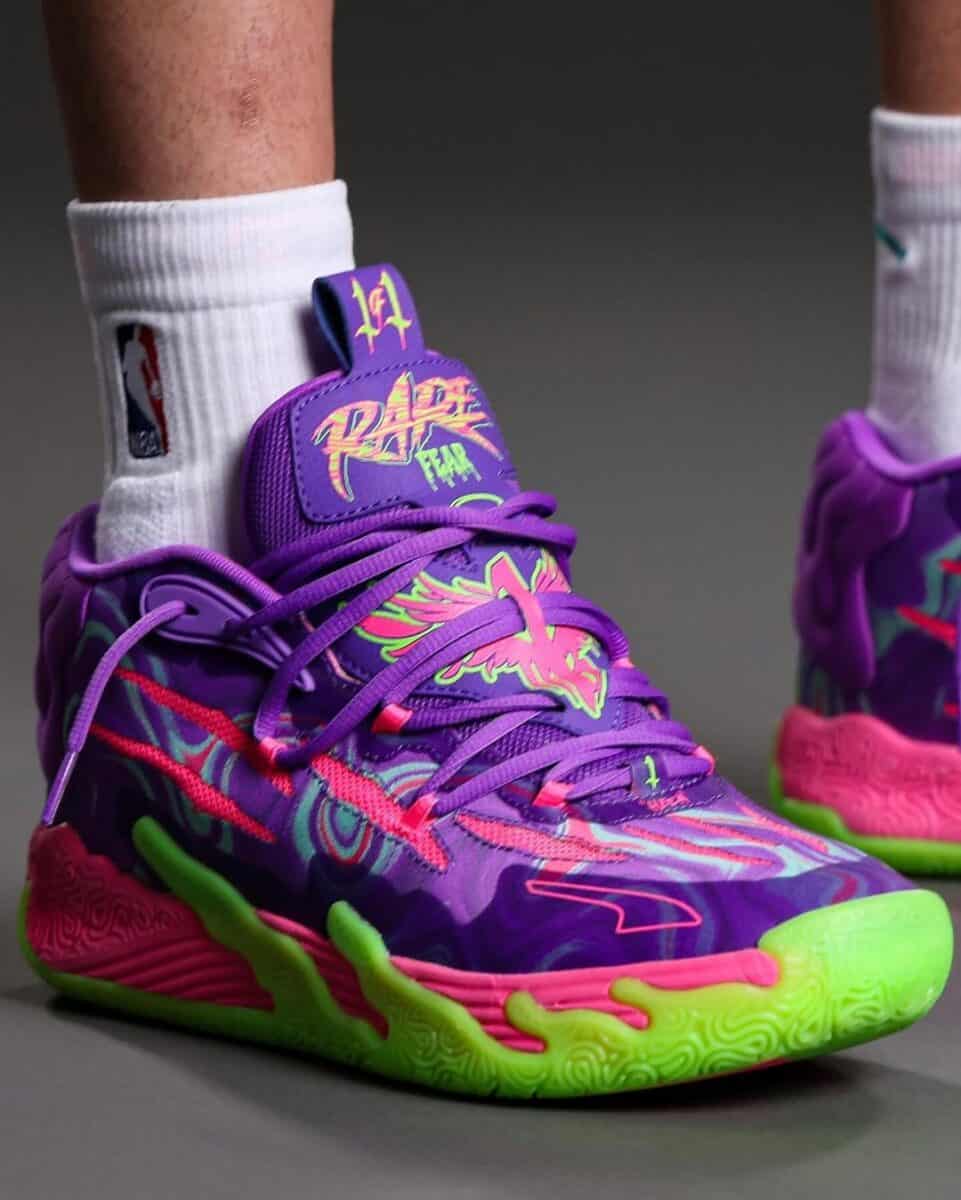 The spellbinding sneakers of NBA superstar LaMelo Ball from Charlotte Hornets cannot go unnoticed. During this year's Media Day, Ball debuted his latest PUMA MB.03 signature sneaks, and they surely turned heads.
Draped in a 'Toxic' colourway, the trainers are set to hit the markets in October. Their audacious mix of purple, pink, and green shades weave an unprecedented, eye-popping design that undoubtedly earns its spot among the most eye-catching NBA Media Day sneakers.
RELATED: 5 Best Air Jordan Collaborations of 2023
9. Anthony Davis: Nike Air Zoom Generation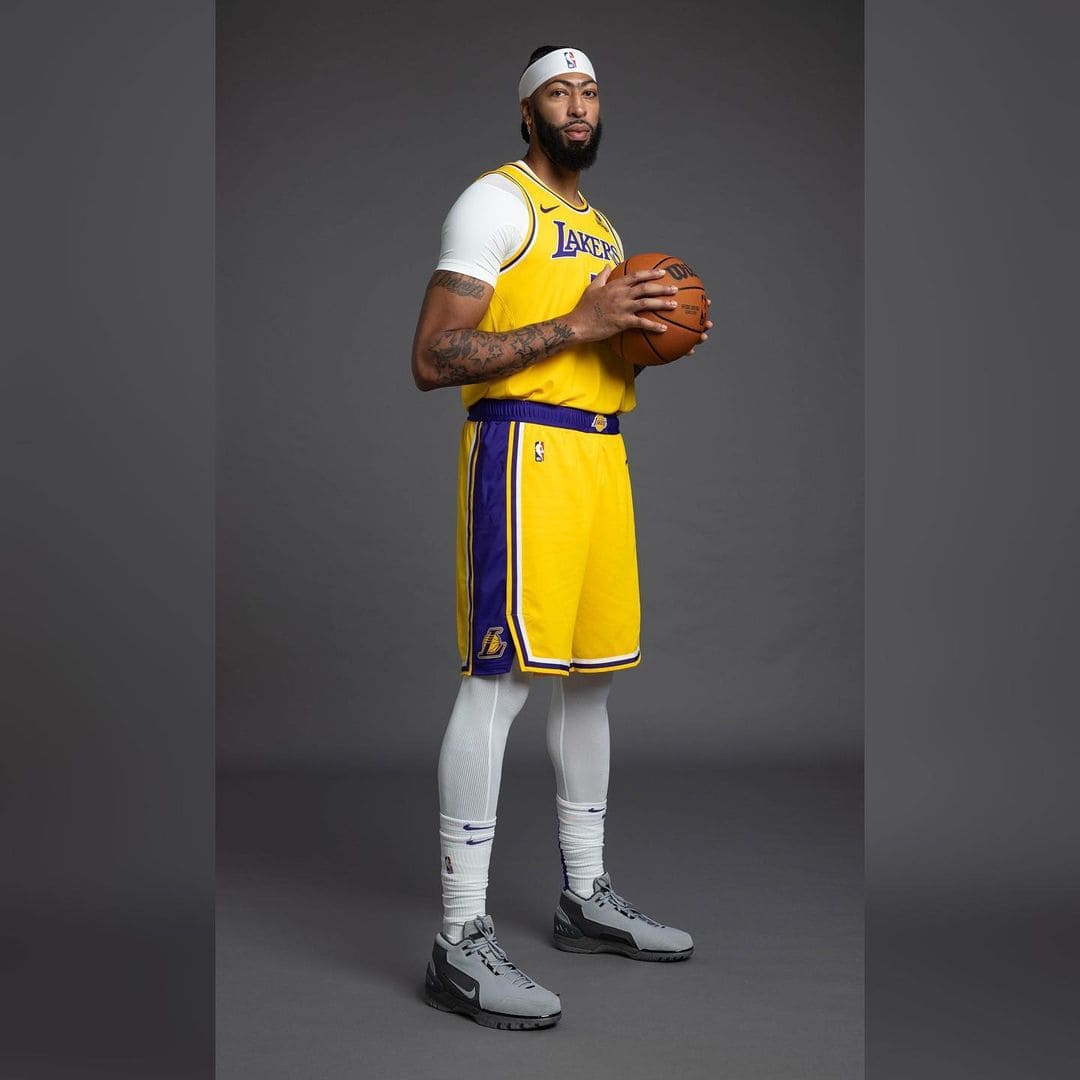 Anthony Davis of the Los Angeles Lakers made quite the splash at this year's NBA Media Day. Contrary to his affinity for Kobe's sneakers, Davis confidently embraced a style switch-up, debuting the dashing Nike LeBron Air Zoom Generation "Wolf Grey". This iconic shoe is, in fact, LeBron James' first signature shoe with Nike, marking a milestone in the sneaker world.
Just in time for its 20th anniversary, this timeless silhouette is back in the spotlight, coming back in an eye-catching range of retro and contemporary hues. One to watch is the "Wolf Grey" version, which Davis championed – a fresh design that only hit the streets this past May. Only time will reveal whether Davis makes a permanent shift from Kobe's sneakers to other styles this season.
10. Luka Doncic: Jordan Luka 2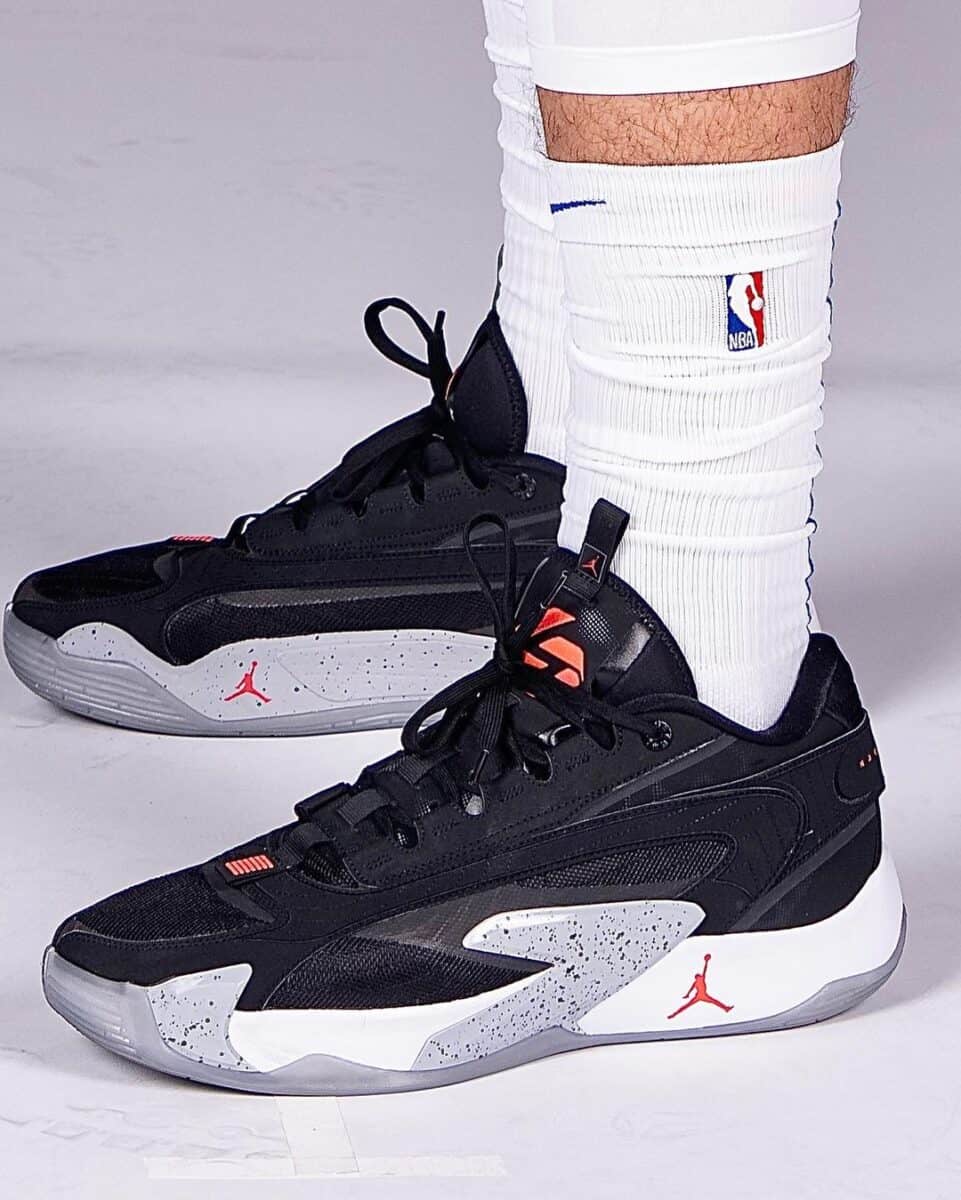 Adding some serious style to the Dallas Mavericks media day, Luka Doncic broke out his all-new Jordan Luka 2 "Bred" sneakers. This wasn't the first we've seen of his second signature sneaker; he debuted it at the tail end of the previous NBA season back in April.
However, this isn't where the story ends. There's chatter of even more eye-catching colourways on the way for the imminent NBA season, making it clear that we haven't seen the last of Doncic's latest signature shoe. As for the "Bred" colourway, the eagerly anticipated release hit select Jordan Brand retailers and Nike.com on October 3rd. So, now is your opportunity to snag your very own pair.
11. Giannis Antetokounmpo: Nike Zoom Freak 5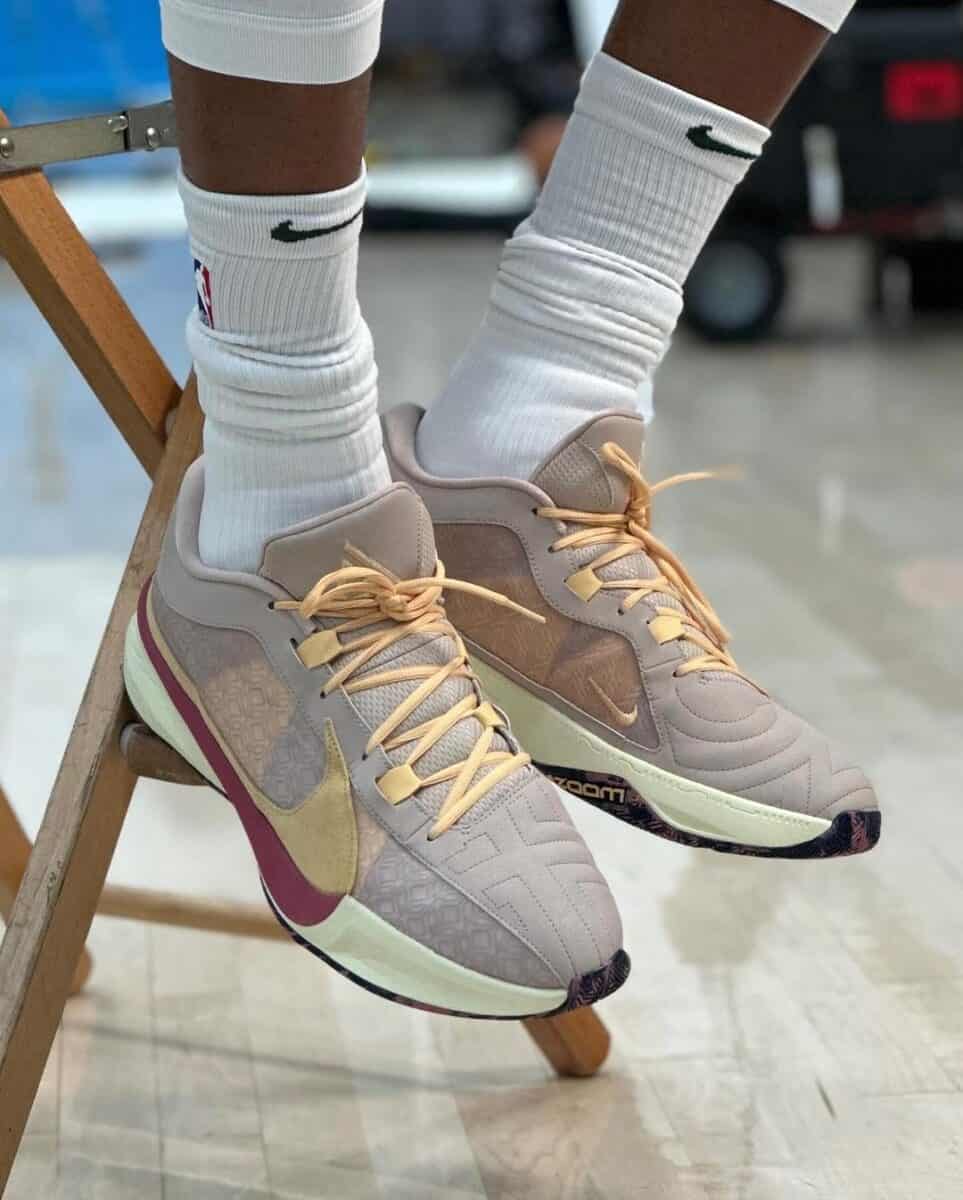 Milwaukee Bucks icon Giannis Antetokounmpo flaunted the yet-to-be-released Nike Zoom Freak 5 "Fossil Stone" on NBA Media Day. This pair of sneakers boasts a sunset-inspired colour palette, infusing his outfit with an enthralling dash of vibrancy.
What makes these shoes stand out is the meticulous stitching detail on the upper part, complemented by the unique split Swoosh that stretches from the quarter to the midsole—a trendsetter in its own right. Keep these on your radar; they're set to hit the market later this year.
12. LeBron James: LeBron X Low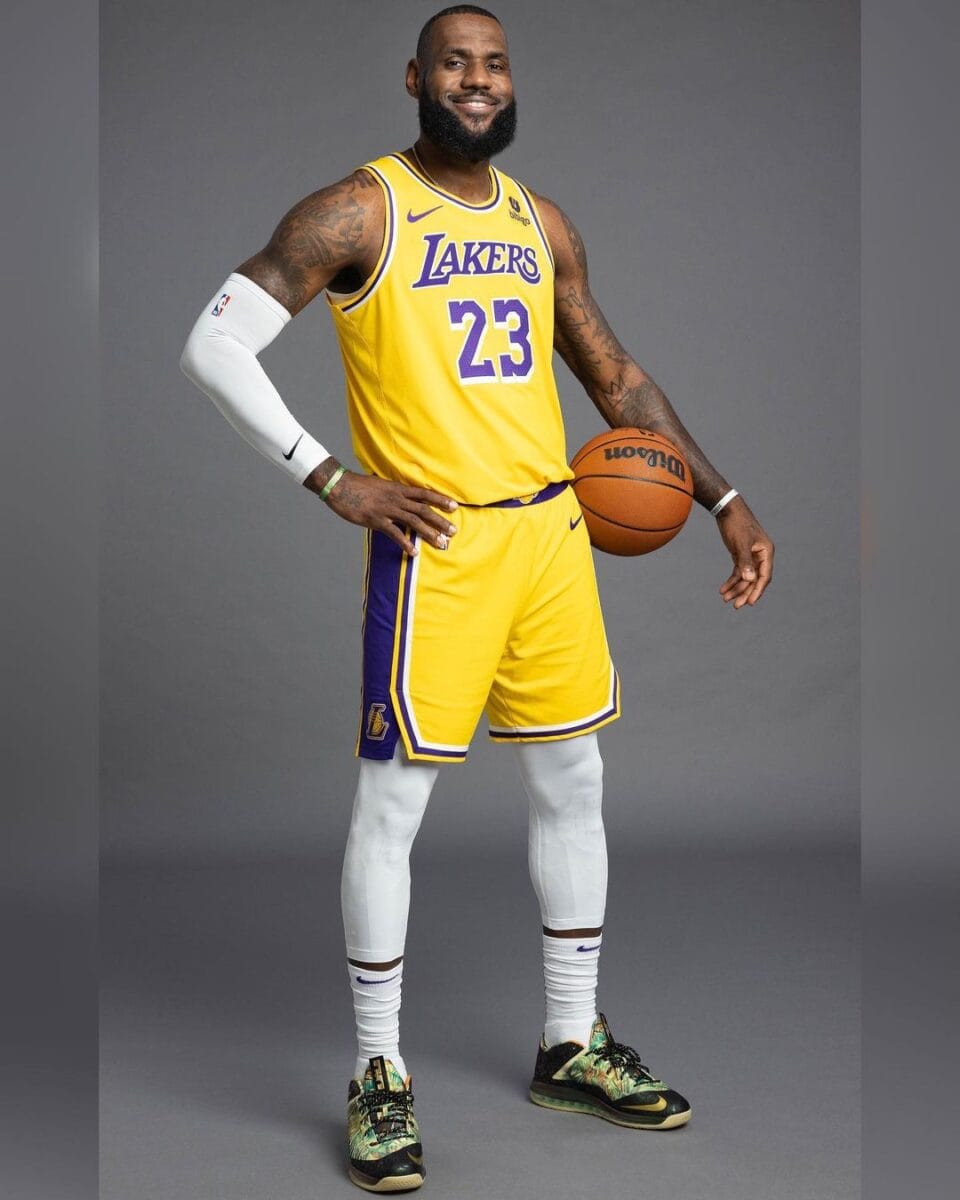 LeBron James – the shining star of the Los Angeles Lakers, is famed for breathing new life into past models from his signature Nike sneaker line. This year's NBA Media Day was no different.
Striding out in his colourful Nike LeBron X Low "Championship Pack", LeBron made a striking style statement. With vibrant bird motifs, intricate floral prints and stylish palm tree silhouettes, this Miami-inspired design wowed onlookers with its lively visual appeal.
We are undoubtedly surprised that LeBron chose not to showcase his newest creation, the LeBron 21, for the Media Day event. However, we hope that we catch a glimpse of his newest Nike lineup in the upcoming NBA 2023/24 season.
RELATED: Nike Refurbished Is Offering Discounts On Sneakers: Here's How It Works
13. Kyrie Irving: ANTA Shock Wave 5 Pro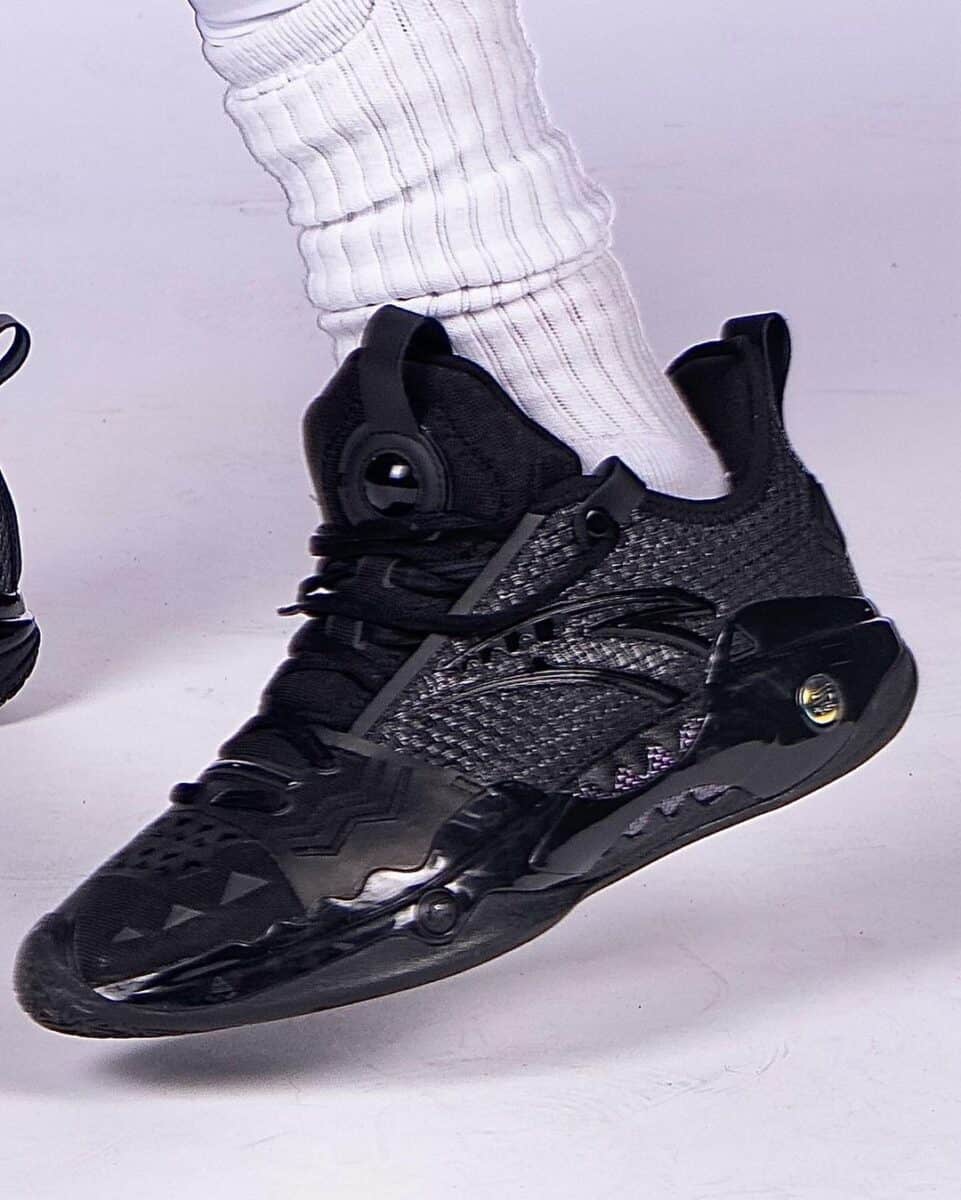 Kyrie Irving casually arrived at media day, sporting his dashing ANTA Shock Wave 5 Pro "Black". As the accomplished point guard for the Dallas Mavericks, Irving recently inked a multi-year contract with the esteemed Chinese brand for footwear and apparel production, including his very own signature shoe.
While we eagerly anticipate Irving and Anta's big reveal of the new signature collection, we can't help but admire the sleek and stylish Shock Wave 5 Pro that Irving has donned to kick off the season—a noteworthy pair among the list of NBA Media Day sneakers.
14. Brandon Ingram: Air Jordan 3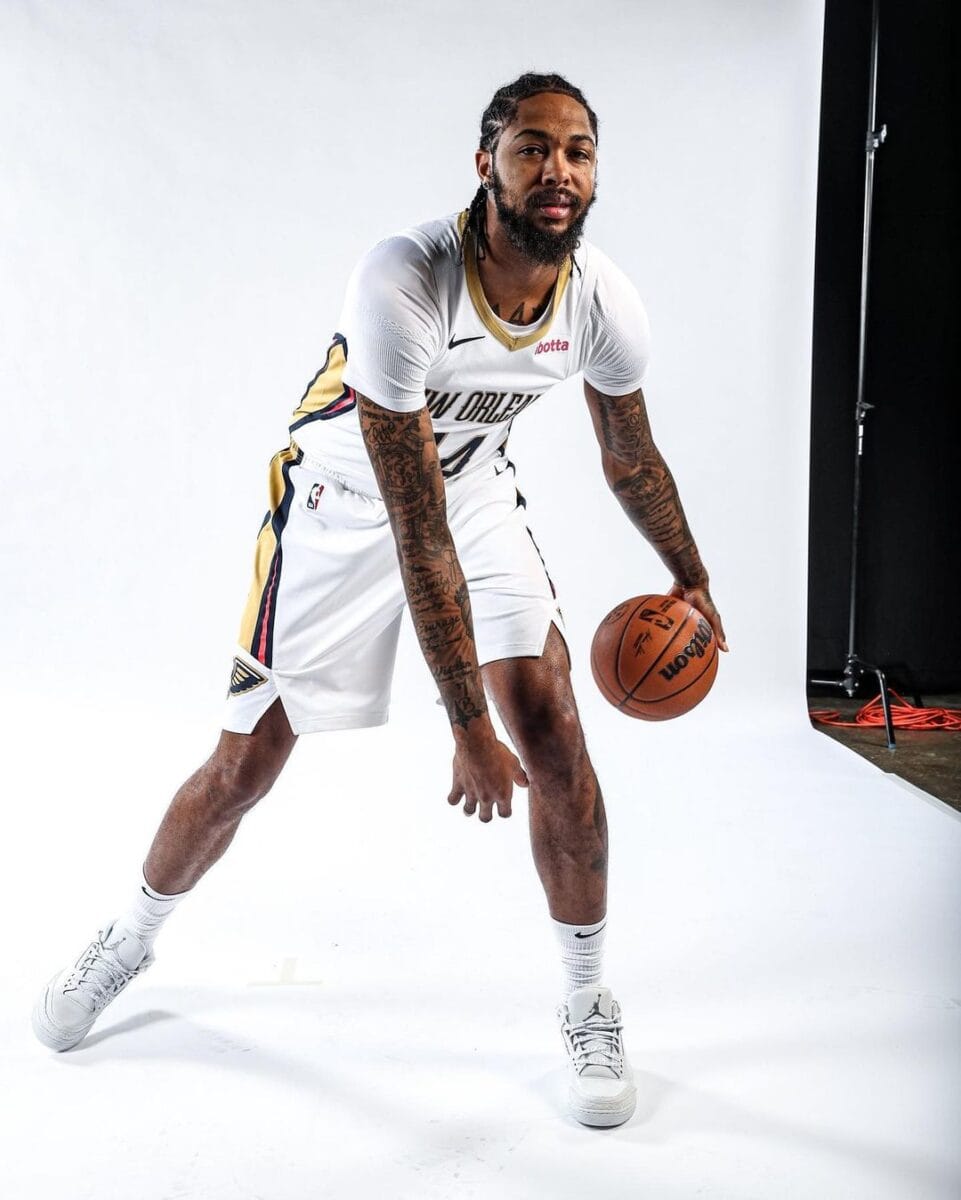 Contrary to widespread expectation, Brandon Ingram eschewed the latest Air Jordan 38 and instead harkened back to the past, choosing to don the classic Air Jordan 3 "Silver Anniversary. This surprise move served as a fitting homage to the titans of basketball past, while resurrecting a fondly remembered silhouette for a fresh run on-court.
This pair is part of a unique collection for the Air Jordan 3's 25th anniversary. Anniversary celebrations aside, the trainers carry the iconic aesthetic and traits of the Air Jordan 3 lineage. Sporting an immaculate white leather upper crafted with tumbled and patent finishes, the heritage of the Jordan brand is upheld. Not to forget, the distinctive, can't-miss, signature elephant print adorning the heel and mudguard.
With Brandon Ingram's unexpected but delightful choice, we're on the edge of our seats, waiting to see what other gems he'll dig out from his treasure trove of kicks in future games and events.
15. Donovan Mitchell: adidas DON Issue #5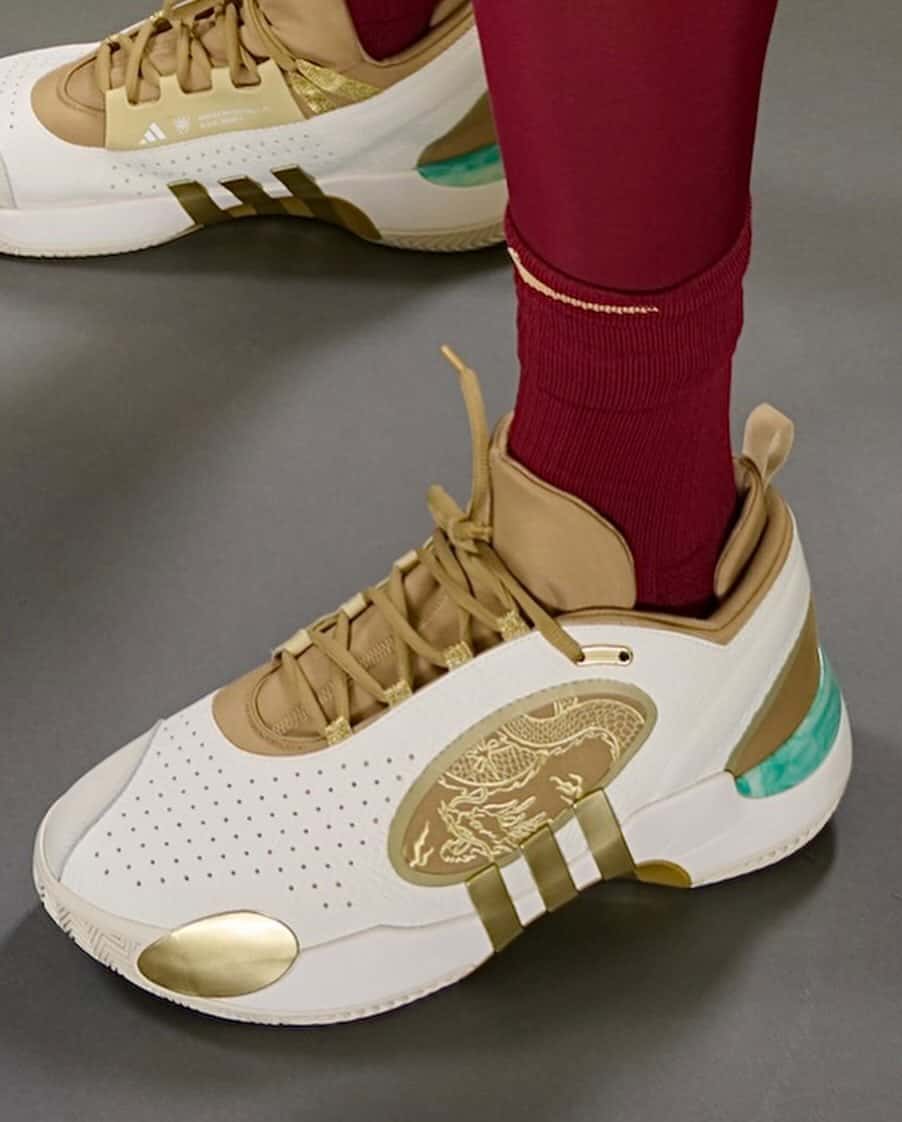 Donovan Mitchell has kept sneaker fans on their toes with glimpses of his fifth signature sneaker's numerous colourways. He took the NBA Media Day by storm, revealing yet another sneak peek of his forthcoming adidas DON Issue #5, this time in the breathtaking "White/Gold" option.
This particularly lavish sneaker parades a primarily white top subtly accentuated with specks of gold. However, capturing our attention are the radiant jade adornments at the heel and the striking dragon emblem on the side. Mitchell has certainly teased plenty of tantalising Issue #5 colourways, but the "White/Gold" edition, we believe, truly takes the cake.
16. Chris Paul: Jordan CPE III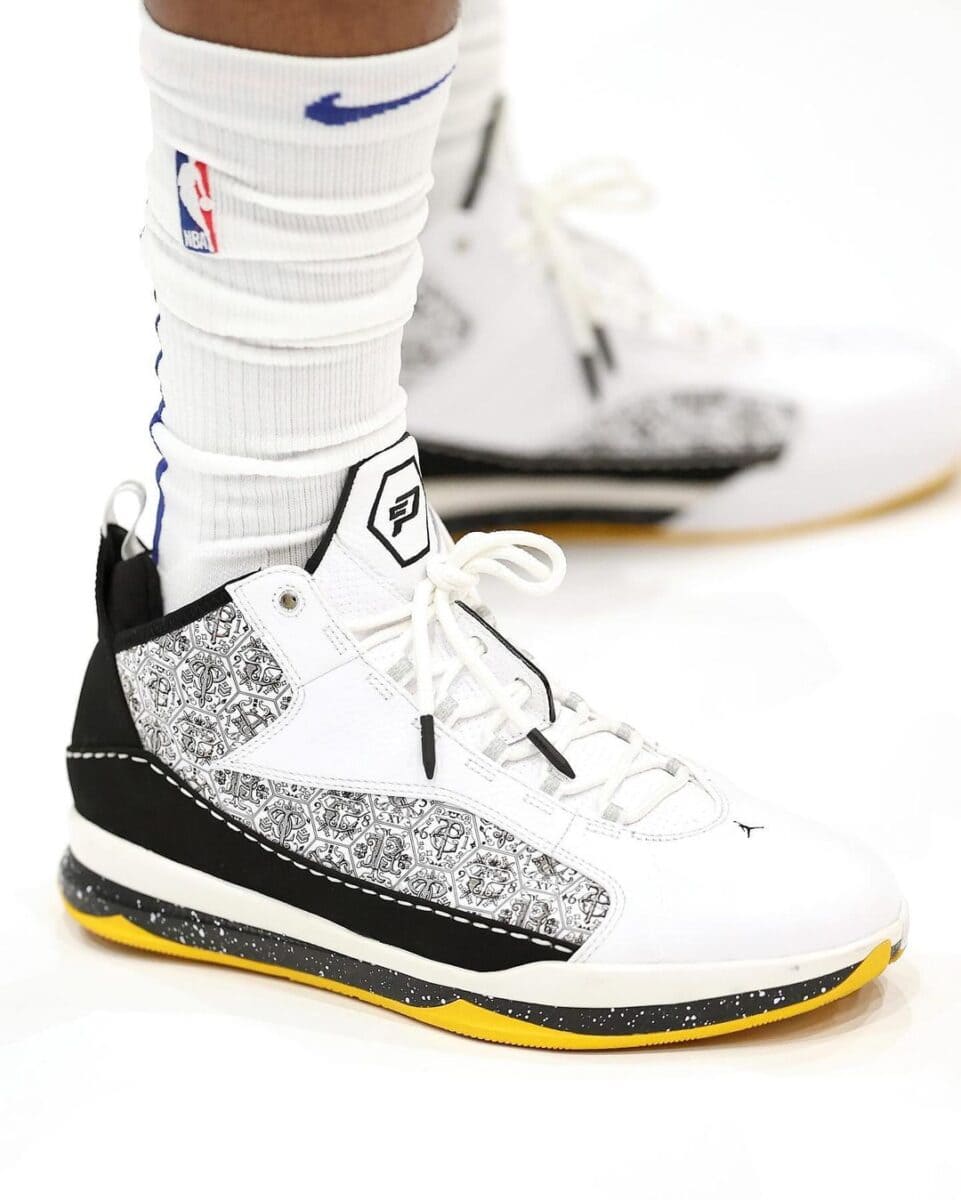 Marking his debut with the prestigious Golden State Warriors, Chris Paul brought vintage flair to the court with the Jordan CPE III "White Sunstone." Despite switching teams this season, this point guard has chosen to stay true to his roots with a throwback sneaker from his signature 2010 line on NBA Media Day.
These sneakers are full of appreciable and intriguing details, including the Family Crest pattern on the upper and a spectacled midsole. You have to agree; it's a joy to see the return of this old gem.
RELATED: A'Ja Wilson Received An Exclusive Pair Of LeBron 21 Sneakers Ahead Of The WNBA Finals
17. Desmond Bane: Mimi Plange x Nike LeBron 20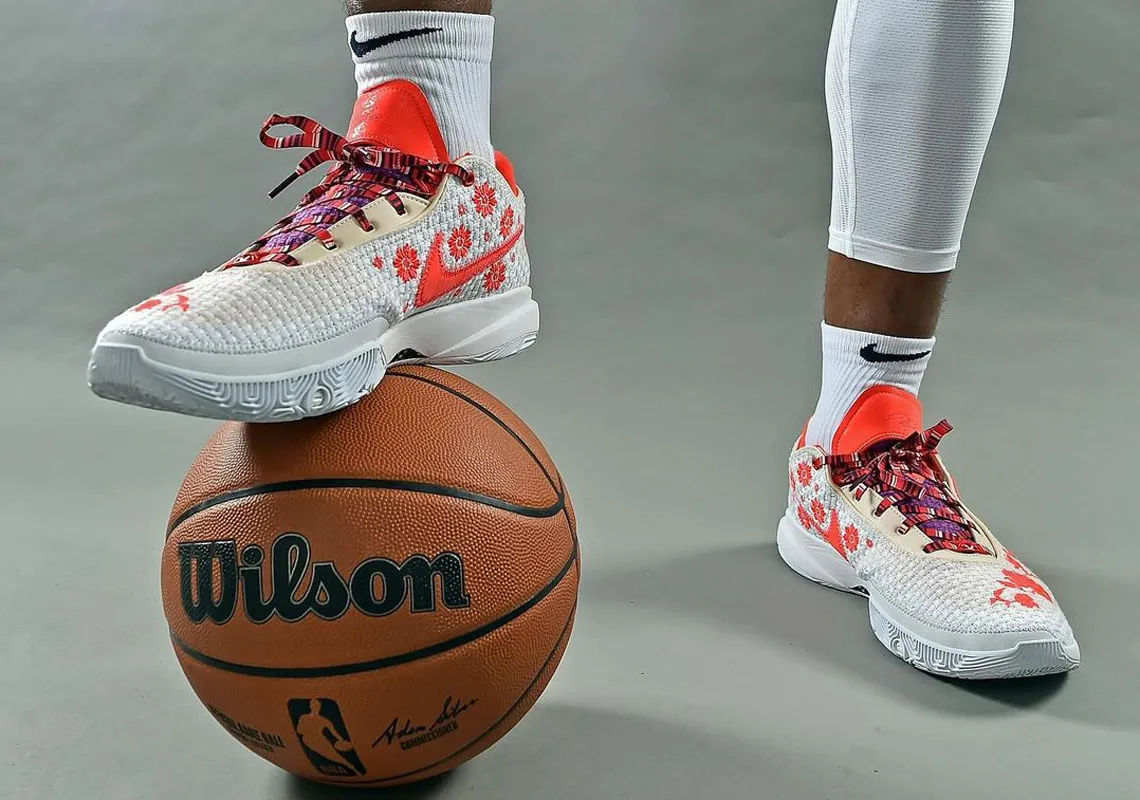 Memphis Grizzlies ace Desmond Bane added a star turn to the NBA Media Day. Rather than opting for a standard pair, Bane opted for the distinctive Mimi Plange x Nike LeBron 20 "Ceremony".
These particular sneakers captivate with an array of vibrant floral graphics and striking colour pops, making for a real showstopper.
The creative alliance of Mimi Plange and Nike lends a unique facet to the LeBron 20 – elevating Bane's Media Day look to a whole new level.
18. Trae Young: Adidas Trae 3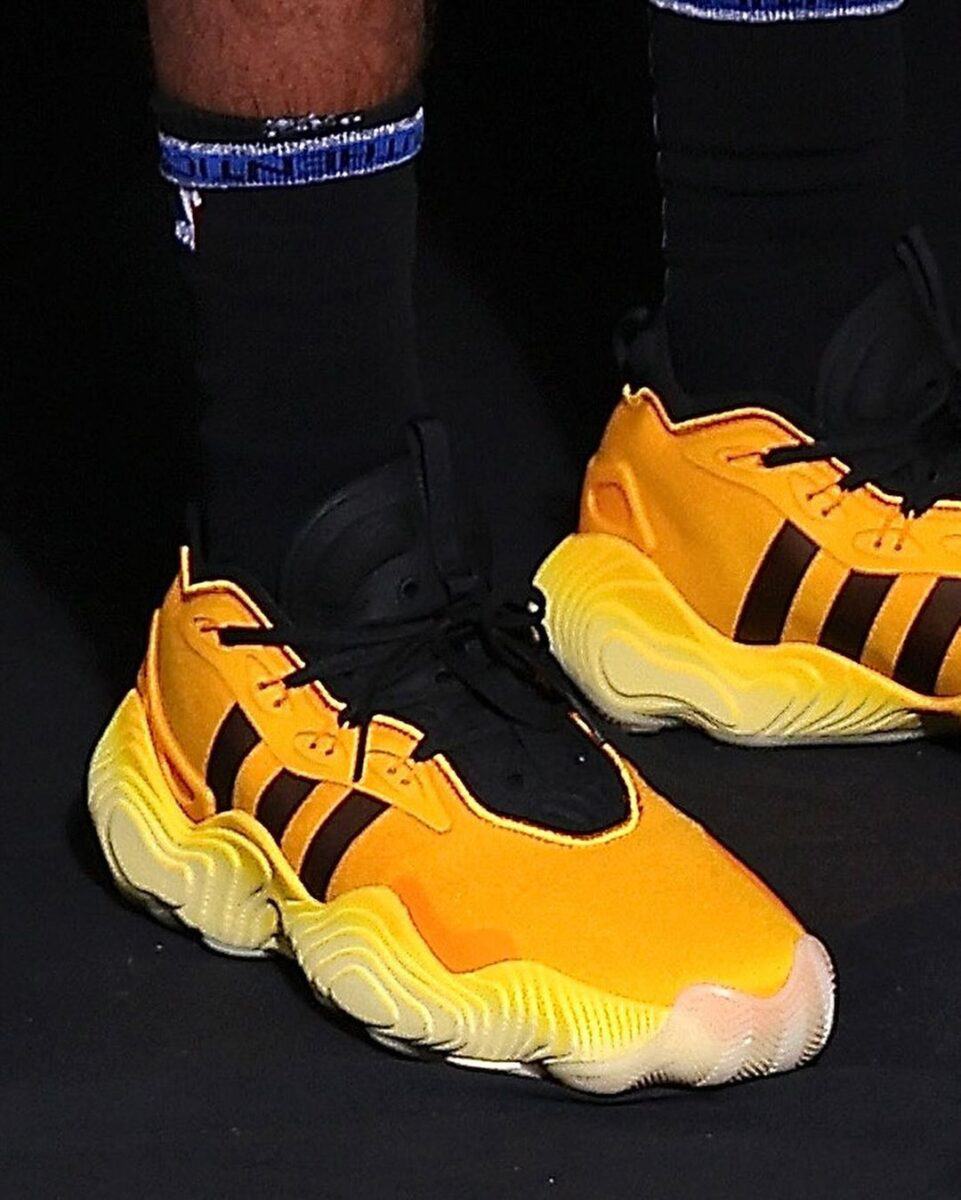 Setting a striking statement on the NBA Media Day, Atlanta Hawks' point guard, Trae Young, chose to sport his third signature shoe in collaboration with adidas.
Flawlessly fusing style and technology, the sneaker encapsulates the very best of adidas Basketball's footwear evolution. The attention-grabbing "orange" colourway? It's the icing on this spectacular stunner. No further words are needed.
19. Terance Mann: Skechers Basketball Sneaker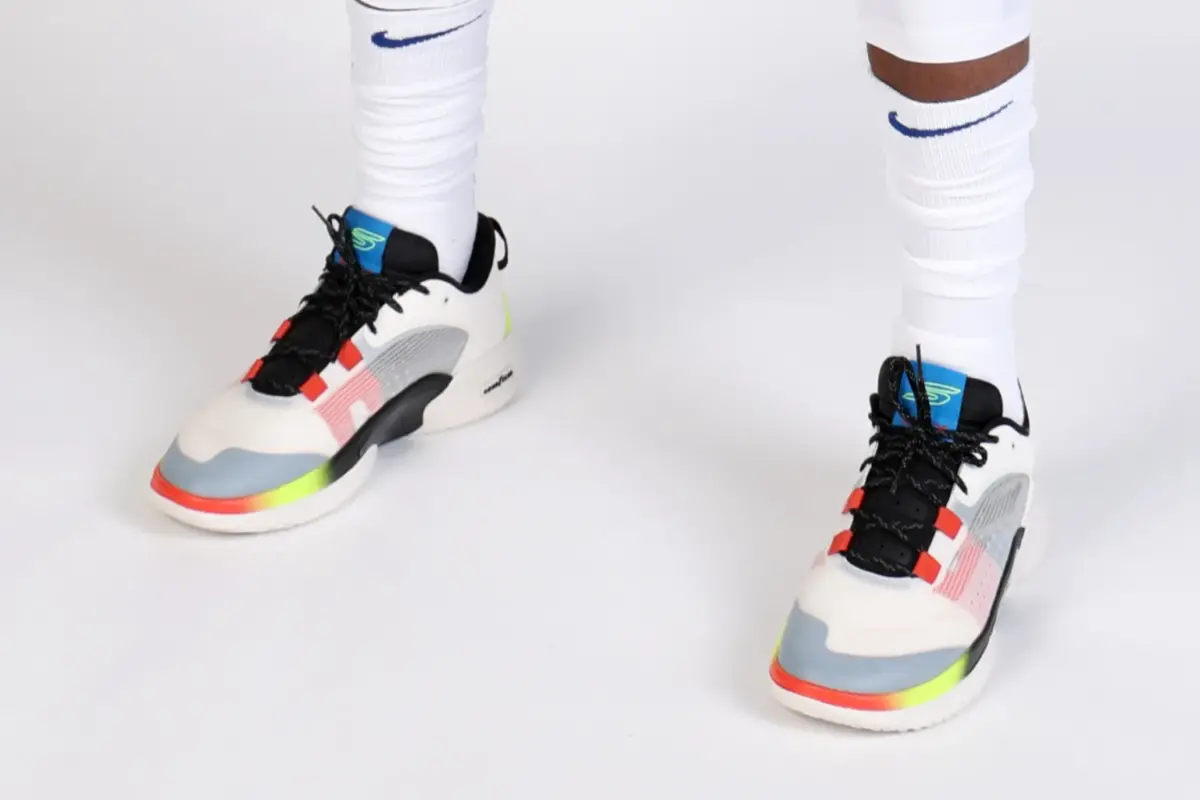 Imagine our surprise when we spotted Terance Mann, the shooting guard for the LA Clippers, rocking a pair of Skechers performance basketball sneakers at NBA Media Day! While no official confirmation has emerged about Mann's ties with Skechers, seeing this budget-friendly shoe brand making a play for the high-stakes performance footwear market is intriguing.
Competing against giants like Nike and Adidas isn't an easy game, but Skechers are stepping up their strategy by aligning with an NBA player. Mann's decision to don Skechers on this spotlight-hogging day in the basketball calendar may serve as a thrilling teaser, bringing enhanced attention and credibility to Skechers' basketball sneaker line and to himself.
2o. Kevin Durant: Nike KD 16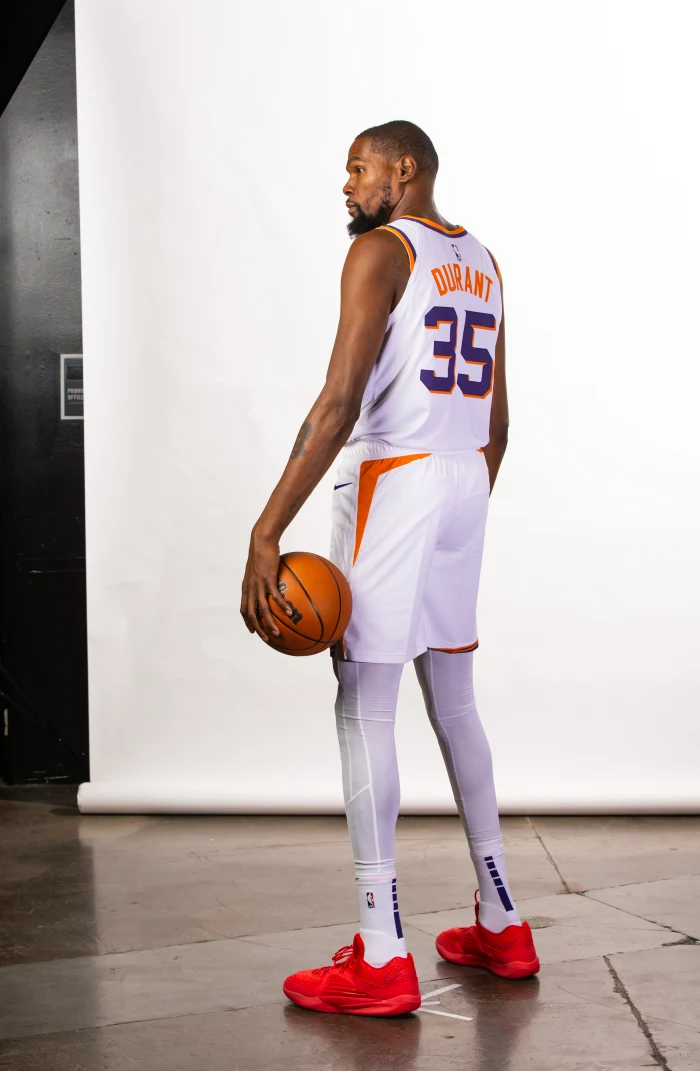 Since his NBA maiden season in 2007, Kevin Durant has held a cherished endorsement deal with Nike. Naturally, as the man brandishing the second-most enduring signature basketball shoe line, NBA Media Day is never complete without him showcasing one of his distinguished designs. Durant, now gracing the court for the Phoenix Suns, decided upon an exclusive all-red edition of his 16th signature Nike shoe.
Although he might dismiss them as 'just another pair of kicks,' we simply cannot contain our anticipation for the awe-inspiring array of colourways and designs that Durant will debut this season.
RELATED: The AMBUSH x Nike Air More Uptempo Is One Of The Biggest Drops of 2023
21. PJ Tucker: Air Jordan 3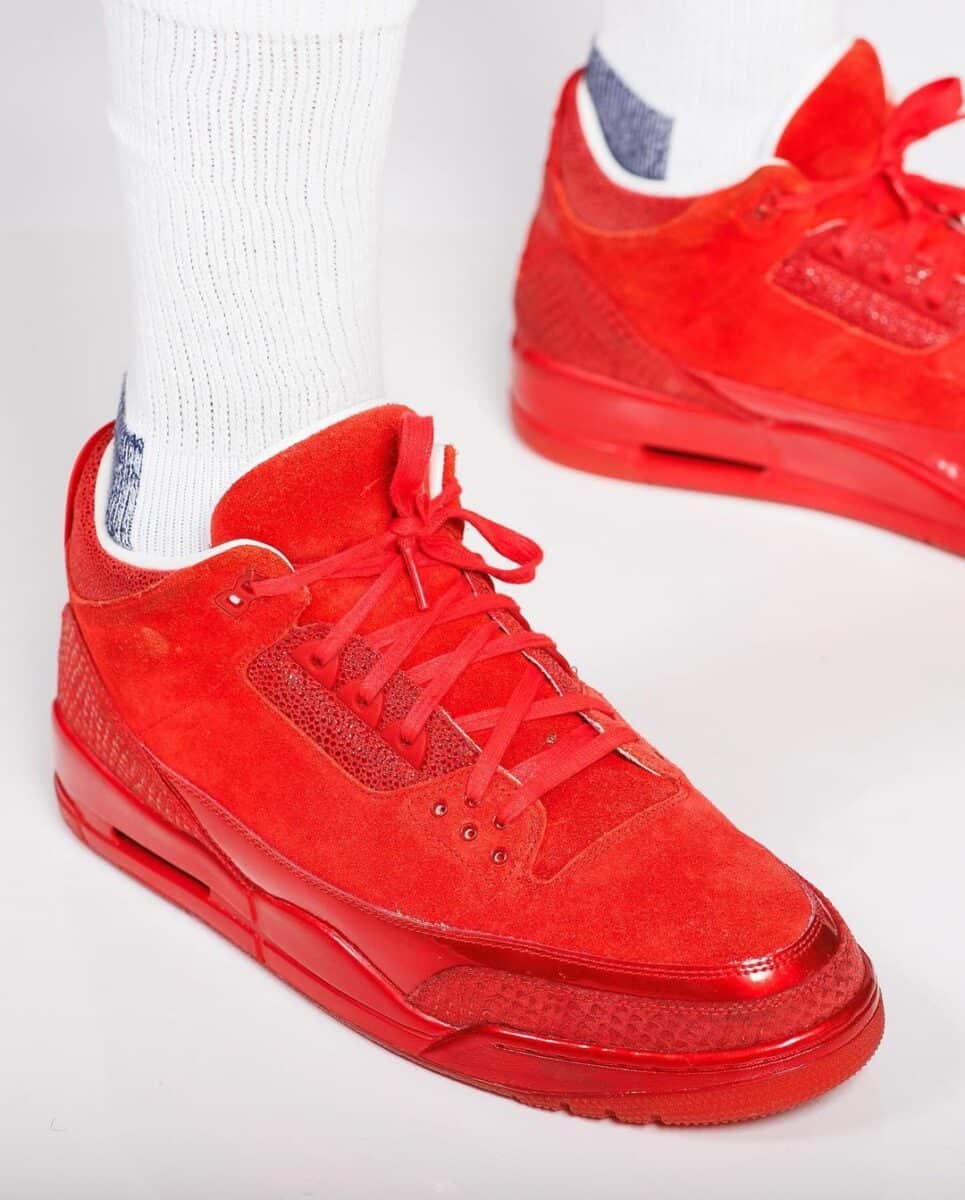 Imagine diving into the depths of the coveted Jordan collection and resurfacing with the extraordinary Air Jordan 3 "Legends of Summer". That's precisely what PJ Tucker, the esteemed player of the Philadelphia 76ers, did. It's no ordinary pair of trainers either – you'd find these glittering gems trading at a hefty $8,000 in the resale market now.
Might some be amazed at Tucker's pick of the Air Jordan 3 "Legends of Summer"? Possibly. But then again, it's entirely in line with his status as one of the most fashion-forward figures in the NBA. We eagerly await the next sneaker spectacle from the NBA's Sneaker King.
22. Tyrese Maxey: New Balance TWO WXY V4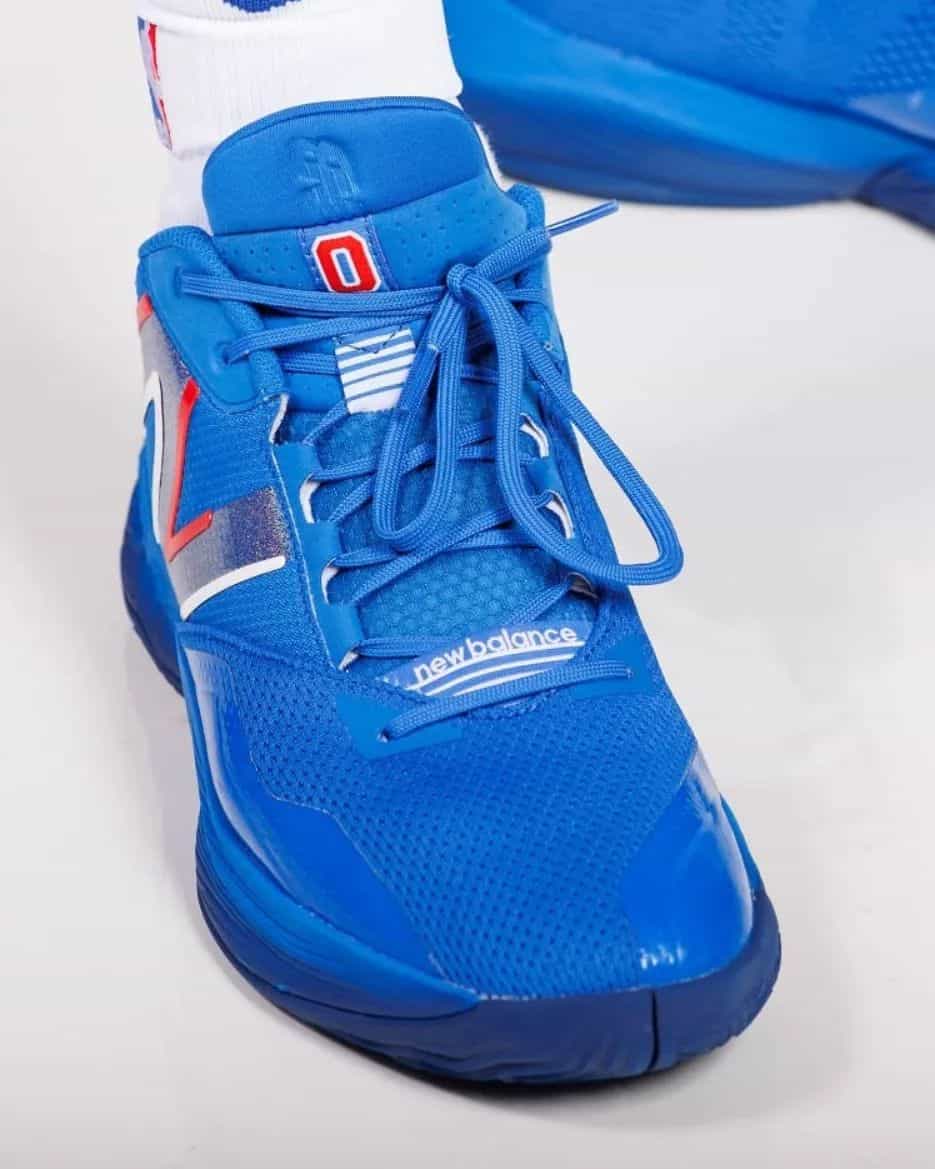 This year, Tyrese Maxey inked a multi-year sneaker contract with New Balance and has been seen flaunting various NB Two WXY V3 colourways. But he took a leap forward for the NBA media day, choosing to sport the brand-new model, the NB Two WXY V4.
This specific version features a Philadelphia 76ers-inspired colourway and Maxey's unique logo on the heel. We look forward to seeing what else New Balance and Sixers point guard have in store this season.
23. Ben Simmons: Louis Vuitton LV Trainer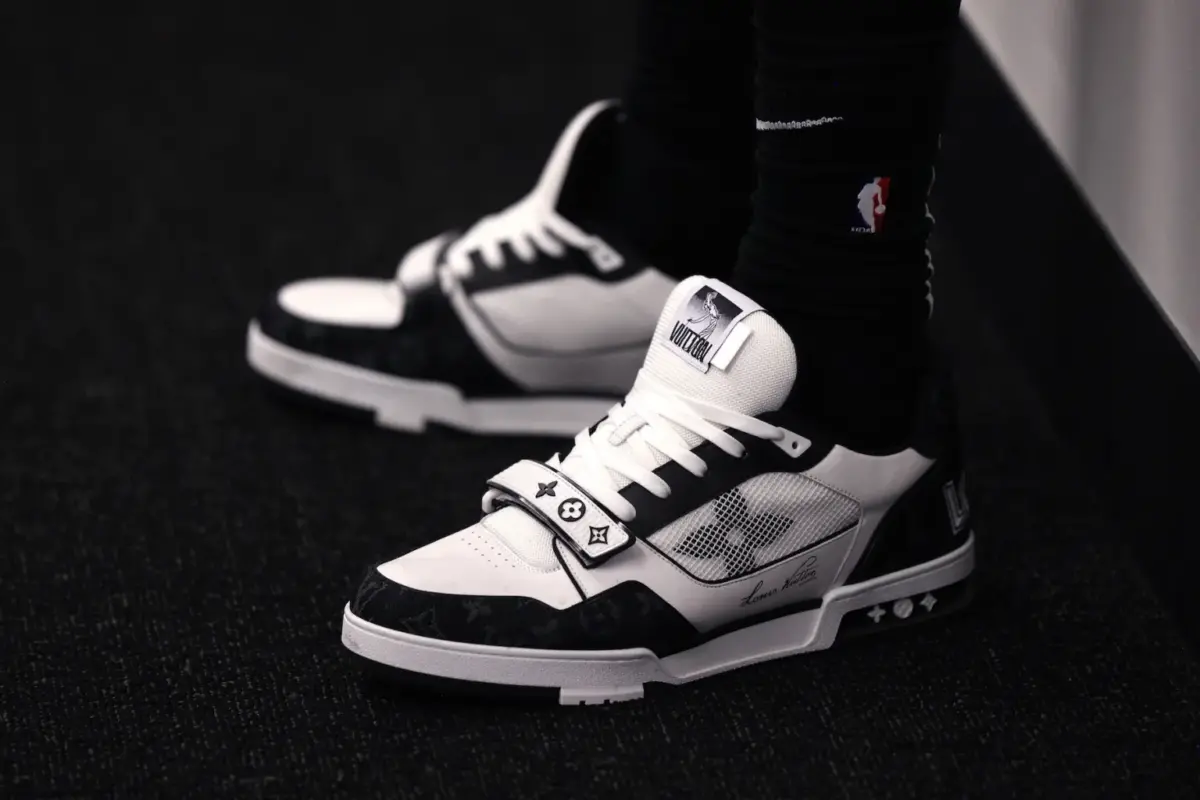 Paired with his sleek black and white Brooklyn Nets ensemble, Ben Simmons decided to strut his style in coordination with an outstanding pair of Louis Vuitton LV Trainer "Black" sneakers for NBA Media Day.
These sleek kicks didn't just make a fashion statement but perhaps hinted at something more. It's definitely a bold choice for NBA Media Day sneakers.
24. Rui Hachimura: Air Jordan 12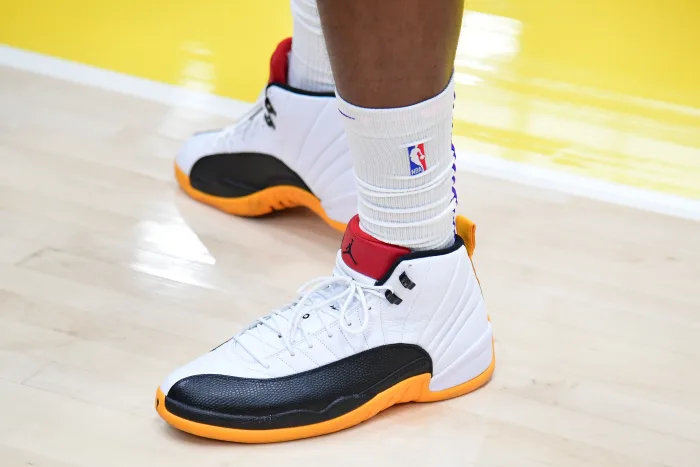 The NBA Media Day was a feast for the eyes, with quite a few Jordan models on show. However, one name stood out from the crowd: Japanese Basketball Pro Rui Hachimura. He put his best foot forward in an impressive retro Air Jordan 12 sneakers pair.
The sneakers in question? None other than the Air Jordan 12 in the standout '25 Years in China' colourway. Worn with an effortless cool by the talented Los Angeles Lakers small forward, these kicks were part of a limited-edition collection commemorating a quarter-century's worth of Air Jordan's influence in China.
By opting for this special edition shoe, Hachimura has displayed impeccable taste and further solidified his position as a trendsetter in the exciting world of basketball. If his NBA Media Day sneakers are anything to go by, it's clear that Hachimura is fearless in making a statement with his footwear choices.
RELATED: Under Armour HOVR Phantom 3 Running Shoes Review
25. Kawhi Leonard: New Balance KAWHI 3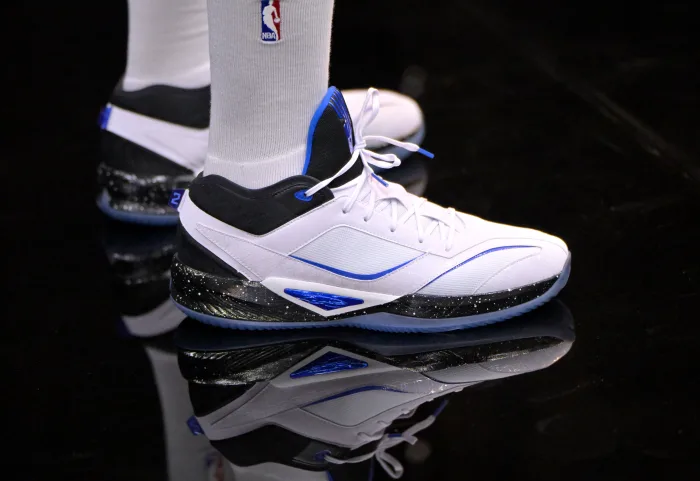 Clad in the spectacular New Balance KAWHI 3, two-time NBA champion Kawhi Leonard certainly made his mark on NBA Media Day. Even though Leonard is approaching the final stretch of his sneaker endorsement deal with New Balance, the uncertainty surrounding his future with the brand didn't deter his impressive showcase.
The Los Angeles Clippers ace confidently sported his third, and arguably most impressive, signature pair in an eye-catching Clippers-inspired colourway. His NBA Media Day sneakers were a fitting choice to showcase his loyalty to the Clippers and his commitment to the team's success.
26. Christian Wood – adidas Crazy 1 "Off-White/Purple"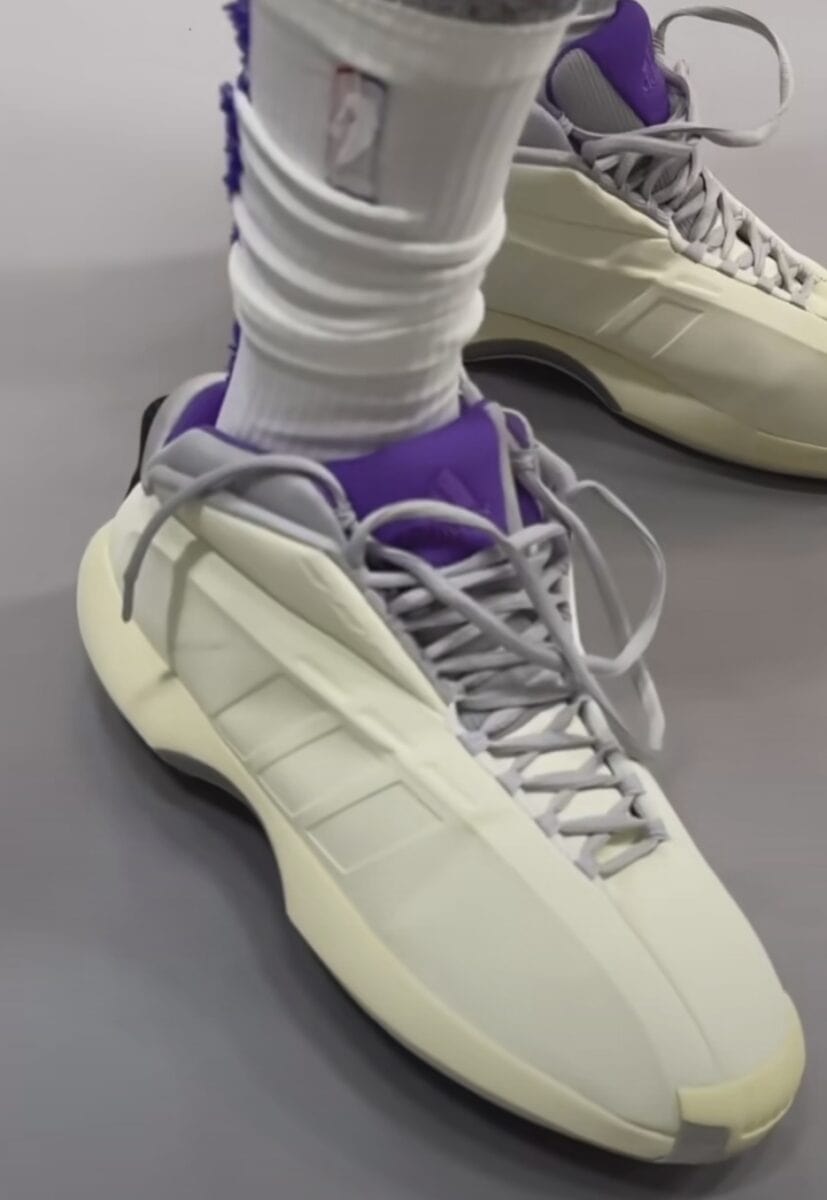 As part of the glamorous Los Angeles Lakers line-up, forward Christian Wood didn't disappoint with his choice of impeccable footwear at NBA Media Day. He was spotted dazzling the floor in none other than the adidas Crazy 1 "Off-White/Purple." The young basketball maestro, who inked a deal with adidas just last November, hasn't looked back since, proudly showcasing their edgy creations on the court at every chance he gets.
The noticeably futuristic aura of the adidas Crazy 1 perfectly dances with Wood's inimitable style, bringing an intriguing twist to his powerful on-court persona. The striking "Off-White/Purple" colour scheme further intensifies and uplifts his individual flair, adding a vivid burst of vibrancy that secures his NBA Media Day sneakers a spotlight in the Lakers sneakers line-up.
27. Chet Holmgren – Nike KD 5 Elite "EYBL"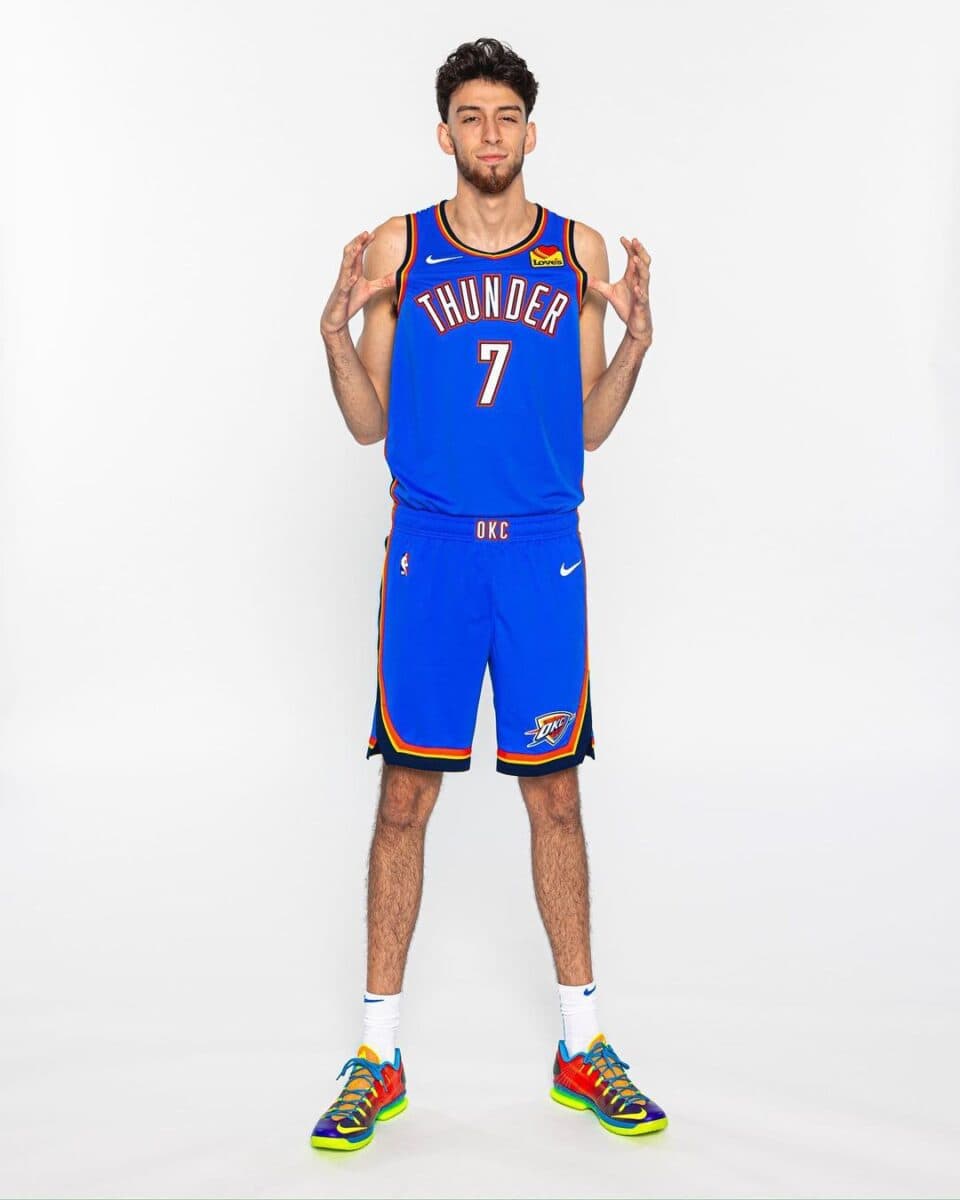 Chet Holmgren is among the dazzling array of NBA rookies to put pen to paper on a sneaker deal with Nike last year. As expected, the NBA Media Day saw this power forward/centre rocking his selected Nike daps. And what better choice than the vibrant Nike KD 5 Elite "EYBL"?
Initially released as an exclusive limited edition for the Elite Youth Basketball League (EYBL) tournament, this colourful sneaker is a blazing mix of strident hues and detailed patterns, adding a distinct panache to Holmgren's court presence. A limited release, the sneaker's value has shot up considerably on the resell market, making it a hot ticket for collectors. It unquestionably adds to the stylish swagger of the Oklahoma City Thunder's centre-forward.
RELATED: Chris Paul x Air Jordan 1 Low OG "Give Them Flowers" Sneaker Is Dropping Very Soon
Which of these NBA Media Day sneakers caught your attention the most?
Source: @allinlivee, @hoops_sneakers_, @nbakicks,@slamkicks