When there's an event like the Women's World Cup afoot, it makes for some next-level hype around the best players from each country. In the 2023 Women's World Cup, there are a few players from Team USA that are getting a lot of attention for their gear. Many fans want to replicate their performance, and the easiest way to match that is by rocking the same boots. We gathered a few top players from the Women's World Cup and confirmed their Nike football boots. We'll highlight why each pair is worth using on a pitch.
RELATED: Nike x DC Superheroes AI Football Boots: Jed.ai Mindtricks
Alex Morgan, Sophia Smith – Nike Phantom GX
#Nike_DC9969-600
The Nike Phantom GX line of football boots is one of the most solid pieces of craftsmanship that can be worn on a football pitch. This boot uses Nike's Gripknit tech for its sticky material. Thanks to Gripknit, players can have a better touch of the ball and achieve a consistent level of grip with the ball in both wet and dry conditions. For a player like Alex Morgan, these boots have helped her maintain a strong form throughout her extensive career.
In terms of comfort, the Phantom GX is one of those boots you can play with for long sessions and avoid skin irritations and other conditions that make it hard to stay focused while playing.
Best of all, the performance of these boots allows players to gain the best possible traction when running on the pitch.
RELATED: Rethinking the Football Boot with the adidas Parley Pack
Our favourites. Available now at Nike.com
Crystal Dunn – Phantom Luna
#Nike_FN8406-600
The Nike Phantom Luna football boot is part of the Phantom line, but its design is specifically tailored towards female players. Just like the Phantom GX, this boot has the Gripknit technology used to tailor its upper area. However, there was additional input from Crystal Dunn in its creation. Dunn has been able to take advantage of this boot to carry the United States Women's team through some tough games. In the current Women's World Cup, Team USA is undefeated, and it's in no small part thanks to the contributions she made in her position as a winger.
Megan Rapinoe – Mercurial Vapor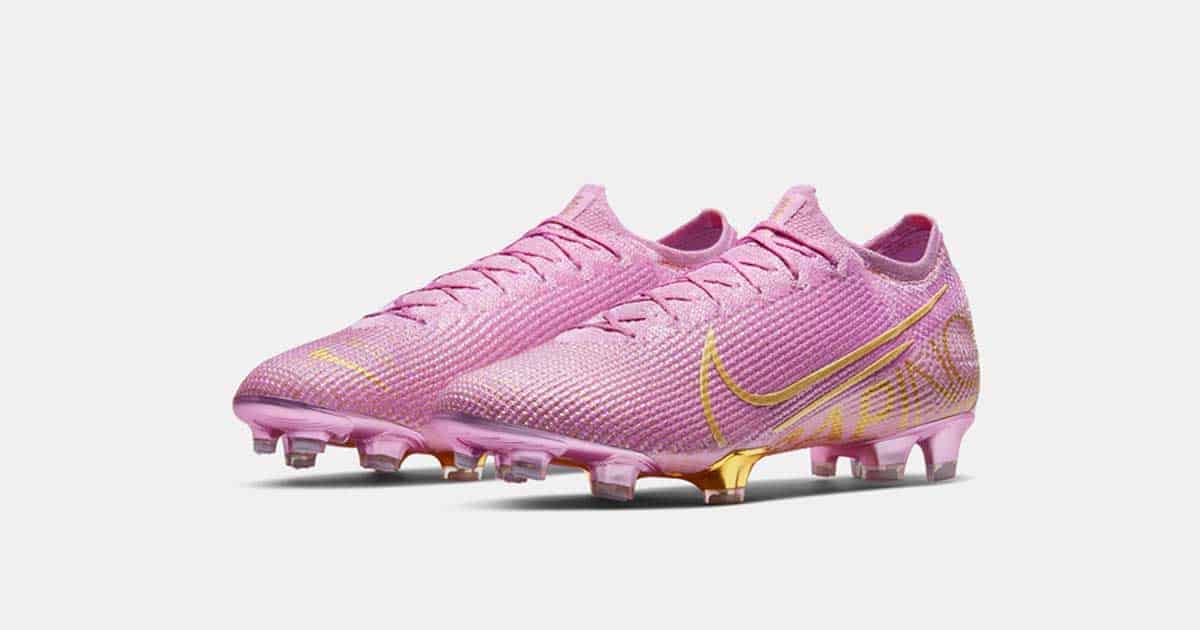 #Nike_DJ4978-600
Megan Rapinoe might be the most recognizable name in women's football right now, especially after her stellar performance during the previous Women's World Cup where team USA took home the trophy. Her choice of boots also matches her fame as she rocks the highly iconic Nike Mercurial Vapor. If you've been around for a while, you're probably familiar with these boots. Popularized by players like Cristiano Ronaldo, these boots tend to be worn by the biggest strikers in the game. The way the boots complement players like Rapinoe's acceleration while providing lightweight traction makes it easy to switch to a rapid attack when necessary.
Rose Lavelle – Nike Tiempo
#Nike_DZ3176-800
If there's a pair of Nike boots made for comfort and consistency, these are probably the right ones to pick up. The Nike Tiempo is a staple on the pitch for many players, especially defenders. These boots offer a well-rounded design that makes them practical for players that want to forget about what's on their feet, and focus on the game in front of them. Rose Lavelle has greatly benefited from this choice as she's one of Team USA's top defenders.
RELATED: PUMA Brilliance Pack Released in South Africa
What are the coolest Nike football boots you've seen in the Women's World Cup?