For the past month, Kobe's signature shoe line has been on everybody's radar, and for good reason. Nike and Vanessa Bryant announced that the footwear company would begin releasing a series of Kobe Bryant's iconic sneakers, starting with the new and improved Nike Kobe 8 Protro. Now, after much anticipation, the sneaker we've all been waiting for is finally here. The Nike Kobe 8 Protro "Halo" has officially dropped and is selling out fast!
RELATED: Kobe Bryant's Nike Air Flight Huarache "Lakers Away" Sneaker Is Here
Vanessa Bryant (Kobe's wife) partnered up with Nike Basketball to create the Halo shoe concept as a way to honour the late basketball legend's birthday each year. Thus, the Halo concept will be an annual release to honour and celebrate this special date in Kobe's memory. This year kicks off the Halo concept with the stunning Nike Kobe 8 Protro "Halo" or "Triple White" colourway.
The sneaker features a pristine white engineered mesh construction on most of the upper, while pebble-grain leather covers the area around the collar and heels. Additional details on the sneaker include a plastic heel counter, a black midfoot shank plate, beautifully embroidered Nike Swooshes on the sides, and Kobe's signature logo embroidered on the tongue. Aesthetically, the Kobe 8 Protro "Halo" showcases a clean and sleek design that doesn't stray far from the original Kobe 8 silhouette we've come to know and love.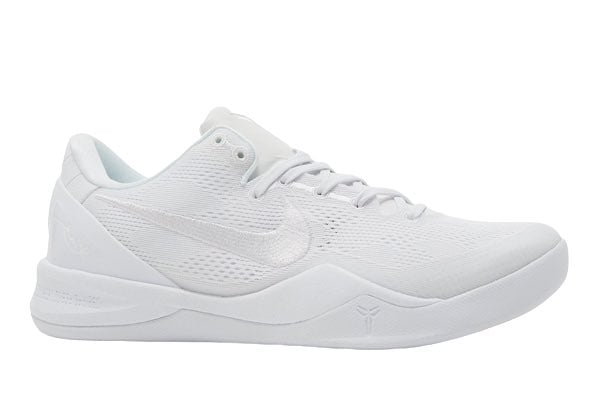 RELATED: The 13 Best Kobe Bryant x Nike Sneakers Of All Time
Our favourites. Available now at Nike.com
While the Kobe 8 Protro may have the same iconic looks, it features a ton of new updates in design and performance innovation. One of the more noticeable design updates is the embroidered Swoosh on the upper, paired with an embroidered Mamba logo on the tongue, adding elegance and sophistication to the overall aesthetic.
When it comes to performance updates, the Kobe 8 Protro introduces quite a few improvements. Designers replaced the Lunarlon midsole with Nike React foam, allowing for enhanced comfort and responsiveness and adding to the durability of the overall design. Another feature to receive an update is the herringbone traction pattern on the outsole, which provides excellent grip on the court and enhances multidirectional movement. Additionally, the Kobe 8 Protro incorporates a lightweight and breathable mesh upper, ensuring maximum airflow and flexibility during gameplay. These performance enhancements make the shoe a top choice for basketball players looking for both style and functionality on the court.
RELATED: A List Of All The Known Nike Kobe Releases For 2023/24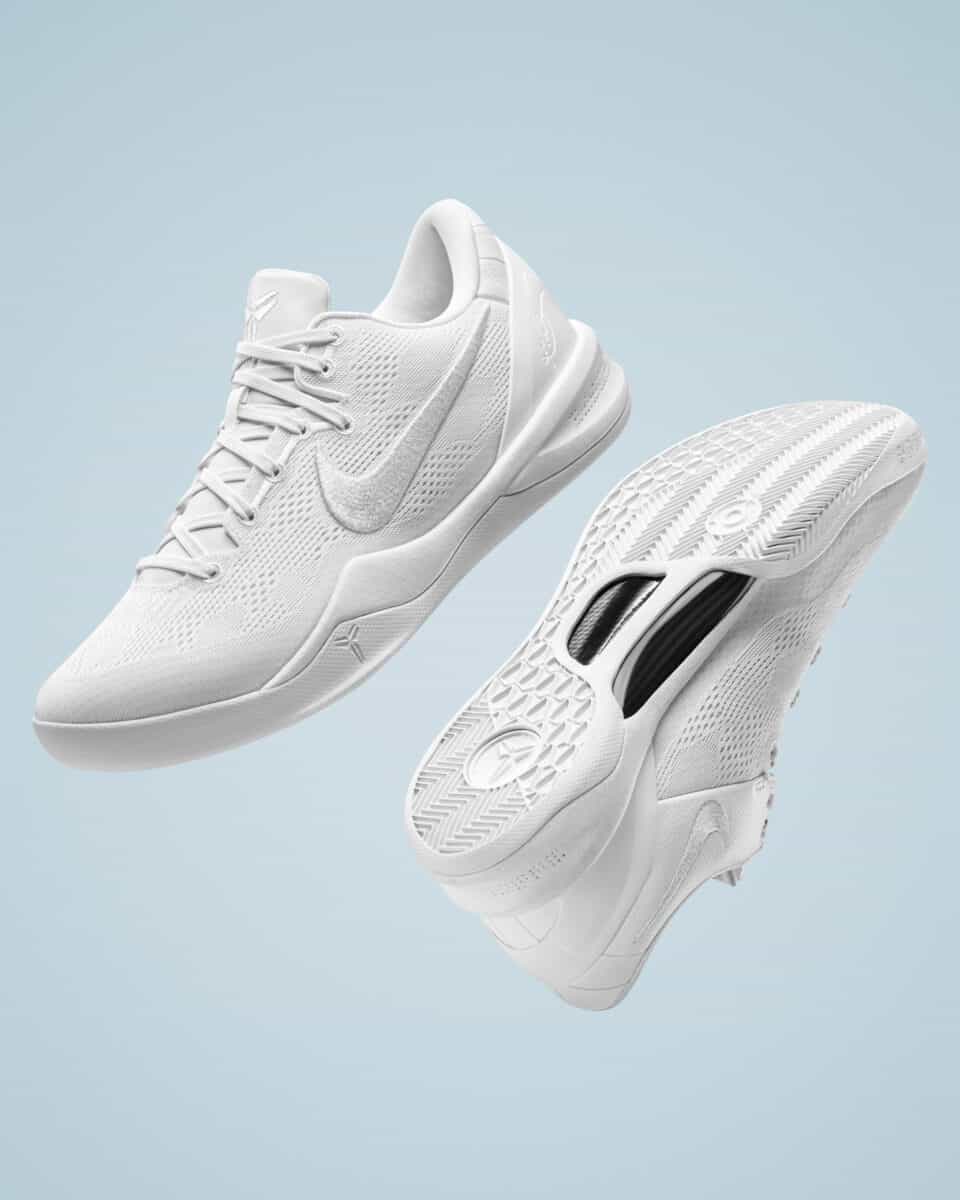 According to @DailySNKRSStock, only 82, 448 pairs of the Nike Kobe 8 Protro 'Halo' have been produced, making it a limited-edition release. So, if you've had your eye on this stunning pair, now is the time to act. You can get this angelic sneaker offering on SNKRS and at select global retailers for $180. Also, be sure to keep up with all the upcoming Nike Kobe releases right here. You can also check out the best sneaker collaborations between Nike and Kobe over here. And if you aren't already, don't forget to follow us for more sneaker drops and reviews as we bring you exciting updates in the world of sneakers!
Have you had your eye on these Nike Kobe 8 Protro 'Halo' sneakers? Will you be grabbing a pair of these all-white sneakers?