Remember the days when being caught in a pair of Crocs was a fashion faux pas? Well, those days are extinct, much like the prehistoric creatures that inspire the latest design from the innovative footwear brand. Crocs have now risen in popularity, reshaping their image with a series of dynamic designs that take cues from the colourful world of pop culture. From the captivating confines of the Mushroom Kingdom to the otherworldly realms of Star Wars and the swampy domicile of the beloved green ogre, Shrek, Crocs have been touched by the magic of some of the most cherished cultural phenomena. Now, another pop culture phenomenon has escaped containment and made its way onto the design of these iconic shoes. The reputable footwear brand has partnered with our favourite dinosaur franchise, bringing us the striking Jurassic World Crocs. 
RELATED: The Top 15 Most Comfortable Sneakers for Ultimate Foot Bliss
If you're a parent to a young dinosaur enthusiast, you're all too familiar with their utter fascination with these magnificent prehistoric beings. From clothing and toys to bags and shoes – dinosaurs are most likely everywhere in your child's world! And now, these fantastic Jurassic World Crocs could be set to tromp their way into their footwear collection, too. These might just be the coolest dinosaur-themed footwear we've ever seen (except for our captivating Air Jordan 3 Jurassic Park sneaker concept, of course). Any kid would be thrilled to don this special pair, complete with dinosaur skin detail.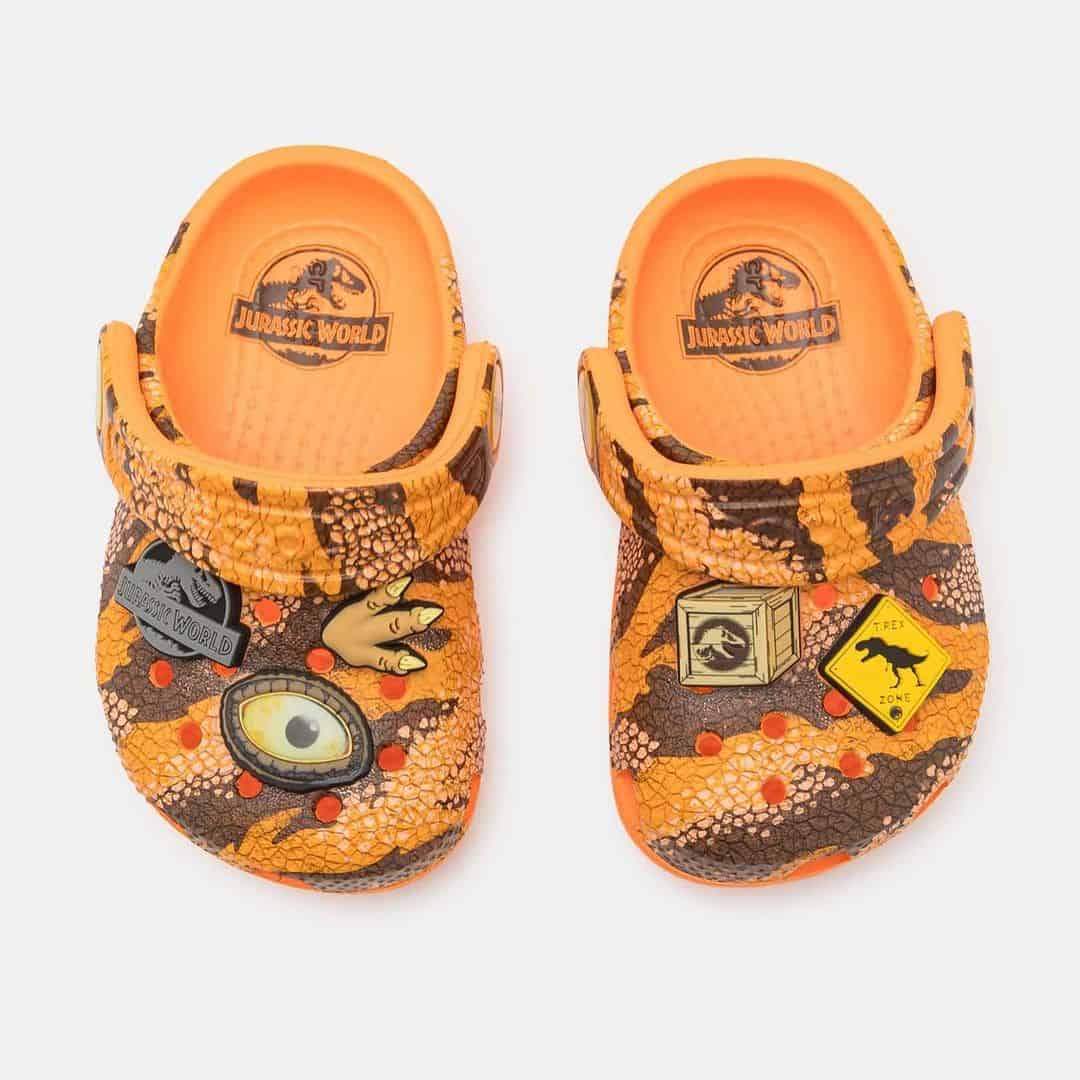 These meticulously designed Jurassic World Crocs are available in vibrant orange and subdued sand shades. The flashy orange has been envisioned for toddlers, while the sand has been thoughtfully designed for slightly older children. Each pair boasts the legendary Jurassic World logo on the insole and flaunts a yellow rivet on their pivoting heel straps. However, this isn't just any rivet. It displays the iconic T-Rex silhouette, reinforcing the exciting Jurassic World theme.
Adding that extra snarl to these unique clogs are the customisable Jurassic World Jibbitz – from intimidating dinosaur footprints and eyes to fascinating fossils that can be prominently displayed in the ventilation holes of these clogs. And to truly boast your Jurassic World allegiance, a special Jurassic World logo charm can also be added. These distinct Jibbitz allow kids to personalise their Crocs and show off their love for dinosaurs.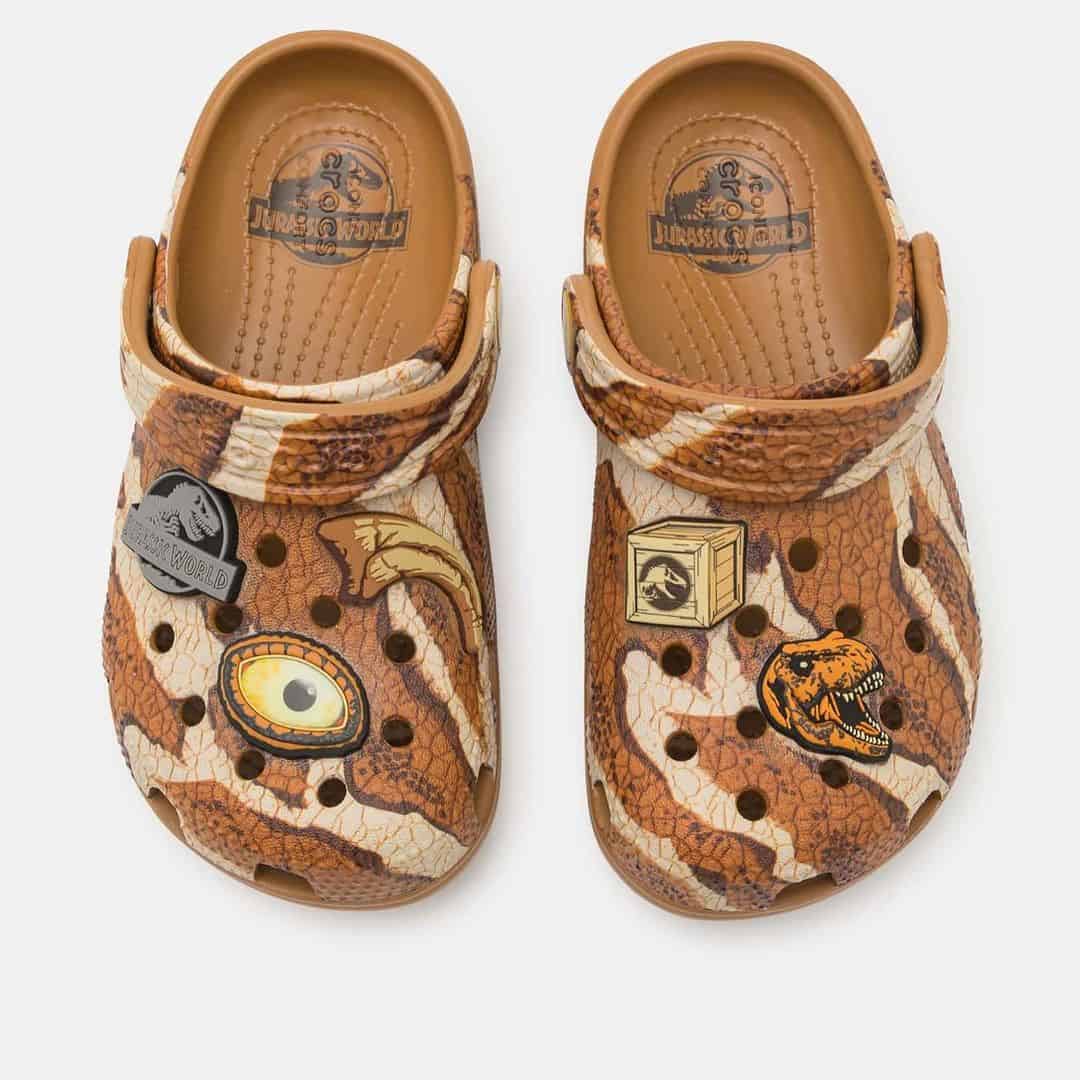 RELATED: Step Back in Time: The Air Jordan 3 Meets Jurassic Park
But besides their incredibly eye-catching appearance, these clogs score high on functionality. Crafted from sturdy materials designed to endure the activity of energetic kids, these clogs also feature adjustable straps for a comfortable fit, making them perfect for intrepid outdoor adventures or everyday play.
Our favourites. Available now at Nike.com
And the fun doesn't just stop with the kids! Parents can jump in with their own pair of Jurassic World Crocs. The adult pair sports a subtle bone hue that complements the Jurassic World theme, allowing parents to match their kids' style. With the same customisable Jibbitz options available, adults can also showcase their love for dinosaurs and add a playful touch to their footwear.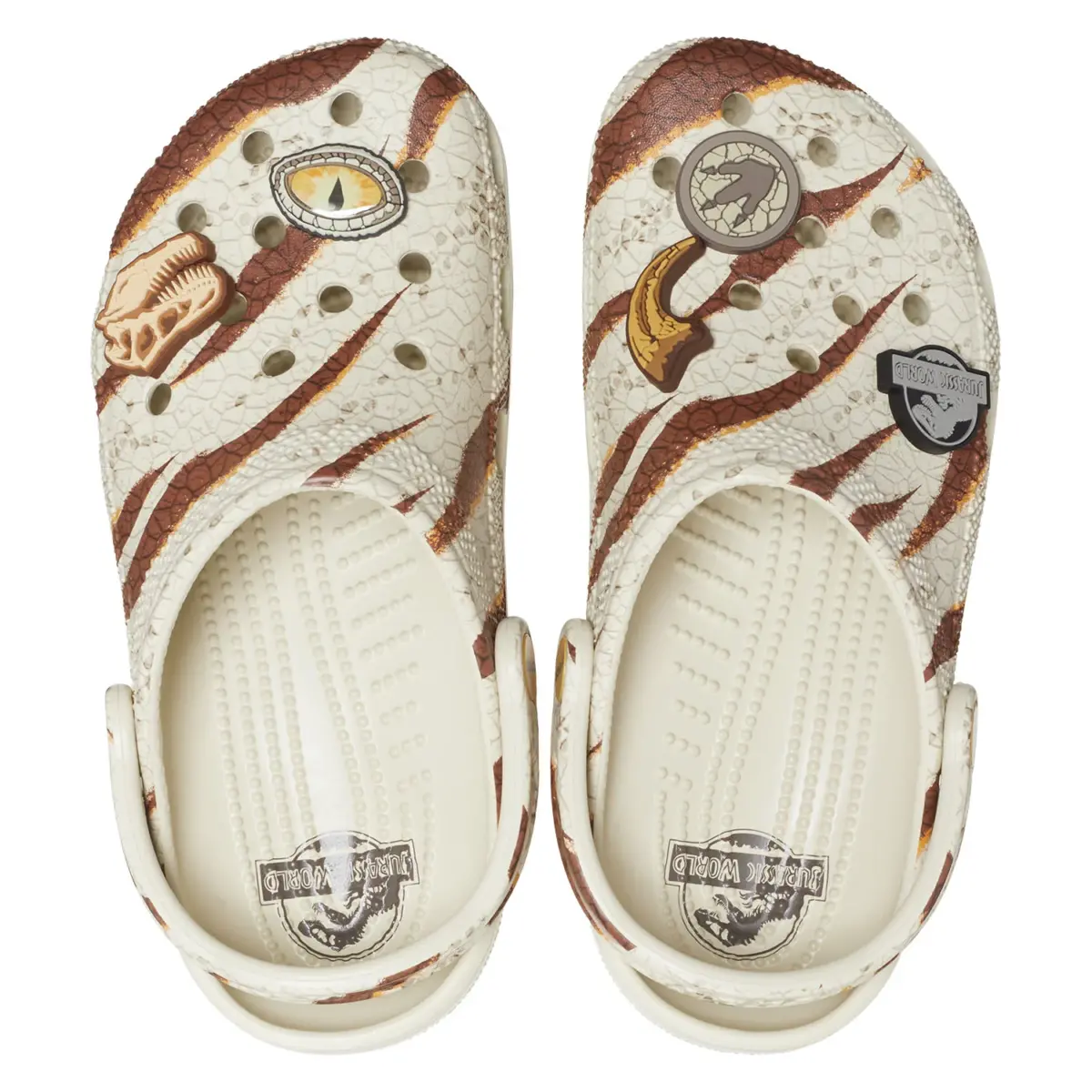 Crocs offer endless comfort, making them the perfect choice for lengthy shopping trips or even for day-to-day wear. The light, durable materials ensure your feet remain snug all day, minimising the risk of weariness or discomfort. Plus, the intuitive slip-on design poses a convenient option to quickly put on or slip off—an ideal pick for the ever-busy parent or those who just want a hassle-free shoe option. These clogs are also super easy to clean and maintain, which is a bonus for parents dealing with messy kids. And with all the stylish colourways to choose from, there's sure to be a style beckoning for everyone's taste. Whether you prefer bold and vibrant hues or more understated tones, Crocs has got you covered.
RELATED: Marvel's Spider-Man 2 x adidas Ultra 4D Sneakers Get Venomized
However, if these Jurassic World Crocs are the pair that catches your eye, then you can grab a pair at Crocs.com for $59.99 USD in women's and men's sizes, $49.99 USD in big kid's sizes, and $44.99 USD for the little kids in your life. And while you're at it, be sure to follow us for more footwear drops and reviews.
Are these roarsome Jurassic World Crocs making their way into your footwear collection?
Source: Crocs.com