Ant Kai is an exceptionally skilled custom sneaker artist, creating incredible, incredible-quality sneakers. While patchwork sneakers are a favourite, it's clear that blue colourways mainly include clouds in different hues. Let's take a closer look at the Off-White Nike Dunk "Cerulean Sky" sneakers.
RELATED: These Harley Quinn x Nike Dunk Low Sneakers Are A-Okay, Mr. J
While you might be tempted to think these sneakers are just a pair of blue and white sneakers, there is a lot of stunning detail all over the sneakers. The drop included two pairs of sneakers with very subtle differences, such as the presence and absence of red labels, different insoles, different colour tags, etc.
What makes the pair beautiful is the attention to detail that has gone into creating each pair/ From the soles, which are marbled and sky blue. This motif is continued throughout the sneakers. The outsole is devoid of clouds, which start on the upper of the sneakers. There are clouds of all shapes and sizes, from sparse to very dense sneakers.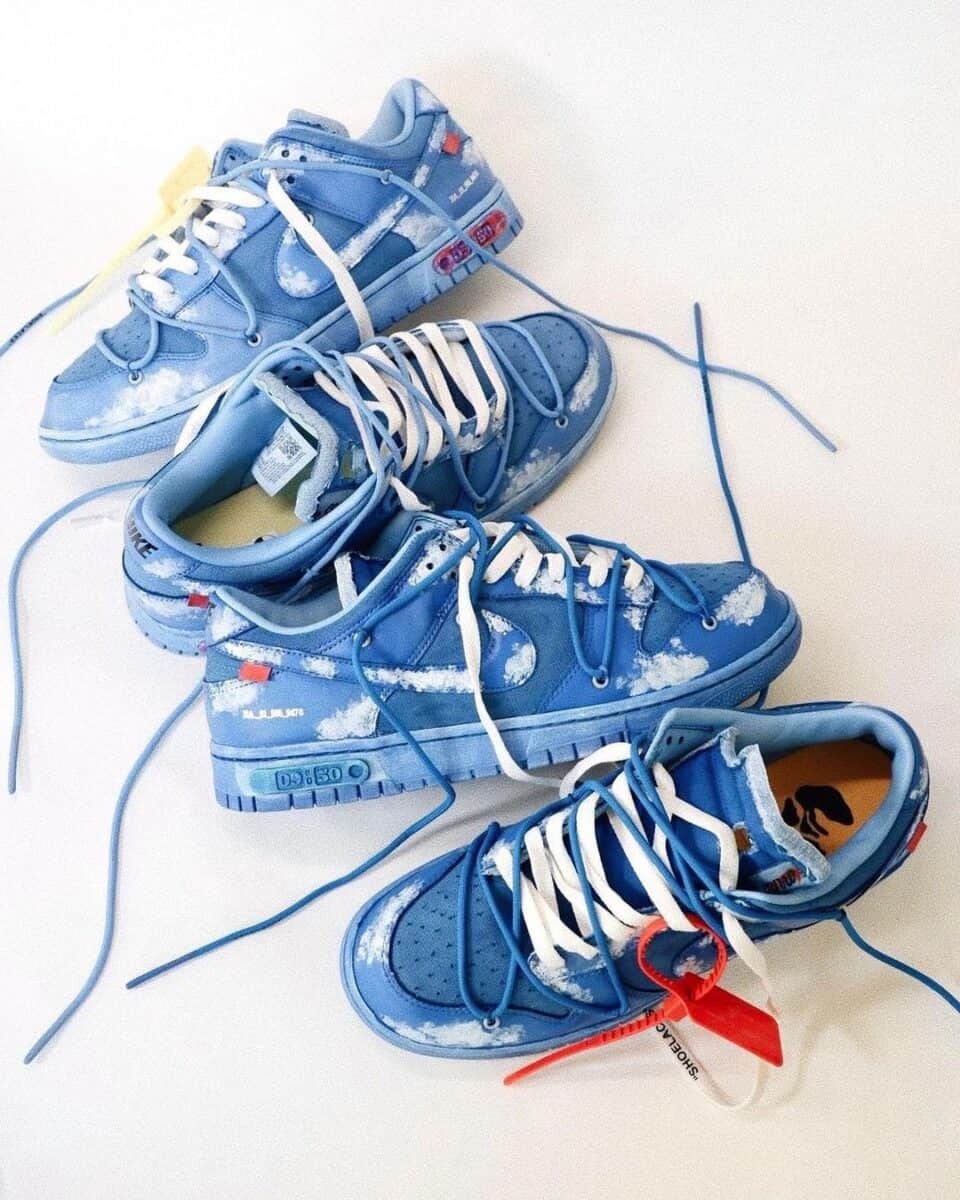 While most of the sneakers' upper is stunningly stitched and constructed, the tongue is entirely distressed. The rim of the tongue gives a very distressed denim feel. In contrast, the actual body of the tongue is a darker sky blue that matches other panelling around the sneaker. You will even find that the tongue has some holes, creating a distressed look so beautifully juxtaposed with the pristine look of the rest of the sneaker.
RELATED: These TMNT Villians x Nike Sneakers Were Made For Fans
The laces are a perfect white that starkly contrasts the deep blue of the "Cerulean Sky" look, and even say "SHOELACES" on them in the usual Off-White fashion. Again, in the traditional Off-White fashion when it comes to their Nike Dunk sneakers, there is a secondary shoelace that has been labelled "SHOELACES" as well, but is thinner and blue and creates a totally different look that is unique to the Off-White Nike Dunk silhouette.
Our favourites. Available now at Nike.com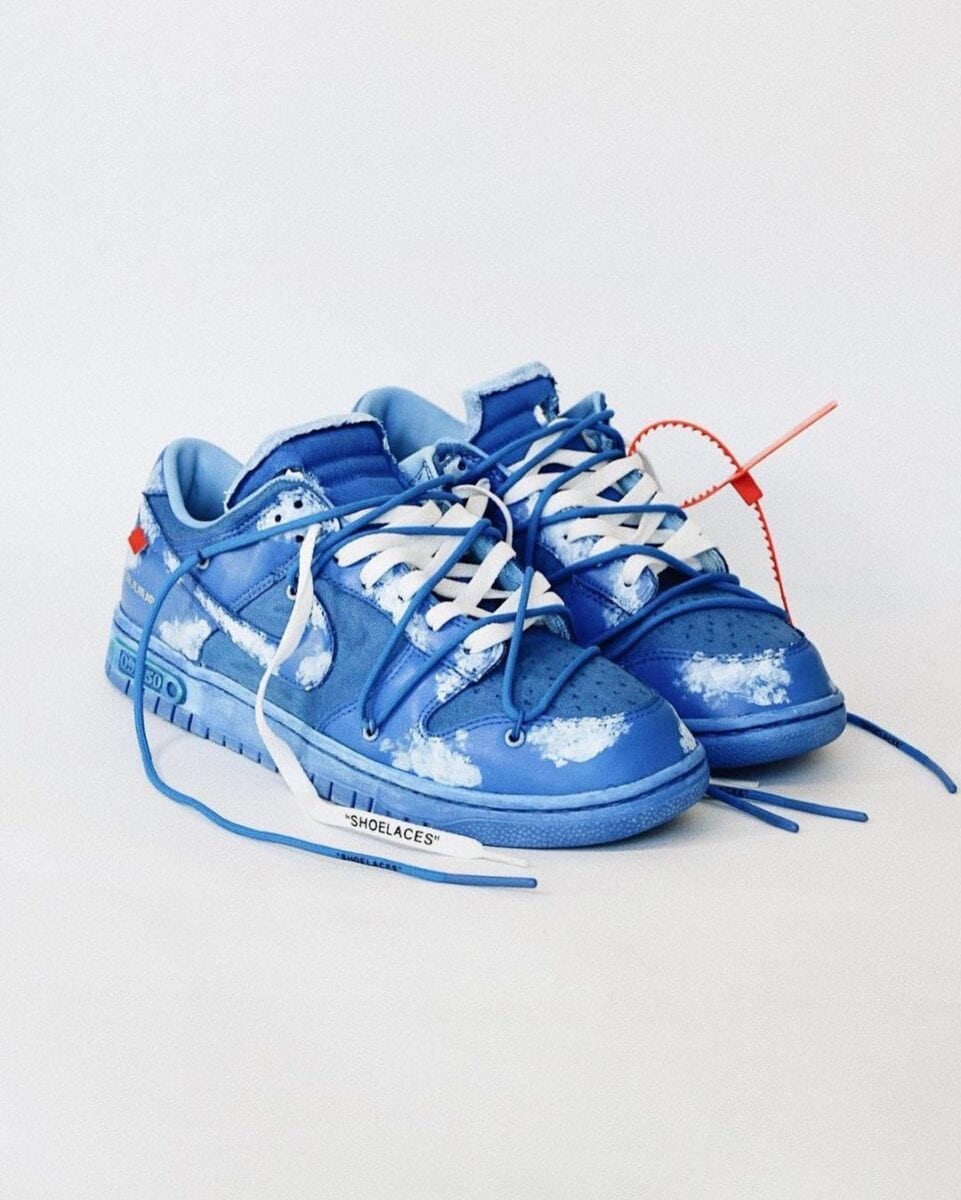 Suppose you want to catch a pair of these amazing Off-White Dunk "Cerulean Sky" sneakers. In that case, you will need to snatch them up quickly, as Ant Kai shared in his post that he will be retiring the cloud design on the Off-White Dunks for a while. He wants to release more sizing options for everyone, so don't lose hope.
If this specific pair is different from your vibe, but you love the cloudy sky look, there are also many other options on Ant Kai's page that you might fall in love with. From dark and light skies to distressed looks, there will definitely be something for you.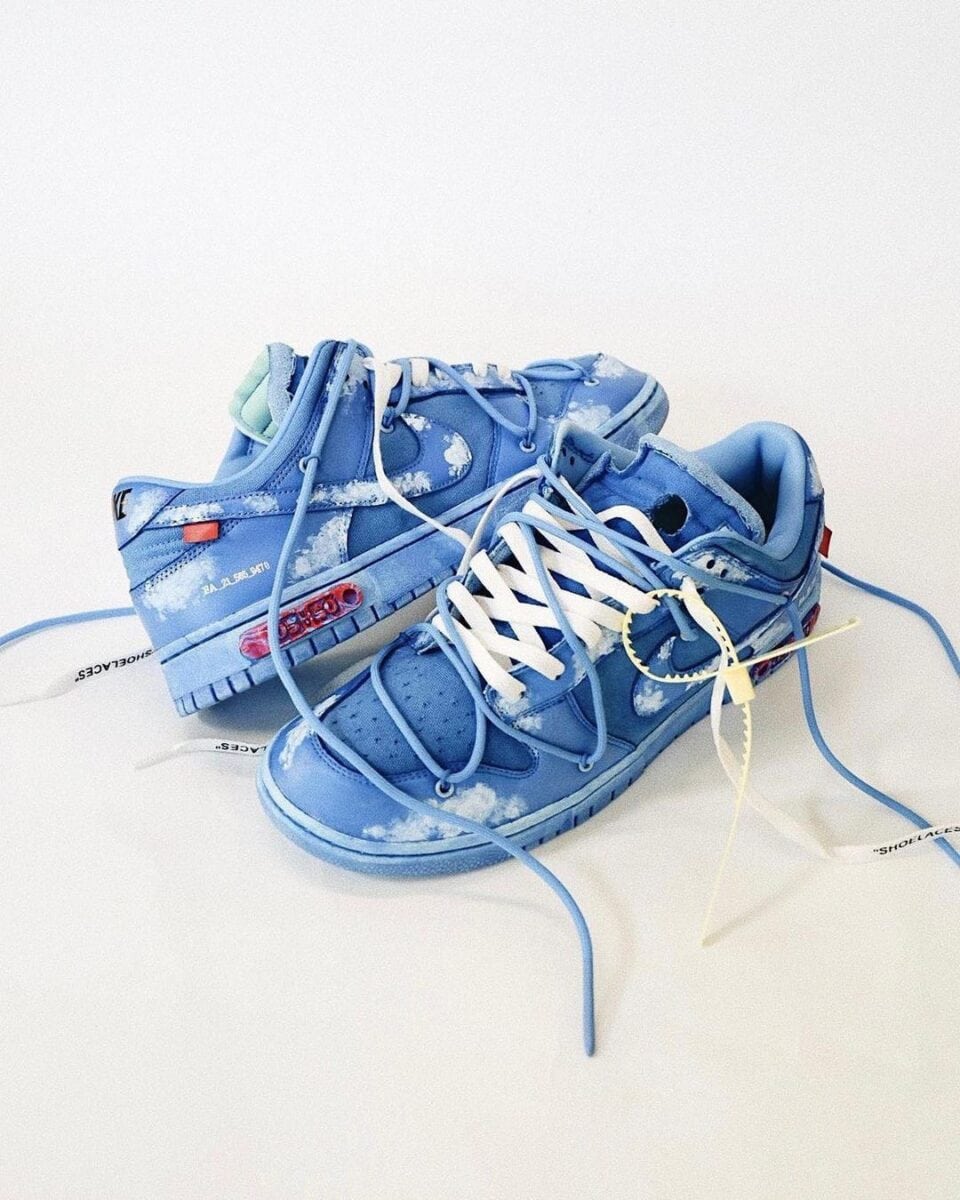 RELATED: Mighty Morphin Power Rangers x Nike Dunk Lows – You Ooze, You Lose
Unlike most custom sneakers shared on Instagram, these pairs are available for you to get your hands on through @ant.kai's website.
Would you cop these Off-White Nike Dunk "Cerulean Sky" sneakers for $2000?