Converse has been one of the staples in the sneaker industry. The Chuck 70 is one of the most recognisable silhouettes around and has received countless iterations through the years. Converse has partnered with Joe Freshgoods for the release of the Converse x Joe Freshgoods collection, including a reworked Chuck 70.
Joe Freshgoods started off as a t-shirt designer, has now become a streetwear icon. Starting off in Chicago, now taking on the world. With a mission to tell authentic stories through his work, the partnership with Converse was the perfect combination.
Freshgoods tells his own story with the collection, revisiting his artistic roots. Paired with the Chuck 70 and Pro leather sneakers, along with matching apparel.
Although this is his first official collaboration with Converse, Freshgoods has made his mark on the brand through his custom designs. This focus was mostly reworking the Chuck 70 sneaker for the streets of Chicago. Now it goes global.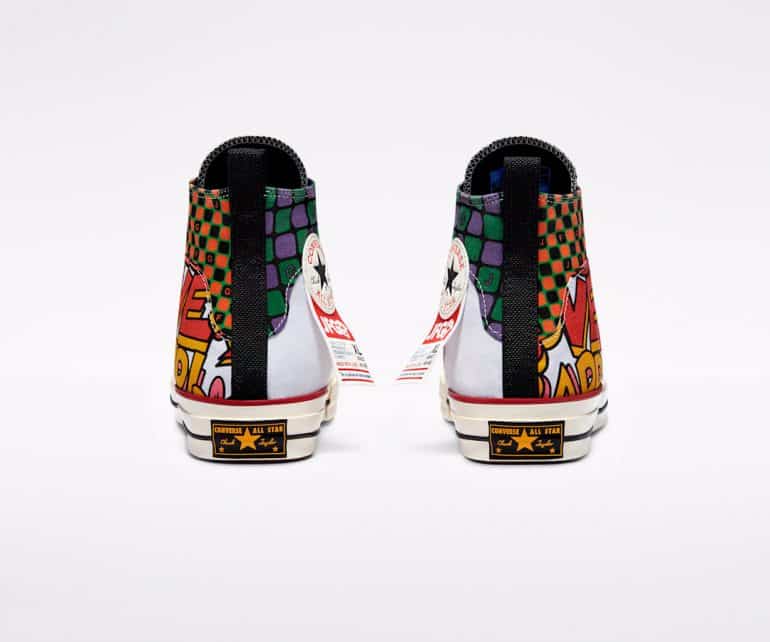 Converse X Joe Freshgoods Chuck 70
Starting off the collection is the Joe Freshgoods Chuck 70. The high top sneaker is based on the graphic tee, with jersey-like materials. Its stitched together with a patchwork collage, reminiscent of a story brought together from different eras.
The Chuck 70 features a vibrant tie-dye finish with bold lettering and airbrushed graphics.
Our favourites. Available now at Nike.com
Vibrant tie-dye, bold lettering and airbrushed graphics converge and showcase the eclectic style mix he's brought to his work.
The Chuck 70 has a rubber outsole, along with an ortholite insole for comfort, finished with a vintage license plate on the rear.
Joe Freshgoods Pro Leather
The second sneaker from the collection is the Joe Freshgoods Pro Leather. Another high top sneaker, the 70s classic brings a soulful style.
This reworked edition features disco vibes and smooth finesse. With an upper featuring a mix of suede, velvet and embroidered floral details, it comes alive. To finish the design, corduroy patches on the heel and purple glitter on the outsole make it truly stand out. A true disco tribute.
The collection also features a mix of apparel. This includes a Football Crop Top, Tie Dye Tee, Hoodie and Track Pants. Each of these have their own unique design.
The Converse x Joe Freshgoods collection is available online at Converse.co.za, as well as in stores across the country. Both silhouettes retail for R1,599