Fall is when the more creepy claymation movies that influenced our childhoods get the love they deserve. Almost fifteen years after this fantastic stop-motion movie hit theatres and TV worldwide, it is finally getting some love with this beautiful pair of Nike Dunk Low sneakers that are perfect for a Coraline adventure in the Other World.
RELATED: What The Halloween Nike Dunk SB Sneakers
Brett Battaglia from @tagzfootwear created a stunning and perfectly spooky pair of sneakers for your Coraline costume this year, or if you are a massive fan of the movie like I am and many other die-hard fans out there. Coraline inspires the pair, but the colourway brings Wybie to mind rather than Coraline.
Starting from the bottom, the outsole is a stunning bone-white colour that looks almost translucent or like it might glow in the dark if charged. It is then complemented by a beautiful chocolatey midsole that is the stunning colour of Wybie's beautiful coils.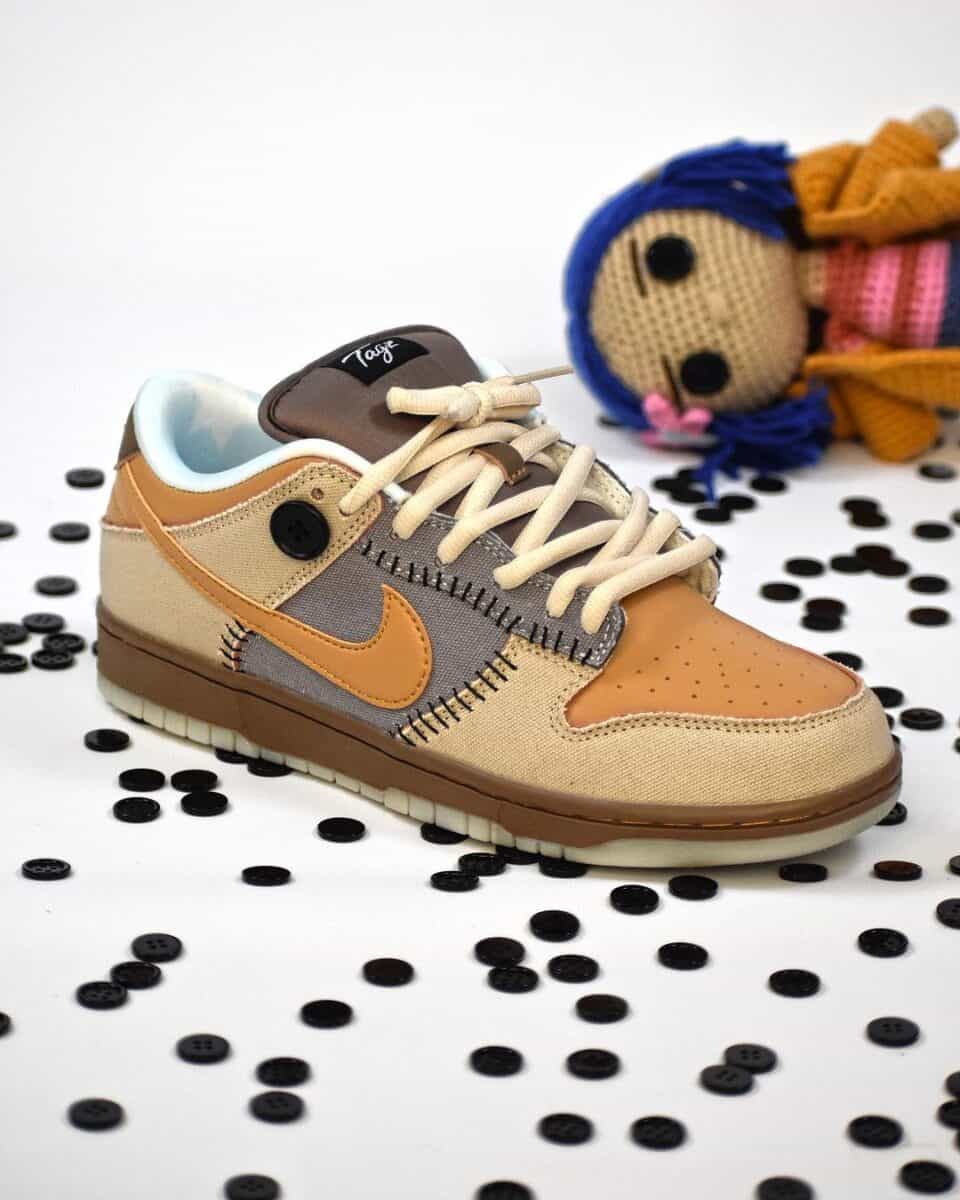 The mudguard and the back heel of the sneakers are a beautiful neutral brown brighter than the midsole and the rest of the sneaker, bringing Wybie's skin tone to mind. The perforated toe box, Nike Swoosh and heel counter are all a slightly darker and warmer brown that is a beautiful tan.
RELATED: The Nike Dunk Low "Día De Muertos" Is A Beautiful Sneaker That's Going To Sell Fast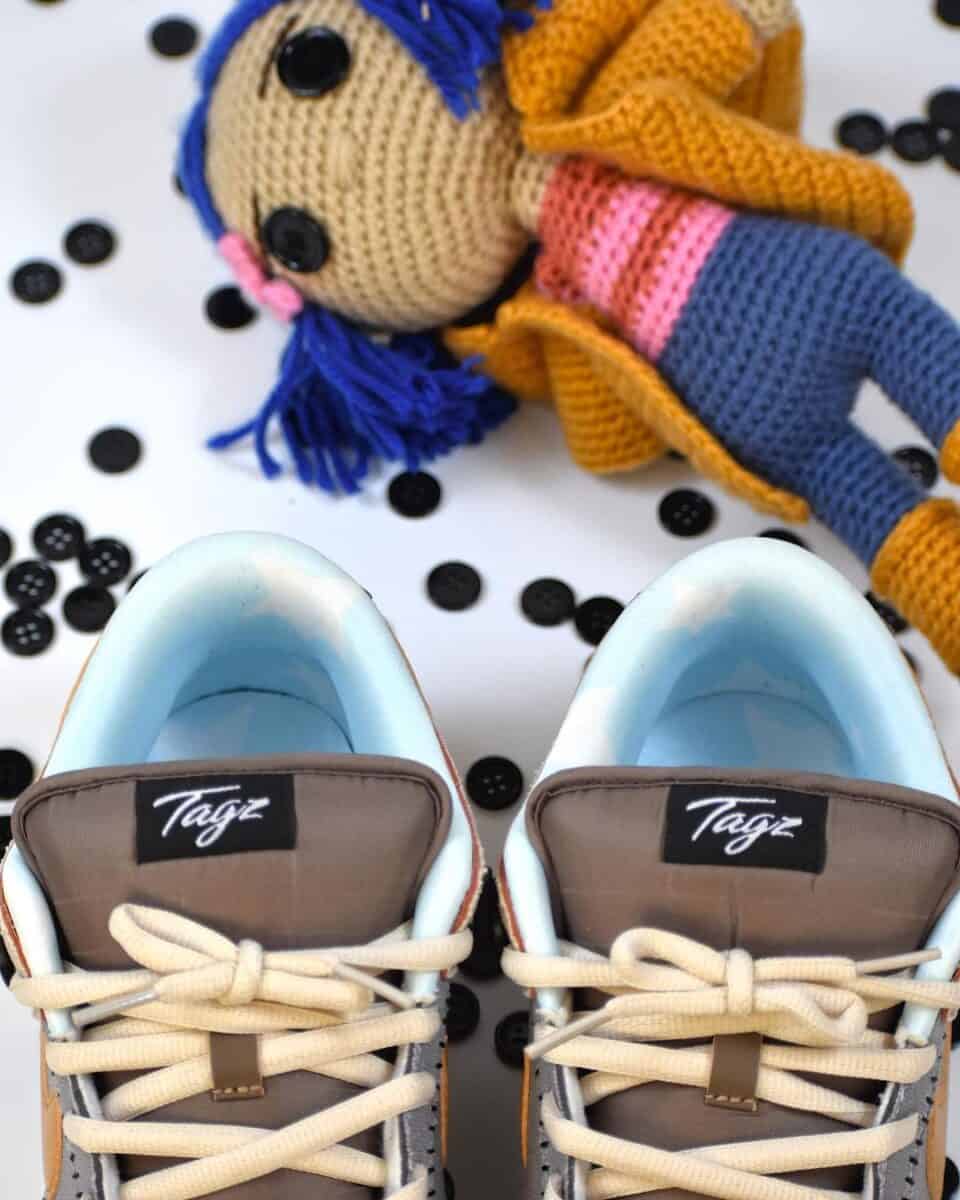 The mid-foot section, as well as the lace stays, are a beautiful grey that brings to mind the dark raincoat that Wybie is always seen wearing. The panels are all connected around the middle section of the foot with decorative stitching, which is where Other World starts poking through, especially when his mouth is sewn into a smile. Speaking of sewing, we see the iconic button near the top laces, a symbol of giving in to the Other Mother and letting her sew buttons into your eyes.
Our favourites. Available now at Nike.com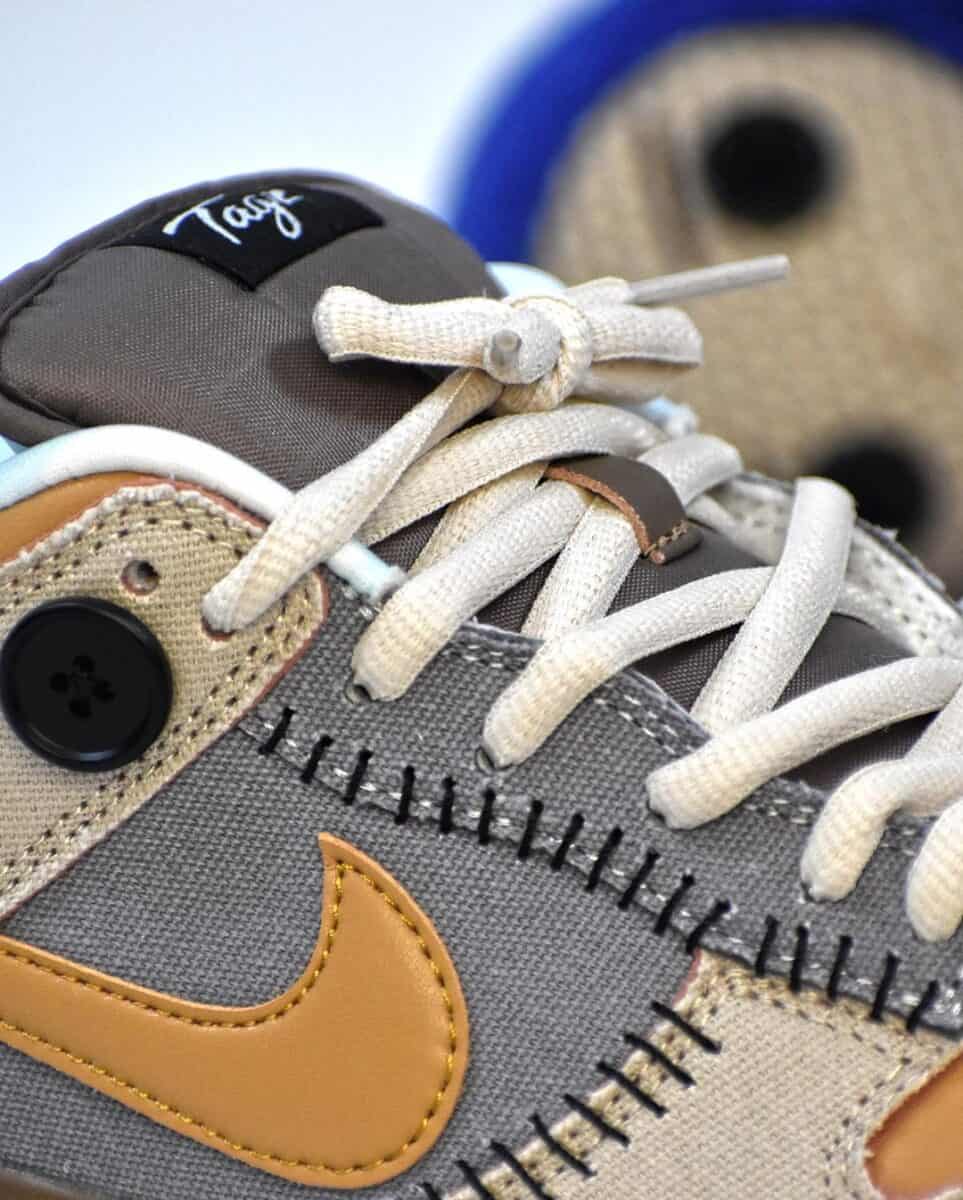 The laces are a light tan lace that is so smooth that it almost looks like clay, while the tongue area is the same beautiful chocolaty brown seen on the base of the sneakers as the midsole, which is then repeated on the heel tab. The inner lining of the sneakers is a beautiful light blue with white stars on it, like a lighter version of Coraline's blue sweater.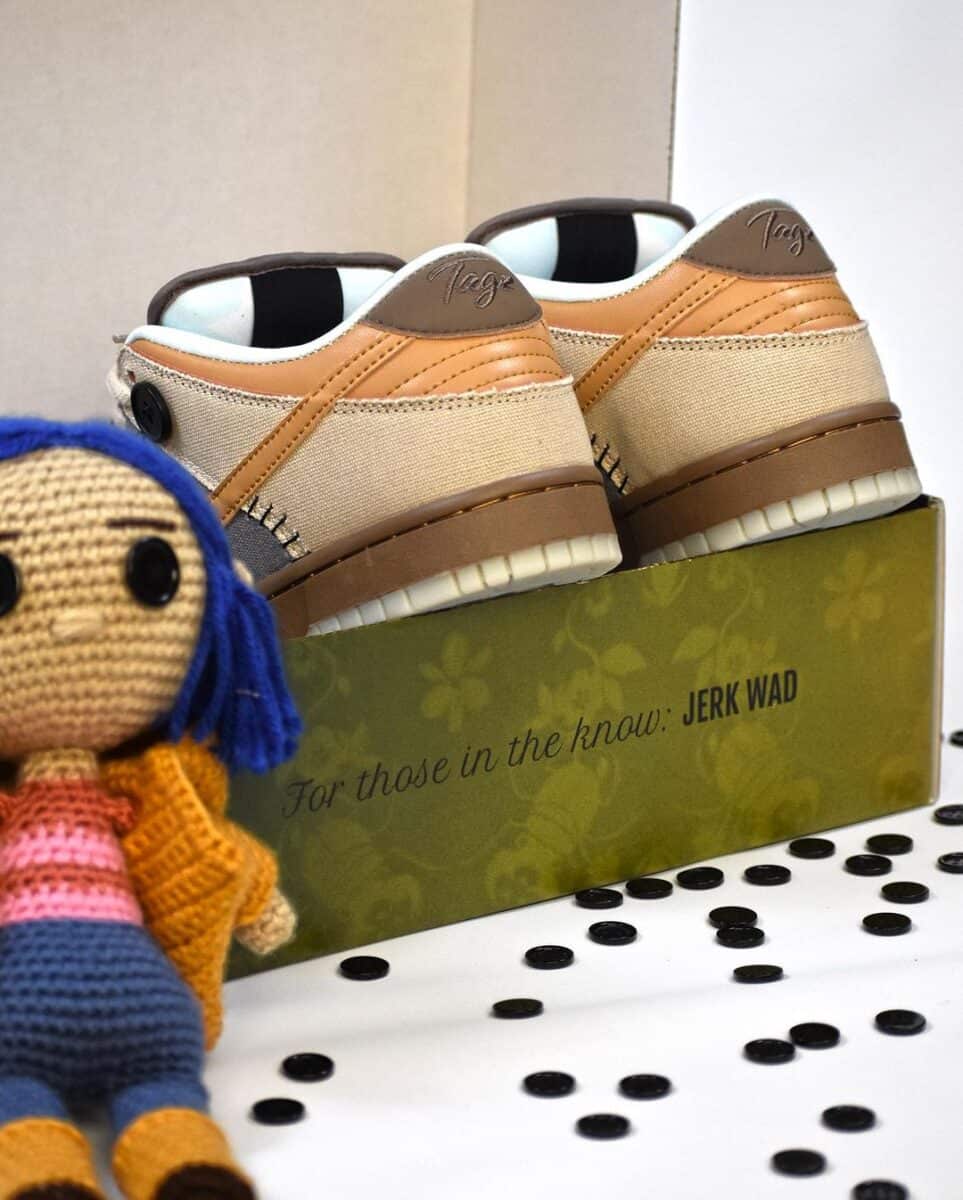 What's terrific about this pair of custom sneakers is that it doesn't have the bright blues and yellows that you would traditionally associate with Coraline but instead include all the neutral colours that Wybie has. This means that the sneakers aren't so niche that you can't work them into any outfit that you might want. These would work perfectly for any patchwork cosplay or incorporated into any neutral outfit.
RELATED: "The Mystery Machine" Nike Dunk Low Sneakers Are Perfect For Halloween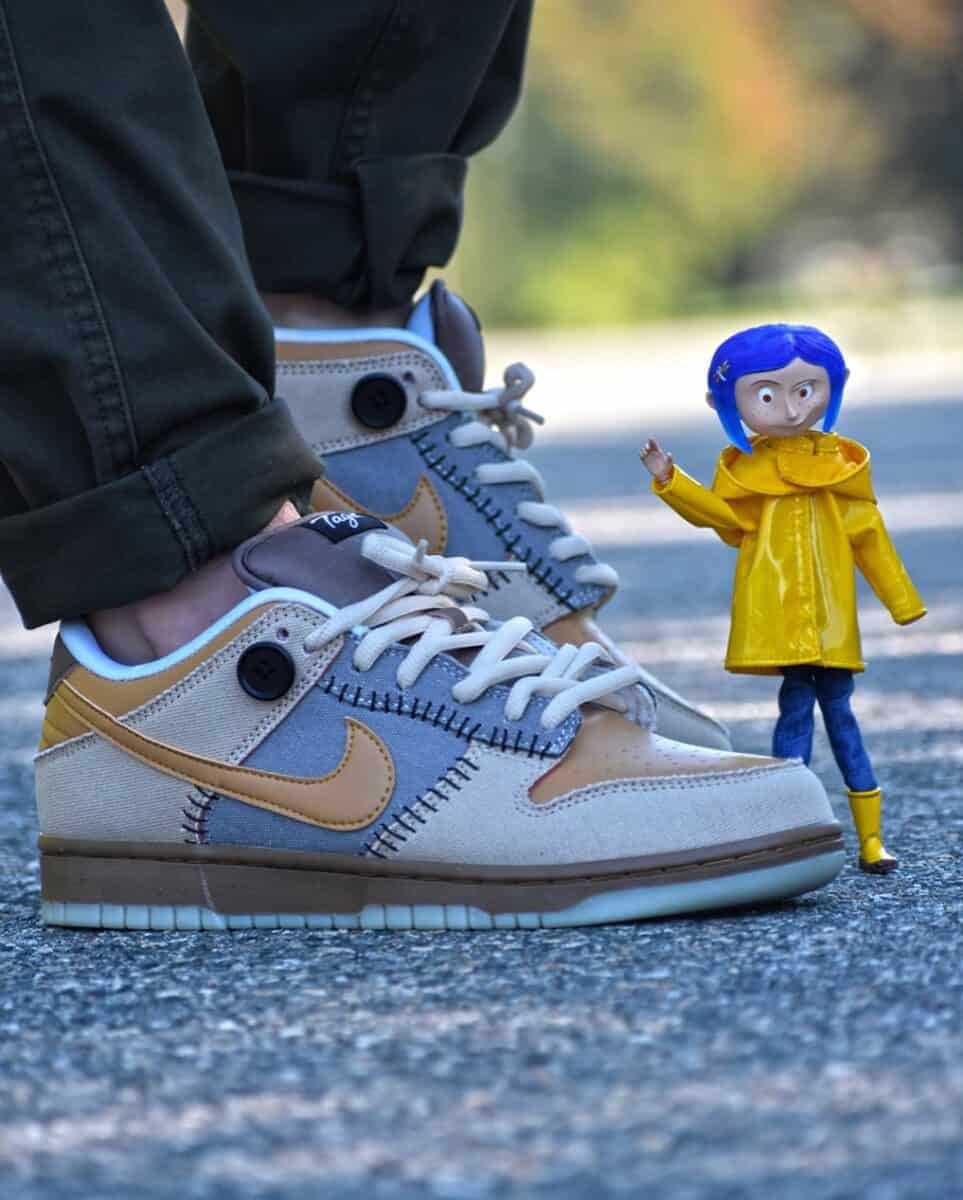 Not only does @tagzfootwear have a website where you can shop their customs and own their sneakers for yourself to wear and add to your collection, but they also have a section where you can join an online masterclass where you can learn to make your own beautiful and spooky custom sneakers. We love an artist who isn't gatekeeping their skills and wants to train the next generation.
Would you wear these Coraline x Nike Dunk Low custom concept sneakers?