It's been a long time since Dungeons & Dragons got a proper movie adaptation, and Dungeons & Dragons: Honor Among Thieves, which was released in March 2023, didn't disappoint. Watching Chris Pine run around with a lute, and Michelle Rodriguez tear into enemies were great highlights of the film. It was the perfect mix of action and comedy and one of the best movies that have come out in a while. The film inspired several non-players to take up D&D and even a new shoe design. Introducing the new Dungeons & Dragons: Honour Among Thieves-inspired Nike sneakers.
RELATED: Nike Air Foamposite One "Dream A World" Releases Today
Nike Hops on the Dungeons & Dragons Bandwagon With Sneakers
Two pairs of Nike Dunk Lows inspired by the iconic role-playing tabletop game were dropped during the promotion of the new film by Offbeat Custom Shoes. Established in 2017, Offbeat custom shop, which specializes in exclusives and custom designs, was founded 5 years ago in Florida.
The First Pair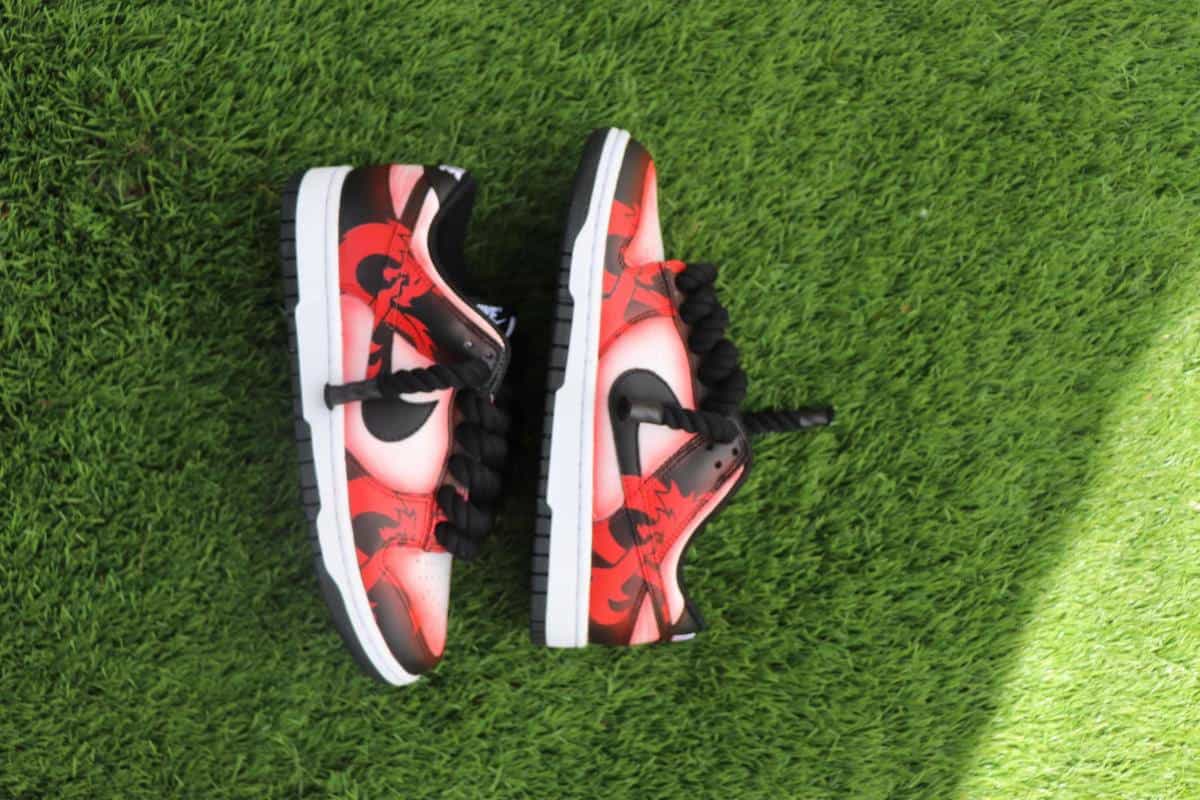 The primary panelling of the show was white, which faded into red along the edges. The outlining panelling and Nike symbol were backed with black and decorated with a red version of the Dungeons & Dragons logo. The shoes have chunky black laces, and the soles have a black-and-white design.
RELATED: Fragment x CLOT Nike Dunk Low: A Sneaker Collaboration That's Making Waves
The Second pair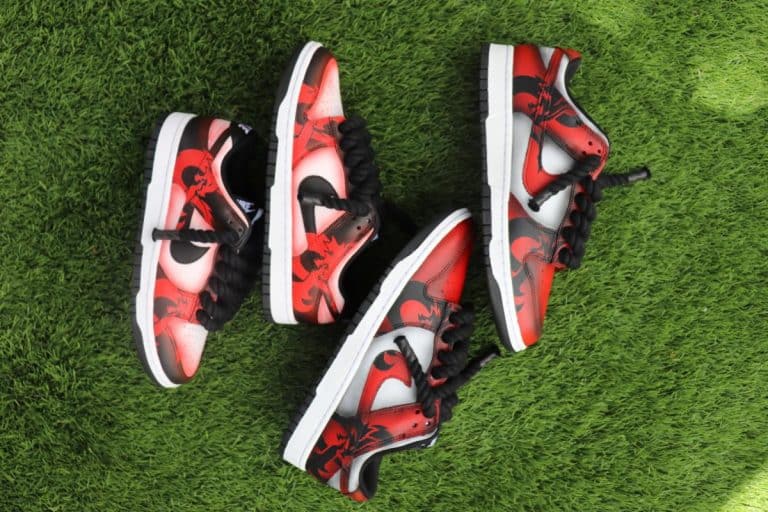 The second pair has a lot of similar details but looks significantly cooler. The chunky black laces and design of the shoe's soles keep the same design as the previous one, but the design in the panelling is the most apparent difference.
The panel housing the Nike logo and top back panel are white but faded to black along the edges like they've been airbrushed. The front panel has a similar design but is done with red instead of white. The outlining panels of the shoe and the Nike logo are backed with red and are decorated with a black Dungeons & Dragons logo. They have the same airbrushing-style design detail as the other patterns.
Our favourites. Available now at Nike.com
RELATED: These Akira-Themed Nike Dunk Lows Sneakers Are Super Hot
Praise for Dungeons & Dragons: Honor Among Thieves
Dungeons & Dragons: Honor Among Thieves scored high on every platform it could have scored. Rotten Tomatoes described it as "An infectiously good-spirited comedy with a solid emotional core, Dungeons & Dragons: Honor Among Thieves offers fun fantasy and adventure even if you don't know your HP from your OP."
Fans have praised its cinematography, storytelling and special effects. Some have said, "There is no formula outline per say like a Disney or Marvel Film in which you know what scene, act is bring presented. The narrative and film just unravels as it moves."
Another fan said it was easy to enjoy, even as a non-player, "if you like comedies that incorporate action – fantasy-based or otherwise. Everyone shines here, there are a few notable cameos, and it jumps on to the master list of quotable comedies with both feet firmly planted."
Others said, "It never stopped being funny throughout the movie unlike most comedy movies. It knew when to make a joke to break what would otherwise be a difficult awkward situation to write out-of, to move the plot forward."
RELATED: Super Mario Bros Inspires Design for Custom Nike Dunk Lows
What do you think of Dungeons & Dragons: Honor Among Thieves and the Nike Dunk Lows inspired by it?