From humble beginnings to global stardom, Elvis Presley won over the hearts of millions around the world with his velvety-rich voice, electrifying stage persona, and seductive melodies. His unique rock and roll, country, and gospel amalgamation vibrated through audiences and revolutionised the music industry. Even if Presley's music isn't on your usual track list, you could certainly agree that his style and influence are deeply woven into the fabric of pop culture. Now imagine coupling that signature Presley flamboyance with the quintessence of the legendary Air Jordan 13. Well, we've stumbled upon a remarkable custom sneaker that does just that – the Elvis Presley Eagle Air Jordan 13.
RELATED: Biggie x Nike SB Coogi Low Sneaker Pays Respect To The Notorious B.I.G.
This one-of-a-kind custom piece by Trendingnowe borrows its aesthetic from one of Presley's most iconic jumpsuits, fondly known as The American Eagle or The Aloha. This personalised design faithfully reproduces the original piece of clothing, enveloped in a sea of white and garlanded with accents of red, gold, and blue.
The sneaker's base is crisp white leather, providing a clean canvas for the vibrant details that adorn it. It is also the colour of the bell-bottom jumpsuit that Elvis Presley famously wore during his iconic Aloha from Hawaii concert. Fans of the Rock and Roll legend will know that he gravitated towards the colour white. However, this wasn't merely a personal style statement. Instead, this was an applied 'show-biz tactic,' a lesson Presley learnt from observing the Blues musicians back in his hometown of Memphis. It became customary for these musicians to don white while performing, starkly contrasting the backing vocalists dressed in subdued tones. This ingenious strategy allowed Presley to command the stage like a true maestro, stealing the spotlight with his mesmerising presence.
RELATED: These Rocky x Air Force 1 Sneakers Are Made For Champions
Moving on, blue accents then grace the toe box and the lower half of the tongue, while red elegantly decorates the overlays, collar, and top half of the tongue. This colour combination results in a visually resplendent design that reflects the patriotic colours used on Presley's legendary jumpsuit. Yet, the undisputed highlight of this custom sneaker design is the intricate red, blue, and gold eagle graphic clearly showcased on the side of the sneaker. This image mimics the jewelled eagle that graced the front of Presley's jumpsuit. Overall, the custom sneaker design successfully captures the essence of Elvis Presley's iconic jumpsuit and transforms the Air Jordan 13 into an eye-catching tribute to the legendary musician.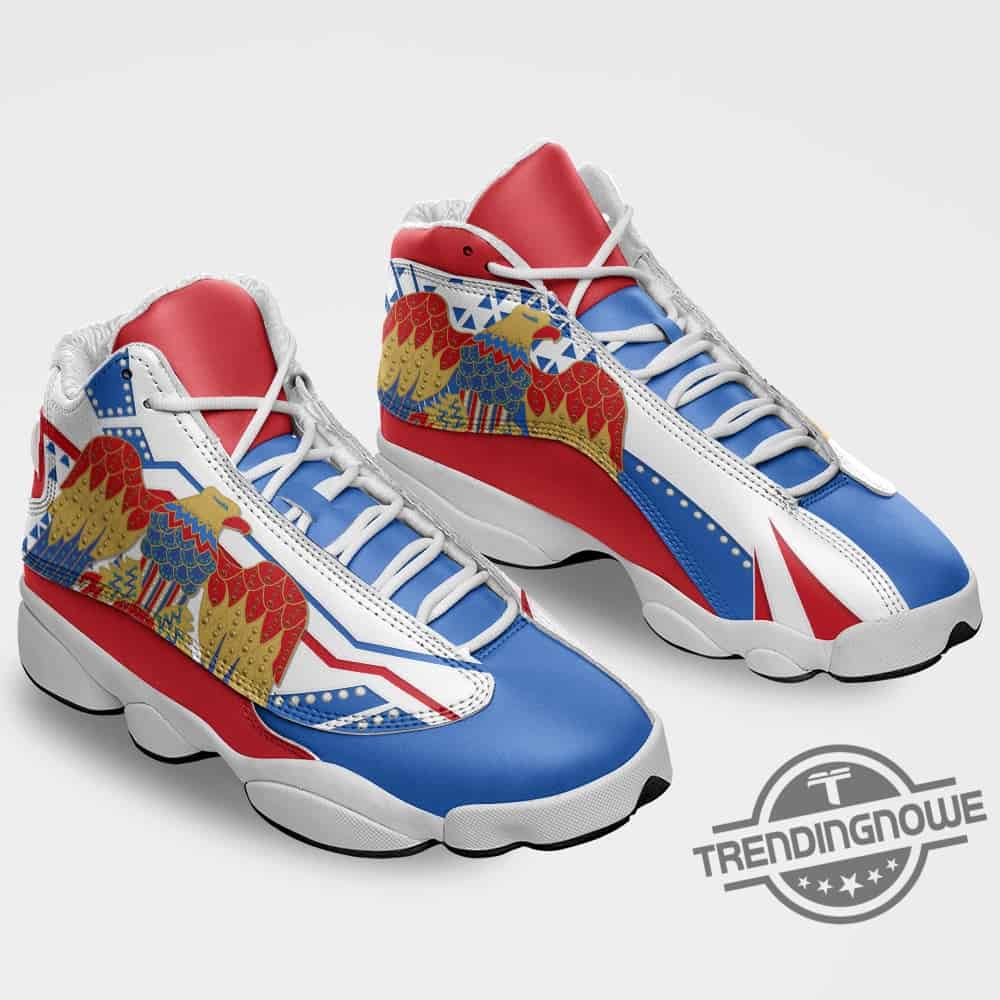 While we can't help but appreciate the Elvis Presley Eagle Air Jordan 13 custom sneaker from Trendingnowe, we do have some reservations about the authenticity of the selling site. As a recently established online store with scarce reviews and customer feedback, we urge anyone intrigued by this design to proceed with caution. It's important to cross-check the site's safety rating and do your homework before making a purchase. We understand that every business starts somewhere, so it's not about discouraging potential buyers but ensuring you have a safe and satisfactory shopping experience. Alternatively, you could make your own custom Air Jordan sneaker inspired by Presley's iconic American Eagle jumpsuit. And if you do, we'd love to see your unique creation! Don't forget to share it with us on social media, and remember to follow us for more sneaker customs and concepts.
Our favourites. Available now at Nike.com
RELATED: Air Jordan 1 Mid "Joker & Harley Quinn" Suicide Squad Sneakers
What are your thoughts on this Elvis Presley Eagle Air Jordan 13 custom design?
Source: CNN, Trendingnowe