People have been waiting for news about Adidas' collaboration with Fear of God since the partnership was announced over two years ago. Although the union was made official, there has been no talk of a pair of shoes coming out of the union since its inception. A leak on Instagram, showing pictures of sample shoes, had everyone believing that we have finally seen a first look at their first pair of shoes. Still, the lead was said to be fake by Jerry Lorenzo himself.
RELATED: The Jordan Hex Mule – Delicious Summer Slides
Fear of God x adidas
The first sample of shoes that supposedly came out of this highly-anticipated partnership is a sleek pair of sneakers that was leaked by @youngviet23 on Instagram. The pair of sneakers is a pair of high-tops with an immaculate and understated approach. It's believable because the clean silhouette resembles what Fear of God has done with some of their other aesthetics.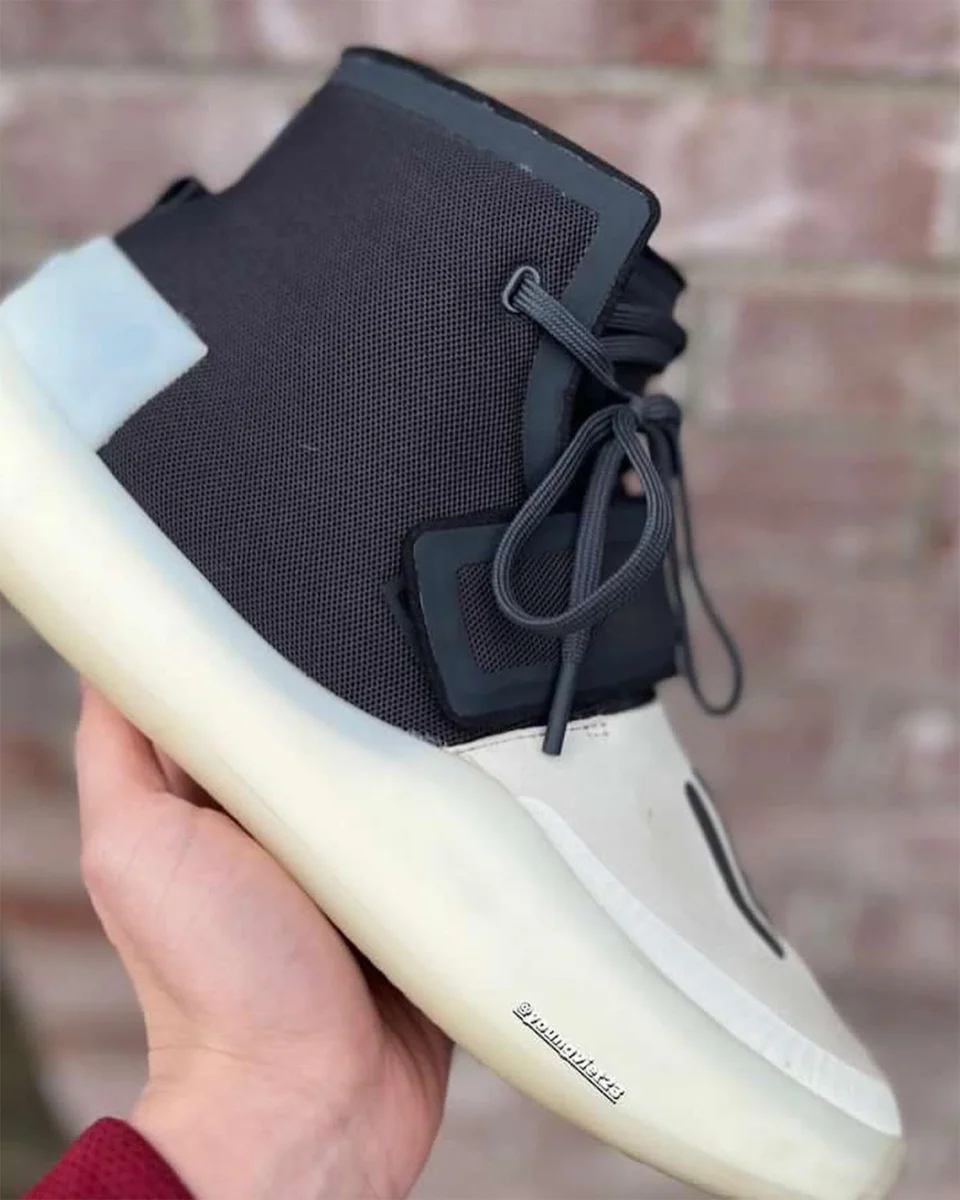 Most of the shoe is blank, primarily made of the oversized almost-translucent-white outsole/midsole and black nylon canvas. There is also a mid-foot strap, a Fear of God loco application on the toe-box, a clean-looking one-piece midsole that has the words "Fear of God" printed on the back of the outsole, standing out for all to see, and taping over the edge seems on the strap, ankle collar, and the heel-pull-tabs.
Everyone thought it was the upcoming adidas Fear of God sneaker because the design was consistent with their Moccasins and Raid. Still, it turned out that these were not the sample designs that everyone thought they would be.
RELATED: Looking Back At The 10 Best Yeezy Sneakers Of All Time, Ranked
Sample Proven To Be Fake
There hasn't been any news about the collaboration between Fear of God and adidas besides some smaller-scape pop-ups that appeared overseas. It looked like they were leaning toward a very patient approach for the global launch of their athletics program with adidas. Because of this, there was a ton of hype around the leaked images when they first hit Instagram. People were incredibly excited to finally have pictures of the first shoe. Unfortunately, it later turned out that the leak was a fake.
Our favourites. Available now at Nike.com
Jerry Lorenzo spoke with Complex about the leaked sample design and was reported to have said that the leak "is not the basketball sneaker from Fear of God and adidas." To further prove his point, he shared that even though the leak was not a first look at their sneakers with adidas, we will finally be able to see their performance sneakers. The RTW collection will be revealed in April.
RELATED: adidas Has Received 500 Offers For Unsold Yeezy Inventory
TL;DR
Images of a Fear of God x adidas high-top sneaker sample were leaked on Instagram by @youngviet23.
The sneakers were a convincing design that everyone was excited about because of their similarity to some of their other collaborations.
It turned out that the sample was a fake, and Jerry Lorenzo from Fear of God himself confirmed that we would get an actual first look in April of 2023.03.27
What did you think of these "leaked" Fear of God x adidas sneakers?