Get ready to shout, "It's Morphin' time!" Who could kick-start a conversation about the GREATEST SUPERHEROES OF ALL TIME without the iconic Power Rangers catchphrase? Okay, I may be exaggerating a bit, but we must acknowledge that the Rangers definitely left a lasting impression on 90s kids like myself. We didn't just watch the Power Rangers; we yearned to be one of them. Be honest, how many of us tried to imitate their martial arts moves and wore our own makeshift Power Ranger costumes while playing outside? Now, thanks to Jarrod Saunders, one of our talented creatives at Fortress, we can take a step closer to fulfilling those childhood fantasies with this Power Rangers Air Jordan 1 Mid concept design.
RELATED: These Rocky x Air Force 1 Sneakers Are Made For Champions
In case the Mighty Morphin Power Rangers have slipped from your memory, allow me to jog it. These were teenagers with extraordinary powers, locked in a constant battle against evil to save the world. Sure, the special effects and fight scenes may seem cheesy now, but back then, it was pure magic.
All the Rangers had their own distinct colours and weapons, marking their individuality. But the scarlet Red Ranger was arguably the best! Jason was not only skilled in combat, but also possessed exceptional leadership qualities. Plus, he had his cool signature Tyrannosaurus Rex Dinozord. Thus, our sneaker concept naturally pays due tribute to this fan favourite.
The Power Rangers Air Jordan 1 Mid concept design adopts the striking red and white colour palette and iconic features inspired by this hero's battle suit. The sneaker boasts a full leather upper with white adorning the toe box and quarter panel, while red covers the collar, overlays and Swoosh. The red overlays are further highlighted with a white lining that adds contrast and depth to the design. Once again, this sneaker's colour scheme is reminiscent of the Red Ranger hero suit, known for its vibrant red colour and white accents.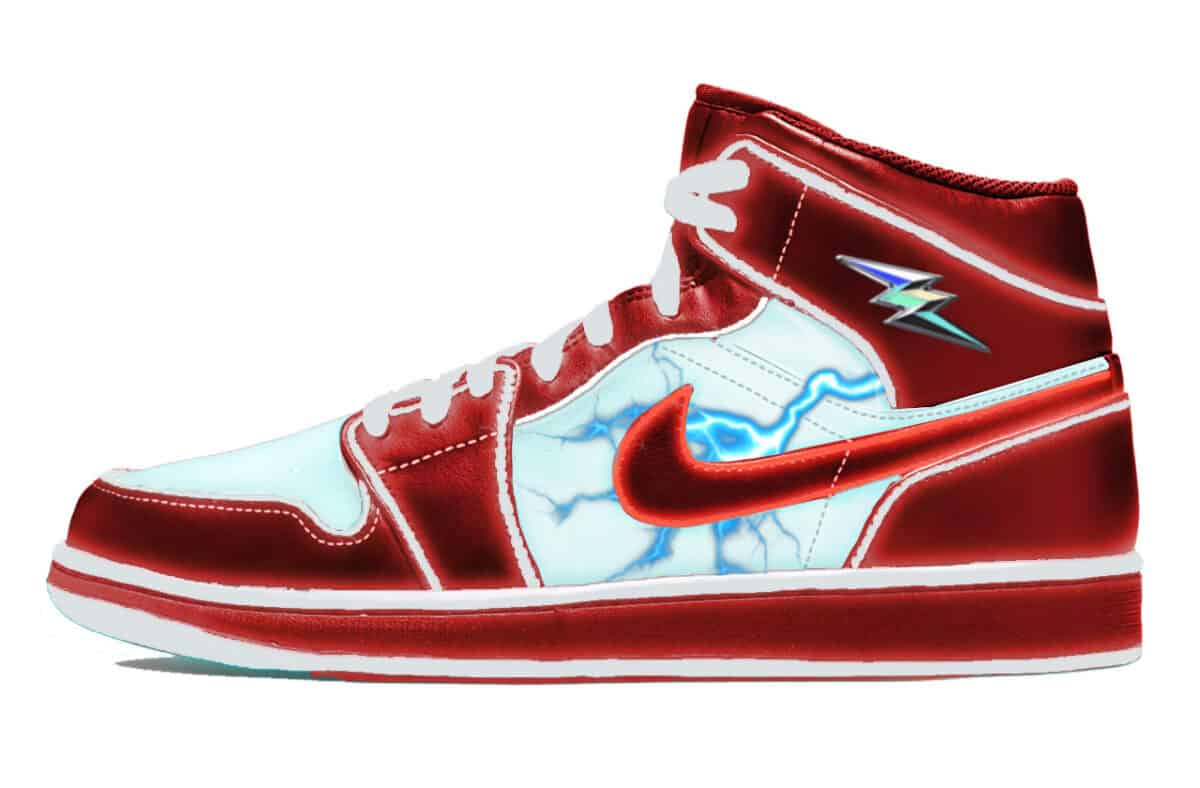 RELATED: Air Jordan 1 Mid "Joker & Harley Quinn" Suicide Squad Sneakers
We've also included a lightning bolt detail on the quarter panel, complemented by a silver lightning bolt gracing the ankle flap. Both elements are nods to the iconic Power Rangers logo, adding an extra layer of nostalgia for fans of the series. The left tongue of the sneaker proudly displays the famous Dino logo found on the Red Ranger's belt, while the right tongue captures the Jumpman in all his splendour.
Our favourites. Available now at Nike.com
Inside the sneaker, you'll find diamond-shaped patterns borrowed from the Red Ranger's super suit. This design detail not only adds visual charm but also serves as a gentle reminder of the shoe's superhero inspiration.
The Power Rangers Air Jordan 1 Mid rounds off its design with a red midsole, white outsole, and matching white laces. This tallies neatly with the white features on the Red Ranger's costume, thus crafting a complete and pleasing look that respectfully pays tribute to the legendary hero.
We pretty much love the Power Rangers, so making these sneakers a reality would be a dream come true. However, until then, you can follow us for more sneaker customs and concepts.
RELATED: Level Up With The Air Jordan 1 Mid "Tron" Sneaker
Would you rock a pair of Power Rangers Air Jordan 1 Mids?