Sneakers have become the perfect canvas for creative design, and we have a particular soft spot for those that blend timeless profiles with pop culture inspirations. We're continually on the hunt for amazing designs that speak to our inner nerd and sneakerhead. That's why we couldn't help but get excited when we stumbled upon the Mega Venusaur x Nike SB concept, a brainchild of Dariyn Enriquez, aka @dope_don_designs.
RELATED: These Air Jordan 1 x Teenage Mutant Ninja Turtle "Sewer Stompers" Sneakers Are Amazing
This imaginative fusion combines the iconic aesthetics of Nike SB with the powerful and captivating presence of Mega Venusaur from the Pokémon franchise. The result is a sneaker design that not only pays homage to our childhood nostalgia but also showcases the endless possibilities of artistic expression in footwear.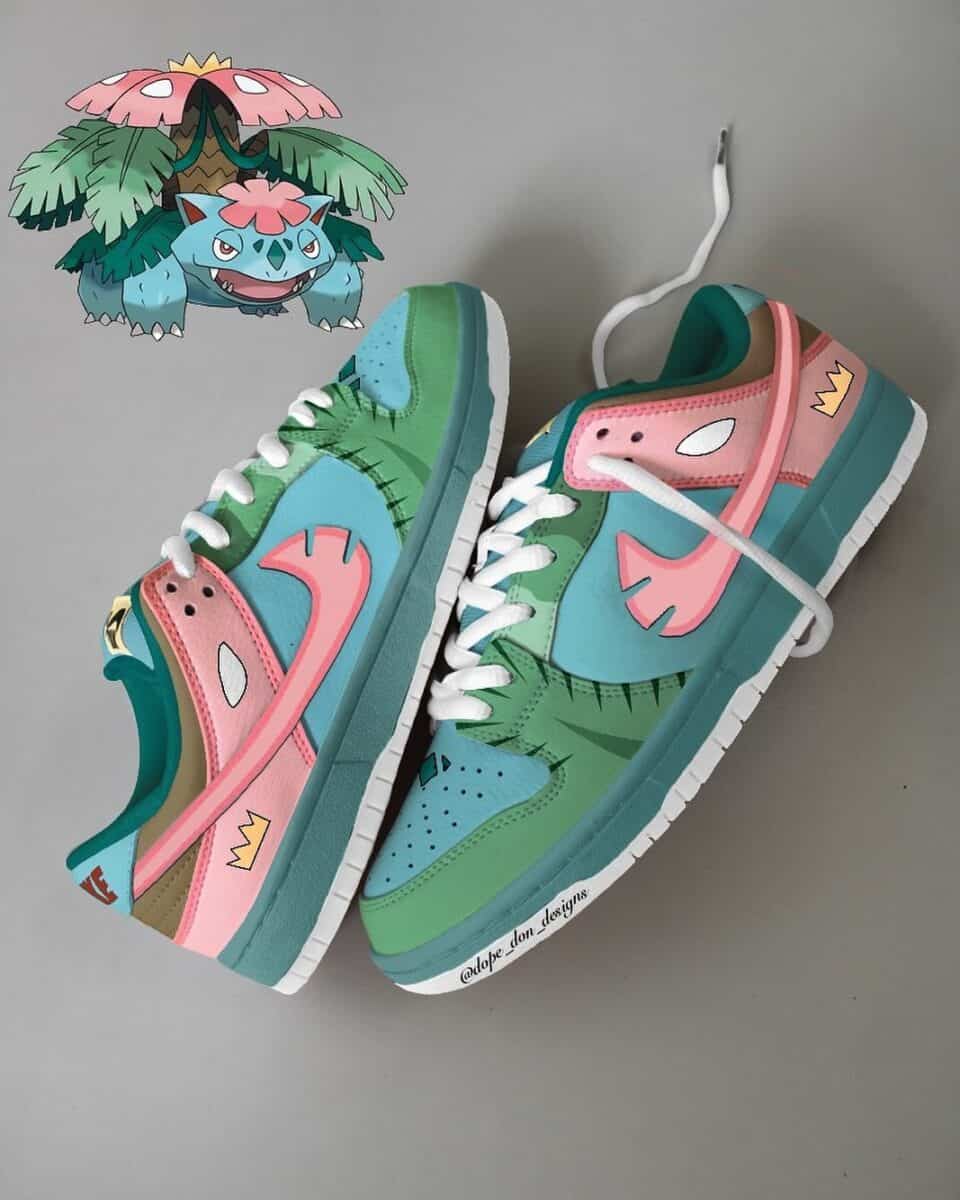 Now, if the terms Mega Venusaur and the Pokémon franchise feel alien to you, here's a condensed starter. Venusaur is the final form of Bulbasaur, a well-loved Grass/Poison-type Pokémon. Mega Venusaur, in turn, is the Mega Evolved form of Venusaur, achieved through the use of Venusaurite. But what is essential to know—at least for this concept—is that this form has a distinctive flower on its back that blooms into a vibrant and eye-catching display. He also develops green vines and dark markings on his forehead, giving him a more powerful appearance. So, any design that takes on this creature's aesthetic is bound to be a visual treat. So, let's dive into the design, shall we?
The concept by Enriquez captures the beauty (and strength) of the creature, showcasing its vibrant flower and intricate vine patterns throughout the design. The sneaker's base adopts a gentle blue-green shade, representing the character's skin tone. This colour is visible on the toe box, tongue, quarter panels, and heel tab. The toe box additionally features dark markings imitating the character's forehead.
This leather base is then exquisitely contrasted by multiple vibrant colours inspired by Mega Venusaur's plant features. The Swoosh logo and ankle flap showcase a stunning pink colour, with the edge of the Swoosh deliberately cut out to mimic the flower's petal details. Additional influence from the flower is visible in a small white spot and crown found decorating the Swoosh.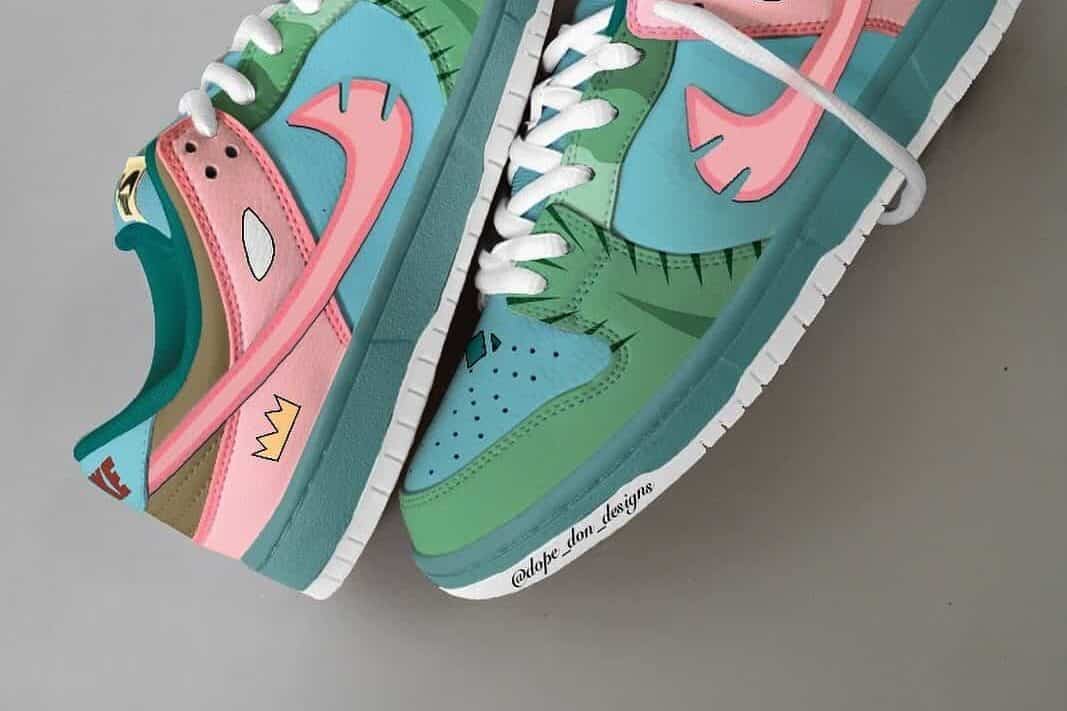 RELATED: These Tom & Jerry Air Jordan 1 Sneakers Are Beautiful
Our favourites. Available now at Nike.com
The collar's brown shade symbolises the sturdy trunk that hosts Mega Venusaur's impressive blossom, while the green overlays showcase the iconic leaf elements. This shade graces the toe and mudguard, bearing leaf-like patterns. Different shades of green also adorn the eye-stays, reflecting the shadows cast by the looming flower.
Finally, the green midsole and lining tie in well with the design, effortlessly mirroring the dark markings on Mega Venusaur's forehead. You will also find the white outsole and laces add the perfect finishing touch to the design with their subtle reference to the creature's claws. With its array of colours, nuances of shading and meticulous attention to Pokémon character's details, this shoe concept beautifully embodies Mega Venusaur's essence.
Without a doubt, this is another sneaker concept Enriquez has perfectly executed. The care and creativity used in incorporating Venusaur's features into the design is commendable. With its thoughtful details paying tribute to the much-loved character, Pokémon enthusiasts will surely adore this design, and its striking look will not go unnoticed by sneakerheads either.
The creative is currently in the running for a competition that offers designers the opportunity to see their creations come to life. So, if you would love to see this design or one of his others on your feet instead of on a screen, do support him with your vote. Until then, be sure to follow us for more sneaker customs and concepts.
RELATED: These "Purple Rain" x Air Jordan 1 Sneakers Celebrate Prince
What do you think of this Mega Venusaur x Nike SB sneaker concept?