Every child's imagination has been spooked by the thought of monsters hiding in the closet, and with our next sneaker concept, that fear may just come true. Precisely conjuring the mysterious world of these unseen closet dwellers, our very own Brandon Krige has cooked up a pair of Jordan 3 Monsters Inc. sneakers inspired by the King of Scarers himself, Sulley.
RELATED: Airwolf Takes Flight In These Nike Air Jordan 4 Sneakers
For those unfamiliar with Sulley's charms, he's the jovial blue behemoth from Pixar's 2001 animated masterpiece, Monsters Inc. Our lovable hero earns his keep by collecting children's screams at the Monster's Inc. factory, thanks to a special door that lets him sneak into their bedrooms.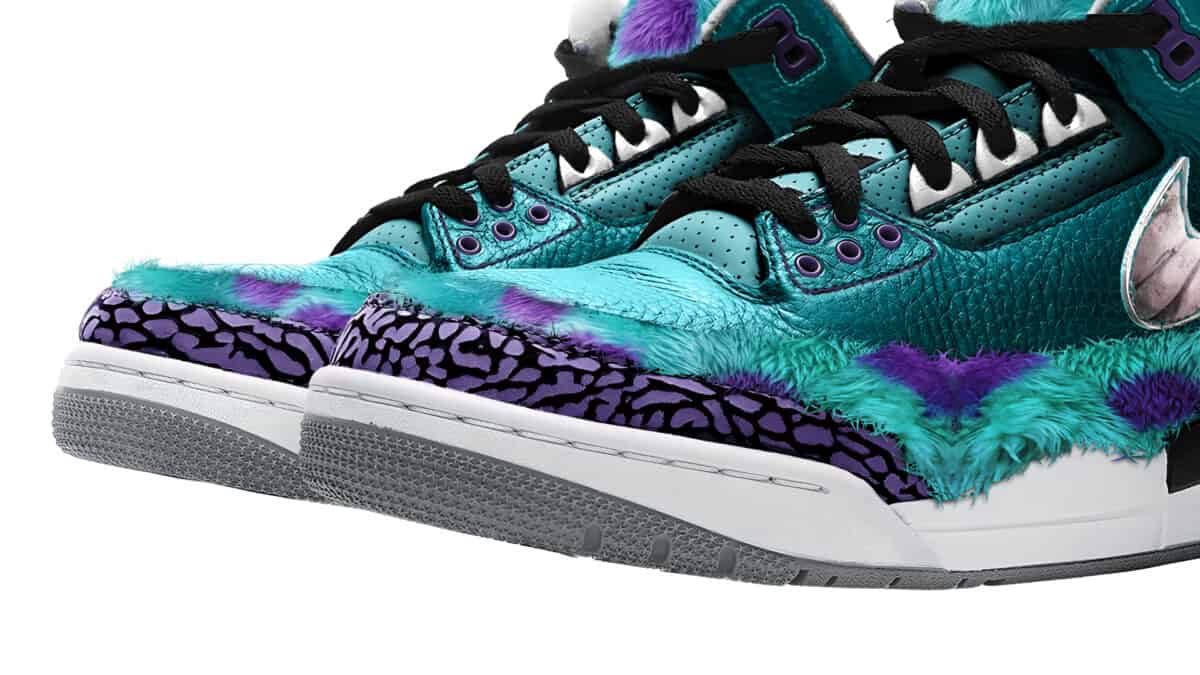 Things get a little chaotic when Sulley accidentally lets a human child named Boo into Monstropolis. But thankfully, with the help of his best friend Mike Wazowski, Sulley learns that laughter is more powerful than screams, and together, they save the day by revolutionizing the scare industry. While we love the fact that Sulley transforms from being the most successful scarer at Monsters Inc. to a lovable and caring friend to Boo, it's his iconic blue and purple fur and fearsome horns that we are interested in for this unique Air Jordan 3 design.
These Jordan 3 Monsters Inc. sneakers feature a combination of furry textures and vibrant colours, capturing Sulley's playful yet powerful presence. The base is covered in a beautiful, tumbled leather that adopts the colour of Sulley's fur while the perforated tongue also boasts this exact colour. Adding a dash of whimsy, the beloved monsters signature fluffy coat – complete with vibrant purple spots – adorn the trim and the tongue flap. This fuzzy fabric not only enhances texture but also infuses a dose of personality into these Air Jordan 3 sneakers.
Paying homage to Sulley's purple spots is the eye-catching elephant print, gracing the toe and heel with a rich purple tone, fractured with black veins. The purple colour also confidently bedecks the topmost and bottom eyelets of the shoe, adding cohesion to the overall design.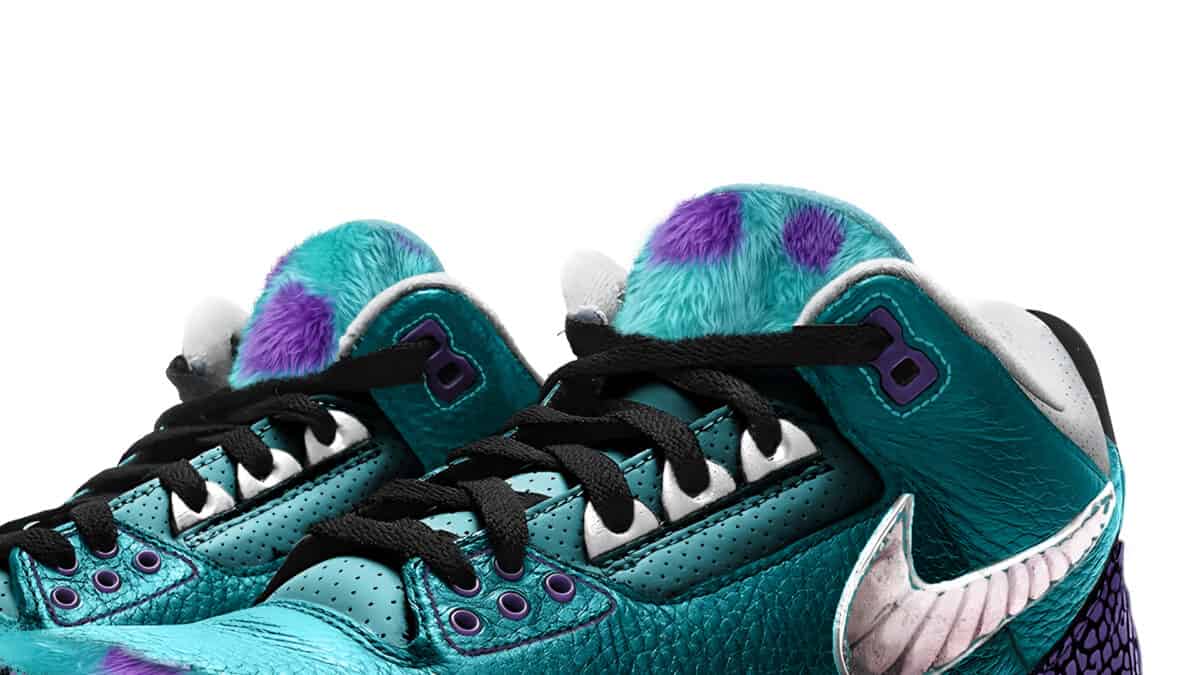 RELATED: Take A Bite Out Of These Air Jordan 3 "Dracula" Sneakers
Our favourites. Available now at Nike.com
Moving on, elements of white, referencing Sulley's monstrous teeth, are apparent within the collar and shoe's lining and also flow onto the middle set of lace eyelets. However, adding a dramatic focus, a Nike Swoosh mirrors Sulley's horn with a 3D embossed style—beyond the fluffy fur, the Swoosh is one of the standout details of this Sulley sneaker design.
A duo of a white midsole and grey rubber outsole, with an eye-catching teal window elegantly positioned in the shoe's air unit, rounds out the striking composition. This colour scheme syncs perfectly with the overall colour arrangement of the shoe. Tying the look together is a perfectly contrasting set of black laces that match the matte black foot frame and the sneaker's heel tab. Of course, the black colour scheme is a subtle nod to the beloved monster's dark-coloured claws, adding an extra touch of detail and connection to the shoe's inspiration.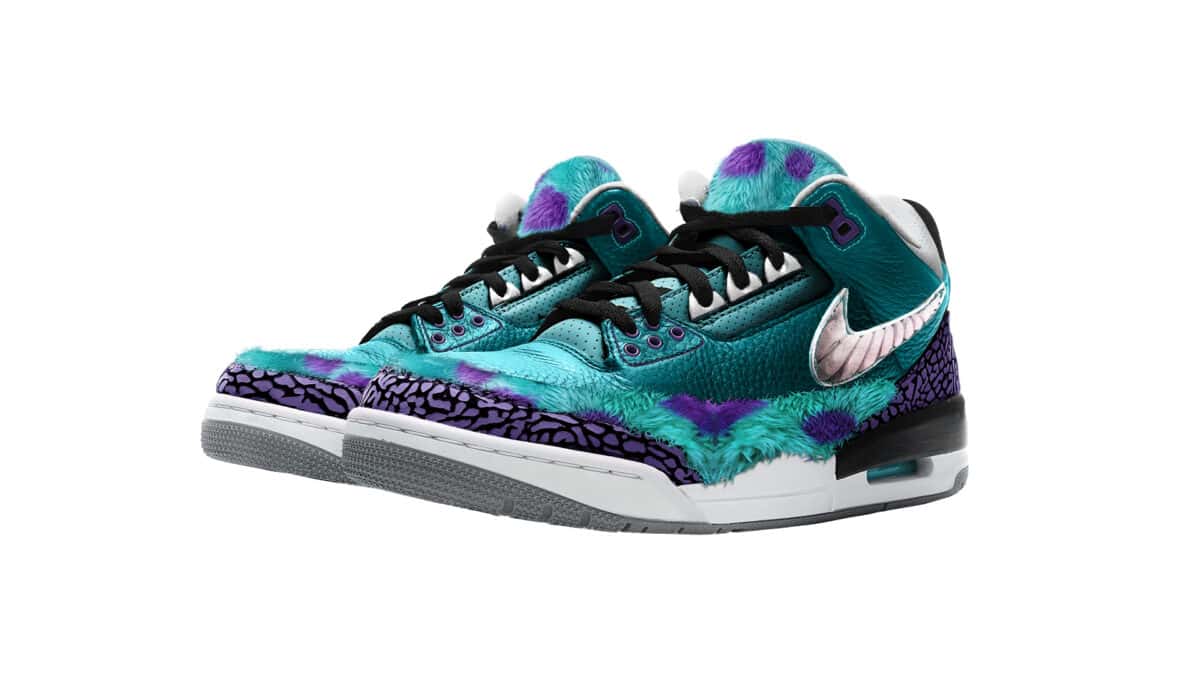 While the design doesn't include insoles, our imagination leans towards buoyant purple ones dotted with a glimmering gold Monsters Inc. logo. To accompany the sneaker, a matching hang tag doubles up as a keychain, embossed with the classic Monsters Inc. logo and Sully's signature hues.  
While this "Sulley" Air Jordan 3 Monsters Inc. design is still a concept, be sure to keep an eye on our Instagram page because we are excited to start bringing our designs to life very soon. Until then, remember to follow us for more sneaker customs and concepts.
RELATED: 5 Beautiful Nike Sneakers Inspired by Vintage Aesthetics
Would you like to see more Jordan 3 Monsters Inc. design concepts featuring the beloved characters from the movie?
Source: IMDB