As someone who isn't fond of golf at all, it's a little ironic that I currently own two golf sneakers: The Eastside Golf x Air Jordan 12 Retro Muslin / Burnt Sunrise and now the Nike Air Max 1 '86 OG Golf NRG Play to Live. In all honesty, my attraction to both sneakers is their standout looks rather than their functionality. That being said, it's easy to see why both are considered great sports shoes.
RELATED: Eastside Golf x Air Jordan 12 Retro Muslin / Burnt Sunrise Review
But let's be honest, the Nike Air Max 1 '86 OG Golf NRG Play to Live (in white, clear jade, and light silver) aren't just your regular golf shoes. These are a statement. Priced at a robust $170, these sneakers hit the market on July 20th, 2023. And it's astonishing that they aren't a huge hit amongst sneakerheads… yet.
A Psychedelic Touch To Athletic Wear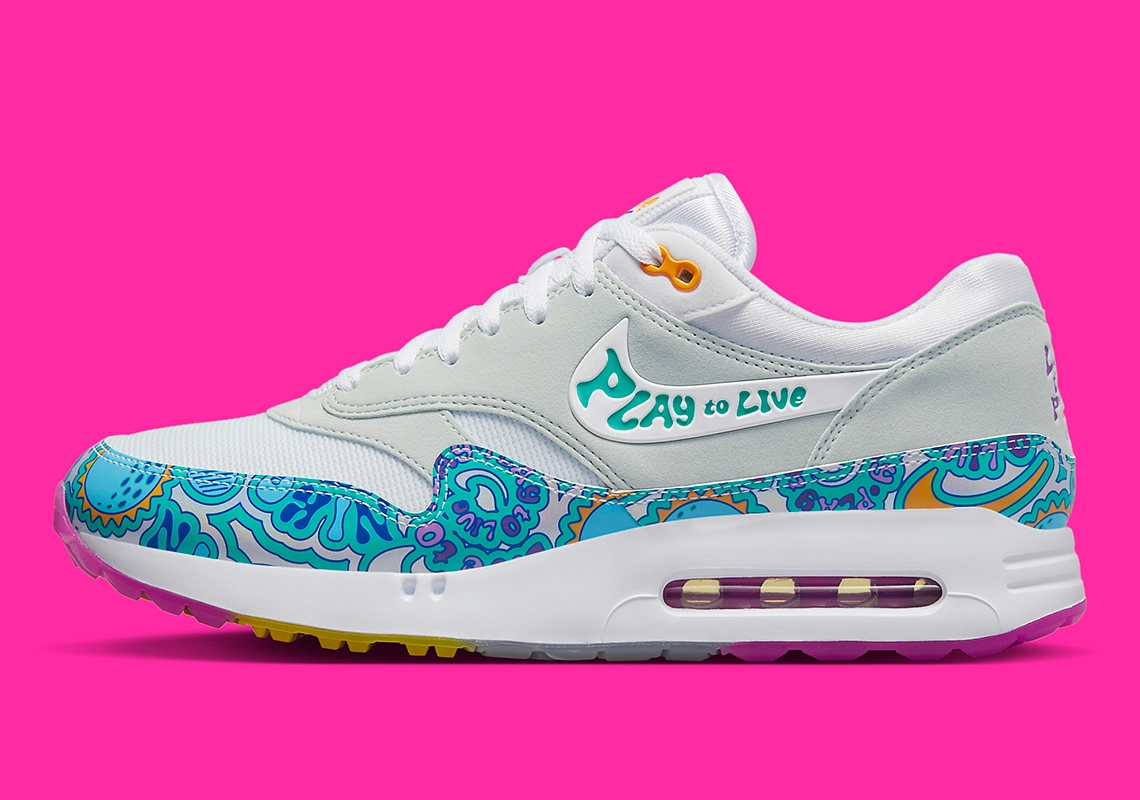 #Nike_DV1407-100
These shoes don't just stop at utility; they're a visual spectacle. Taking a leaf out of the psychedelic era of the 60s and 70s, Nike gives us a blast from the past. The phrase "Play to Live, Live to Play" can be found embellished across the shoe with far-out fonts, embodying its theme. This iconic saying is the mantra for the shoe's design, reminding us of the passion and zest for life and the game.
The toe area of the shoe showcases patent leather, further elevated with a graphic overlay. This visual tapestry integrates words like "play" and "live", all intertwined seamlessly with the Nike logo. This artistic amalgamation offers a trance-like appearance, cementing its distinctiveness in the market.
In short, the Nike Air Max 1 '86 OG Golf NRG Play to Live (quite a mouthful indeed) is a sight to behold. They are hypnotizing from the moment you set your eyes on them. Perhaps it's the bold colours or the premium look, but it's easy to tell these are a cut above other Air Max sneakers.
Our favourites. Available now at Nike.com
RELATED: These Nike Air Max 1 Golf Sneakers Say It All
Beautiful Details That Make A Difference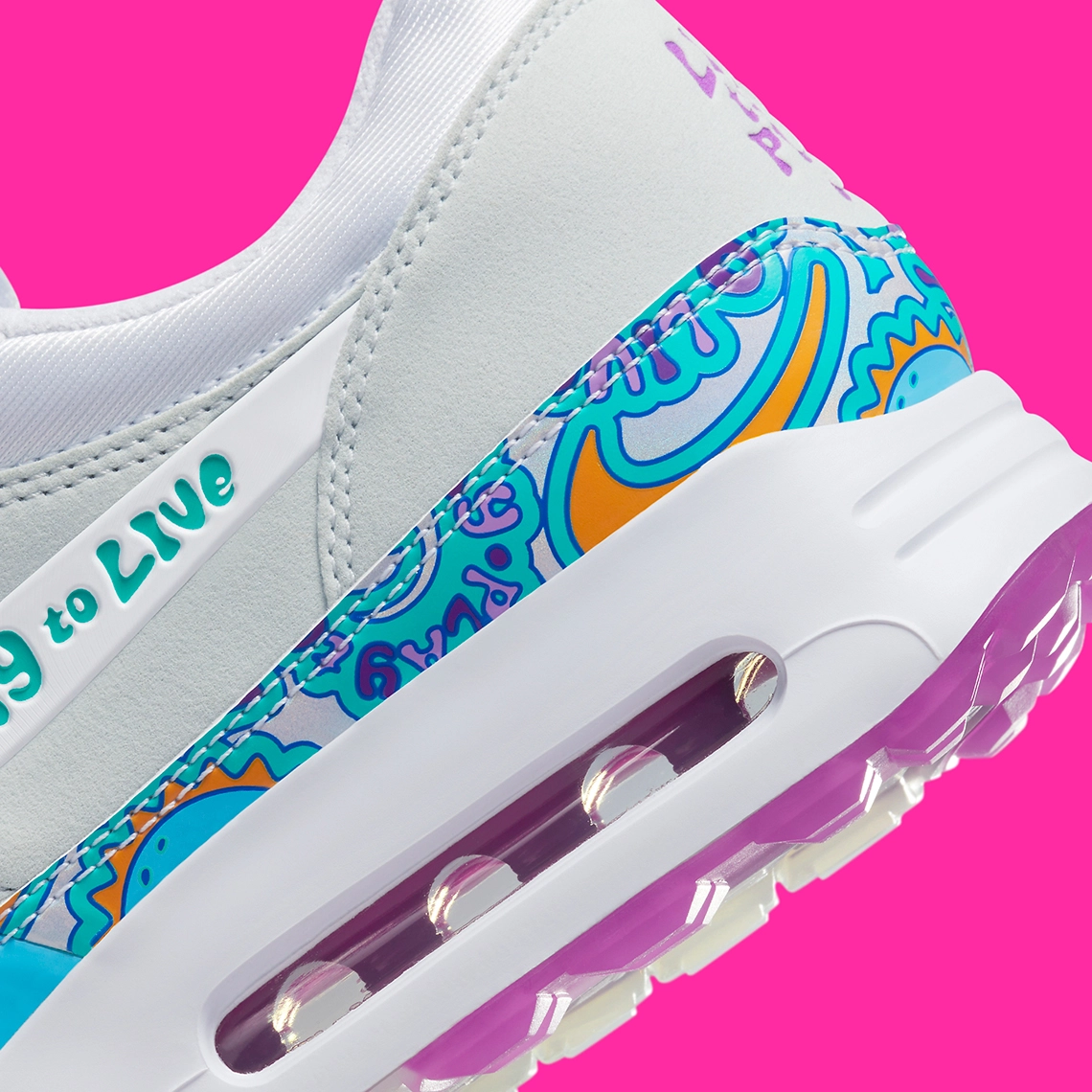 The shoe's outsole is a star in its own right. Boasting a translucent design, it alternates between clear and yellow shades, peppered with hints of magenta. To further the "Play to Live, Live to Play" theme, one sole displays "Live to Play" while the other reverses the mantra. This quirky detailing extends to the iconic Nike swoosh, where the wording is inverted on each shoe.
Nike also doesn't skimp on materials. Adorned in a plush suede in a muted grey, this shoe is not just about looks but also about touch. Although suede isn't the best friend of rain, the box and the sneakers come with a tag that marks these sneakers as "waterproof". While I'll personally be keeping them away from wet terrains, it's nice to know that the Nike Air Max 1 '86 OG Golf NRG Play to Live was made to be worn through pretty much any type of weather.
And as Nike clearly states on their website: "It melds them with our game-changing golf technology, so you can play all day, all year in a timeless fit." Groovy baby!
Accents like mesh panelling on the toe box, a neoprene satin-like material, and patent leather with a psychedelic overlay uplift the shoe's design. But what grabs attention are the laces – pristine white with a hint of teal at the tips. The insole, staying true to the theme, also flaunts a psychedelic pattern.
RELATED: The 15 Best Nike Air Max Sneakers Of All Time
A Shoe Made For All Occasions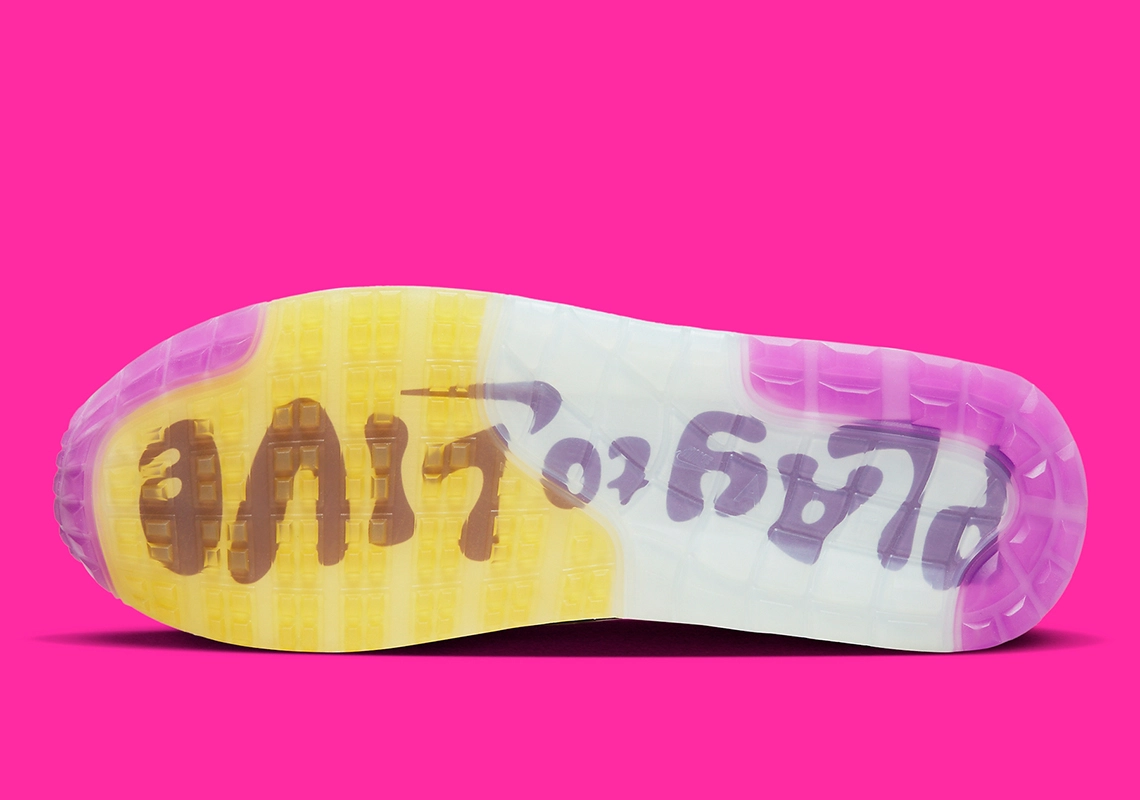 While designed as a golf shoe, as mentioned above, Nike ensures versatility. The unique traction pattern of these shoes means they're not confined to the greens. They're equally stylish and functional off the course. Wear them to a game or simply flaunt them on a day out – either way, they're bound to turn heads.
I can see these being worn during a hot summer's day to the beach or coasting around the city. Nike's venture into golf footwear, especially with limited colourways, has been commendable. With the Nike Air Max 1 '86 OG Golf NRG, they've certainly outdone themselves.
However, while the design and detailing are impeccable, $170 is indeed a steep price for an Air Max. That said, if you're in the market for something different, this is the way. The Nike Air Max 1 '86 OG Golf NRG Play to Live is just such a colourful, fun and funky sneaker.
The Review
Nike Air Max 1 '86 OG Golf NRG Play to Live
Don't sleep on these kicks. They're stunning and ultra cool!
PROS
Beautiful Design
Really Fun Colours
Incredibly Comfortable
Amazing Insole
CONS
The Packaging Is A Let Down
Review Breakdown
Design

0%

Quality

0%

Performance

0%

Comfort

0%