Next year's Lunar New Year is set to be an exciting time for Nike fans, with an array of incredible designs on the horizon. The likes of the Air Jordan 1 Low, the Nike Air Force 1, and the Jordan Spizike Low are all slated to receive a unique "Year of the Dragon" revamp. These fresh editions are expected to be adorned with dragon-inspired details, such as scaled-leather accents in various shades of green, replicating the texture of a dragon's skin. However, the latest revelation, their Nike Dunk Low "Year of the Dragon" sneaker, deviates slightly from this theme, eliminating all traces of green in its design and offering a refreshing twist.
RELATED: These Air Jordan 1 Low "Year of the Dragon" Sneakers Are Stunning
The Nike Dunk Low "Year of the Dragon" sneaker takes on a distinctive palette of "White", "Black", "University Red", and "Photon Dust". Despite the vast array of colours, Nike has achieved a balanced and compelling look with careful colour blocking.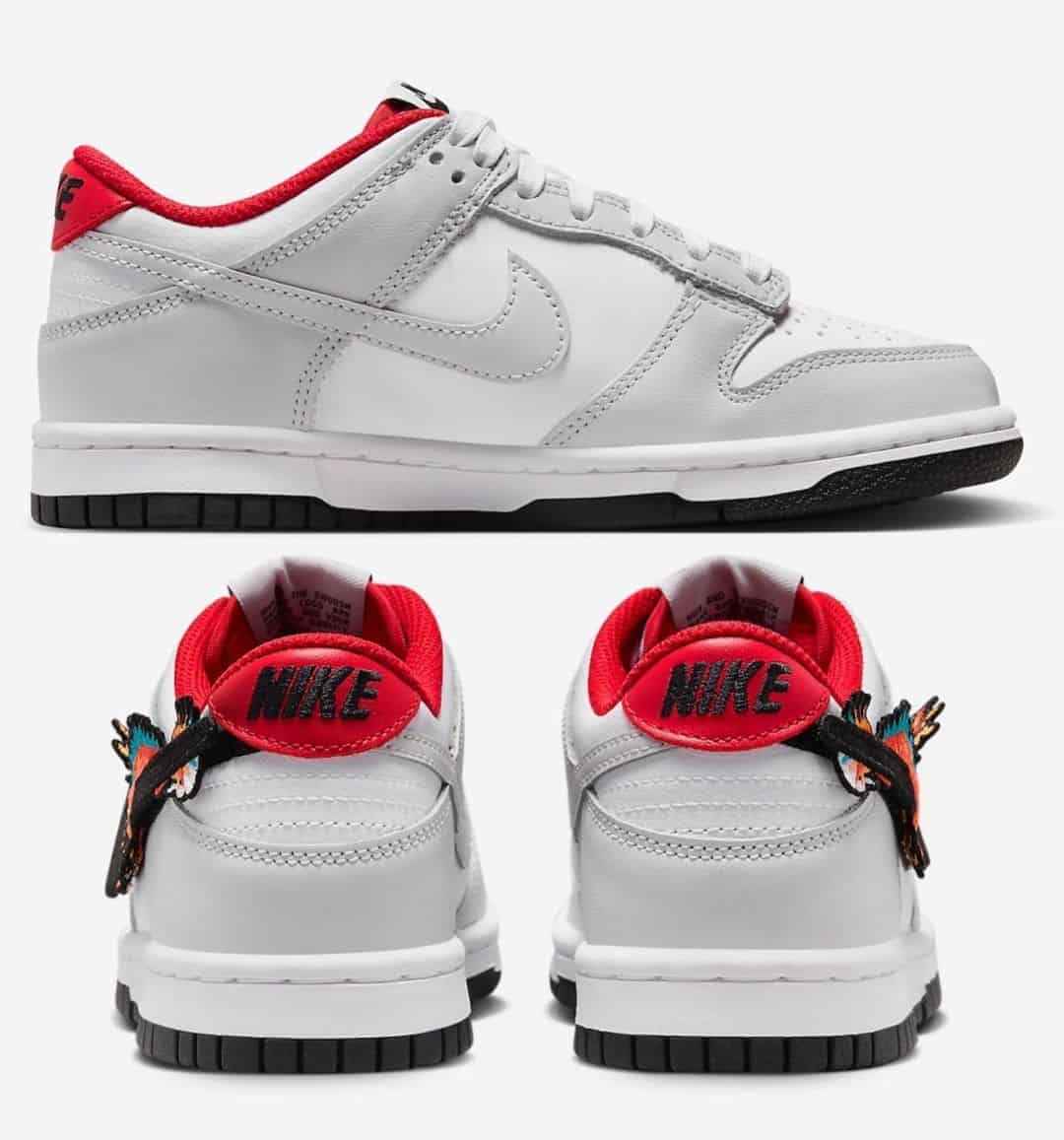 It starts with a crisp white leather base paired with matching laces and tongue tags, resulting in a clean look. The presence of "Photon Dust" overlays creates a subtle difference to the white base, enough to be noticeable but not to dominate. The "University Red" hue is cleverly utilised on the lining, insole, and heel tabs, adding a vibrant and striking element to the shoe. Look a little closer, and you'll spot subtle red accents under the eye-stays and behind the tongue – a subtle yet impactful touch.
However, what inevitably draws the eye are the black, embroidered, dragon-themed velcro Swooshes found on the lateral sides of the shoe. This beautiful design detail is inspired by the dragon props (or costumes) often seen in traditional Chinese dragon dances. These dances are performed during the Lunar New Year and other celebrations to chase away evil spirits and summon luck and good fortune. This meaningful cultural reference on the Swooshes gives a nod to the sneaker's theme and adds a unique touch to the aesthetic.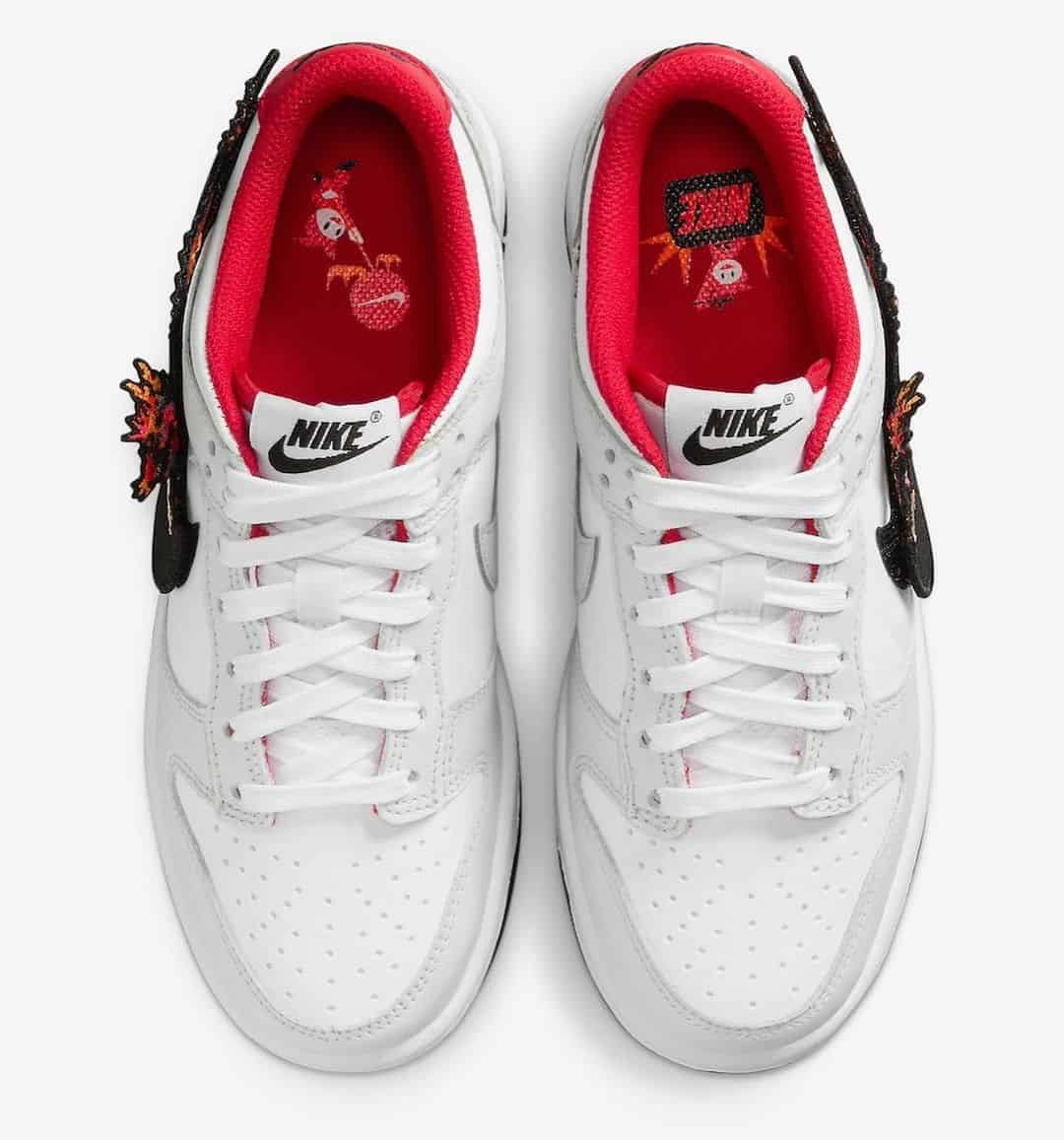 RELATED: Jordan Spizike Low "Year of the Dragon" Sneaker Celebrates Chinese Heritage
The dragon-themed Swooshes are detachable, making us wonder whether Nike will offer more embroidered patches for personalisation. We're keeping our fingers crossed for that one.
Our favourites. Available now at Nike.com
Further design elements include stylish cartoon-themed graphics on the insoles and the Nike branding stitched onto the tongue and heel. It all neatly winds up with the timeless combo of a white midsole and black rubber outsole. All in all, this model manages to be stylishly simple while incorporating meaningful elements that aptly capture its Dragon Year theme.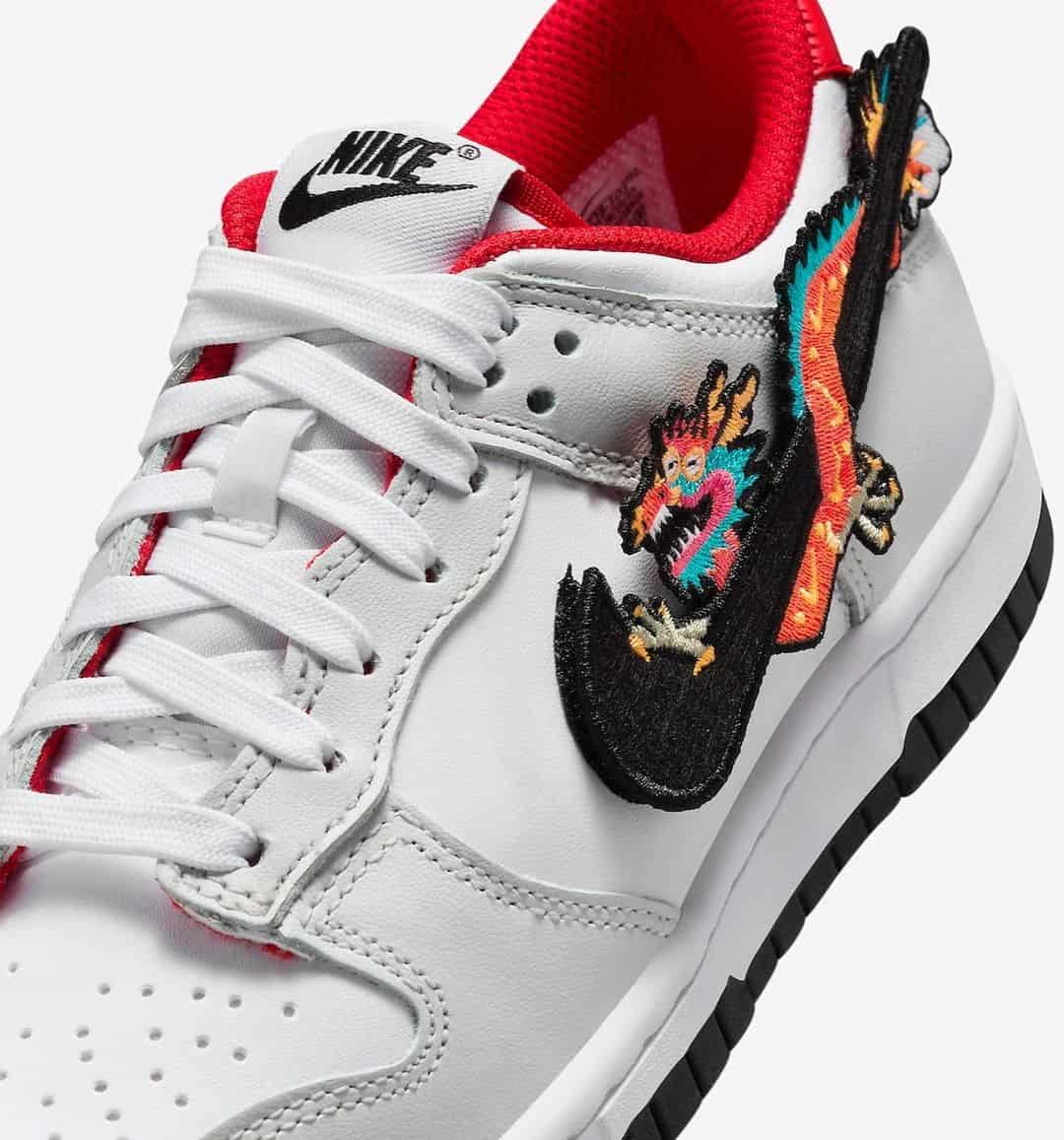 You can expect the Nike Dunk Low "Year of the Dragon" sneaker to hit shelves in January 2024 and to retail for $100 USD. It's likely to be exclusively available in grade school sizes on Nike.com and select retailers, which might mean no adult sizes will be released. Those with bigger feet might be disappointed, but it certainly opens up a fun opportunity for younger sneaker enthusiasts and those with smaller feet. Let's also hold onto the prospect that a similar design might be replicated for adult sizes.
RELATED: "Enter the Dragon" Year With These Bruce Lee Air Jordan 1 Sneakers
As it stands, no official confirmation has been released from Nike's end about this upcoming collection. So, if you are interested in grabbing the Nike Dunk Low "Year of the Dragon" sneaker or want more sizing information, you will need to stay tuned for updates. In the meantime, you can keep following us for more sneaker drops and reviews.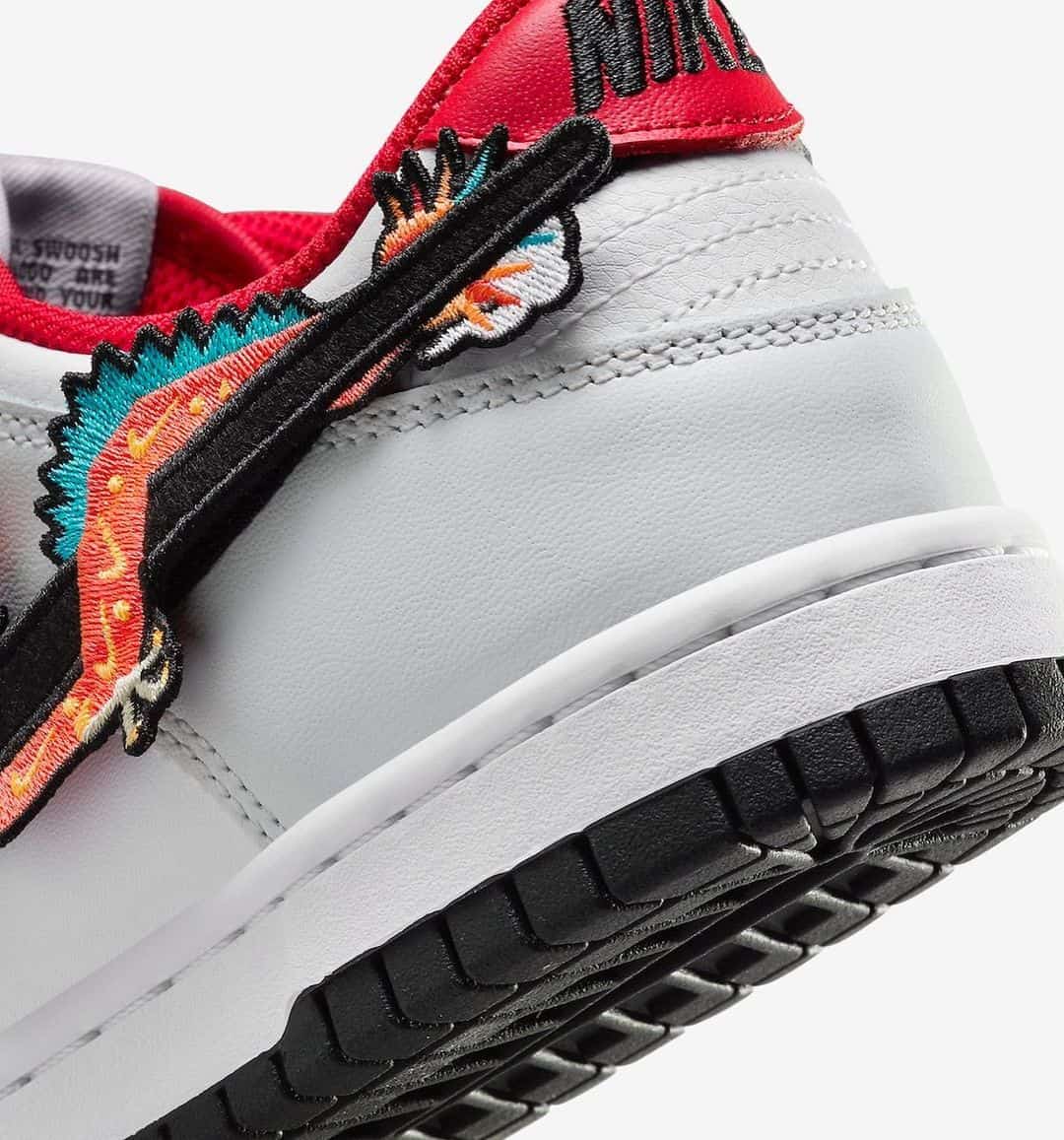 What's your take? Has Nike hit a home run with this Nike Dunk Low "Year of the Dragon" sneaker design?
Source: @how.to.cop, Inbox To Go