Nike is aiming for a world where every runner gets faster. With this challenge in mind, injuries are seemingly inevitable. Or are they? This is the question that has spurred Nike to focus its efforts on reducing potential runner injuries with their latest running shoe, the Nike React Infinity Run. This silhouette is the first step towards the objective.
When Nike first introduced the Zoom Vaporfly 4% back in 2017, runners were excited about the prospect of breaking personal bests and their own personal limits. That same year, the team introduced the revolutionary Nike React technology, for the ultimate in cushioning and energy return. In addition to this, with the recent success of the sub-two-hour marathon, powered by the Nike Next% marathon shoe, Nike is all about pushing the boundaries to the next level.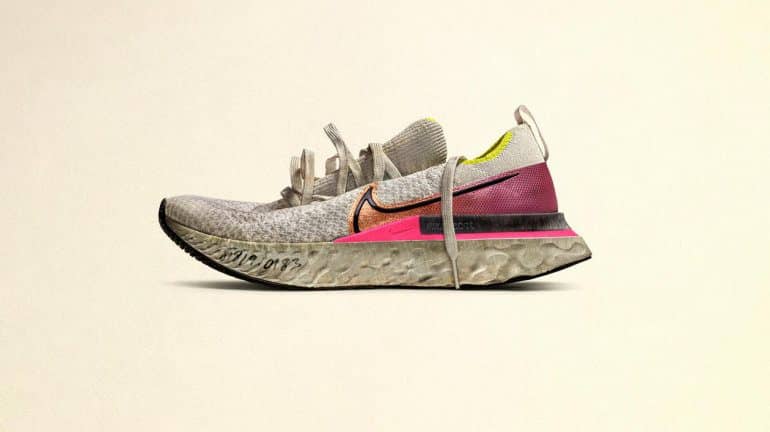 The Nike React Infinity Run incorporates the best of the above-mentioned technologies, a blend of biomechanical efficiency and cushioning, for a breakthrough shoe offering a democratic solution to stability. The silhouette provides a soft, responsive platform to delivers on a widened midsole. Following a similar build to the 4%, the shoe has a rocker-like bottom to produce a more fluid transition in every stride, from the strike to the toe-off. The shoe was designed to have an immediate impact on the runner, with a stable and energetic feel off the bat. The spring in the React foam fuels your journey, while the rocker-geometry promotes a slight lean forward to create natural forward propulsion. The wider platform build gives the runner peace of mind with its extra support, as it gently guides the foot in a smooth, straight line, which reduces any side-to-side wobbling.
All these parts work together in motion, ideal for long runs or races where runners are prone to injury. An external study by the British Columbia Sports Medicine Research Foundation (BCSMRF) on 226 runners using the Nike React Infinity Run as well as the Nike Structure 22, indicated that runners using the former (React Infinity) had a 52% lower injury rate. The runners also confirmed that they felt less pain in their knees and feet after their respective runs. While these aren't conclusive results, it goes a long way to show that the Nike React Infinity Run has an impact on your run in reducing injury and improving comfort and support.
The Nike React Infinity Run is set to drop early in 2020, 3 January for Nike Members and with a later date set for the general release, 30 January, available across the country from various retailers.
Our favourites. Available now at Nike.com