Sugar, spice, and everything nice are the ingredients chosen to create the perfect sneaker – the Powerpuff Girls x Nike SB Dunk Low. Yes, Blossom, Bubbles, and Buttercup (our favourite crime-fighting kindergarten superheroes) are set to make a stylish comeback with their upcoming Nike collaboration. This beloved trio from our childhood is taking a leap from our television screens into the world of sneakers, infusing their unique charm into Nike's iconic SB Dunk Low.
RELATED: Transform Into A Dragon Ball Super With The Vegeta Ultra Ego x Nike Dunk Low Sneaker
Fans of the beloved Cartoon Network show can anticipate not one, not two, but three exciting colourways representing their cherished superheroines. Each colourway will feature vibrant and "eye-catching" designs that capture the essence of Blossom, Bubbles, and Buttercup along with their signature looks.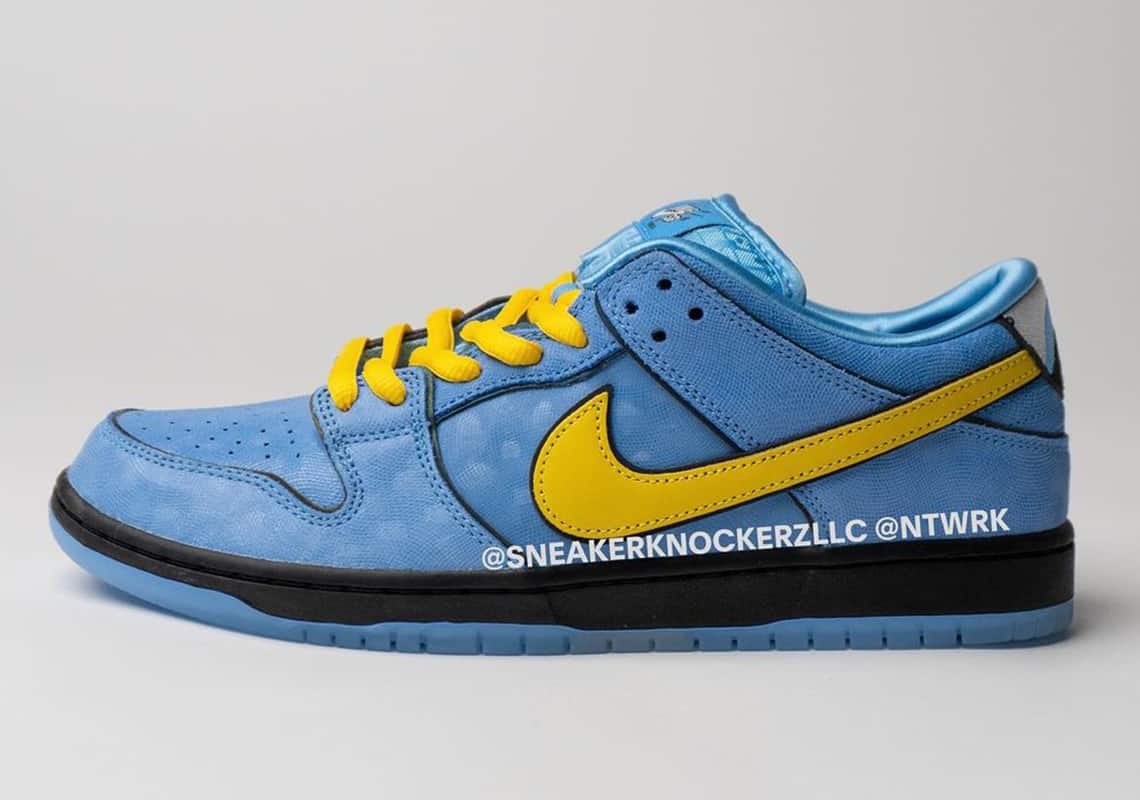 In this Powerpuff Girls x Nike SB Dunk Low collaboration, Blossom comes to life in vibrant pink and fiery orange tones- a fitting tribute to her leadership. The shoe's upper is meticulously fashioned from fine pink suede, combined with a sleek black midsole that draws inspiration directly from her signature costume. Adding a dash of character, the Swoosh and laces in a brilliant shade of orange play homage to the fiery hue of Blossom's hair. But that's not all; adorning the heels are the Powerpuff Girls' trademark big eyes, while the trims flash with a stylish reflective finish. Putting the finishing touches to this striking design, a cute heart-shaped lace decoration and a translucent pink outsole complete the sneaker tribute.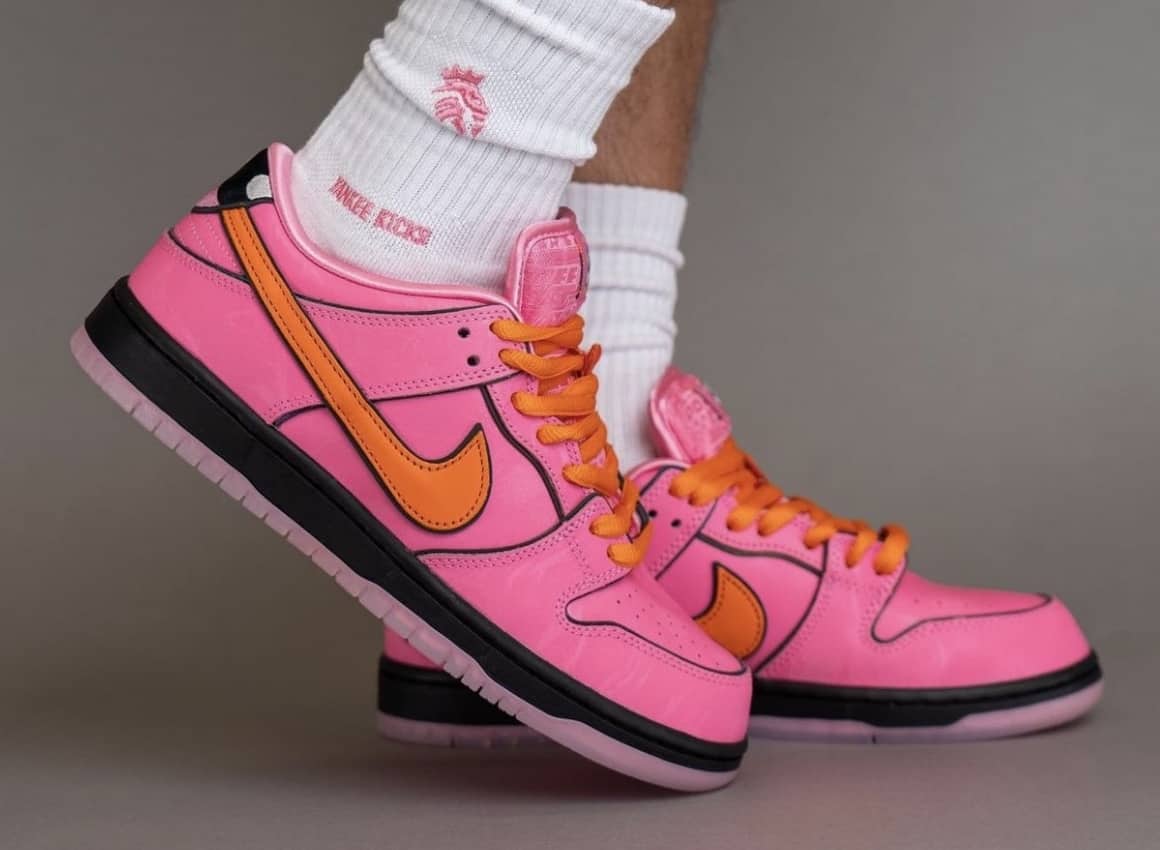 Next up, the colour palette of Bubbles is carefully chosen to mirror her personality. The sneaker incorporates serene blues and uplifting yellows, representative of her bubbly nature. Bubbles super suit comes to life through the upper's cobalt blue colour and stark black midsole. However, the unique twist to this design lies in the shimmering snakeskin finish that envelops the upper. Vibrant yellow laces and profile swooshes evoke images of the sweet sister's charming cartoon avatar and honey-blonde hair, while her sky-blue eyes stand out in bold embroidery at the heel. This delightful sneaker design is then completed with a translucent blue outsole.  
RELATED: Everybody Wants These Nike SB Dunk Low "Lion-O" Sneakers
Moving on to Buttercup, her spunky sneaker is decked in shades of green with a black midsole that evokes images of her superhero suit. The green-dominant upper is enhanced with a smooth satin finish and a translucent green outsole to match. Much like the other designs, the sneakers feature Buttercup's enlarged eyes embroidered on the heel tab. Finally, jet-black contrasts inspired by her ebony hair provide vivid accents on the rope laces, and profile swooshes. 
Our favourites. Available now at Nike.com
All three sneaker designs boast a delicate satin tongue peppered with numerous imprints of the iconic show's logo. But the excitement doesn't stop there. The pop and zap of these sneakers continue on the inside. Open up these treasures, and you'll find a canvas that comes alive with an array of comic book-style action bubbles. These speech balloons pay tribute to the girls' rivalry with Mojo Jojo. In fact, an image of this mischievous villain can be found on the left insole. It's also rumoured that the villainous chimpanzee will get his very own Nike SB Dunk sneaker design alongside the Powerpuff Girls x Nike SB Dunk Low collection.
If you are interested in the Powerpuff Girls x Nike SB Dunk Low collaboration, then the 14th of December is the date to remember. Whether you plan to get one pair or swoop in for the whole collection, ensure you've circled that date on your calendar! The release won't be a conventional one, though. Rather than an overarching release, each pair of these beauties will make their grand entrance via different platforms, retailing for $135 USD. The sneakers will also vary in quantity and availability. So, if you're a fan of Powerpuff Girls and want to secure a pair of these limited-edition sneakers, be prepared to act fast and keep an eye on multiple platforms for your chance to snag a pair before they're gone. Until then, be sure to follow us for more sneaker drops and reviews.
RELATED: Nike Dunk Low: Are You Team Tom "Grey Gum" or Team Jerry "Diffused Taupe"?
What do you think of the Powerpuff Girls x Nike SB Dunk Low sneaker collaboration? Is it a cop or a hard pass?
Source: sneakerknockerzllc