With the power of sport to unit the world, PUMA celebrates its sporting heritage with the latest collection. PUMA's new International Game collection features a mix of unisex sneakers, apparel and accessories for all.
The International Game collection was inspired by the flags of countries from around the world. This has been interpreted in a digital aesthetic to create a bold and colourful collection from across the world. Sports culture is a universal theme, brought across in the range of products from the collection.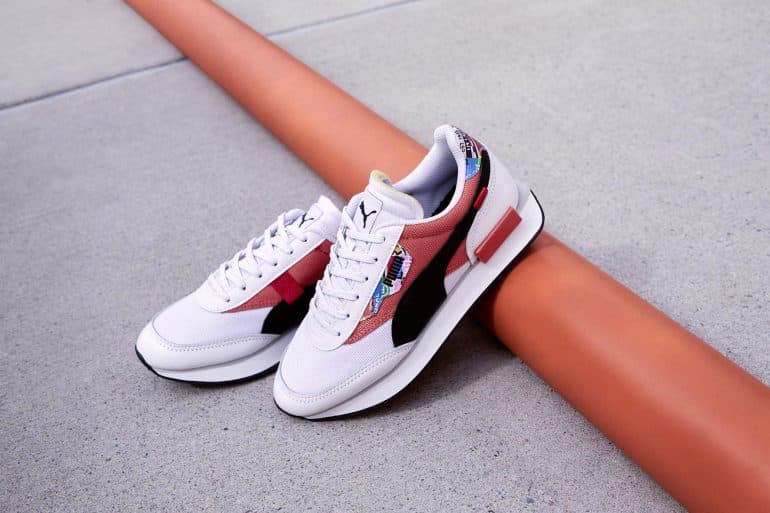 Keep your feet ready for action with the PUMA International Game collection. PUMA has announced three silhouettes for the drop. This includes the RS-Fast (R2,000) and Cali Star (R1,800), as well as the Future Rider (R1,700).
In addition to this, the brand has also included the Future Rider in Youth (R1,300), Kids (R1,100) and Infant (R1,000) sizes.
While the range of sneakers is bright and bold, it's the range of apparel that is the focus of the drop. PUMA has included a significant range of clothing for men, women and kids.
The women's collection includes a Hoodie, Graphic Tee, Double-Knit Track Pants and Track Jacket. In addition, it also features Leggings, Skirt, Printed Tee, Woven Track Pants, Track Jacket and Tee Dress. The men's range from the PUMA International collection includes the Woven Track Pants and Track Jacket, Tee, Graphic Crew Neck Sweater, Graphic Hoodie and Printed Hoodie. And for the kid game-changers, there's a Tee, Youth Track Top and Track Pants.
Our favourites. Available now at Nike.com
For the accessories, you'll be able to get your hands on a Street Sling Pouch and Backpack to complete the collection.
You can shop the PUMA Internation Game collection online at PUMA.com. This also includes in stores at PUMA, sportscene, The Cross Trainer, Side Step, Superbalist, Shesha and selected retailers.