At the end of 2020, PUMA Hoops announced the signing of NBA rookie, LaMelo Ball, as one of its basketball ambassadors. Having won the NBA Rookie of the Year Award, LaMelo has added to this accomplishment with the announcement of his debut collaboration with PUMA. The PUMA MB.01 is the first signature shoe from the duo.
After much anticipation and multiple drops for apparel for the partnership between PUMA and LeMelo, the first PUMA Hoops signature shoe has been released. The PUMA MB.01 is the first basketball release since 2018. It adds to the lineup of basketball shoes alongside legends, Walt "Clyde" Frazier and Ralph Sampson.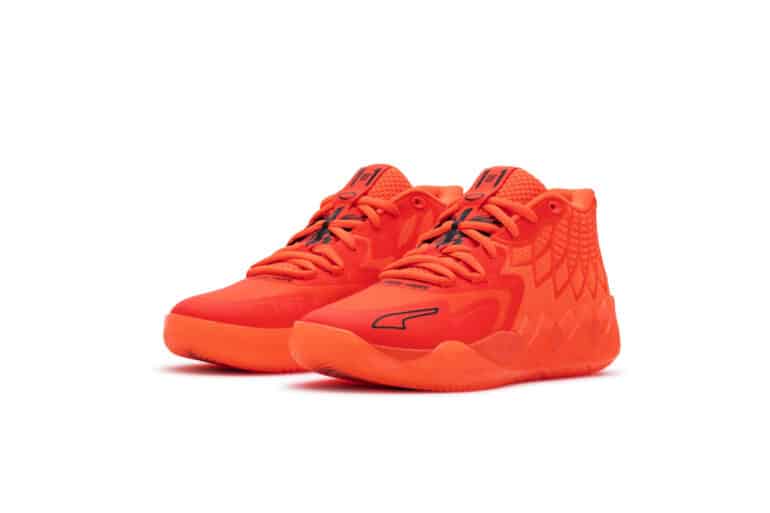 The MB.01 embodies what PUMA Hoops is about. It merges both sport and culture, while at the same time pushing a bold, bright and disruptive design. The sneaker was co-designed by LaMelo. It incorporates his personal style across the sneaker. This includes the selection of bold colour choices to the intricate and unique details, such as the outline of flames shooting down from the ankle collar. This matches LaMelo's rocket ankle tattoo.
Further designs on the shoe include the "Not from Here" text on the tongue, as well as "Rare" underneath on the outsole.
On the launch of his first collaboration with PUMA Hoops, LaMelo Ball had this to say:
"I am excited to officially launch my first signature basketball shoe with PUMA. It's crazy to see my vision come to life with the MB.01. The design process was very collaborative, incorporating my style and unique details like the rocket flames. I can't wait to wear them on court this season."
Our favourites. Available now at Nike.com
But the sneaker is not all about the looks. It also includes the latest technology features. This includes PUMA's Nitro Form throughout the midsole. This gives you superior responsiveness and comfort. Additionally, it offers full coverage non-slip rubber compound for enhanced durability and traction. Then, there's the breathable monomesh for a supportive and ultra-lightweight feel. Lastly, there's the 3D-printed disruptive upper construction to round off the design.
Get your hoop game on with the PUMA MB.01. The sneaker is available for R3,199.
It is available online at PUMA.com. It is also available in-store at PUMA V&A Waterfront, Braamfontein and Gateway, as well as Shesha.