Following the Speedcat Mid Sparco for Women's Month in August, PUMA has announced its latest iteration of the PUMA Speedcat Mid sneaker. This time around, the brand has partnered with the Mercedes-AMG Petronas F1 team for the PUMA Speedcat Mid L.
PUMA has been focusing on women's motorsport in recent years, and the latest drop is an extension of this. The PUMA Speedcat Mid L was designed for stylish procedure of PUMA's attitude and support for gender equality in racing.
Go full-throttle into the world of motorsport. It is not a man-owned world. Race driver, Maria Teresa De Filippis, was the first woman to compete in a Formula 1 race in 1958. This heritage has been carried on by high-octane females globally. This includes Sauber test driver, Susie Wolff. Another is Jamie Chadwick, 2019 W-Series champion and Williams development driver.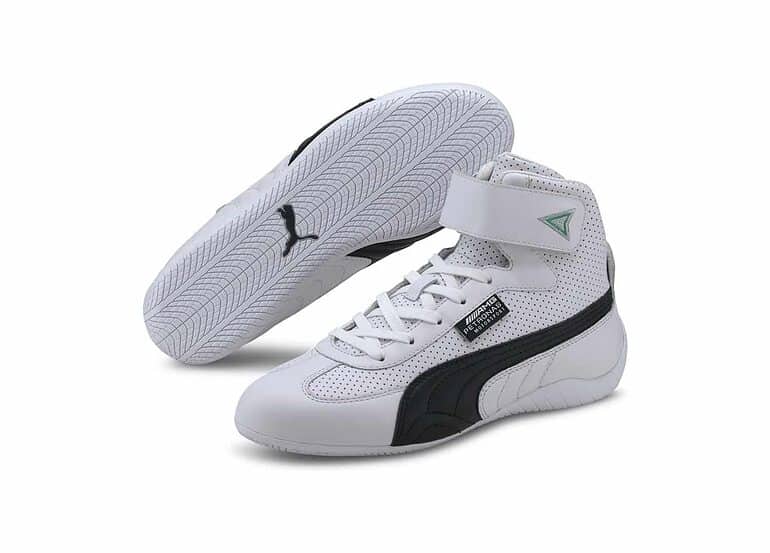 PUMA continues its push for 100% gender equality in all sports and walks of society. As a result, PUMA signed on as a sponsor of the female-only single-seater championship W-Series in 2019. It is the official race gear supplier to promote females in motorsport.
Its partnership with the Mercedes-AMG Petronas F1 Team sees a redesigned Speedcat Mid silhouette. The Mercedes-AMG Petronas F1 Speedcat L features a mix of leather on the upper and rubber on the sole. The leather provides strength and protection on the upper. While the rubber provides extra grip on the outsole.
The Mercedes-AMG Petronas F1 Speedcat L comes in two colourways. This includes the PUMA-White-PUMA-Black as well as the PUMA-Silver-PUMA-White. The shoe introduces a new sneaker to the all-female motorsport pack with an eye-catching look.
Our favourites. Available now at Nike.com
With the Mercedes-AMG Petronas F1 Speedcat L, you can move straight from the track to the streets. The silhouette provides a fashion-forward styling for women motorsport enthusiasts.
Get ready speed and motorsport passion. The PUMA X Mercedes-AMG Petronas Speedcat Mid L will be available from 30 October 2020 for R2,499. It be available at The Cross Trainer and selected retailers and online at PUMA.com.