Update
Due to logistical challenges, the PUMA x Polaroid sneaker pack is set to drop in stores on 27th October 2018 in South Africa. The sneakers will be avaialble at PUMA Select stores and Shelflife. The RS-100 retails for R2,899 and the RS-0 retails for R2,999.
---
A few months ago, PUMA announced its partnerships with four retro brands as part for their collaborations for the launch of the rebooted RS Sneakers. Two for the four collaborations have already been dropped in the PUMA X SEGA and PUMA X Roland launches over the past month or two. PUMA has now announced the drop of the third collaboration in the form of the PUMA X Polaroid RS Sneaker Pack.
The collaboration features two new silhouettes to the collection, which includes the RS-0 and RS-100 Polaroid silhouettes. Polaroid changed the world of photography when it released their "instant photography" cameras in the 1940s, which paved the way for cameras of today to fit on our pockets, on drones, and many other portable devices. The reinvention of photography has changed the way in which people travel, share those stories, capture moments and interact with friends across the world. The PUMA X Polaroid collaboration looks to celebrate this story by reinventing the RS-0 and RS-100 sneakers, taking cues from the Polaroid OneStep instant camera, which originally launched in 1977.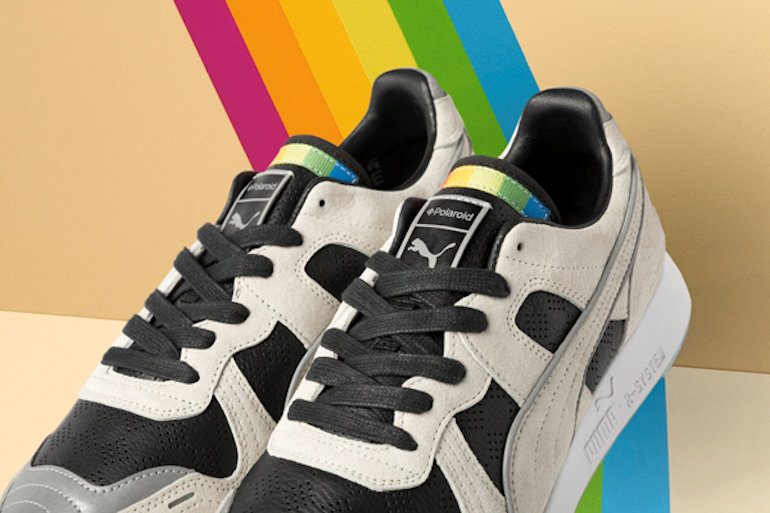 The RS-100 Polaroid reimagines the '80s silhouette with hints of photography elements. The sneaker remains true to the OG by keeping its retro style and featuring the classic Polaroid hues in a colour-blocked style. It features a suede upper with leather overlays, and is finished with a reflective detailing and a play on the 'flash' from the Polaroid camera. The iconic Polaroid colour spectrum graphic rainbow colours are used sparingly, and is featured horizontally across the top of the tongue, and all across the footbed underneath.
The RS-0 Polaroid silhouette takes its cues directly from the OneStep instant camera. It features a premium white leather upper with micro perforated vents, along with 6mm flat, reflective laces. The standout design element is the OneStep rainbow colour pattern all the way down the middle of the tongue.
With both brands seeing a cultural resurgence in recent years, the collaboration couldn't come at a better time for the companies. Both of the brands have also pushed creativity and innovation through their design, style and technology, each telling their own story of reinvention, staying true to their history and heritage through the years. The PUMA x Polaroid RS Sneaker Pack is set to drop on 8 September 2018, and will be available at PUMA Select and Shelflife stores. The RS-100 will retail for R2,899, while the RS-0 will retail for R2,999. For additional images from the drop, check it out on Instagram.