Sneakers have been around since the late 19th century when the U.S. Rubber Company created the first rubber-soled shoes with a canvas upper, which was then known as Keds. The shoes entered the era of mass production in 1917 when the nickname then changed to 'sneakers' as a result of the soles being so quiet and people could "sneak up on someone." A little over 100 years later and we're still seeing a great increase in the sneaker industry, as well as all things around the sneaker culture.
We're now in an age where every other fashion brand is attempting to cash in on the hype, with even the likes of your high-end fashion brands like Gucci and Louis Vuitton releasing their own sneaker lines. Not all successful, mind you. In addition to this, many celebrities have also gotten in on the act, either as collaborators on major brands such as adidas, Nike, PUMA and Reebok. Even the likes of tennis legend, Roger Federer, who previously held a long-standing, multi-million deal with Nike for the RF brand, has now launched his own brand.
South Africa, too, has seen its fair share of collaborations with major brands, most recently and popularly being the SneAKA sneaker, a collaboration between Reebok South Africa and rapper, AKA. With the hype and culture as it is, though, South Africans have seen a few local brands garnering moderate fame in recent months.
Let's take a look at a few of these standouts, ranging from brands that have been around for ages, to some that seemingly popped up overnight to viral enthusiasm.
The brand has seen a meteoric rise in recent months – a true South African rags to riches story. Founder, Lekau Sehoana, started making shoes and clothes for him and his family back in 2003, which he quickly turned into a business and started selling them at school in 2004. His first creation came in the form of recycled soles from an adidas sneaker, sewn together with denim cutouts from an old pair of jeans.
Sehoana tells the story of how he grew up in a shack with his mother and two siblings, where they'd rely on family handouts for clothes and eating at friends' houses for daily meals. The idea behind the first pair of sneakers he created was to fit in with the crowd at school, although clothes and shoes were not high on his list of priorities in trying to get by.
Our favourites. Available now at Nike.com
However, when his shoes drew some attention, he decided to create more and started selling these at school until 2007 when he passed his matric. He later went on to earn his NQF level 4 in civil engineering from Ekurhuleni West College and worked in construction for a few years thereafter.
During this time, he continued his passion for fashion and sneaker design, researching professional shoe materials and manufacturing. This lead to him launching the Drip Footwear brand in 2019. Having initially taken orders via WhatsApp, the brand launched a fully commercial brand with online store [https://www.dripsa.co.za/], and just this past weekend, its first brick and mortar store in Pretoria.
#DripSA Pretoria Store Launch pic.twitter.com/SNdzw8WaC7

— Drip Footwear (@DRIPFootWear) July 4, 2020
The brand first sold 600 pairs of pink sneakers, sold out in less than six weeks. This was followed by a further 1,200 pairs being sold in various colours, again in record time. 2020 has been a year of growth for Drip Footwear, despite the recent lockdown, which lead to the opening of its first store.
The brand slogan "The Township Dream" is to remind Sehoana of his roots coming from a township living in a shack. The aim is not to simply manufacture and sell sneakers, but a dream of giving back to and growing the community. With the Drip with Education campaign, a percentage of the proceeds of every sale go towards making school shoes for underprivileged kids.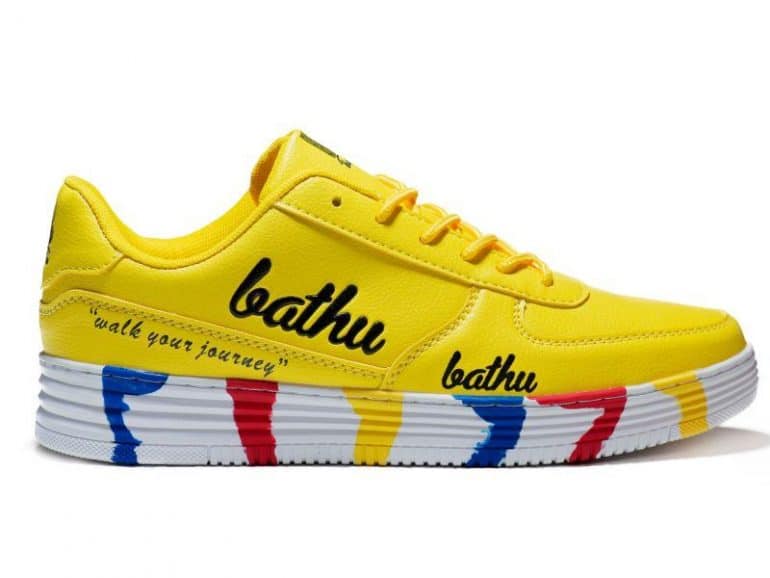 Although not quite the rise to riches story of Drip Footwear, Bathu Shoes itself has a unique and interesting start-up story. Theo Baloyi, the founder of the brand, started creating and selling shoes he made in the backroom of his uncle's house, in a township of Alexandra, while studying his BCom accounting degree.
Originally, selling sneakers was simply a side-hustle for the student who went door-to-door to make sales, even reaching out to street vendors to help sell his shoes to more customers. The business had relative success during the early days, making about R1,200 per day in sales – quite a significant income for a student.
The business, however, didn't really grow from there. After graduating, he was employed by PwC and spent a large portion of his employment working abroad in Dubai. He managed to keep the business alive, though, and even had the support of his employer. This is when the Bathu brand was born.
Baloyi's business partner, Andrew Lale, helped to keep the business alive while he was in Dubai. The duo managed to find a factory in Durban will to manufacture their newly designed, mesh-based sneaker. Unlike most other sneakers, the mesh isn't just a sub-component of the sneaker but is the main component and feature of the brand. The process of being able to manufacture the sneaker took over 18 months and 21 iterations of the design before it was approved.
Another issue to launch the brand was the requirement for an order of 1,200 pairs of the newly designed shoe before the factory was prepared to start the manufacturing process. At the time, the business only had funds to order just 100 pairs. But a plan came together and the process could begin.
After five years at PwC, Baloyi left his day job to pursue his dream full time. Having invested his savings in creating his dream, the brand has grown to the point where he has now launched five Bathu-branded retail stores across the country. These include stores in Bloemfontein, Thohoyandou, Port Elizabeth, as well as Pretoria and Newtown, Johannesburg.
Similarly to Sehoana, Baloyi has a vision of impacting the community, employing people from the communities who enjoy their work. He attributes the success of his business to caring for his employees and being able to delegate responsibilities to them.
Magents
Unlike the other two brands, Magents is a much older South African brand. Founder, Didier de Villiers founded the Magents fashion brand way back in 1992. With apartheid having just been ended by means of a referendum in March of the same year, de Villiers recalls how he understood that the excitement of the new freedoms of the country would be expressed through music, arts and crafts. His art would be through the threads of cotton.
While it may have started almost three decades ago, the early stages were a struggle. With the new freedoms and relaxed import restrictions, as well as the end to the international boycott, Magents faced strong opposition with an influx of international brands South Africans were exposed to. Buyers were eager to purchase international products compared to the locally-produced products of old. Things were made harder as a result of not wanting to compromise on quality, which often meant products were priced as high or even higher than those international products.
But the brands iconic orange circles quickly made an impression when it was spotted worn by Glen Lewis on TV, as well as painted on buildings and the likes shortly thereafter. The brand made its first international appearance in Vegas in 2003 and drew the attention of stockists across the world.
At roughly the same time, the brand launched its second store in The Zone in Rosebank Mall. The store was set up in such a manner that guests of the YFM Studios right next door had to walk through their store to enter, giving them quite a significant amount of exposure. As such, the brand grew quickly among the music industry, sported by some of the country's most popular artists.
Always carrying its strong African themes and influences, the brand then crossed cultural barriers as it spread further into Africa in countries such as Zimbabwe, Egypt, Morocco and Kenya.
The brand, originally focusing on clothing, incorporated sneaker products into their catalogue as it continues to grow locally. The brand has evolved over the years beyond just fashion, with a number of entrepreneurship and philanthropy programmes. The brand has assisted black-owned factories around the country, as well as being a strong voice for equality and prevention of gender-based violence in the country and abroad.
The growth is not yet complete, however, as the aim is to open three to four new stores in South Africa as the brand continues to grow among fans in the country.
What do you think of these South African sneaker brands? Will you be supporting the local sneaker culture?