Discover the top Jordan 7 Retro sneakers of all time with this comprehensive guide. From classic colourways to limited editions, we've got you covered.
RELATED: The 10 Best Jordan 6 Retro Sneakers Of All Time
Compiling the opinions of sneakerheads and collectors, the 15 Jordan 7 Retro sneakers listed below are some of the most beloved in the sneaker community. These timeless shoes have earned their place in the sneaker hall of fame, boasting an extensive variety of classic colourways and special collaborations.
Whether you're a fan of the Jordan brand or simply a sneaker enthusiast, these timeless kicks are a must-have for any collection.
1. Air Jordan 7 Retro "Champagne"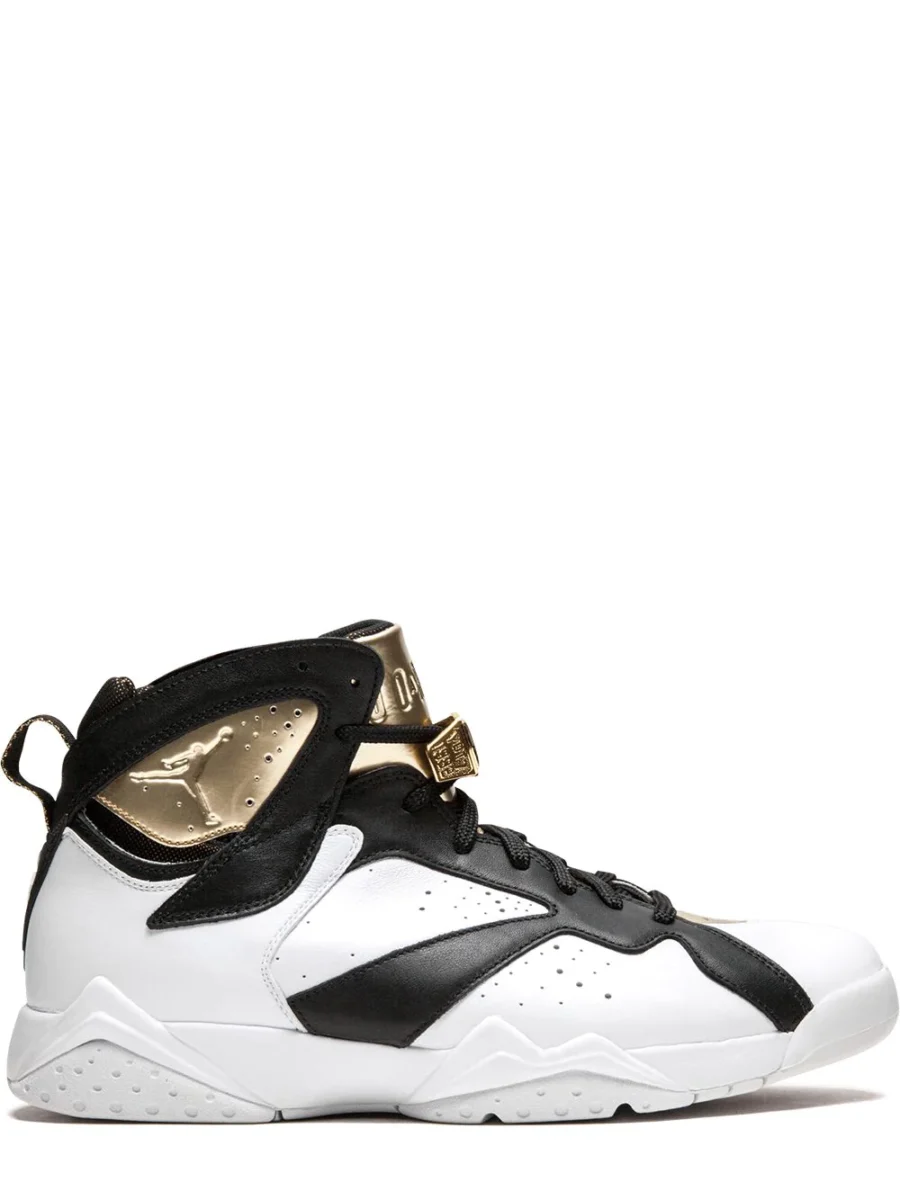 In 1992, Michael Jordan won his second NBA Championship, and in 2015, Nike released the Air Jordan 7 Retro "Champagne" to commemorate the very special occasion. The retro sneaker boasts a premium leather upper in black and white, with metallic gold accents and a clean white sole.
Along with the "Cigar" colourway, the "Champagne" was part of the "Celebration Collection" and features championship ring lace locks branded with the iconic Jumpman logo. It's no surprise then that these gold, black and white Jordans are highly sort after amongst the sneaker community.
Our favourites. Available now at Nike.com
2. Air Jordan 7 Retro J2K "Obsidian"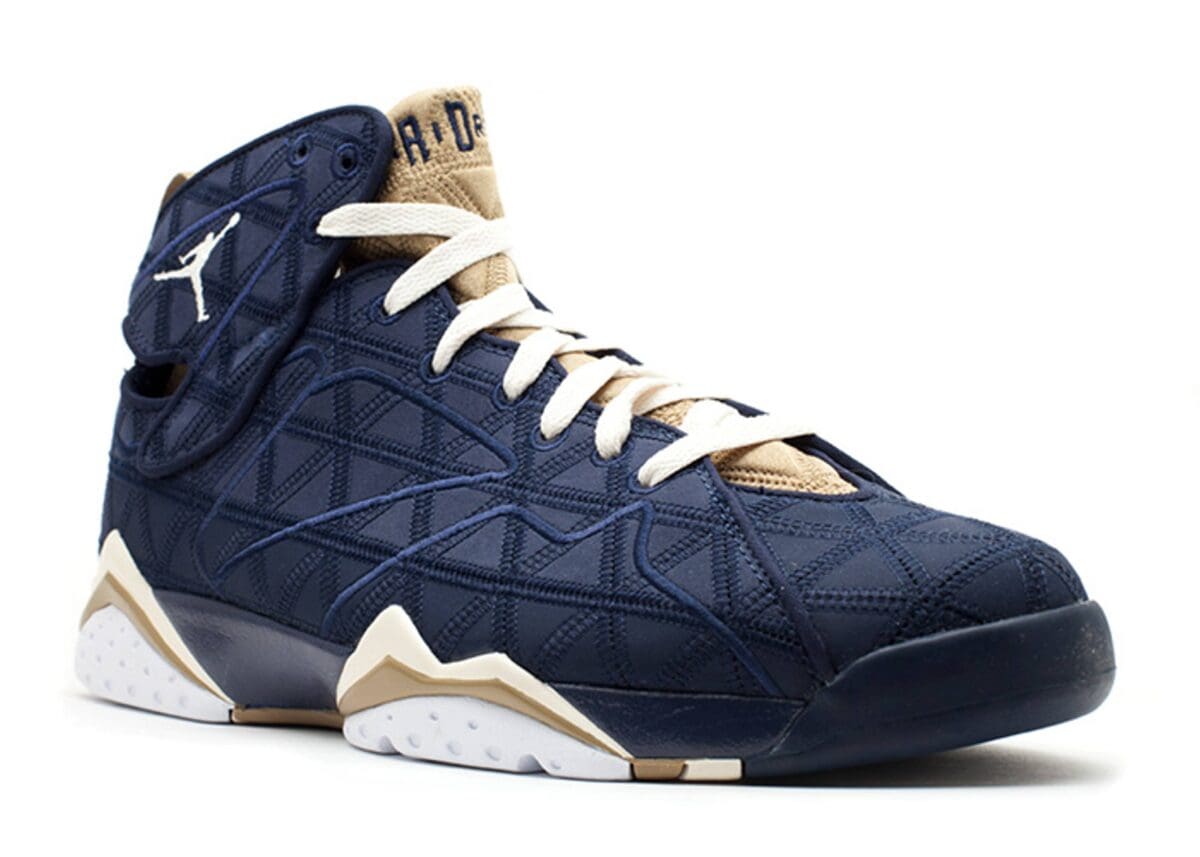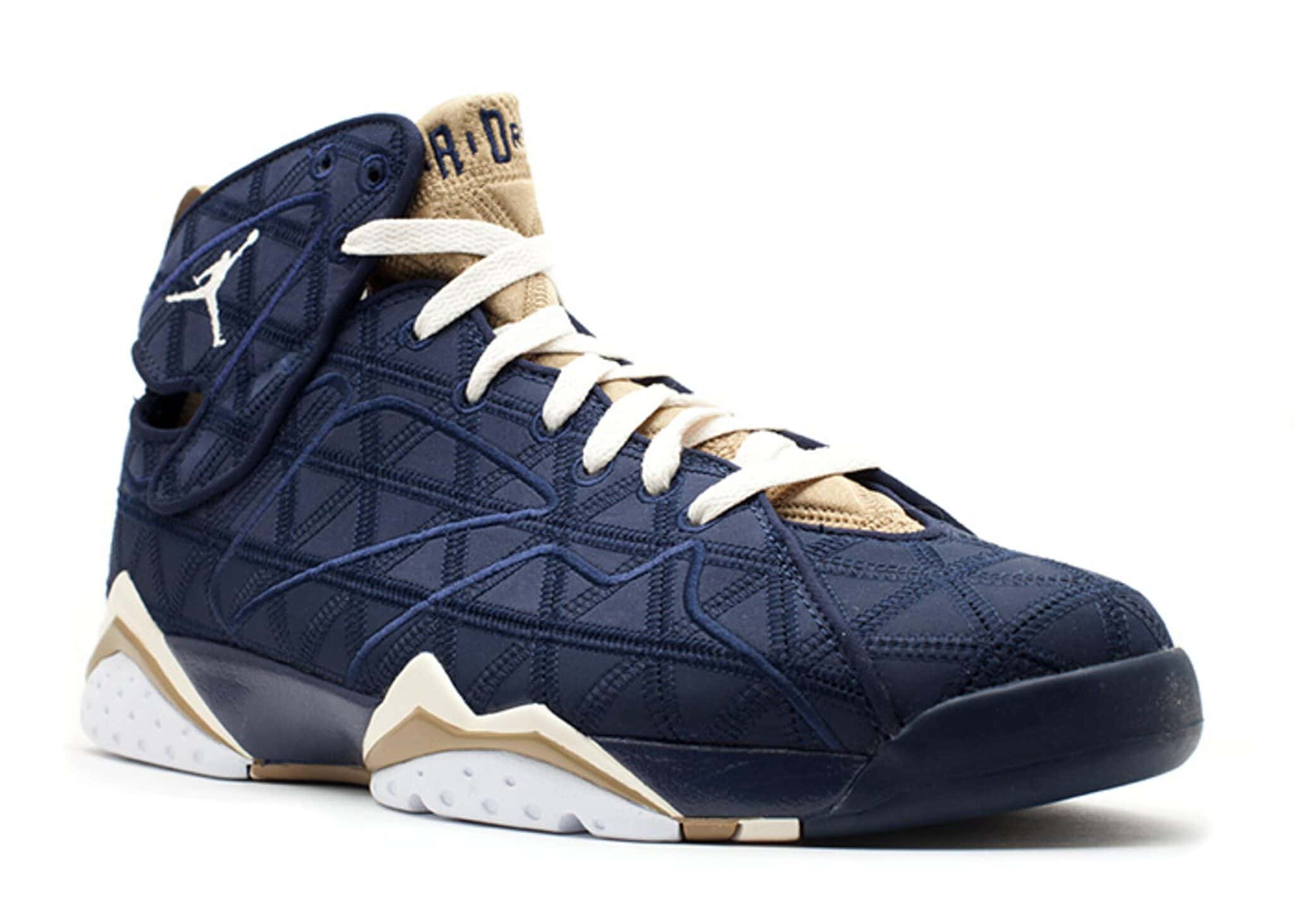 Aside from being stylishly designed, the Air Jordan 7 Retro 'J2K' is eco-friendly, as it is part of Nike's Considered project. The sneaker is made from leftover materials from other shoes, making it a sustainable choice. The Obsidian upper features a unique pattern and is complemented by Filbert accents on the inner bootie and Natural touches on the laces and midsole. These kicks also provide cushioning with its Encapsulated Air technology.
The 'J2K' was released in August 2012 alongside a Filbert-based colourway. If you manage to come across a pair of these on the market, jump at the opportunity to purchase them. They are highly sought after and for good reason. They're definitely one of the most beautiful Nike Air Jordan sneakers ever released.
RELATED: Air Jordan 5: The Best Sneaker Colorways Of All Time, Ranked
3. Air Jordan 7 "Orion Blue"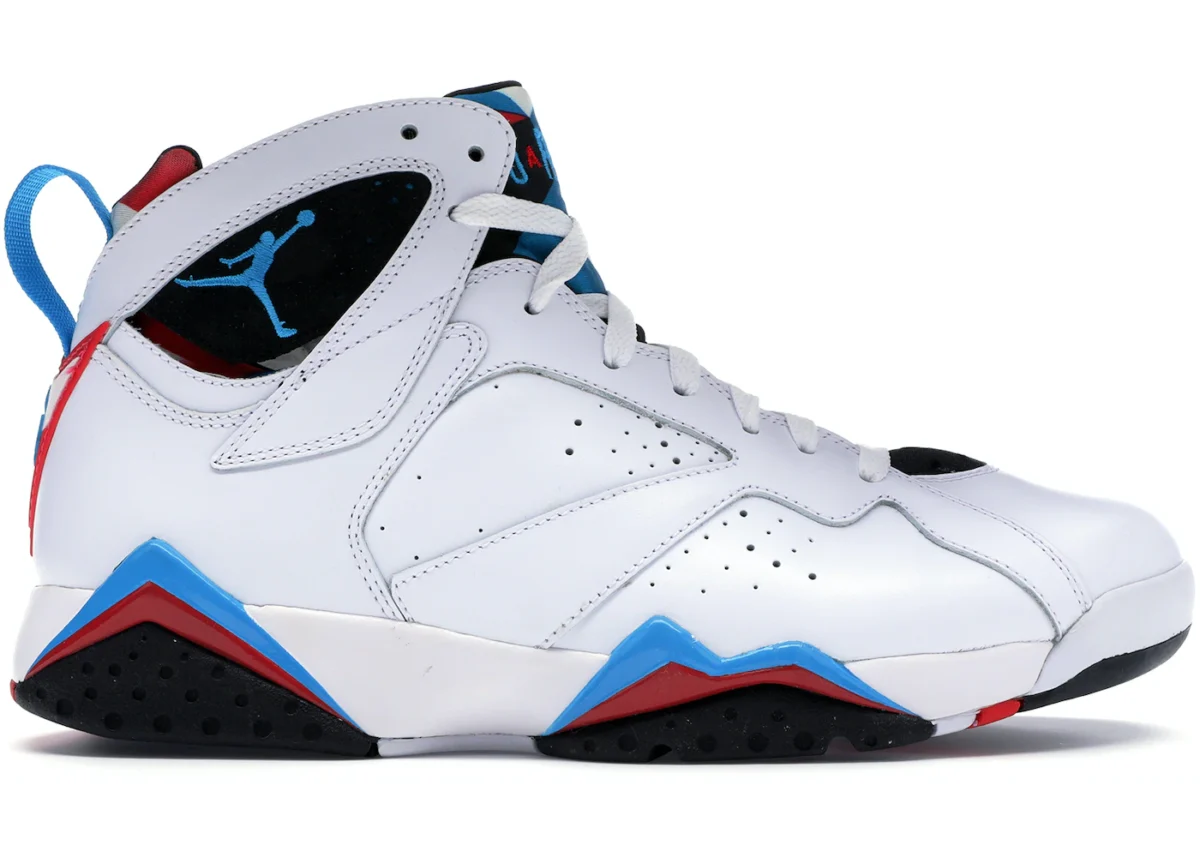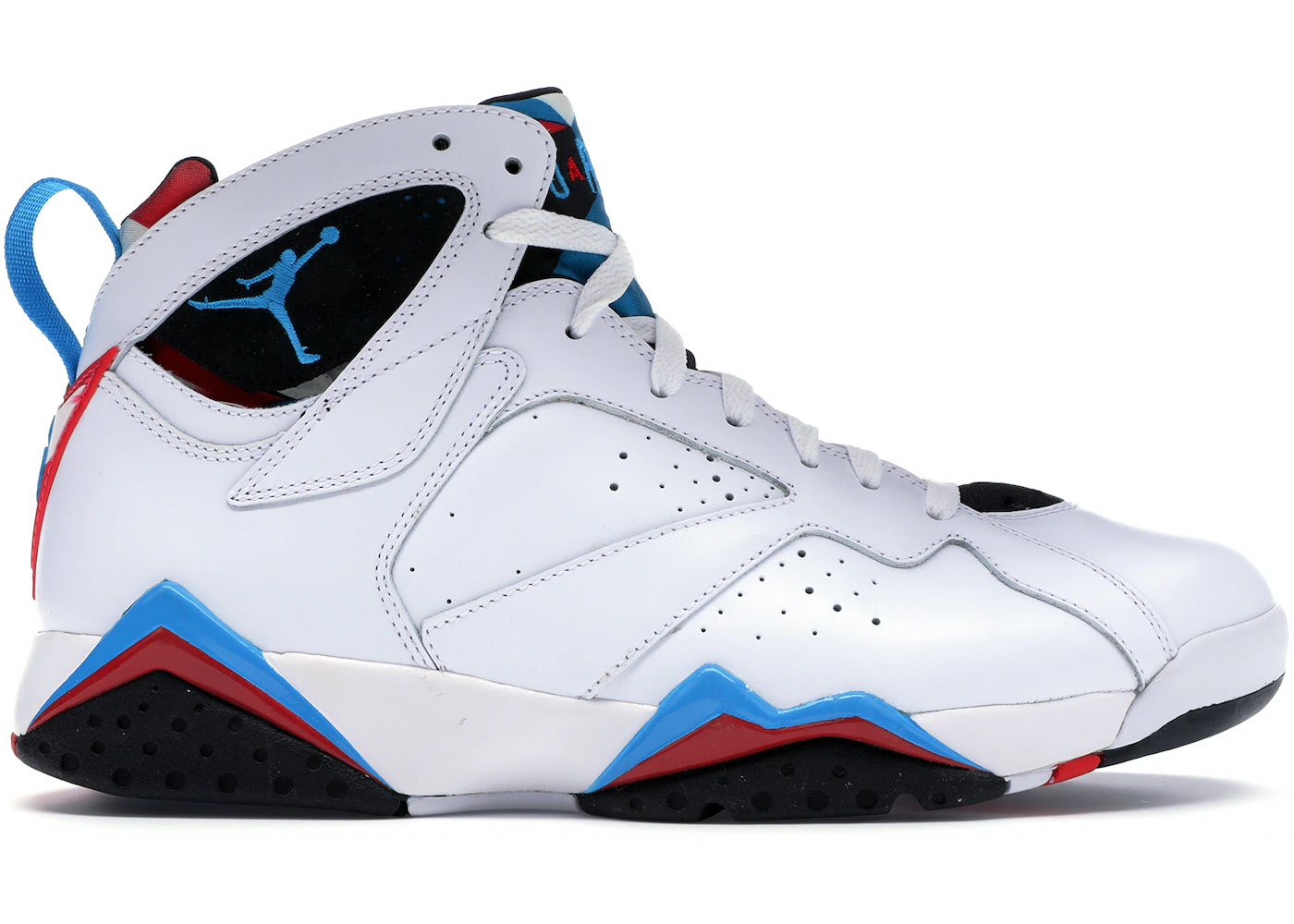 Like most of the iconic Jordan releases, the Air Jordan 7 Retro "Orion Blue" pays homage to a special moment in Michael Jordan's iconic history. In this case, it's his performance at the 1992 Summer Olympics in Barcelona, where he won both a gold medal and his second consecutive NBA championship.
The sneaker features a sleek mid-top design with a white leather base and pops of black, Infrared, and Orion Blue on the collar, heel, tongue, and midsole. It's a classic and stylish addition to any sneakerhead's collection.
4. Air Jordan 7 "Barcelona Days"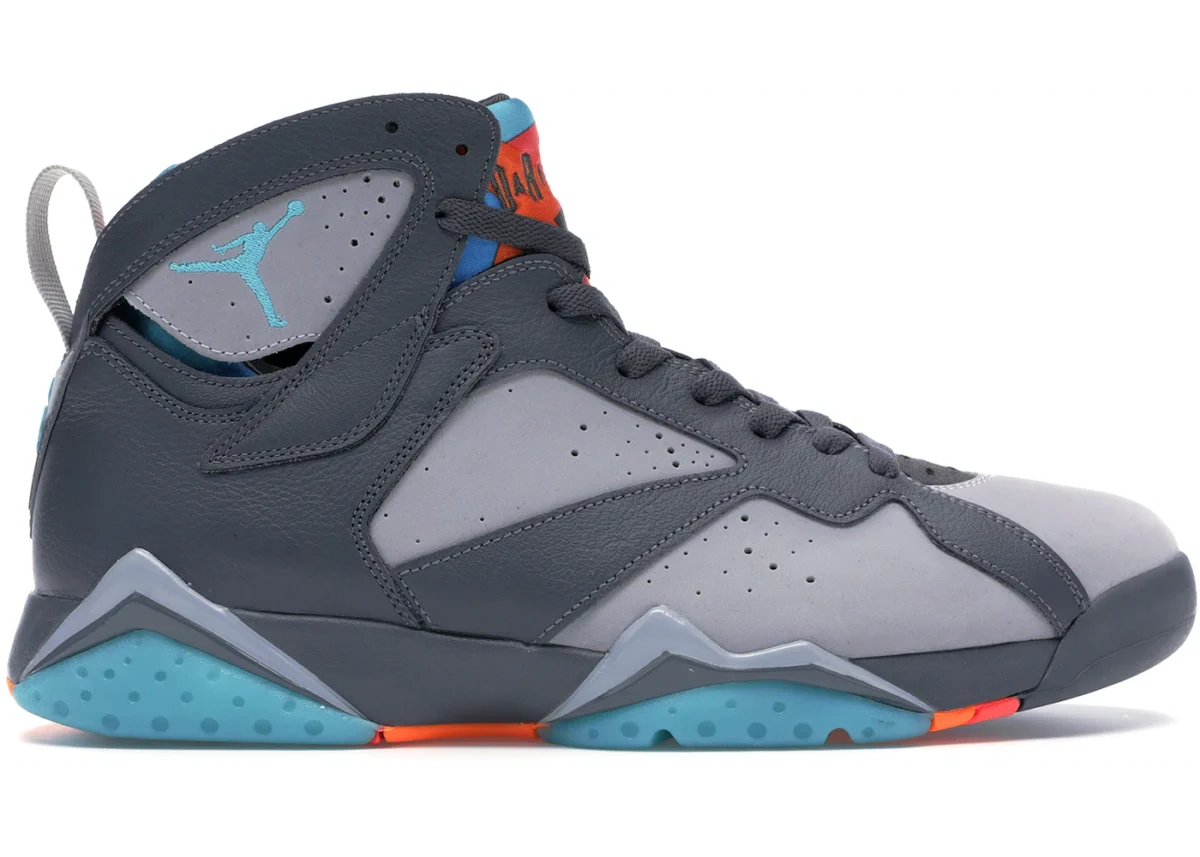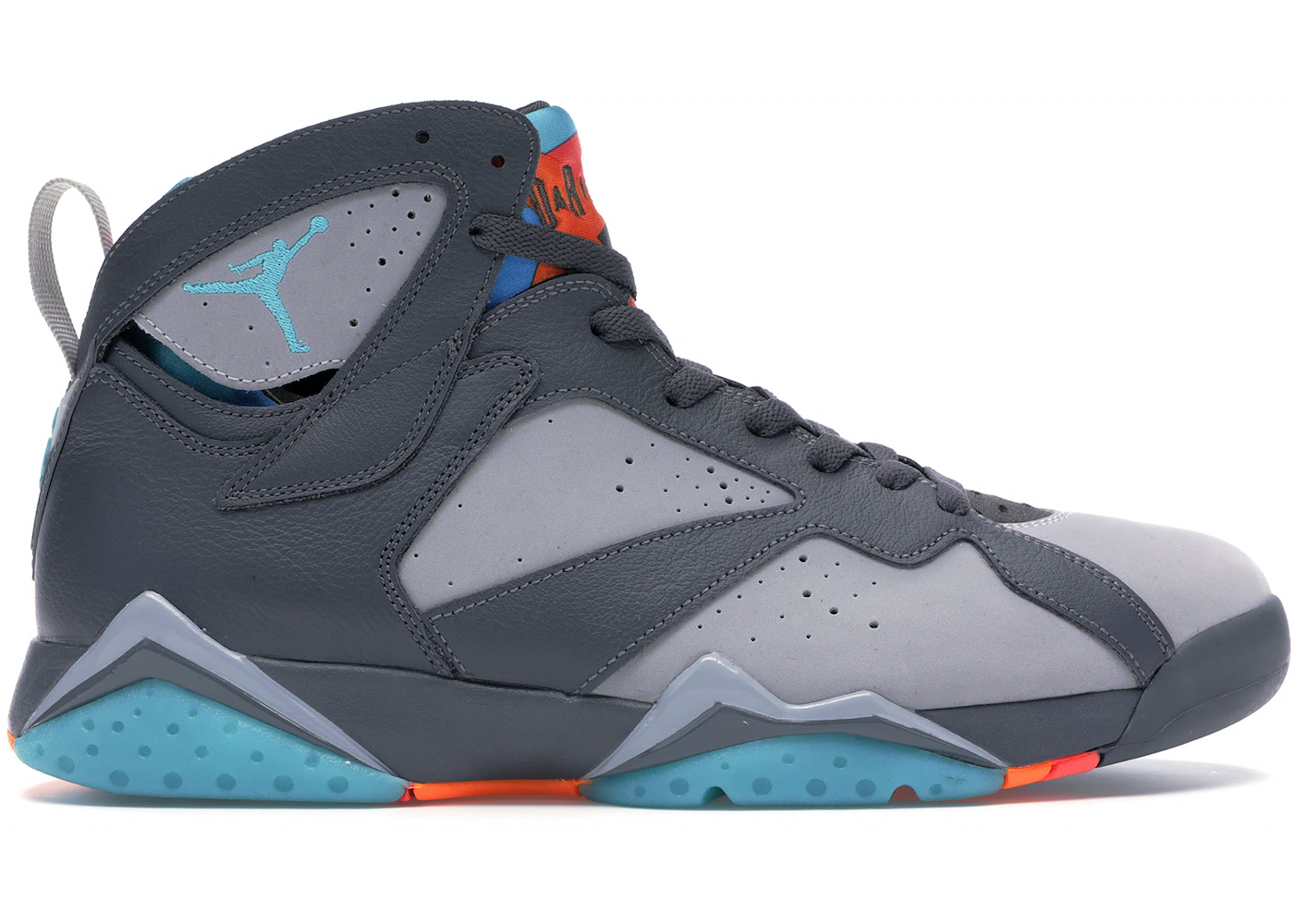 Released in April 2015, as the name suggests, the Air Jordan 7 Retro "Barcelona Days" pays homage to the Dream Team's visit to Barcelona during the 1992 Summer Olympics. These amazing sneakers feature a sleek two-tone dark and Wolf Grey leather upper, with pops of orange, turquoise blue, and Infrared accents on the tongue, heel, and outsole. It's an incredibly stylish and sporty tribute to a historic moment in basketball history.
5. Air Jordan 7 Retro "Cigar"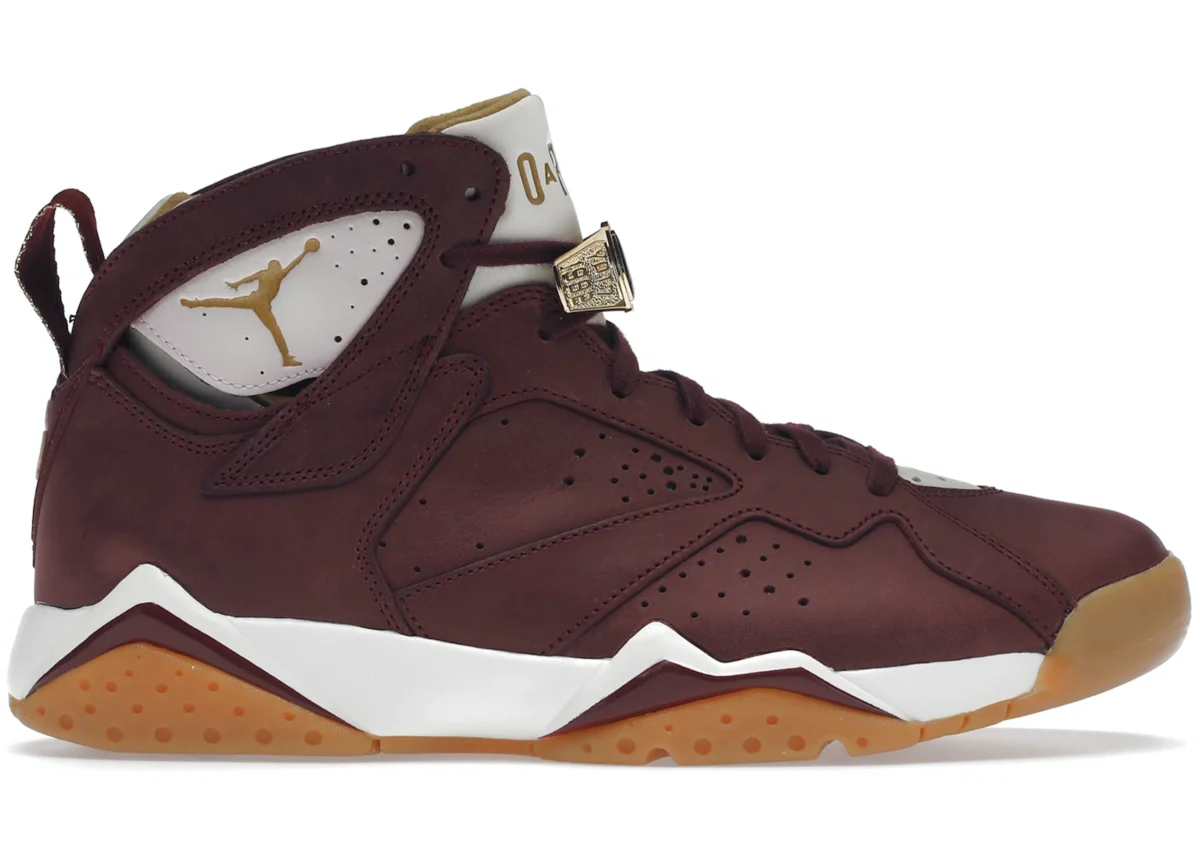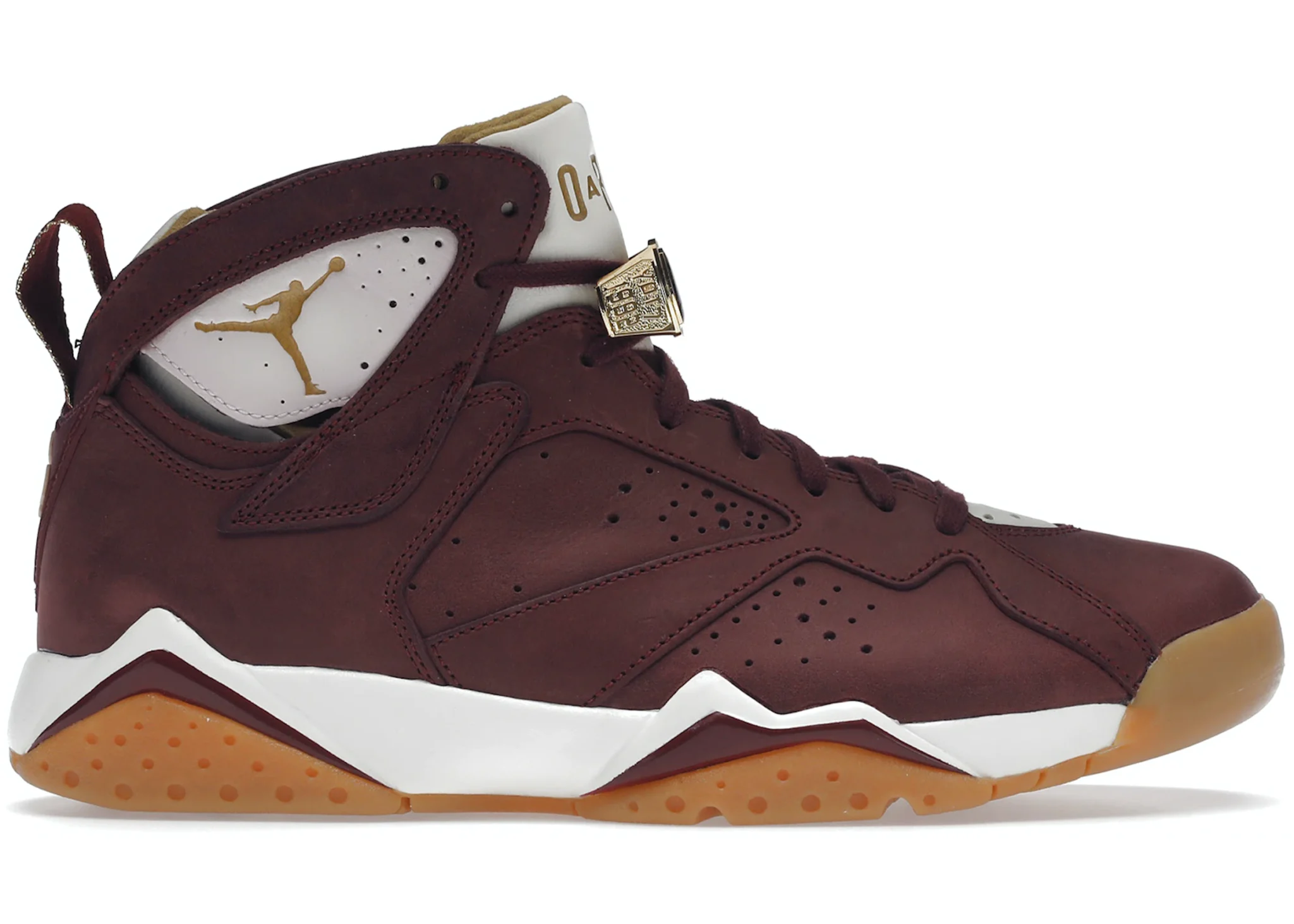 A stunning sneaker, the Air Jordan 7 Retro "Cigar" features a premium red leather upper with metallic gold accents and a gum sole. This design was part of the "Celebration Collection" and was released alongside the AJ7 "Champagne" colourway. Both sneakers also feature unique Jumpman branded ring lace locks.
RELATED: The 20 Best Air Jordan 4 Colorways Of All Time
6. Air Jordan 7 Retro BCFC Paris Saint-Germain PSG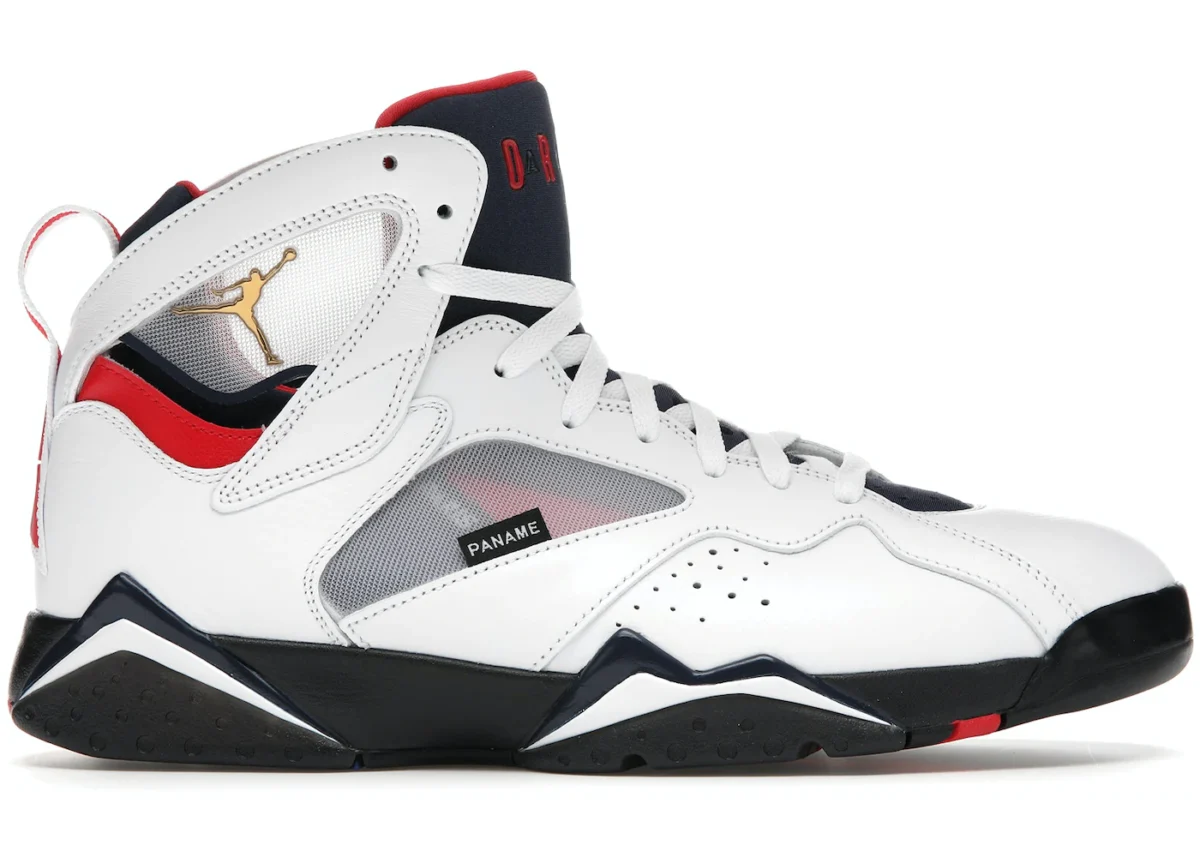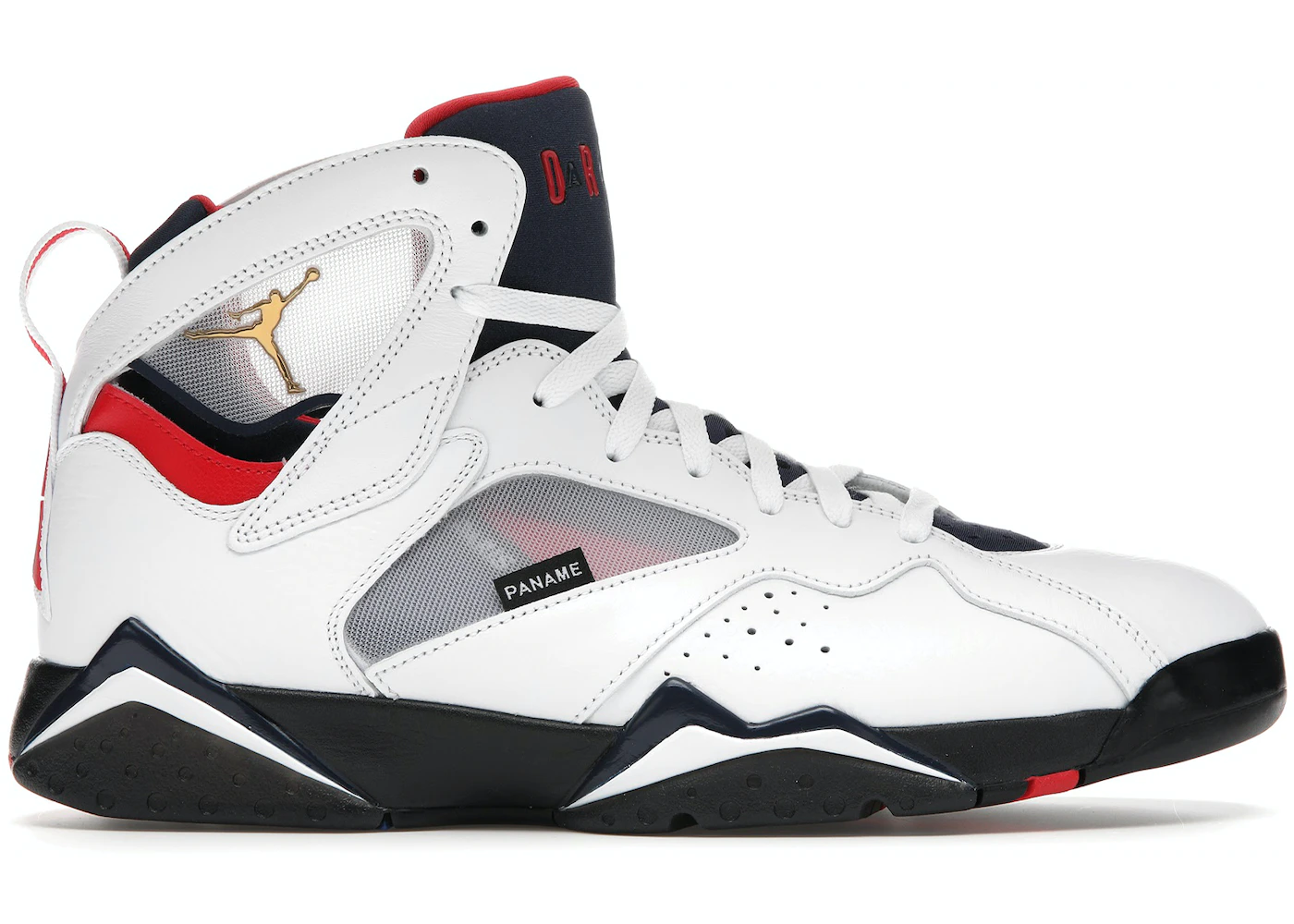 The Air Jordan 7 Retro BCFC Paris Saint-Germain PSG, also known as the 'Paname', is a collaboration between Jordan Brand and the French football club.
This mid-top sneaker features a white tumbled leather upper with semi-translucent mesh inserts on the quarter panel and collar. The collar is adorned with a gold Jumpman icon, and the quarter panel has a 'Paname' tag, both revealing the sneaker's interior bootie in PSG's signature navy and red hues. The moulded heel patch depicts the Eiffel Tower with a fleur-de-lis badge, replacing MJ's jersey number. The sockliner is inscribed with 'Ici c'est Paris' as a final touch.
7. Air Jordan 7 J2K "Filbert"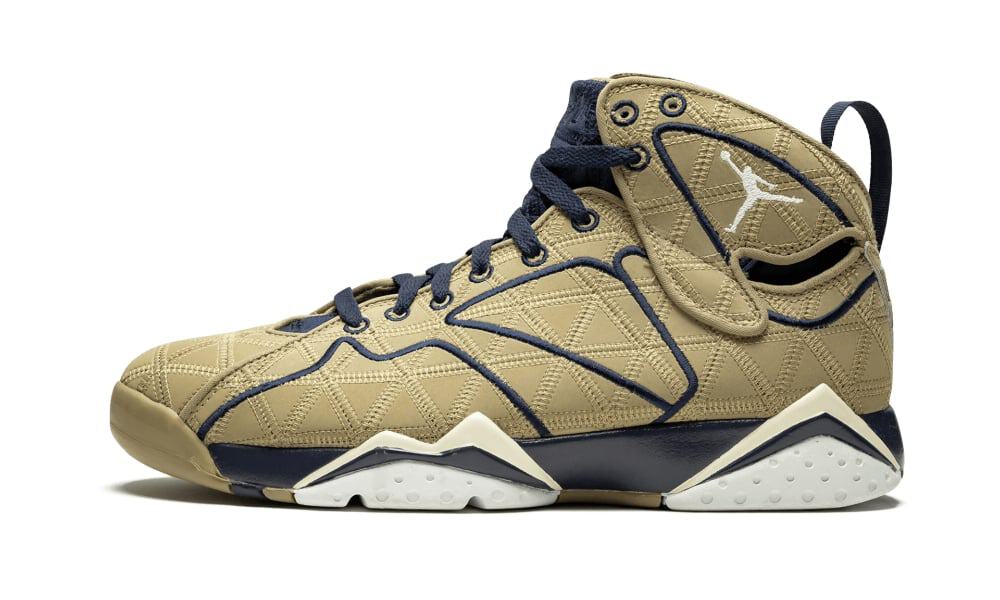 The Air Jordan 7 J2K "Filbert" is a really unique and limited edition sneaker designed by the legendary Tinker Hatfield. The shoe's design was influenced by an Afropop art poster, which is reflected in the triangular patchwork upper in a Filbert hue, with Obsidian piping and tongue.
The AJ7 sneaker also features a traditional pattern with an Obsidian midsole and a natural, obsidian, and white outsole. What makes these basketball sneakers even more special is that it was made using leftover scraps from the factory, recycled and patched together to create a one-of-a-kind look. And wow, they're just stunning to look at.
8. Air Jordan 7 "Citrus"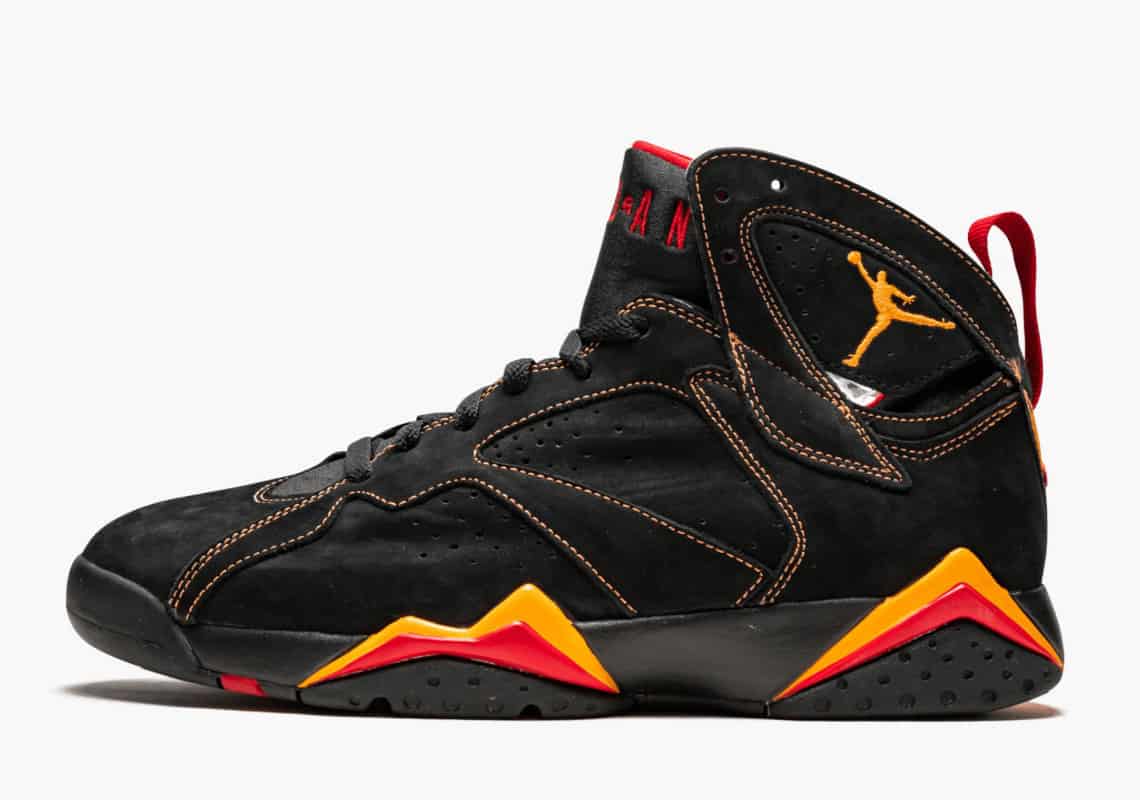 A striking sneaker, the Air Jordan 7 Citrus' upper is crafted from black nubuck and features a Huarache-inspired inner sleeve, as well as orange stitching that adds a pop of colour. The orange hue is also present on the '23' heel patch and the Jumpman logo embroidered on the lateral collar, while a red webbing pull tab at the heel makes it easy to slip on and off.
The black foam midsole is accented with orange and red crimson and features encapsulated Air-sole cushioning for added comfort. If you're looking to stand out in a crowd, these are the jays for you.
RELATED: 10 Best Jordan 6 Rings Sneaker Colourways
9. Air Jordan 7 N7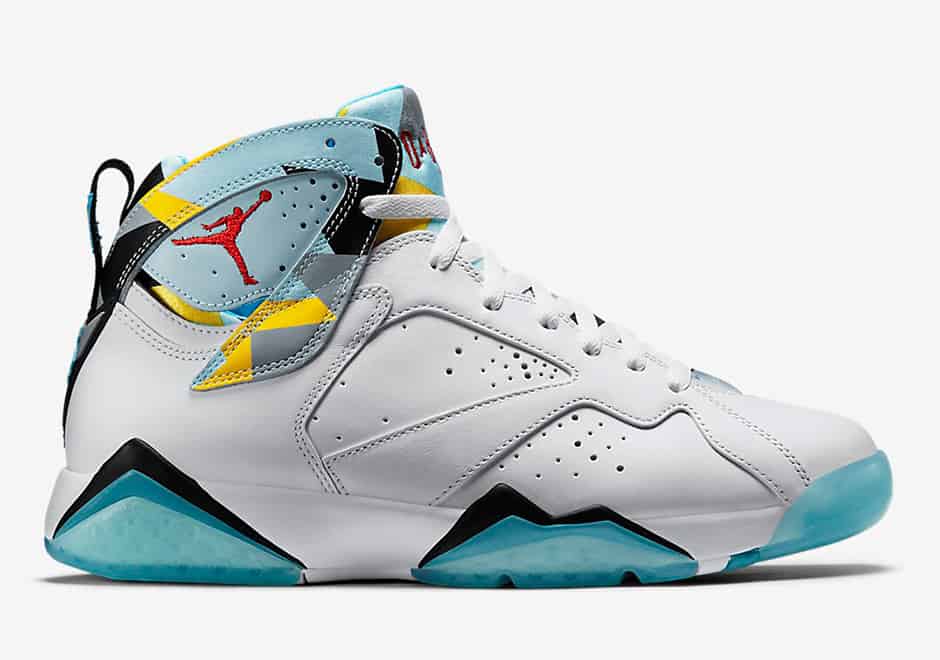 The Air Jordan 7 N7 is a special edition sneaker that is part of Nike's N7 collection, which supports sports funding and programs for Native American and Aboriginal communities.
The sneaker features a white leather base with accents of turquoise, red, yellow, and black, all in line with the colour scheme of past and present N7 releases. The iconic tribal print of the Air Jordan 7 is featured on the tongue and Huarache ankle piece, while N7 logos are applied to the heel tabs. The inside of the tongue also features a triangular motif.
10. Air Jordan 7 "Golden Moments"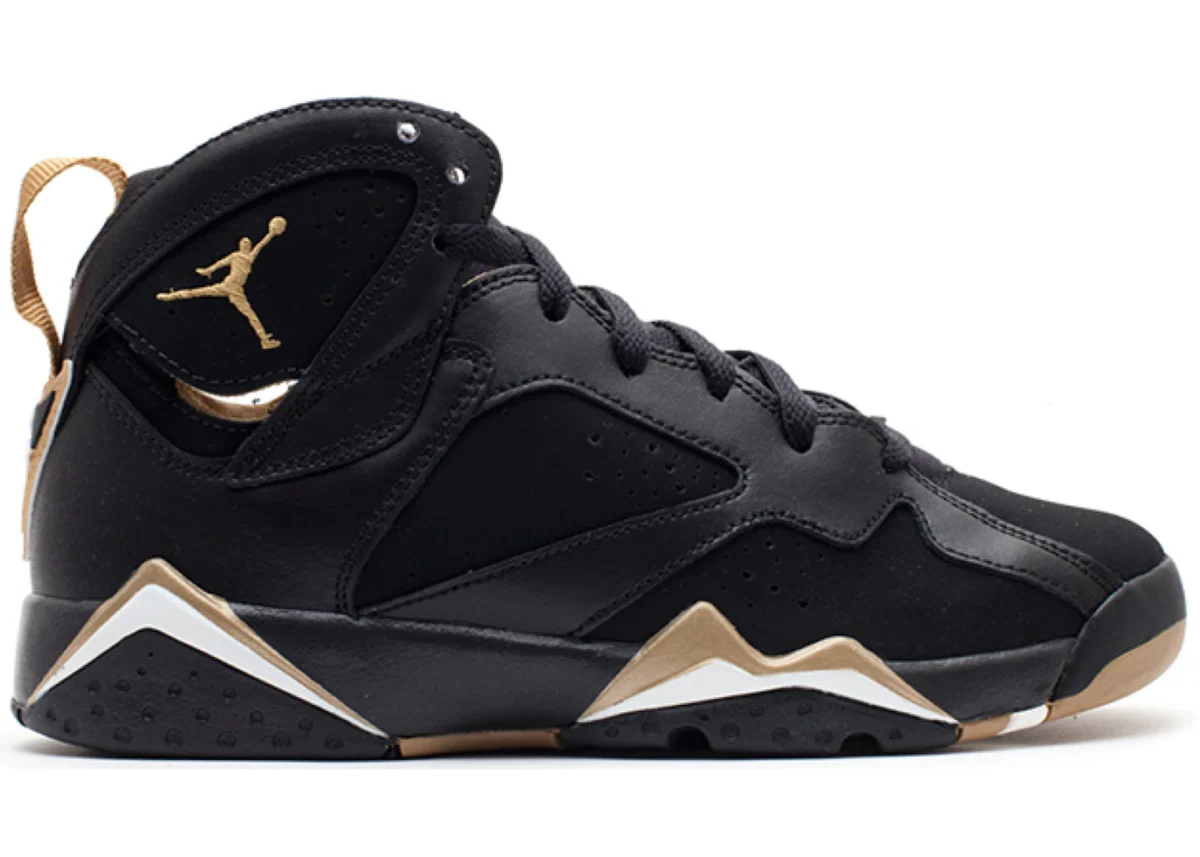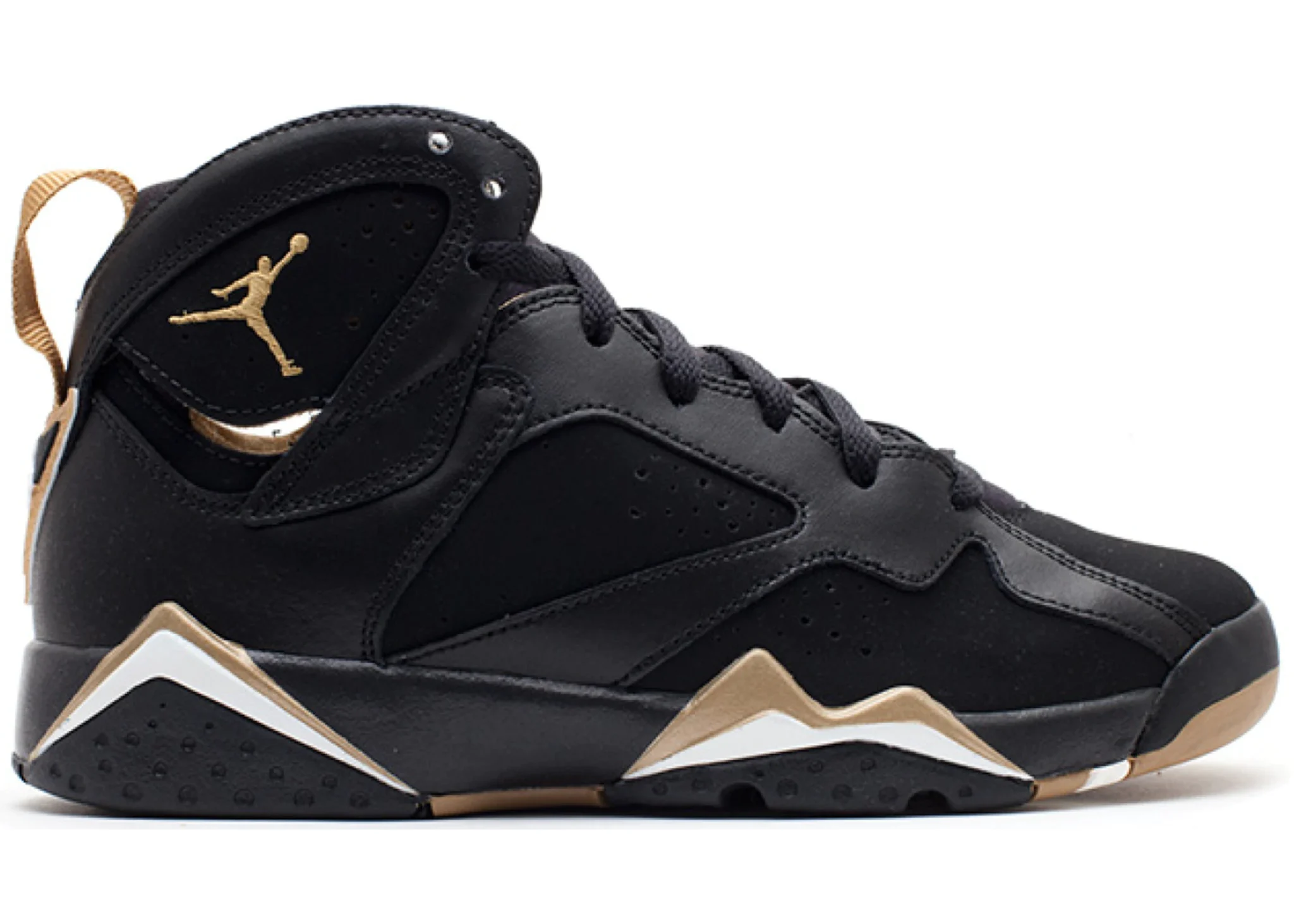 Any sneaker looks great in black and gold, but the AJ7 Retro Golden Moments is absolutely breathtaking. As part of a double release to celebrate the 20th anniversary of Michael Jordan's 1992 Summer Olympics win, the 'GMP' sneaker arrived in the August of 2012's 'Golden Moments' package.
This coveted sneaker is clad in black nubuck with reinforced overlays of matching leather. Gold facets are displayed prominently on the midsole, Jordan branding and counter. A dappled triple-coloured outsole adds authenticity to this classic shoe.
11. Air Jordan 7 "Bordeaux"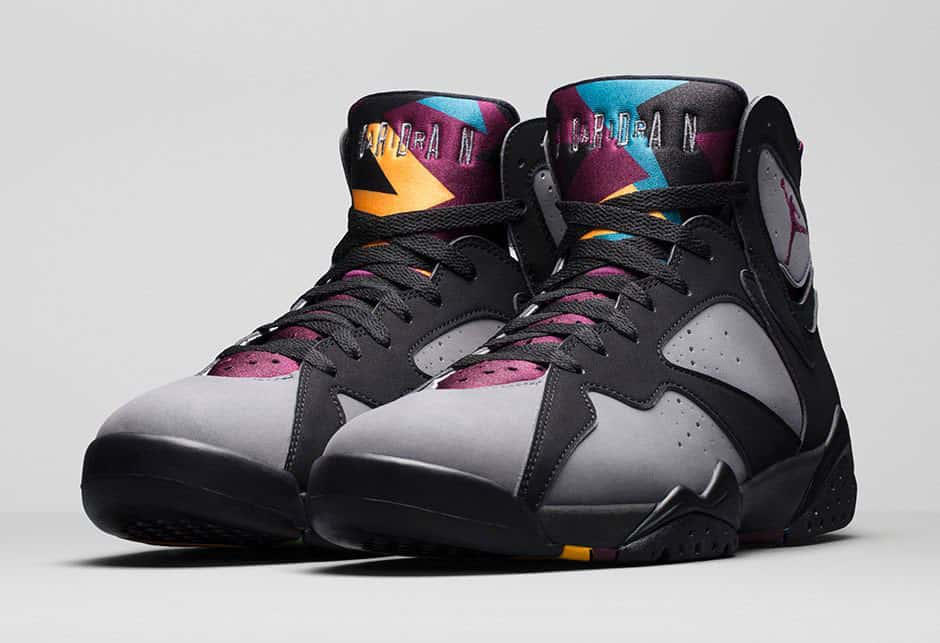 Considered to be one of the most unique colourways, the sneaker was retroed once in 2011 before being brought back again in 2015 as part of Nike's "Remastered" collection. The design of the Bordeaux features a black and grey nubuck upper with a black midsole and outsole, staying true to the original design. Sneaker enthusiasts and collectors alike continue to covet this iconic shoe. It's definitely one of the best Air Jordan 7 Retro sneakers of all time.
RELATED: The 20 Best Jordan 3 Retro Sneakers: Top Colourway Picks
12. Air Jordan 7 Premio BIN23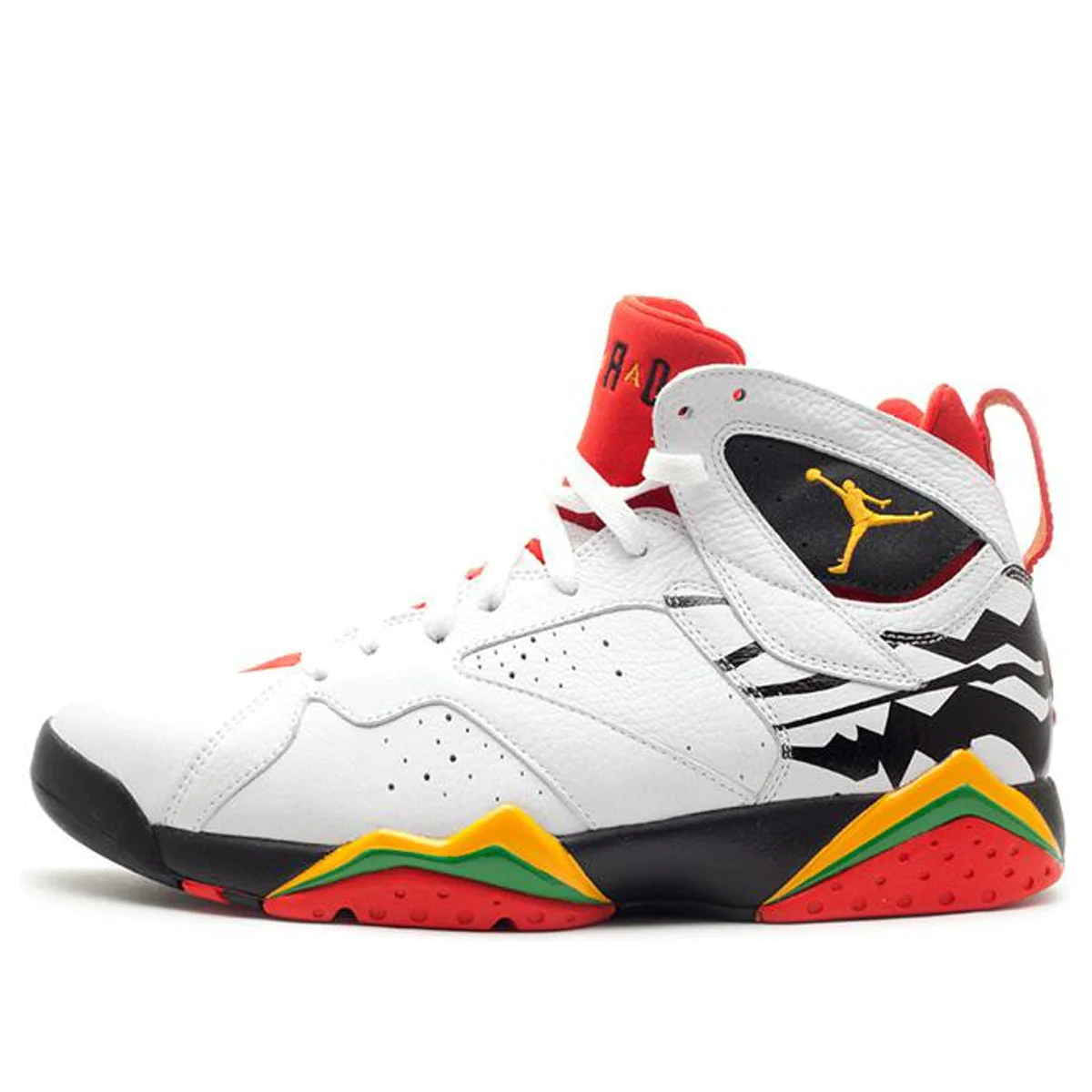 The colourful AJ7 Retro Premio 'Bin23' is a limited edition shoe that pays homage to Tinker Hatfield's original design. These jays feature black and white detailing on the heel, which was taken directly from Hatfield's sketch. The white leather upper is complemented by a Del Sol Jumpman on the heel, while the midsole boasts a colourful mix of hues. To add to its exclusivity, each shoe is individually numbered inside the tongue, as only 2,059 pairs were released. Unfortunately, this makes getting your hands on one of these nearly impossible.
13. Air Jordan 7 "Olympic"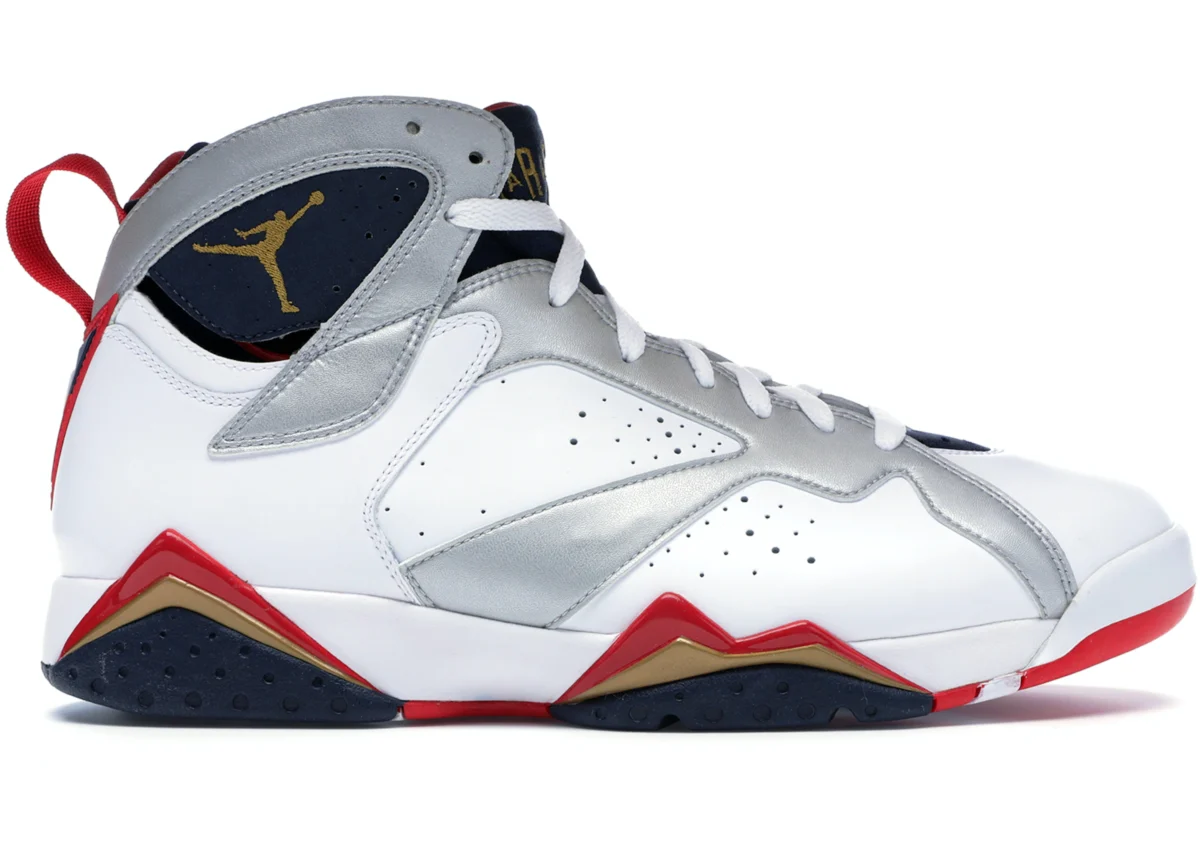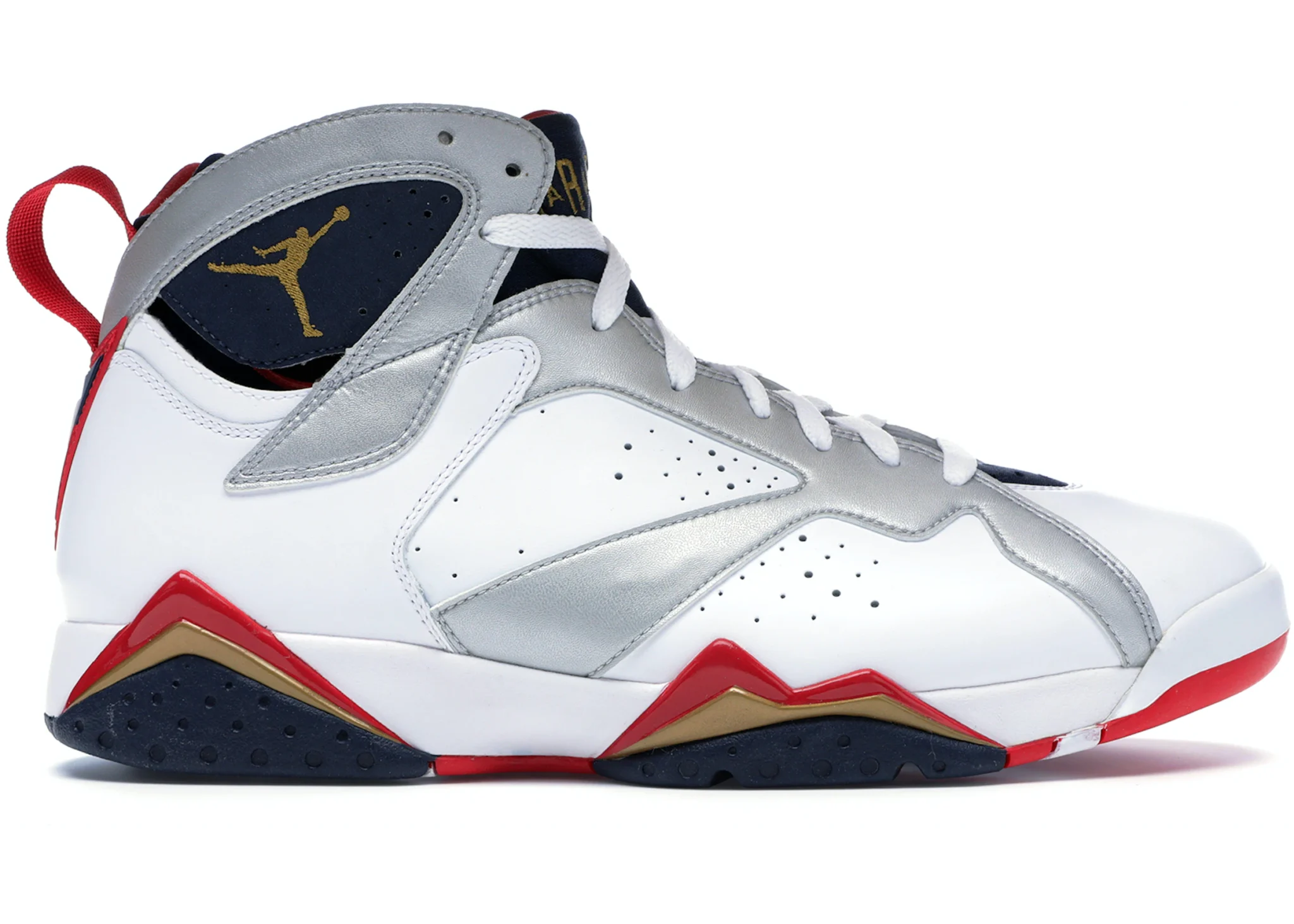 The Air Jordan 7 "Olympic" is a classic shoe that was first worn by Michael Jordan during the 1992 Olympic Games, where he helped lead the Dream Team to a gold medal. The shoe features a sleek white and silver upper with accents of Obsidian, metallic gold, and True Red. It was re-released in July 2012, and even includes Jordan's Olympic jersey number, "9," on the heel.
The "Olympic" design was originally released in 2004, and a new "Tinker Alternate" colourway was dropped in 2016, featuring a white and navy upper with a unique sprinkled midsole.
14. Patta x Air Jordan 7 "Icicle"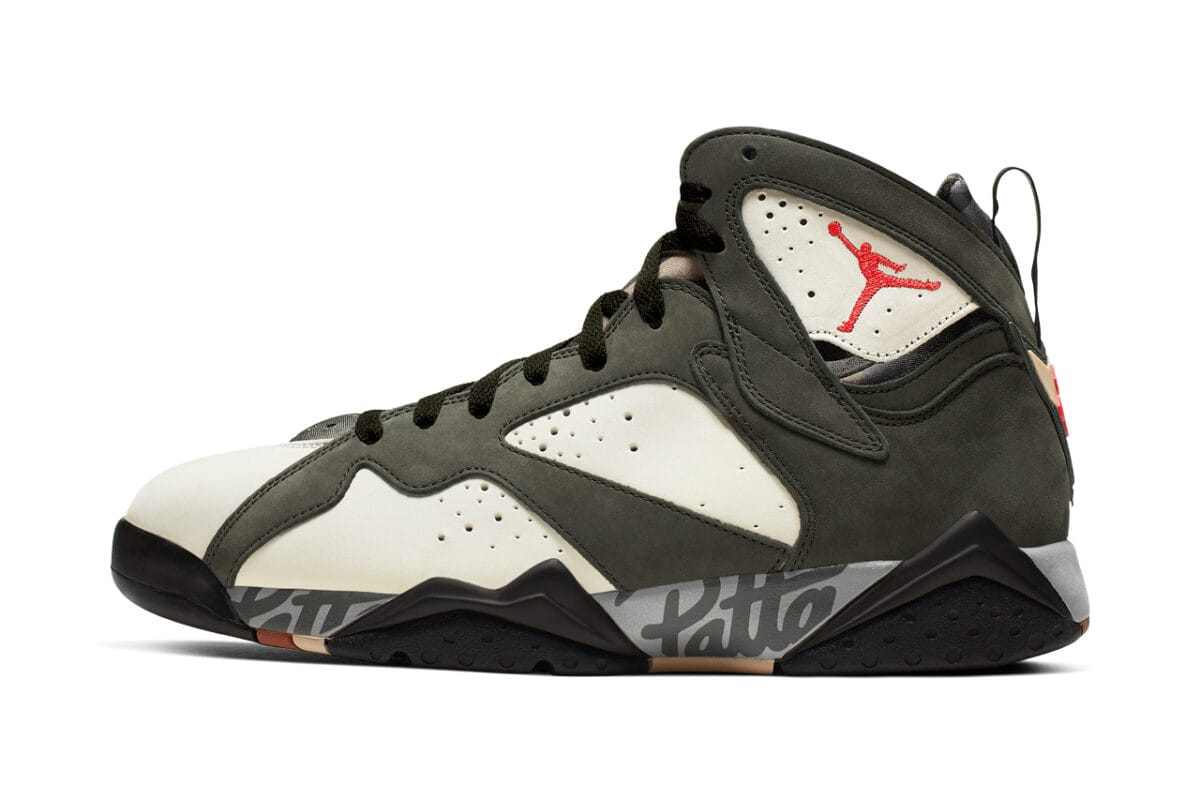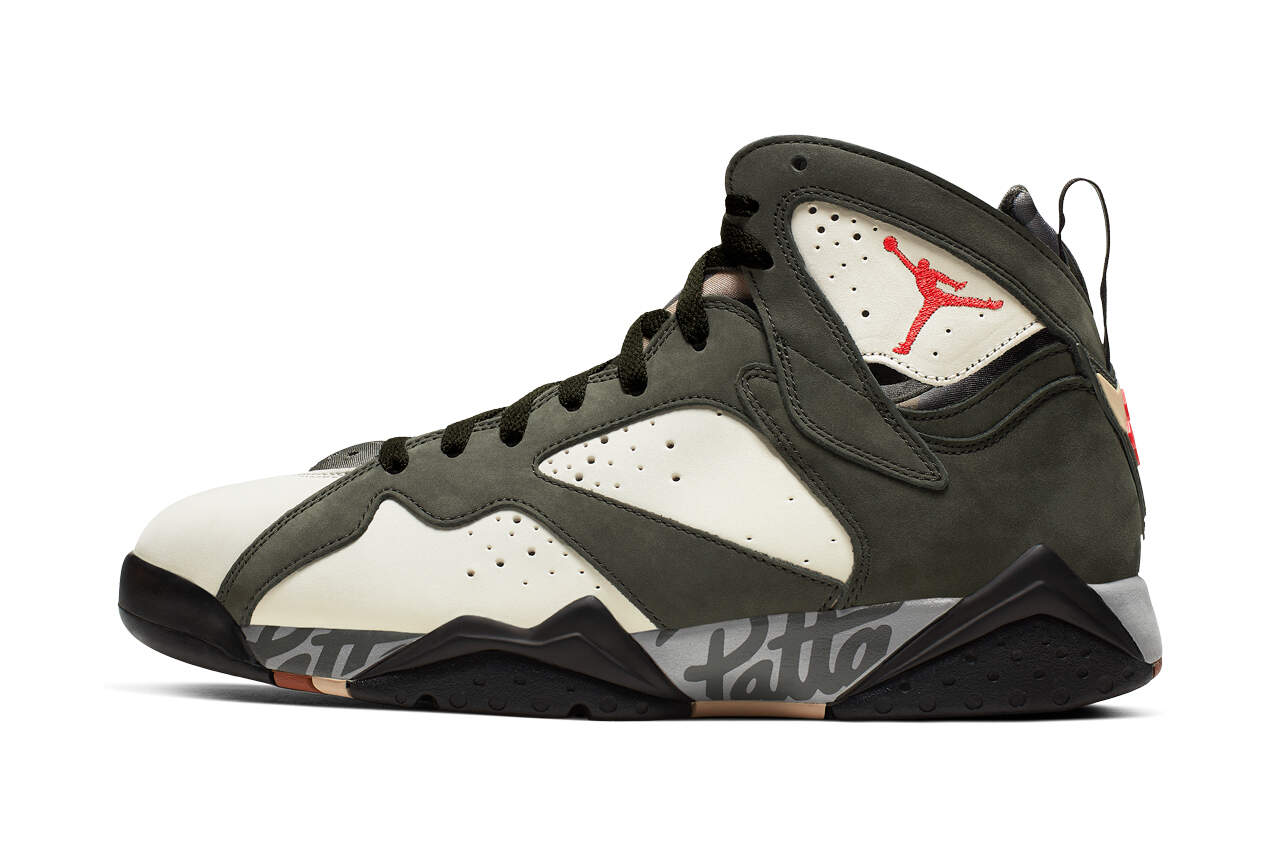 The Patta x Air Jordan 7 "Icicle" is a stylish collaboration between Amsterdam-based streetwear brand Patta and Jordan Brand. This version of the AJ7 Retro SP features a cool Icicle nubuck base with eye-catching overlays and a graphic neoprene inner bootie. The brand's insignias are a bold red, and the pull tab is debossed with 'Team Patta'. The Air-boosted midsole is adorned with various logos, and the multicolour rubber outsole adds a final touch of flair to this must-have sneaker.
RELATED: Air Jordan 2: Ranking The 12 Best Sneaker Colourways of All Time
15. Air Jordan 7 "Hare 2.0"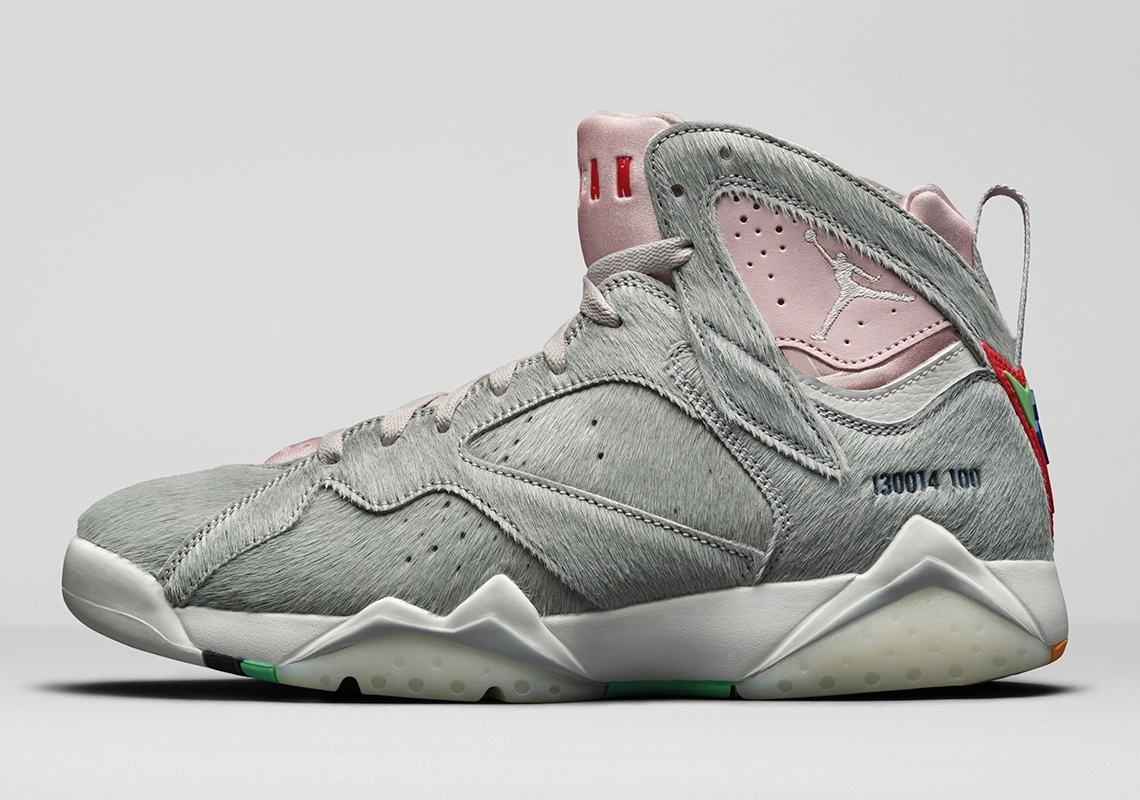 The Air Jordan 7 "Hare 2.0" is a retro sneaker that pays homage to the classic basketball shoe and looks a bit like the long-eared mammal that resembles a large rabbit.
The upper is made of leather and features a combination of grey and white colours, with perforations for added breathability. The shoe also includes Air technology for cushioning, but the visible Air unit is absent, replaced by a rubber outsole that provides excellent traction on the court.
RELATED: Ranking The 8 Best Air Jordan 11 Sneaker Colourways of All Time
Tell us, what do you think are the best Jordan 7 Retro sneakers of all time?