When it comes to sneaker collabs, Nike is the name that tends to be on every shoe lover's lips. Pushing boundaries and setting trends? That's just a typical day at the office for these folks. In 2023, they were hard at work, churning out some phenomenal partnerships and sneaker designs that had us all drooling. But naturally, amidst this ocean of creativity, some treasures shine brighter than others. So, let's dive in and unearth the crème de la crème of Nike sneaker collaborations for 2023, shall we?
RELATED: The 27 Best Sneakers At NBA Media Day 2023
Corteiz x Nike Air Max 95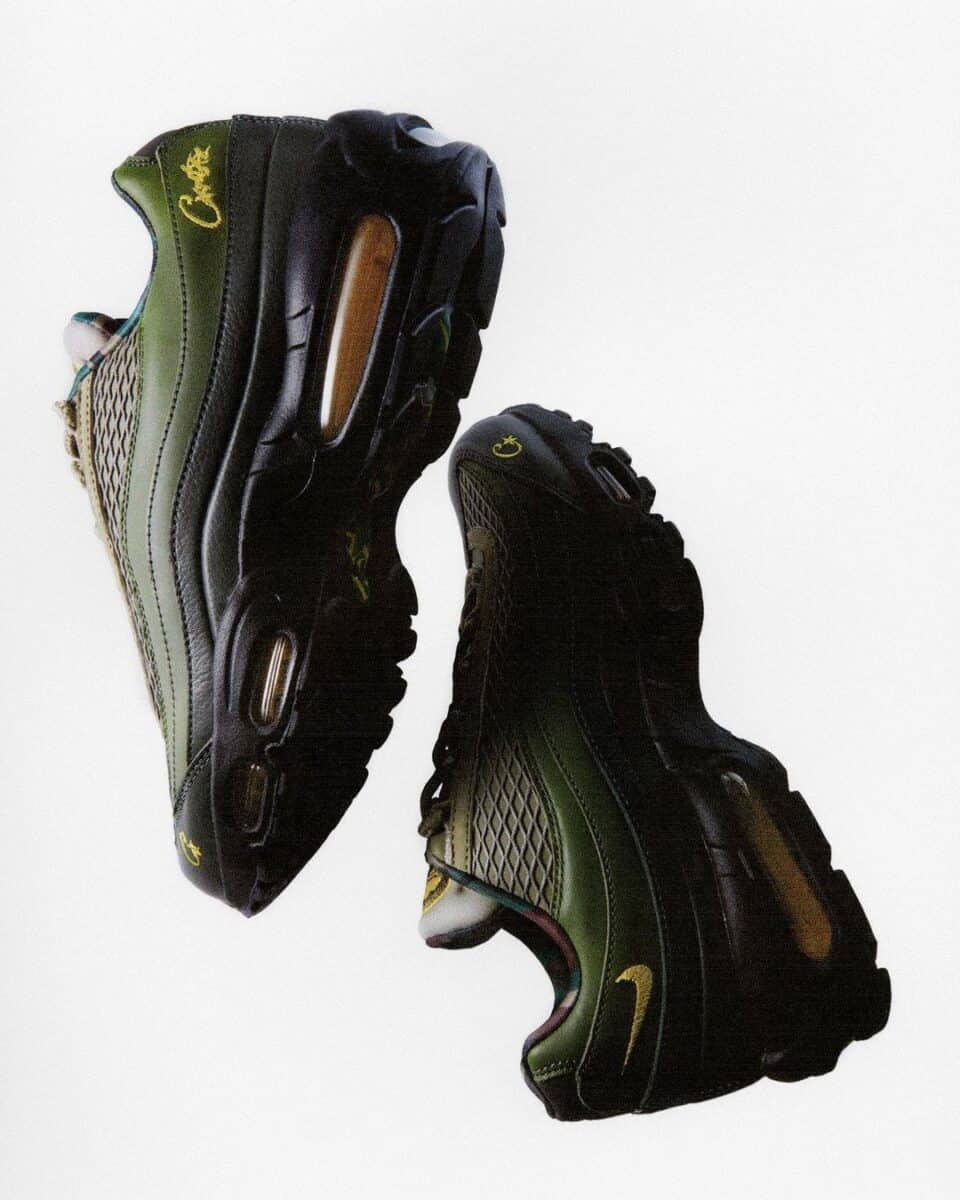 Here's a sneaker collab that well and truly rocked the sneaker universe – the Corteiz x Nike Air Max 95. This splendid collab's launch sparked a crazy sneakerhead rush, with everyone scrambling to claim a pair. The magic happened in London, New York City, and Paris, each city unveiling its exclusive colour scheme during pop-up events in March and April.
The London edition, with its daring mix of green and black; the New York version, pretty in grey and pink; and the Parisian variant, a cool grey and blue blend. But each pair also shines with unique design elements that the UK streetwear brand brought to the table like a distinct Corteiz script, awesome star branding, glossy plastic overlays, the notorious Alcatraz logo, and camouflage inner lining.
With their dazzling display of originality, city-specific hues, and a revival of the quintessential sneaker release vibe, it's no wonder these sneaks easily bagged a spot among the year's most unforgettable Nike sneaker collaborations.
Run The Jewels x Nike SB Dunk High
Our favourites. Available now at Nike.com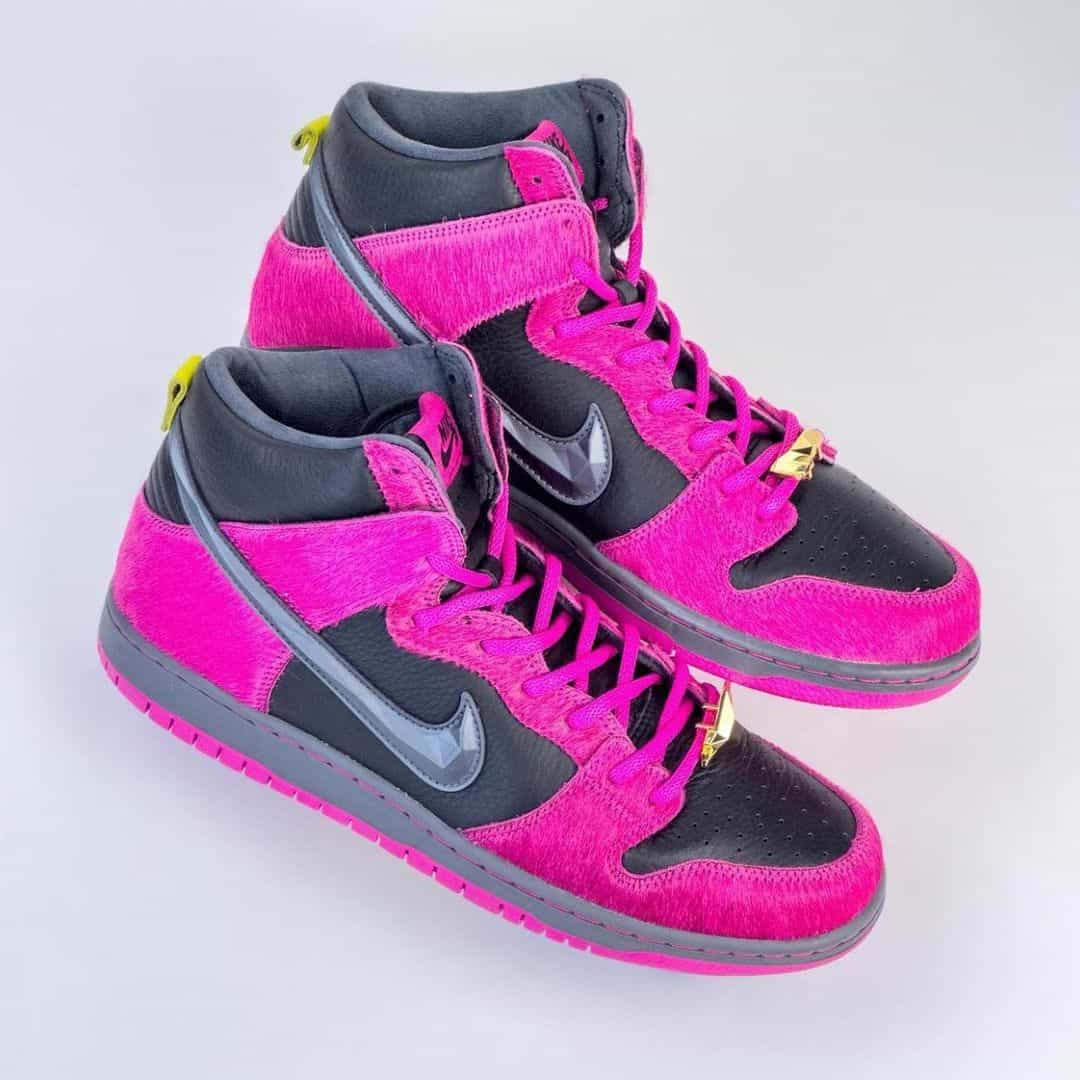 The Run The Jewels x Nike SB Dunk High dropped in April in a bold "Active Pink Black" colourway, tilting its hat towards the album cover for "Run the Jewels 4". Apart from the eye-popping colour scheme, the sprinkle of pink faux fur is a total scene-stealer. This daring collaboration wasn't shy with its design choices, and boy, did it pay off!
Continuing the wow factor, these audacious sneaks sport intricately carved gem-like Swooshes on either side. The ensemble is further spruced up with the iconic Killer Mike and El-P signatures adorning the golden lace dubraes, a secretive stash pocket hidden behind the tongue and a sneaky tribute to Killer Mike's birthday concealed under the insole.
This spectacular collaboration between Nike and Run the Jewels truly outdid themselves, rightly earning the pair a top spot in this year's best Nike sneaker collaborations.
Jarritos x SB Dunk Low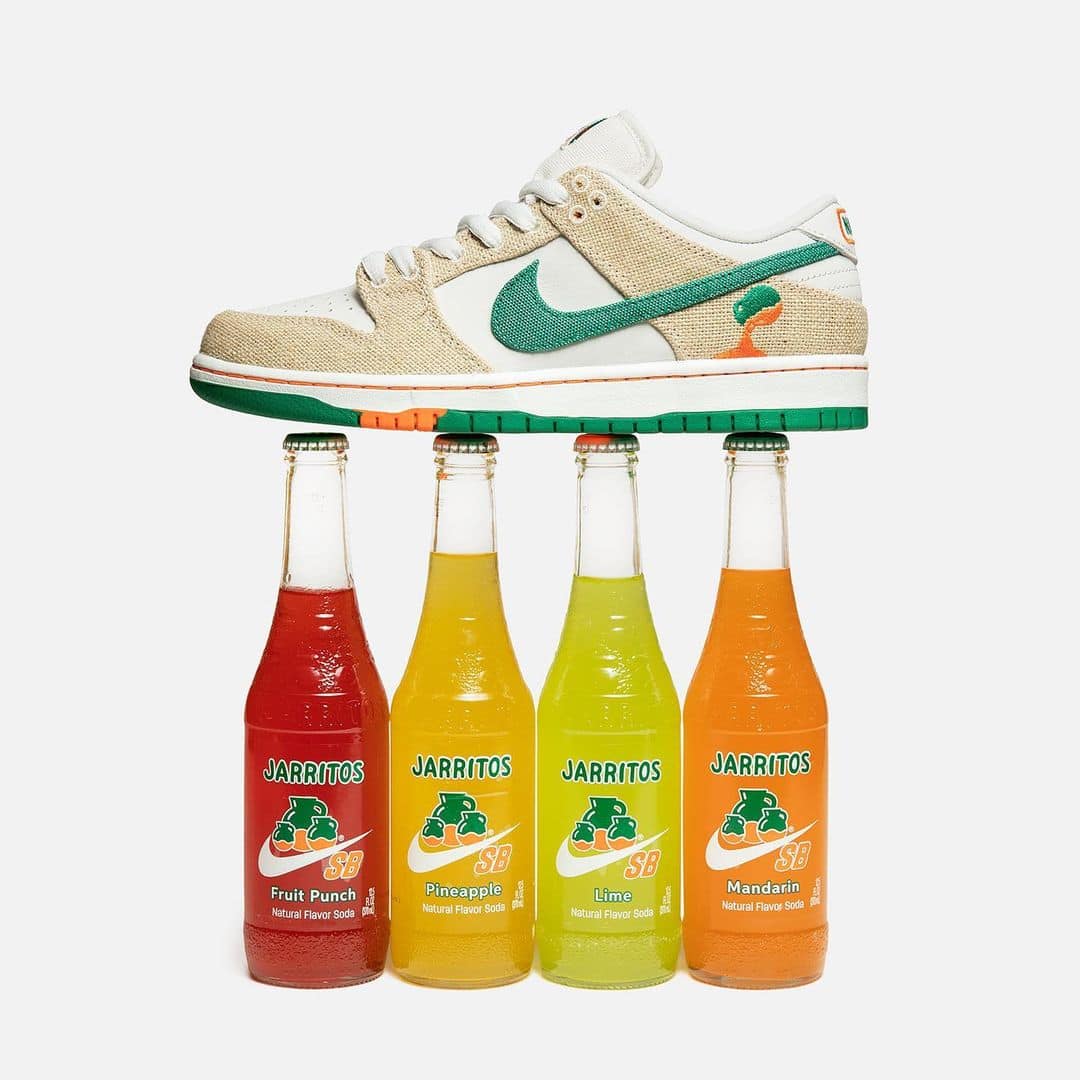 Nike SB's knack for uncanny sneaker pairings landed them a partnership with a much-loved Mexican soda brand, Jarritos. The resulting Dunk Low silhouette is a visual feast, lifted right out of the vibrant Jarritos logo and splashed across the sneaker.
This pair is pure playful brilliance with cool hemp canvas overlays, a two-tone sole, and the authentic Jarritos brand dressing up the right heel. The fun doesn't stop there, though! The tan hemp and green textile Swoosh materials on the upper cleverly hide a zesty orange colour that can be revealed with precision cuts. These trendy kicks even come with a pocket knife for you to do it yourself!
So many wanted to get their hand on these unique and customizable sneakers. But with the limited number available online and high resale value, this pair clearly wasn't meant for us all.
RELATED: The 5 Best Nike Halloween Sneakers of 2023
CLOT x Nike Dunk Low "Cork"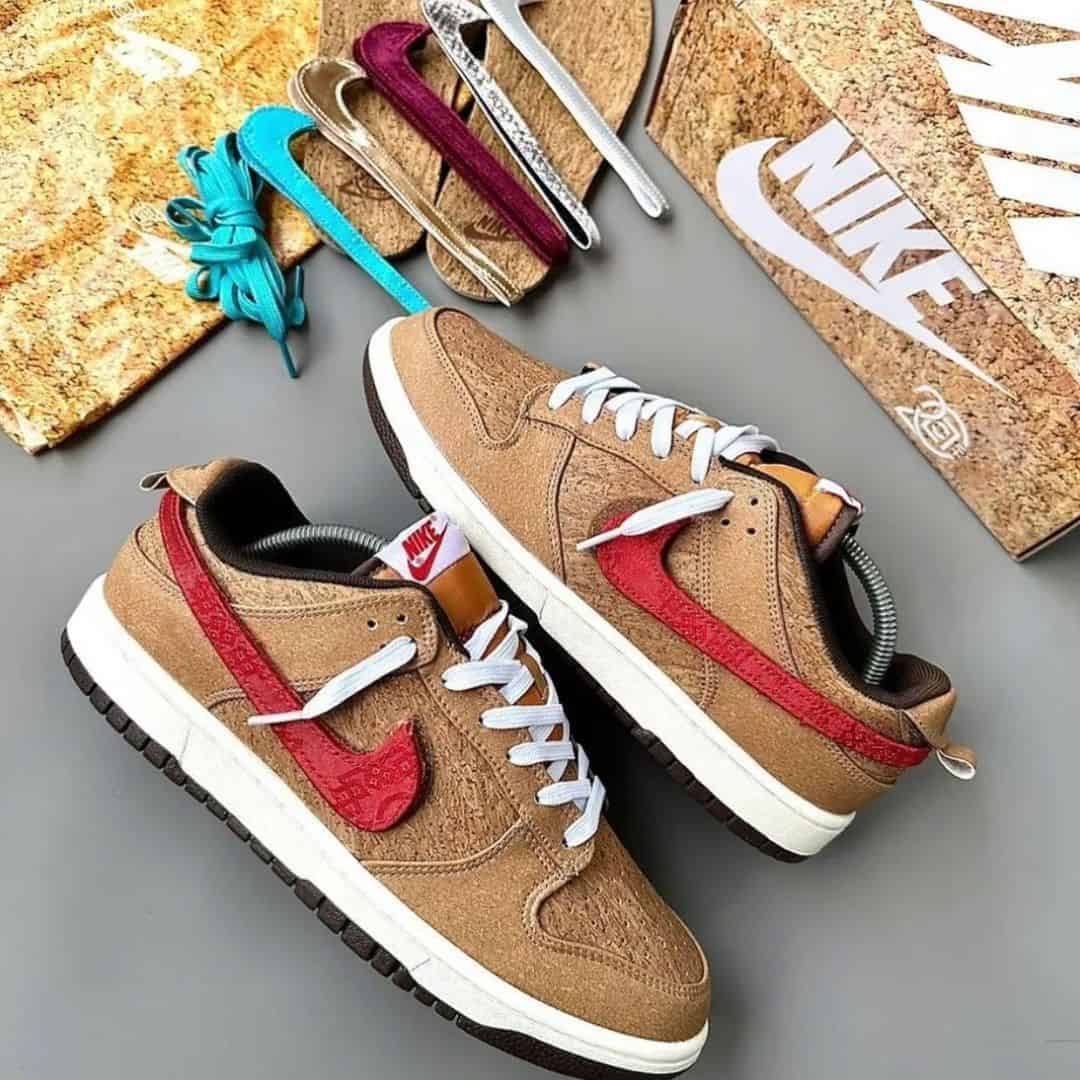 The Hong Kong streetwear brand chose to ring in its 20th anniversary by teaming up with Nike yet again. This time, they skipped the conventional leather or suede for something far more intriguing – cork. The result? It's a totally unique Nike Dunk Low.
Cork covers everything from the lateral and medial sidewalls all the way to the toebox and the heel badge. And as an homage to the years Clot has been around, the years "2003" and "2023" are written in both Arabic numerals and Chinese characters under the heel badge. It even had six interchangeable Nike Swooshes crafted from leather, velvet, and silk materials.
Considering its standout aesthetics and earth-friendly spirit, this Nike Dunk Low collab is hands down one of the best Nike collaborations of the year.
Tom Sachs x NikeCraft General Purpose Shoe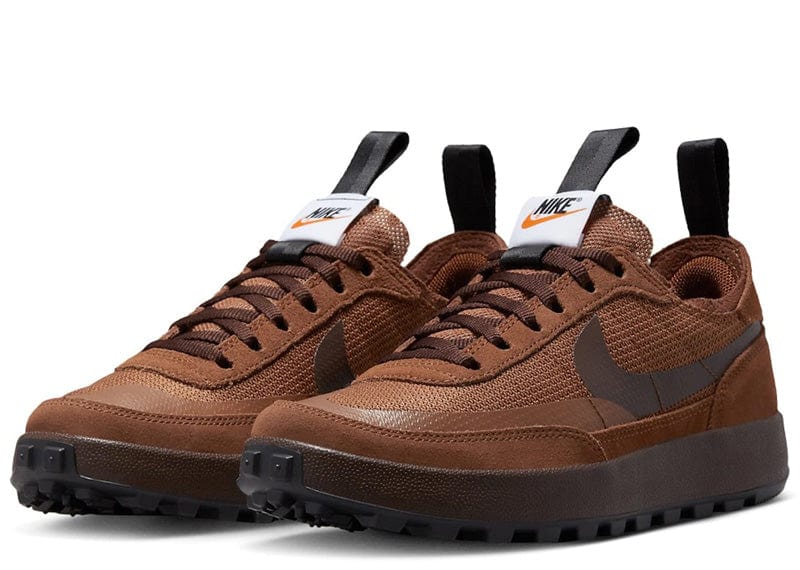 Who doesn't love a sturdy, long-lasting sneaker that still manages to make a style statement? Tom Sachs and Nike's crafty confluence has birthed just this – an attractive yet functional trooper. This third colourway in the Tom Sachs x NikeCraft General Purpose Shoe series dons classy Pecan and Dark Field Brown hues.
Elegant brown suede wraps the exterior, while breathable mesh ensures comfort. To up the style quotient, a pristine white tag bearing Nike's logo pops against the brown tongue, while handy black pull loops are there for easy wear.
All this style comes in a nifty orange box adorned with Tom Sachs' signature. While it's already a hot favourite, we can't wait for the White, Green and Gold pair to release next.
Bonus Sneaker
Powerpuff Girls x Nike SB Dunk Low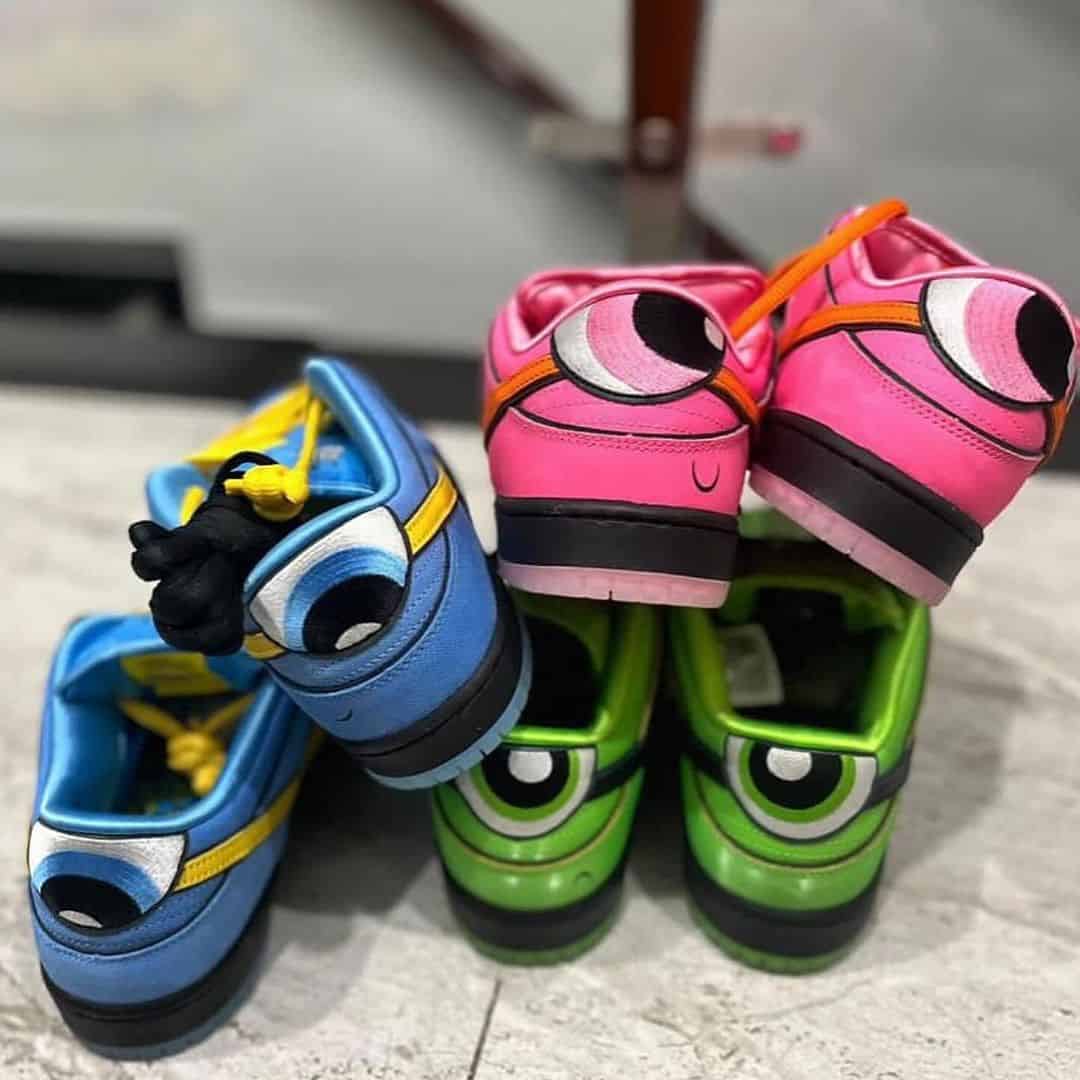 Brace yourself for a wave of childhood nostalgia! The Powerpuff Girls teamed up with Nike SB Dunk Low to sprinkle a dash of animated magic on these lively kicks, bringing to life the fearless trio – Blossom's fiery pink and orange suede, Bubbles' brilliant blue snakeskin and Buttercup's luscious green satin.
Each sneaker oozes personality, featuring their large eyes embroidered on the heel tab, satin tongues adorned with the show's logo and insoles that are practically an artwork in themselves with speech bubbles and likenesses of the fascinating villain, Mojo Jojo.
We can't wait for a chance to get our hands on these when they release in December, including the Mojo Jojo pair.
RELATED: The Powerpuff Girls Get Their Own Nike SB Dunk Low Sneakers
Which were your favourite Nike sneaker collaborations for the year?
Source: @atlasskateboarding, @dropkorn, @oddkicksmx, @not_enuff_heat, @crtz.rtw