The Nike LeBron 21 sneaker has always been one to ride with the times, and the silhouette has made some of the best colourways in the Nike lineup. Over the years, we've seen the silhouette and design signatures evolve rapidly. In recent times, they've taken a much more mellow approach. A reflection of LeBron James' career in its later stages.
RELATED: Unveiling the Powerhouse: Nike LeBron 21
The Nike LeBron 20 was a sneaker that finally took the chance on a Low-top design, and it was a success, especially among the new generation of basketball players who tend to enjoy the wider range of wear it provides. The LeBron 21 takes that concept and runs with it. There are minimal changes here, but fans are sure to enjoy refined construction mixed with a whole new aesthetic.
6. LeBron 21 GS "James Theater"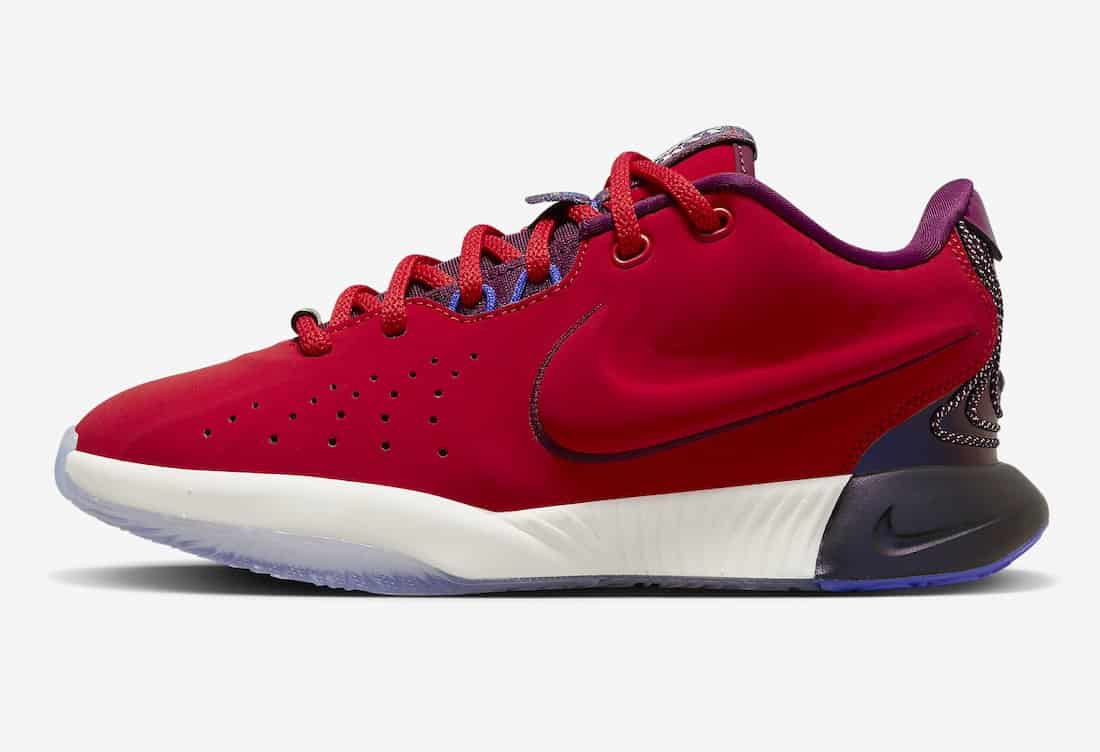 #Nike_FN4305-600
The "James Theater" pair of LeBron 21 sneakers is a colourway that's primarily designed with a Track Red hue that covers the whole sneaker. However, it's also supported by a host of other colours in its highlights, such as Blue Joy, Bordeaux and Ivory hues.
Designed as a tribute to James' birthday, there's a film ticket that displays his birth date on the tongue tag, along with an admission number. On the insoles, you'll notice that the theme still runs with a cool popcorn graphic on display. Finishing off the look, there's a cool white midsole that sports a bit of an icy look.
As a man of many hobbies, it's no surprise that Bron would release a sneaker dedicated to his love for cinema. The way this design expresses that love successfully is vibrant and sure to captivate all sneaker enthusiasts.
Our favourites. Available now at Nike.com
RELATED: The Nike LeBron 2 "Beast" Sneaker Is Pretty Wild
5. LeBron 21 "Dragon Pearl"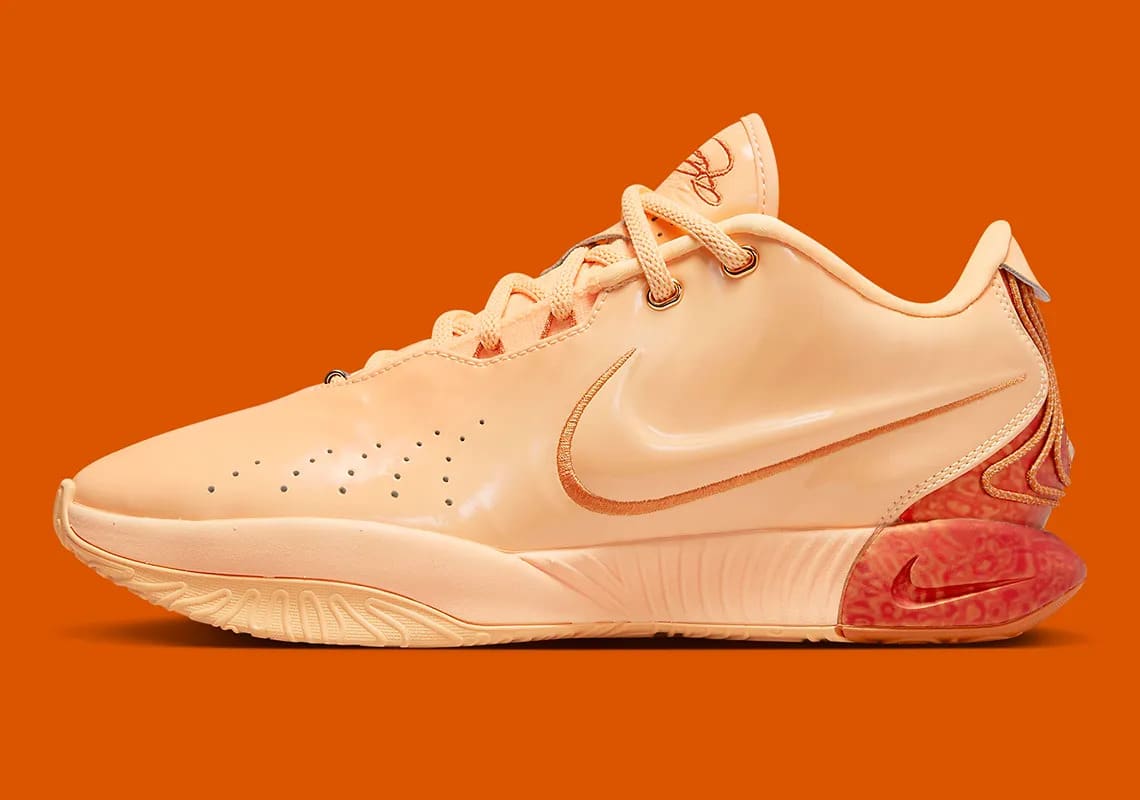 #Nike_FV2345-800
Nike's upcoming LeBron 21 sneaker takes some direct inspiration from the iconic Melo Melo pearl, one of the most coveted pieces in the world. A combination of interesting colours, this elegant sneaker channels your love for rare things in the best ways.
The sneaker uses an interesting mix of colours, such as Metallic Red, Bronze and Monarch, to complete the look. There's also a smooth leather upper that uses the Melon Tint to give it that extra bit of luxury. The heel tabs use some graceful patterns on the heel tabs as a tribute to LeBron's four championship rings.
The packaging even goes along with the pearl theme through a special box. On the tongues, you'll find LeBron's signature. There's a full combination here, and its style is mixed with performance. Craftsmanship is on a whole new level with this sneaker, and you've got to make the most of it.
4. LeBron 21 "Abalone Pearl"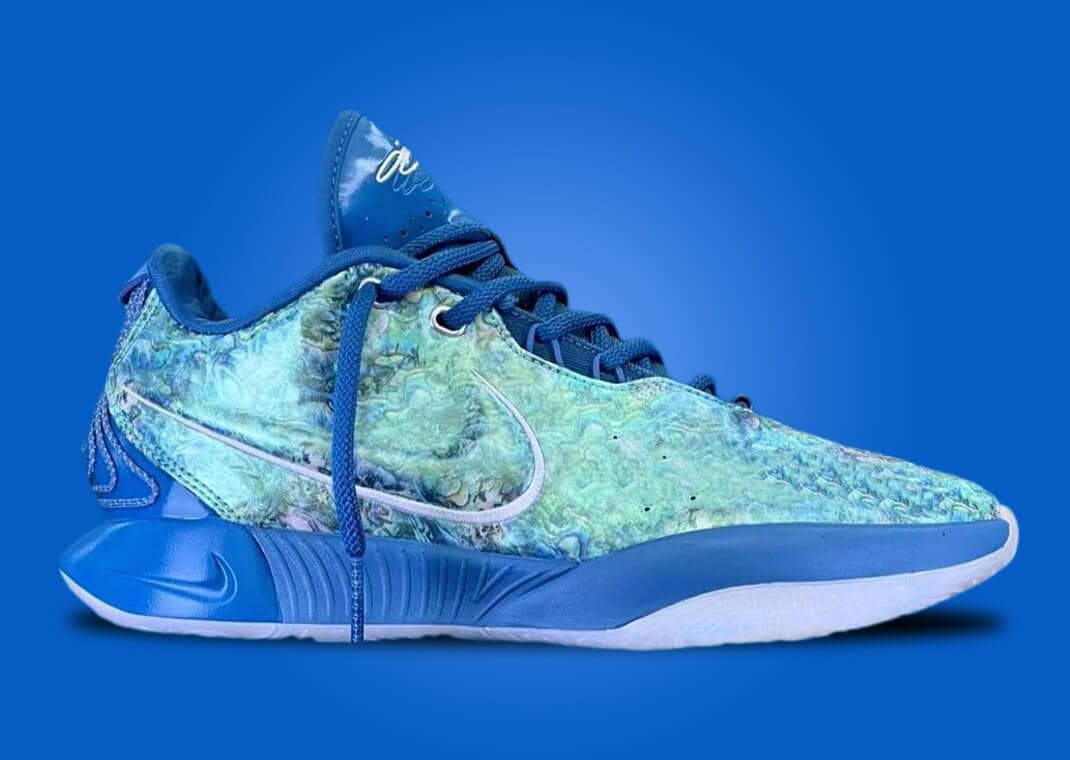 #Nike_FB2238-400
The Abalone Pearl is one of the few sneakers in this lineup that follows the pearl theme. This one uses a dazzling Industrial Blue colour to set itself apart. There's a lot of character here, and its shiny, colour-shifting design is hard to ignore.
RELATED: The Nike LeBron NXXT Gen "Wolf Grey" Is Finally Available
Using a mixture of other colours like Photon Dust and Pink Rise, this shoe is able to channel the ocean in some amazing ways. It's a crisp look that was announced at the World Basketball Festival.
Made with a striking design combined with a crisp white finish on the outsole, this sneaker was even spotted rocking a pair at a point. This is a sneaker that will leave you in high spirits, so it's best to cop them as soon as possible.
3. LeBron 21 "Tahitian"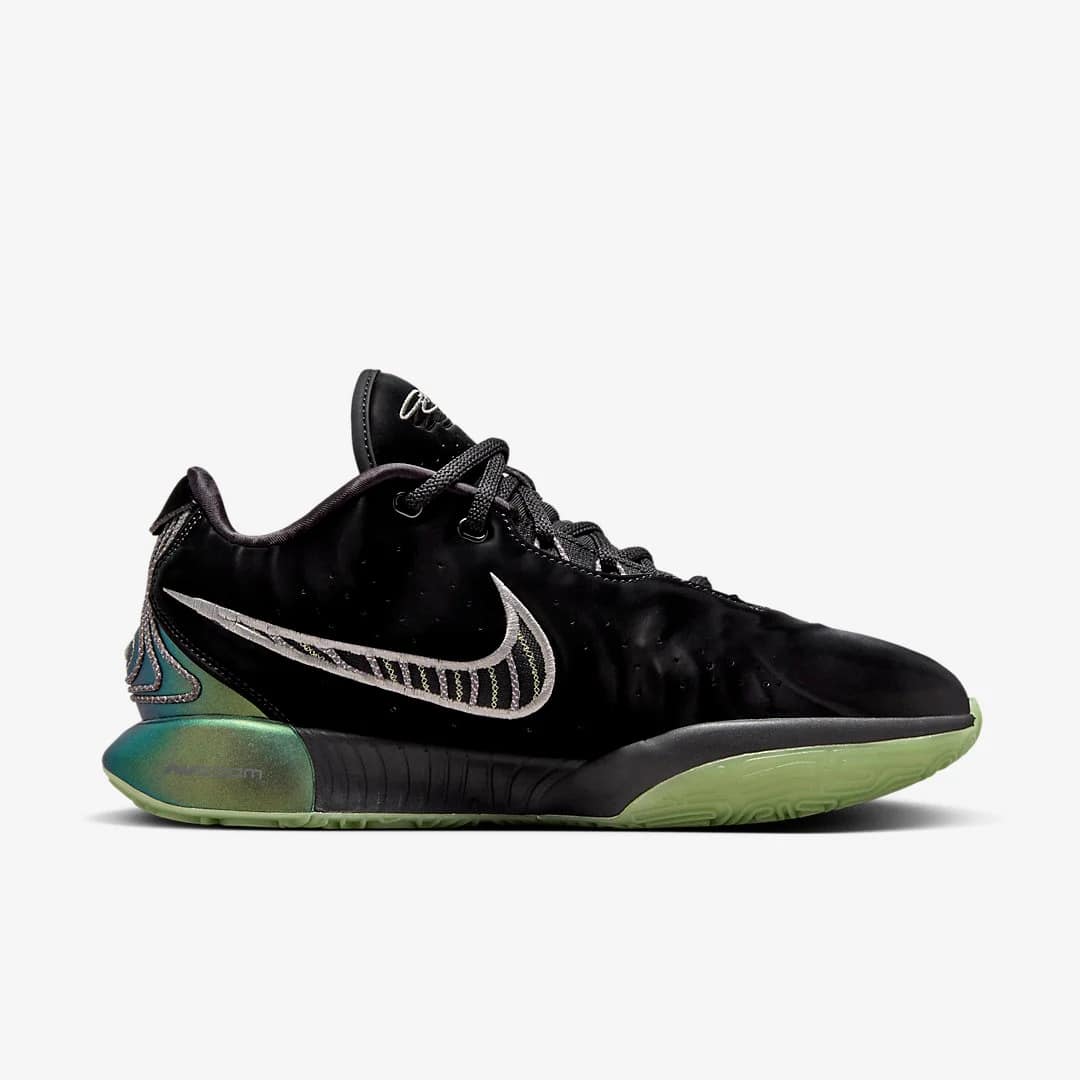 #Nike_FB2238-001
This version of the LeBron 21 sneaker is one that serves as an exciting colourway in the roster. Like something straight out of a fantasy, this sneaker takes inspiration from the intense glow found in Tahitian pearls. With a black midsole and upper portion deep black suede, this is a sneaker that is sure to be a favourite.
The Particle Grey, Wolf Grey and Pink Rose combination is simply unmatched. Every part of this blend has a mesmerizing glow added to it. Continuing to make waves on and off the court, this sneaker is yet another part of an amazing legacy.
RELATED: The Nike LeBron 21 "Purple Rain" Pays Tribute To A Music Legend
The construction is also amazing, along with the rest of the 21s, but the way this one displays the seamless transition of parts is masterful. The translucent green outsole has a classic design that offers a great blend of style and performance.
2. LeBron 21 "Freshwater"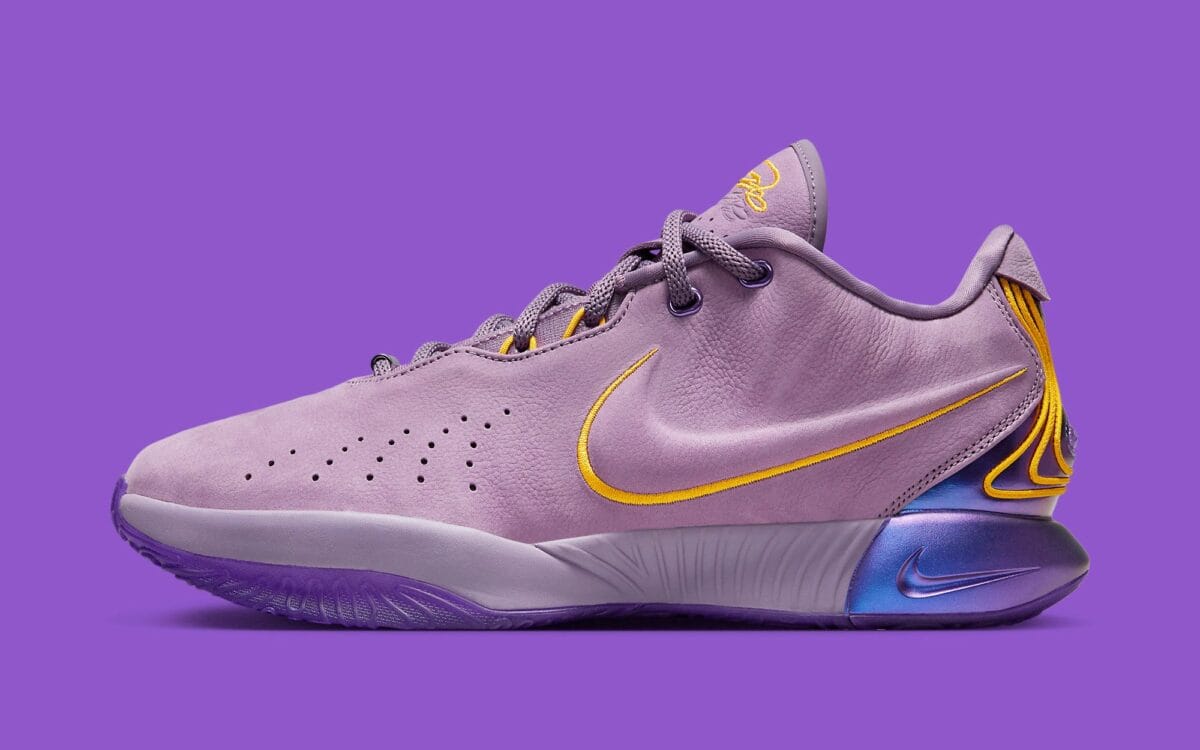 #Nike_FV2345-500
When you see a colourway like this, it's best to stop and take a breath. This ethereal Freshwater is easily one of the best-looking sneakers to come out in 2023. It has subtle Melon Tint accents that highlight the vivid Violet Dust on the upper body. The midsole also uses a metallic purple hue along with a purple outsole to make the entire design follow the same theme coherently.
The sneaker has been dubbed the Freshwater or Purple Rain, and it feels well deserved. These are sure to go up in value over the years. It's like a cosmic blessing to look at. All the other embellishments complement the main design well, and the Swooshes, LeBron's signature on the tongue and the heel tab are also great in terms of design.
1. LeBron 21 "Akoya"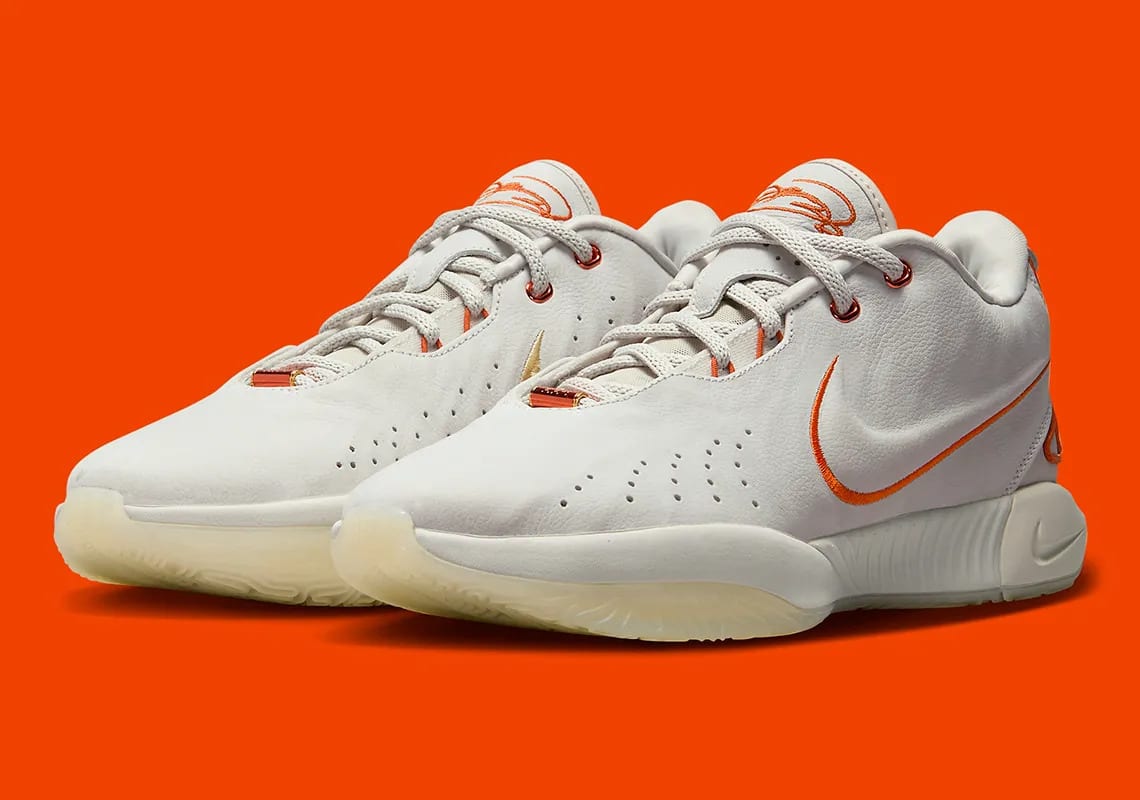 #Nike_FV2345-001
The LeBron Akoya colourway is a sneaker that was inspired by James' daughter, Zhuri. It's a tribute to the bond he shares with her and his commitment to ensuring that his legacy lives on through her greatness. It's a palette that's a lot softer compared to many other colourways in this lineup.
Along with Zhuri, modern basketball players will appreciate everything about this pair. The colourway is sleek, and it perfectly highlights all the amazing design choices that make the LeBron 21 so special.
More than just a regular shoe for hooping, it's a sneaker that symbolizes the level of dedication and sacrifice it takes to be a pro while keeping your family in the loop. If you're looking for a heartfelt pair of sneakers with some graceful design choices, this is the right pick.
RELATED: A'Ja Wilson Received An Exclusive Pair Of LeBron 21 Sneakers Ahead Of The WNBA Finals
Conclusion
The Nike LeBron 21 is another slam dunk entry to the iconic lineup. With the low-top design making a return, it's sure to do some amazing numbers among sneakerheads and basketball fans alike.