As far as collaborations go, adidas has proven they are the kings of character-themed team-ups. Not only have they been killing the game with their playful "The Simpsons" themed sneakers, but they have also managed to steal the Christmas spotlight with their adidas Forum Grinch Collaboration. Now, back for another round this holiday season, adidas is primed to unveil a triad of Forum Low sneakers. Each pair draws its inspiration from the endearing characters of the Dr Seuss classic, promising to sprinkle some festive magic on your sneaker collection. Let's take a peek.
RELATED: The Simpsons x adidas Sneaker Collection Is Retro Fun
Adidas Forum Low "Grinch"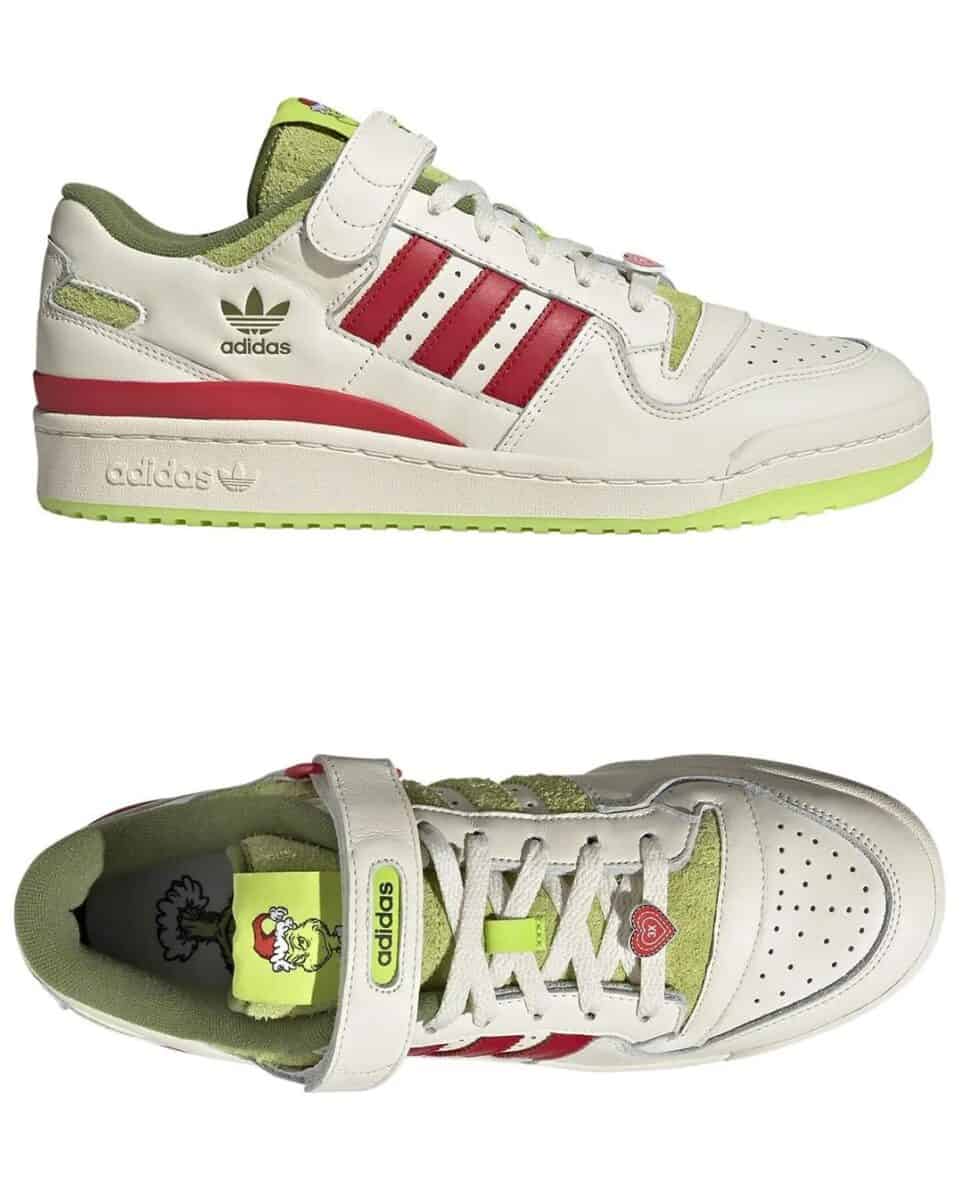 No Grinch collection would be fully dressed without the grouchy, green hero making his presence felt. Last season brought us an Adidas Forum Low sporting vibrant green suede, reminiscent of the character's prickly, plush exterior. This season, however, adidas has decided on a slightly different approach. The new low-top shoe features sail-coloured leather punctuated by streaks of red and tufts of Grinch-green suede. Moreover, the tongue label houses an image of the Grinch's classic smirk, while his grumpy and happy faces appear on the shoe's insoles. To remember his heartwarming transformation, a small heart-shaped lace dubrae displays "3x". Does it trump last year's Forum low design? Mhm, probably not. But it's still a delightful design that captures the Grinch's quirky charm.
RELATED: These Limited Air Max Sneakers Get A Homer (Hom-Air) Simpson Look
Adidas Forum Low "Max"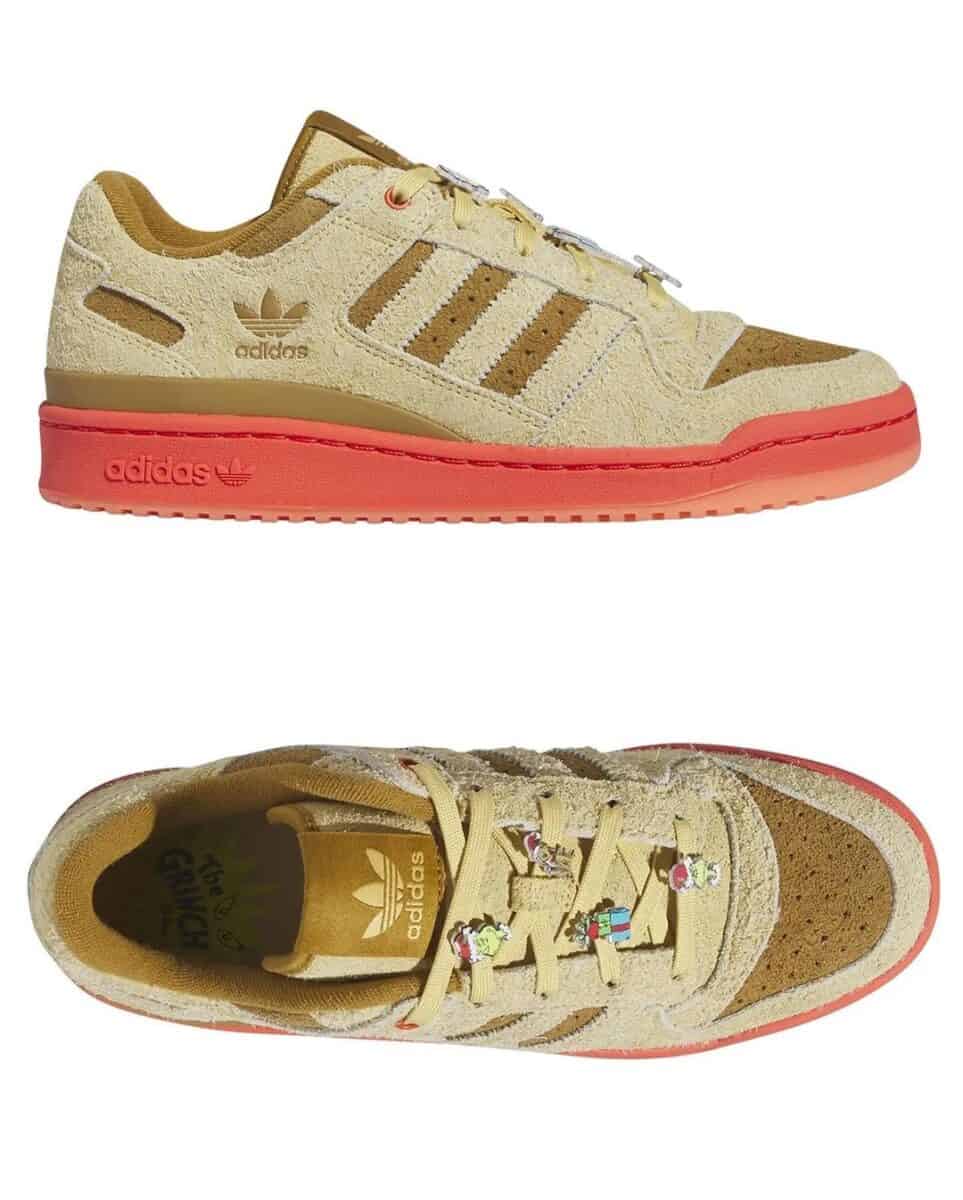 The Grinch's endearing companion, Max, gets his due recognition in this year's collection. This adored pooch is celebrated with his very own shaggy suede Forum Low sneaker, which transitions between various brown tones on the upper part with a contrasting bold red sole, echoing Max's notable red collar. The design also features a charming set of lace dubraes that represent the beloved childhood story tastefully. Of course, Max's illustration from the original book inspires his own dedicated dubrae. His pair of shoes are not complete without "The Grinch" logos nestled on the insole. No doubt, the Adidas Forum Low, inspired by Max, is a must-have for any fan of The Grinch's lovable sidekick.
RELATED: Unheardof Launches New Grandma's Couch Collab x Adidas Rivalry Low
Adidas Forum Low "Cindy-Lou Who"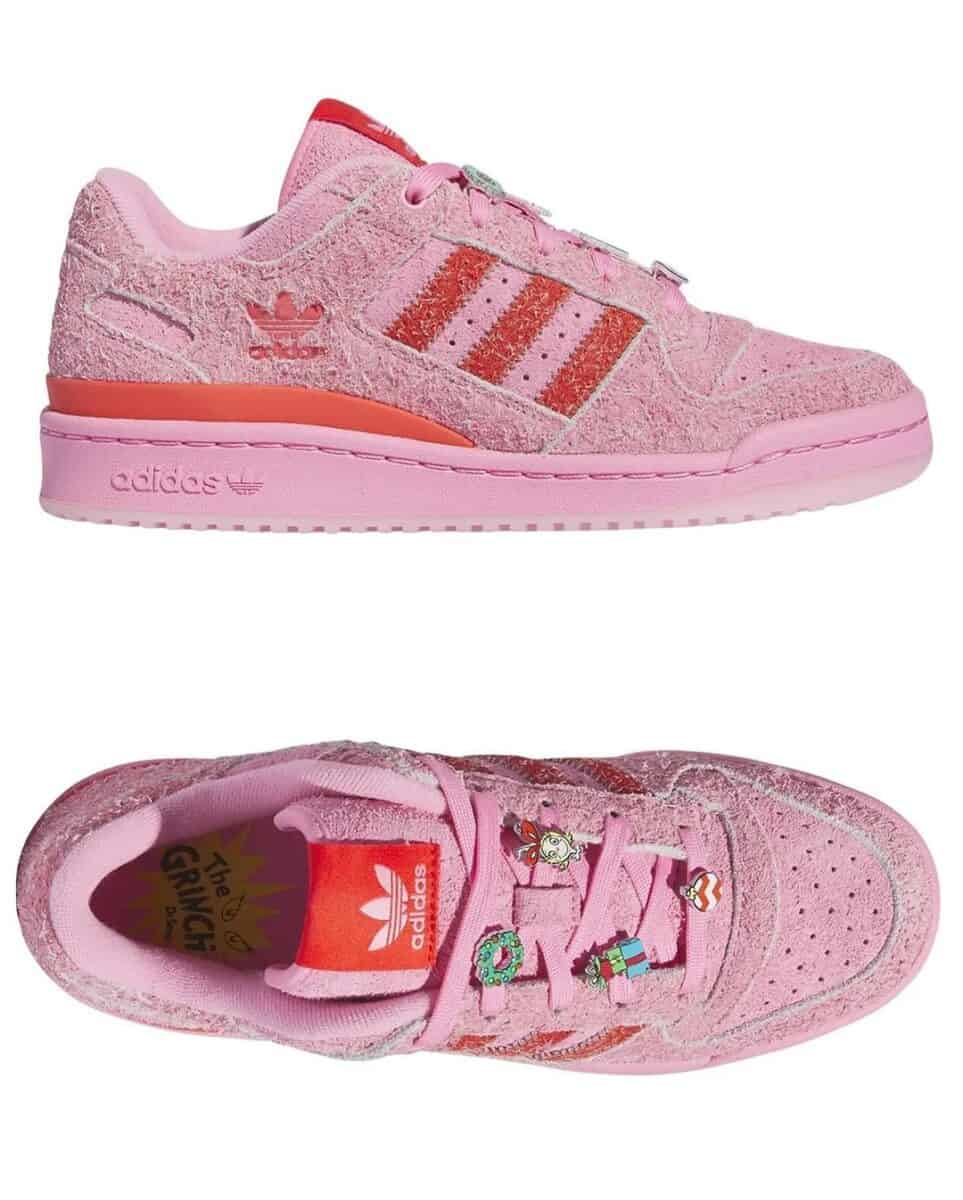 Cindy-Lou's endearing innocence is beautifully portrayed through an adorable furry adidas Forum Low sneaker, tastefully coloured in soft pink and bold red. The sneaker also features many lace dubraes -including one that boasts her delightful face-and "The Grinch" logo on the insole. This sneaker is undoubtedly a delightful tribute to the beloved character and would make an excellent pair for anyone who loves the whimsical world of Dr. Seuss.
Our favourites. Available now at Nike.com
RELATED: Here's Where To Buy The Grinchmas Air Jordan 1 Low This Christmas
This playful adidas Forum Grinch collection will be available to purchase from adidas.com and select retailers at a retail price of $120 USD each. Although no official release date has been announced yet, you can expect these to drop during December 2023. The collection not only captures the essence of the beloved characters from Dr Seuss' "The Grinch," but also offers a unique and stylish way for fans to show their love for the story. Look out for more information and updates on the release as the holiday season approaches. Until then, don't forget to follow us for more sneaker drops and reviews.
Are you grabbing a pair or two from this year's adidas Forum Grinch collection?
Source: @sneakerfevermx, ShadeTV