Since its debut in 1985, the Air Jordan 1 High has become a beloved icon in the world of sneakers. Its timeless design, innovative features, and association with basketball legend Michael Jordan have made it a must-have for sneaker enthusiasts and collectors alike. While the classic red, white, and black colourway is the most recognizable, the AJ1 High has been released in a wide range of colour combinations and collaborations over the past 38 years. From the bold and vibrant "Bred" colourway to the sleek and modern "Shadow" edition, there is an Air Jordan 1 High for every style and preference.  And with another colourway set to drop in 2024, this iconic silhouette keeps giving sneakerheads new options to add to their collection.
RELATED: He-Man And The Masters Of The Universe Air Jordan 1 Sneaker: Step Into Eternia
Next year, sneaker enthusiasts can look forward to yet another new release from the Air Jordan 1 line. According to leakers @sneakerfiles and @zsneakerheads, the classic Peter Moore design will be reimagined in a fresh "Green Glow" colour scheme.
The "Green Glow" Air Jordan 1 colourway will feature the classic "Black Toe" blocking but will replace the traditional red accents with a green hue on the heel counter, ankle collar, and outsole. The upper will maintain the timeless combination of white and black leather, with a predominantly white upper and black Swoosh and overlays.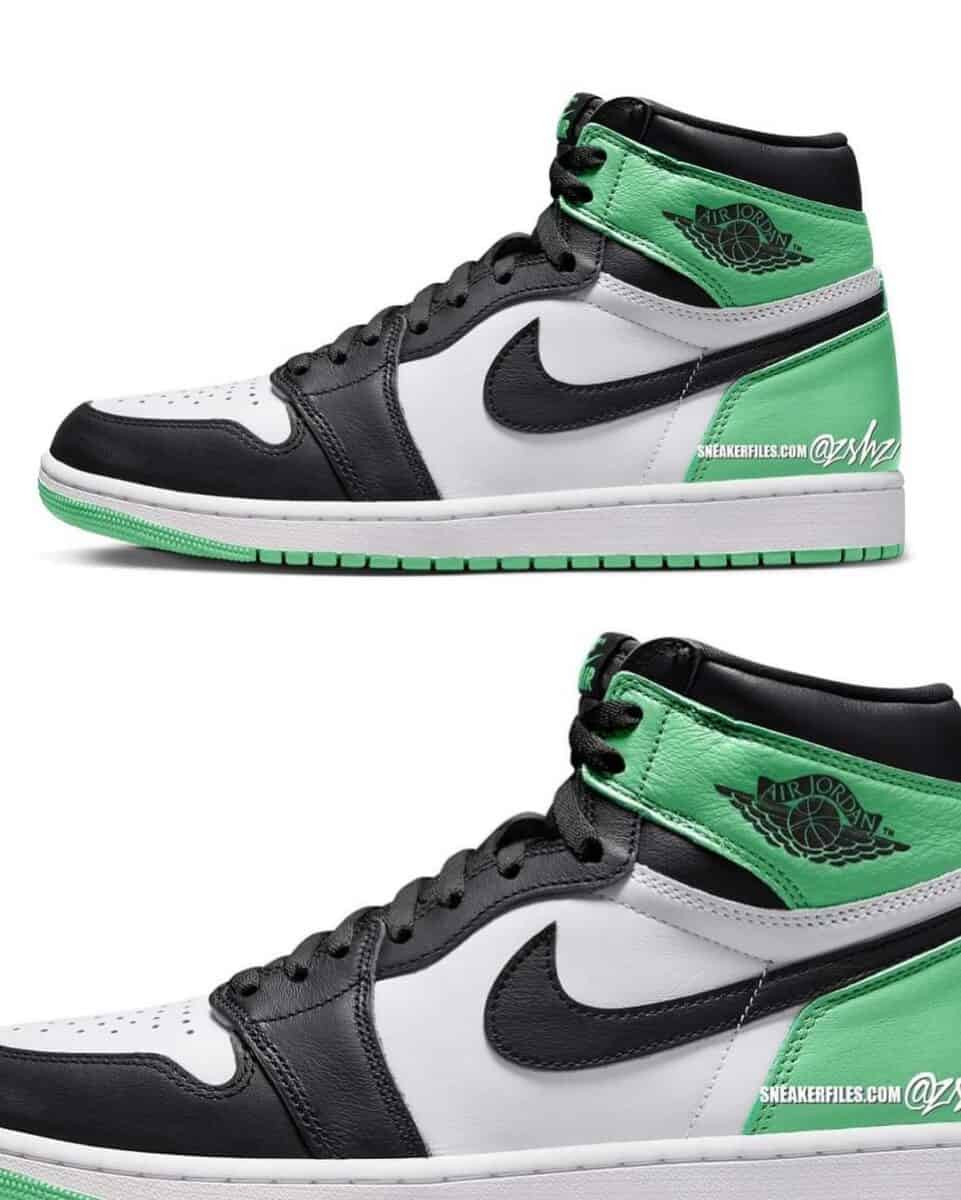 The vibrant green accents on the heel counter, ankle collar, and outsole mimic the "Lucky Green" colourway, adding a touch of familiarity to the upcoming iteration. The only notable difference between the two colourways is the substitution of green laces with black and subtle changes in the hue of green (so not really a big change).
RELATED: Grey Velvet Toes Give The Air Jordan 1 An Opulent Feel
I will say that I do prefer the shade of green on the Air Jordan 1 "Green Glow," and the black laces do make the overall design feel sleeker and more versatile. However, if you already have the "Lucky Green" colourway, the differences may not be significant enough to justify purchasing the upcoming version. Ultimately, it comes down to personal preference and whether you want to add another pair of sneakers to your collection.
Our favourites. Available now at Nike.com
Although the exact date of release has not been announced, sources indicate that the Air Jordan 1 High "Green Glow" will be dropping sometime during the summer of next year at a retail price of $180. Anyone interested in adding this new colourway to their sneaker collection can keep an eye out for updates. With its vibrant green accents and classic design, the Air Jordan 1 High "Green Glow" is sure to be a solid addition to any sneaker rotation.
RELATED: The Air Jordan 1 Gets A Luxurious Mercedes-Benz Maybach Look
What are your thoughts on the upcoming "Green Glow" Air Jordan 1 colourway?