The Nike Air Force 1 sneaker has a rich heritage and has been a medium for the Nike Brand to celebrate in many ways. In 2003, the Air Force 1 "West Indies" colourway was released as one of four pairs created to celebrate New York City's West Indian Day Parade Carnival. Now, 20 years later, the pair is being picked up from the archives and dusted off for a timely return, bringing back the beautiful elements that celebrated the West Indies Islands.
RELATED: Get Hungry for the McDonald's x Nike Air Force 1 Sneakers
These stunning sneakers have stepped straight out of the past into the modern day, reminding us of the beautiful celebration that inspired the sneakers in the first place and bringing us a subtle and stunning pair of sneakers. Instead of wearing the original colour that blanketed the sneaker, these are majority white with a few hints of colour.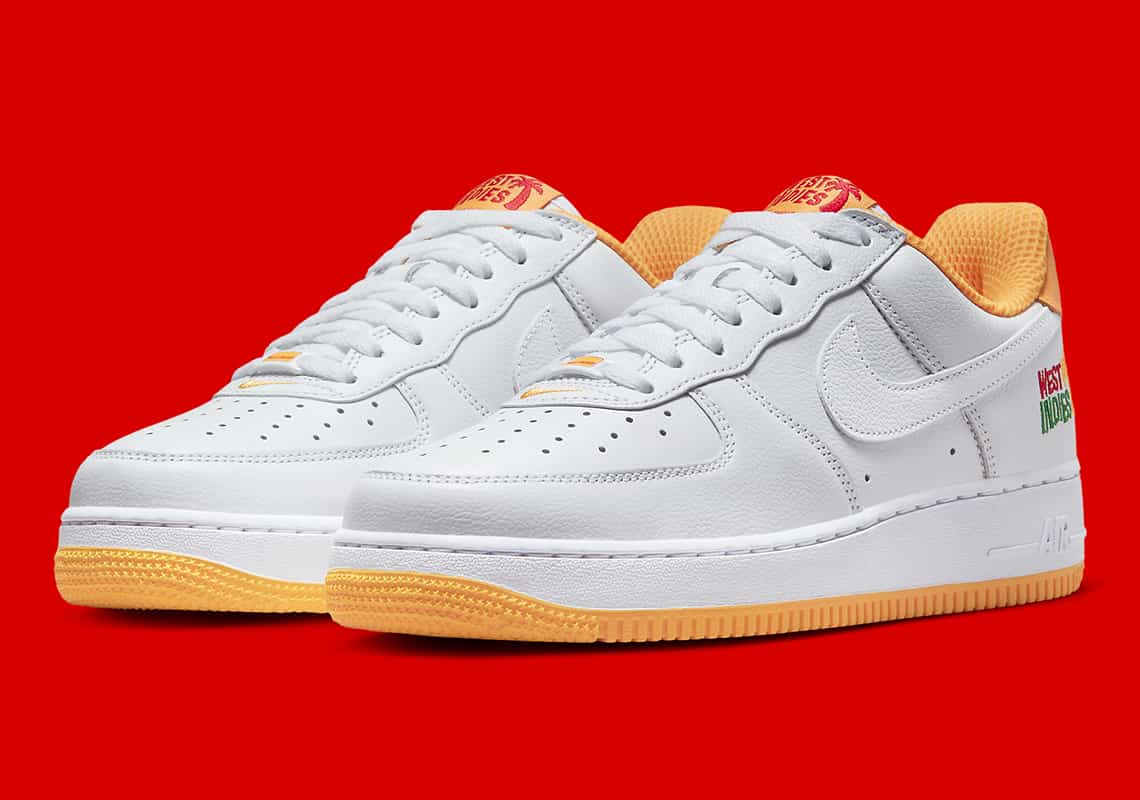 The "WEST INDIES Anniversary" yellow and pink tongue label makes it abundantly clear what the purpose of these sneakers was and remains. The "WEST INDIES" lace dubrae does the same, matching the University Gold yellow hues. The mini Swoosh under the lace dubrae matches the colour.
The rest of the sneaker is primarily devoid of colour, representing a streamlined tumbled leather in full white, letting the bright yellow and the lettering shine in its place and perfectly contrasting the stunning colour and the very busy insole.
RELATED: The Nike Air Force 1 "Freddy Krueger": The Sneaker That Will Make You Scream
Speaking of the insole, the whole piece is covered with the WEST INDIES logo and the thousands of islands' names that fall within the subregion of the West Indies, representing each with a typography line.
Our favourites. Available now at Nike.com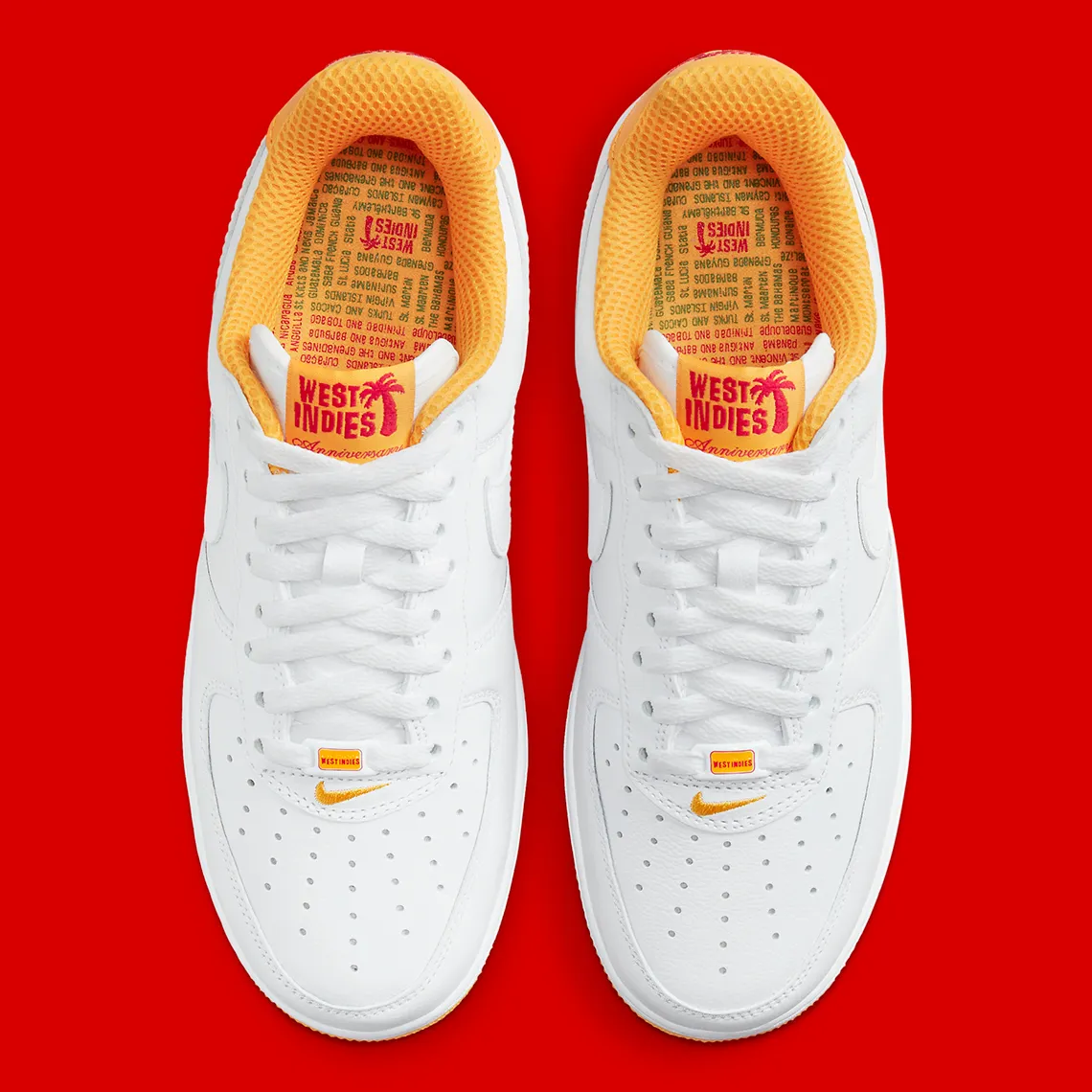 The nylon sock liner, the heel tab and the outsole also match the golden yellow hue of the accents of the sneaker. The only colour that tints the white upper is the WEST INDIES logo, with WEST being pink, INDIES being a dark green, and a golden yellow palm, each colour eluding to the original pairs that were released for the celebration.
RELATED: The Perfect Valentine's Day Gift: Nike Air Force 1 Sneakers
If you love this pair, you have tuned in at the right time because there are a few days to wait before these sneakers become available for purchase on Nike.com (SNKRS) for $140. These sneakers are the perfect homage to the 20th anniversary of the celebration that initially inspired the sneakers, bringing the pair back in a modern way with a touch of inspiration alluding to the original times.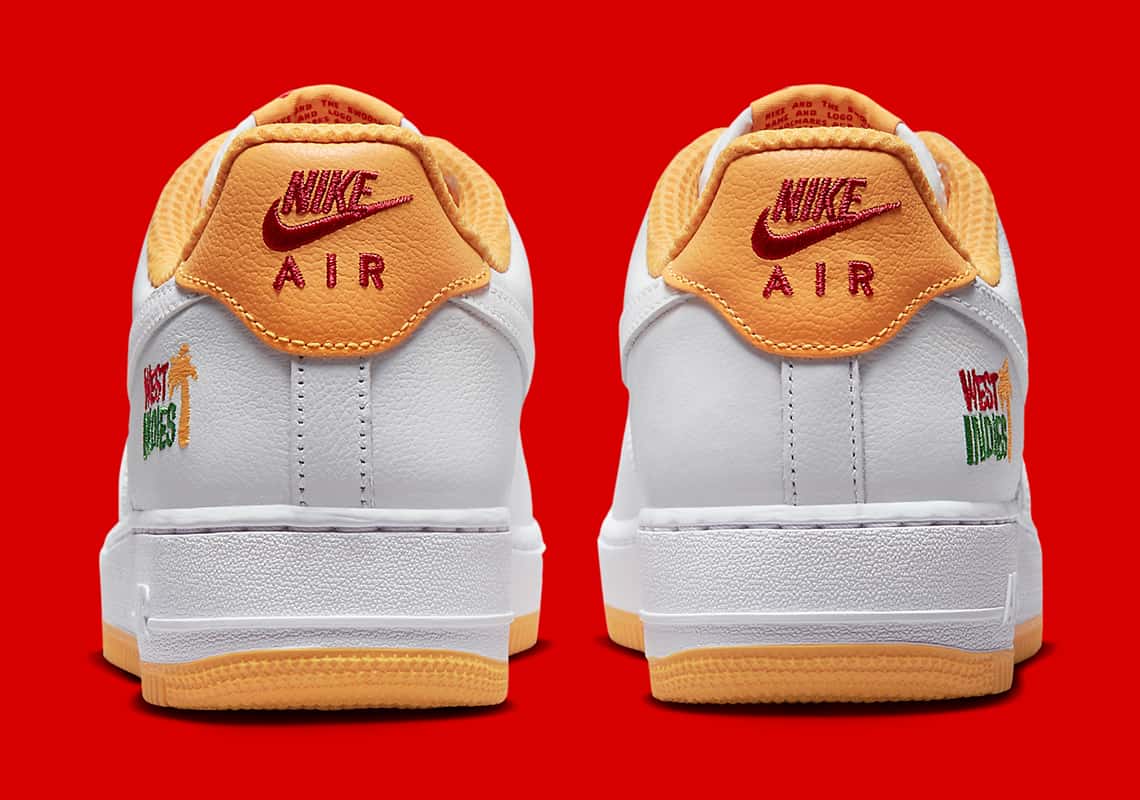 RELATED: The Nike Air Jordan 17 "Cherry" Is Coming In 2024. Are You Hyped?
Are you adding these stunning Air Force 1 "West Indies" sneakers to your collection in a few days?
Sources: Nike