Do you remember the Nike Dunk Low "Michael Jackson"? You know, the one that surfaced back in 2011 with no real explanation for why it existed or what its connection to Michael Jackson was? Well, I am sure many of us have forgotten about this sample sneaker, as it's been almost twelve years since we last heard of it. Thankfully, the internet is forever, and we once again stumbled upon this mysterious sneaker. So, you bet we are going to take another look at the Nike Dunk Low that got away.
RELATED: The Nike Dunk Low Gets A Sophisticated "Brogue" Look
The sneaker boasts a black snake-skin upper with black laces to match. Even the iconic Swoosh logo wears smooth black leather. The only real pops of colour on the shoe are the crisp white midsole and a white cross on the insole. And, of course, the most eye-catching detail is the "Michael Jackson" embroidered in bold gold lettering on the sneaker's heel tab.
Black, white, and gold are strongly associated with the King of Pop. These colours were a staple in his performances, music videos, and even in his everyday fashion. One quick search on Google, and you are sure to find a plethora of images featuring him dressed in these iconic hues. It's no surprise then that Nike chose to incorporate these very colours into a shoe design intended to represent this legendary musician. However, we can't help but feel that a dash of red could have further echoed Jackson's iconic style. Perhaps a red lining could have been another subtle nod to his unique fashion sense. But let's remember, the Nike Dunk Low "Michael Jackson" was only a shoe sample and may not have reflected the final design. How can we be so sure? It's all thanks to the 'Sample' stamp hidden inside the shoe.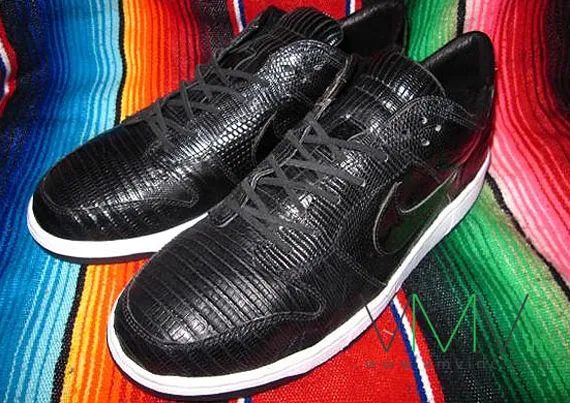 RELATED: The Nike Dunk Low "Autumn Gentleman" Exudes Sophisticated Elegance
This 'Sample' stamp indicates that the design was a work in progress, not the final version of what Nike had envisioned. It's common practice for brands to go through multiple design iterations and prototypes before settling on the final product. Since these sneakers were never released to the public, the intended final design will forever remain a mystery.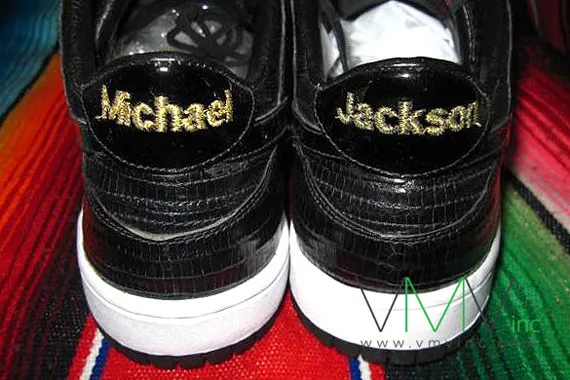 Still, after all these years, one question remains: Why did the Nike Dunk Low "Michael Jackson" never enter production? For sneakerheads, the thought of these exclusive sneakers is tantalising. Considering the surge in the value of MJ memorabilia following his passing, it's surprising that Nike didn't seize the opportunity to release these potential collector's items. Even a decade later, the reason for Nike creating the Dunk Low "Michael Jackson" remains unclear. However, the cross on the insole suggests that the sneaker could have been a tribute to the star following his untimely death.
Our favourites. Available now at Nike.com
RELATED: The 7 Best Dunk Low Sneakers Still to Release This Year
If these sneakers were indeed crafted as a posthumous tribute, it's curious why Nike never officially released them. We can only speculate that fans would have been eager to own a pair in honour of the King of Pop. Sadly, it seems this is just another unsolved mystery in the world of sneaker releases.
Do you think Nike will ever release the Dunk Low "Michael Jackson"?
Sources: Sneaker News, Sneaker Bar Detroit