October, with its spooky connotations, also ushers in an opportunity to revisit the classics that have defined us. Now is the hour to immerse ourselves in nostalgia, reliving the unforgettable adventures of endearing characters from our childhood. Among the most enduring are Mario and Peach, the duo from the renowned Super Mario series. For generations, they have won over gamers with their inimitable charisma. Whether your first encounter with them was on the good old NES or through recent gaming platforms, a pair of custom Mario and Peach sneakers is the perfect tribute to honour these iconic characters. And it just so happens that I've stumbled upon the perfect pair.
RELATED: Level Up With These Mario Bros x Nike Air Force 1 Sneakers
As someone who has long been fascinated by Vicky Vuong's (@cestlavic) design evolution and utterly captivated by the sheer genius of Sean Fontenot's (@colormefresh) work, it's surprising that these Custom Mario and Peach Air Force 1 sneakers, dating back to February 2021, escaped my attention. However, they say it's never too late, right?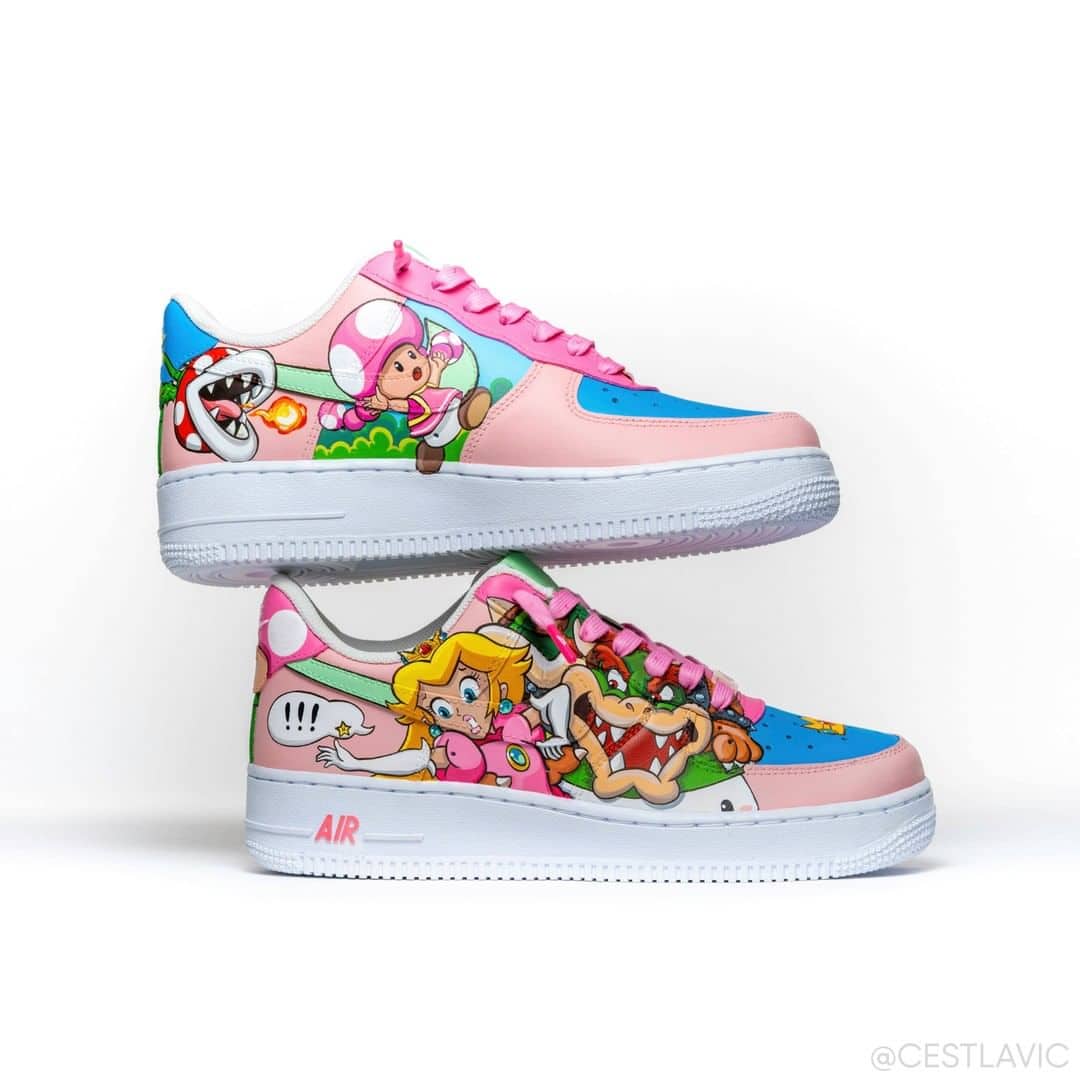 Given my fondness for their work, it was inevitable that I'd be swept off my feet by a collaboration from this duo, which is quite fitting because these sneakers were designed for Valentine's Day.
This remarkable collaboration offers a set of 'his' and 'hers' shoes, markedly featuring Mario for 'his' pair and Princess Peach for 'hers. Ladies first.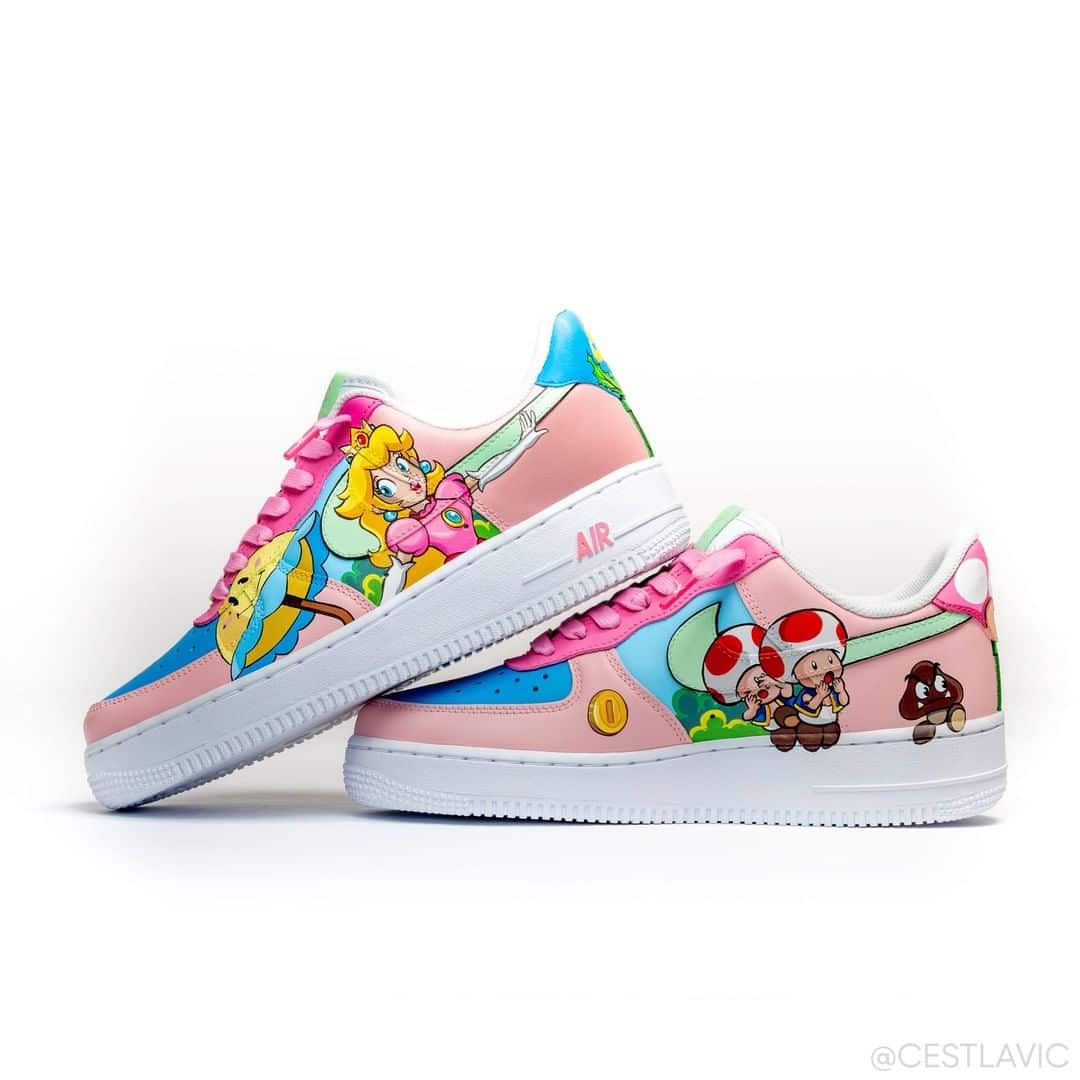 The Princess Peach design exudes femininity with a soft pink base, contrasted by accents of blue on the toe box and left heel – a nod to the princess's regal attire. Deeper shades of pink enrobe the eye stays and right heel, artfully harmonising with the shoelaces. To top off the look, there are hints of pastel green on the swoosh and tongue label. Honestly, this colour combination couldn't be more perfect! Vuong is truly a master at colour matching. And then starts the real eye candy, a myriad of iconic Mario Brothers characters decorating the Air Force 1.
On the right sneaker, we see Bowser trying to kidnap Peach (because not even the king of mean wants to be alone on Valentine's Day) on the lateral side of the shoe, while the medial side reveals two mushroom people and a Goomba. The heel tab then proudly presents Toadette's face along with a warp pipe below. A Brick Block lace dubrae enhances the design even further. Yet, this is just one part of the story.
Our favourites. Available now at Nike.com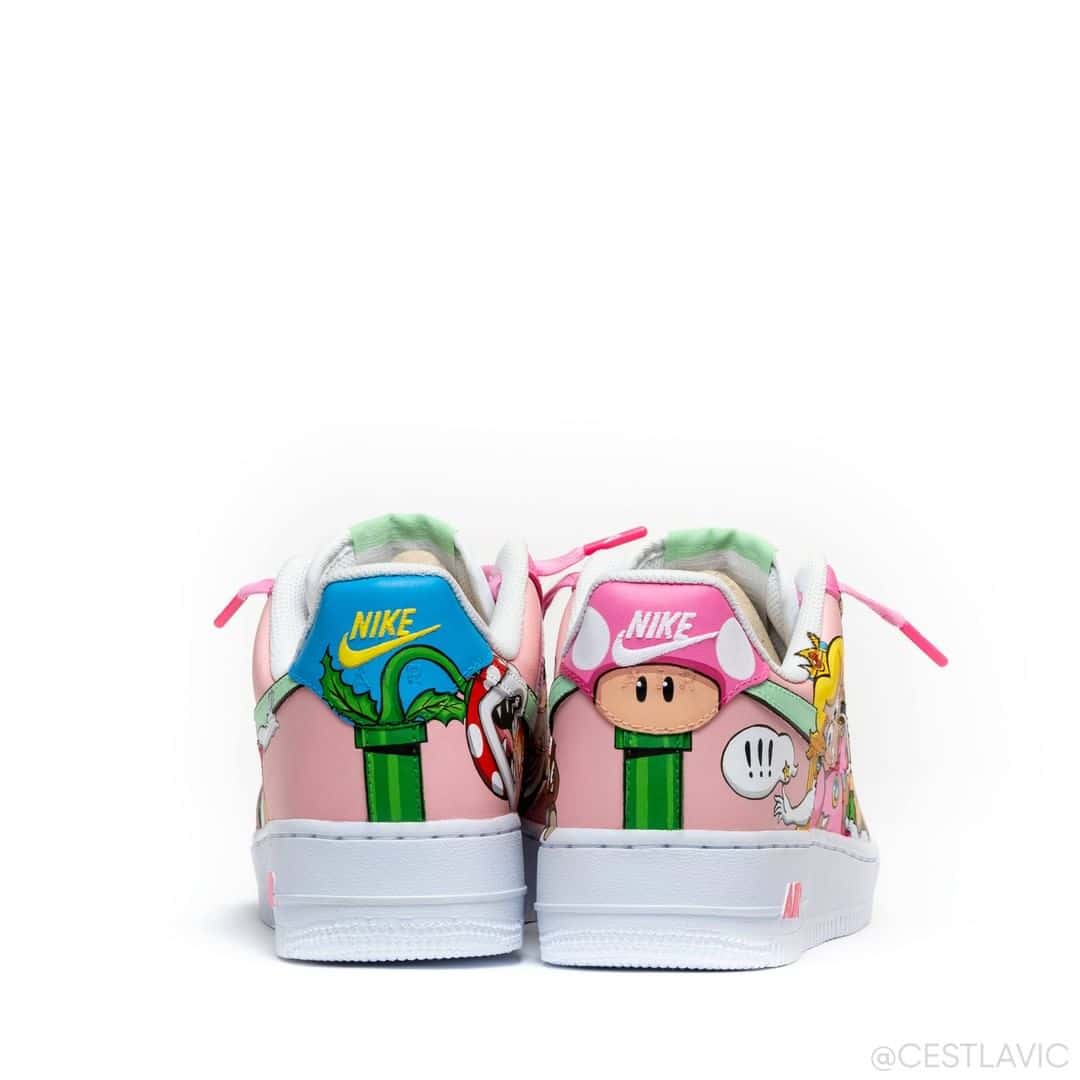 RELATED: Bruce Lee Green Dragon LUX Sneakers For Fans Who Don't Love Yellow & Black
The left shoe offers an enthralling narrative of its own, with scenes including Toadette fleeing from a Fire Piranha Plant on one side and Princess Peach with her vast yellow and blue Floatbrella on the other. The Mystery Block lace dubrae on this side adds an extra element of intrigue.
The white sole units, tongues, and matching liners are additional unifying elements across both designs. The crowning feature, truly recognisable to fans, is Princess Peach's signature crown that majestically embellishes the toe boxes. I believe these might just be the best Princess Peach sneakers ever designed.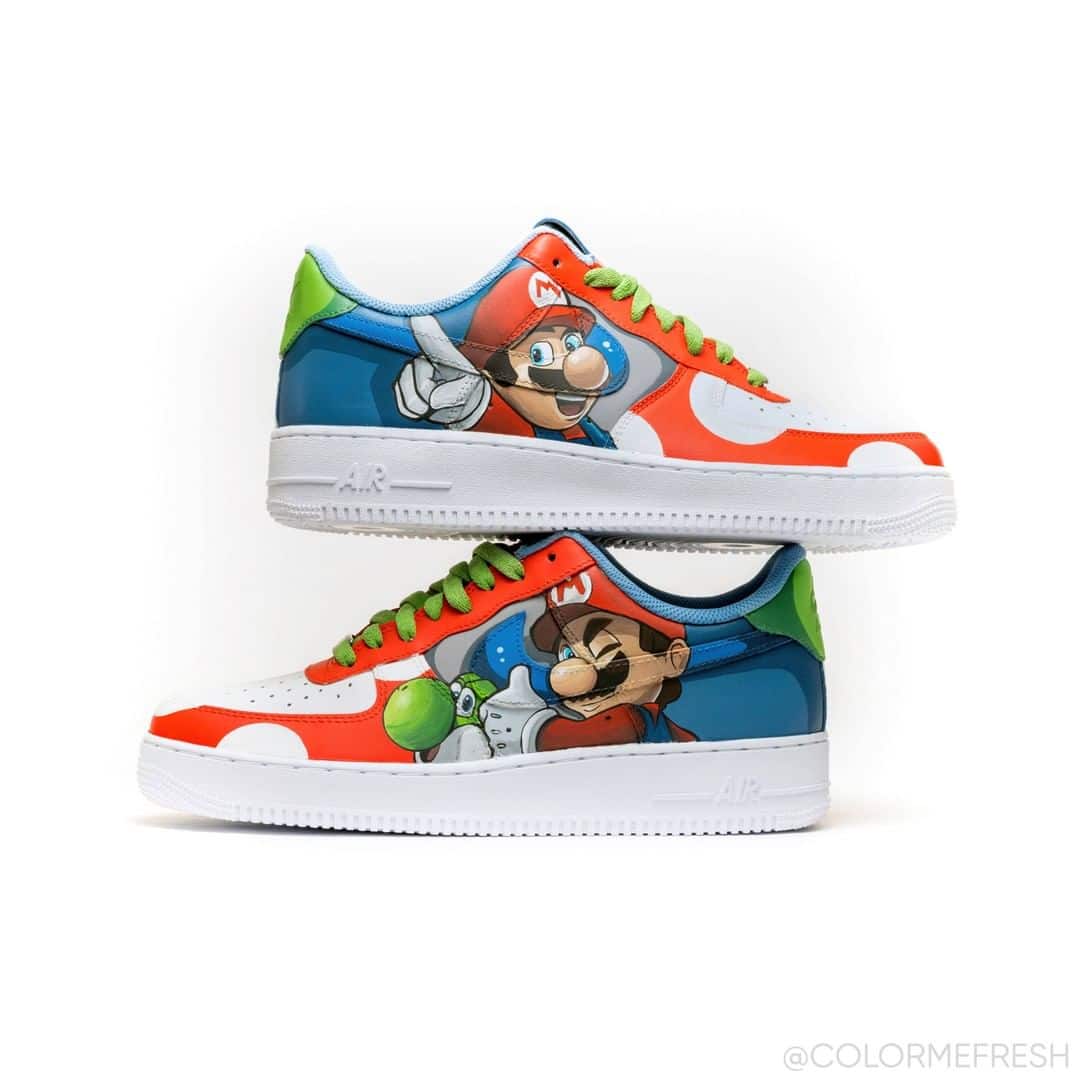 Moving on, Mario's pair deserves equal attention. The design is a vibrant celebration of his classic colours, subtly accentuating features of Yoshi's green, too. It starts with a pristine white toe box and tongue, gradually integrating red and white reminiscent of Mario's hat onto the shoe's mudguard. The eye stays are a bold red, sharply contrasted by green laces. Further shades of green can also be spotted on the heel tab, harking to Yoshi's colours. Blue then elevates the design elements of the tongue labels, liner, Nike swoosh, and heels.
And let's not overlook the key highlights. Mario's character is skillfully embedded on the lateral sides over the Swoosh, with Yoshi joining him on the left foot. Talk about attention to detail!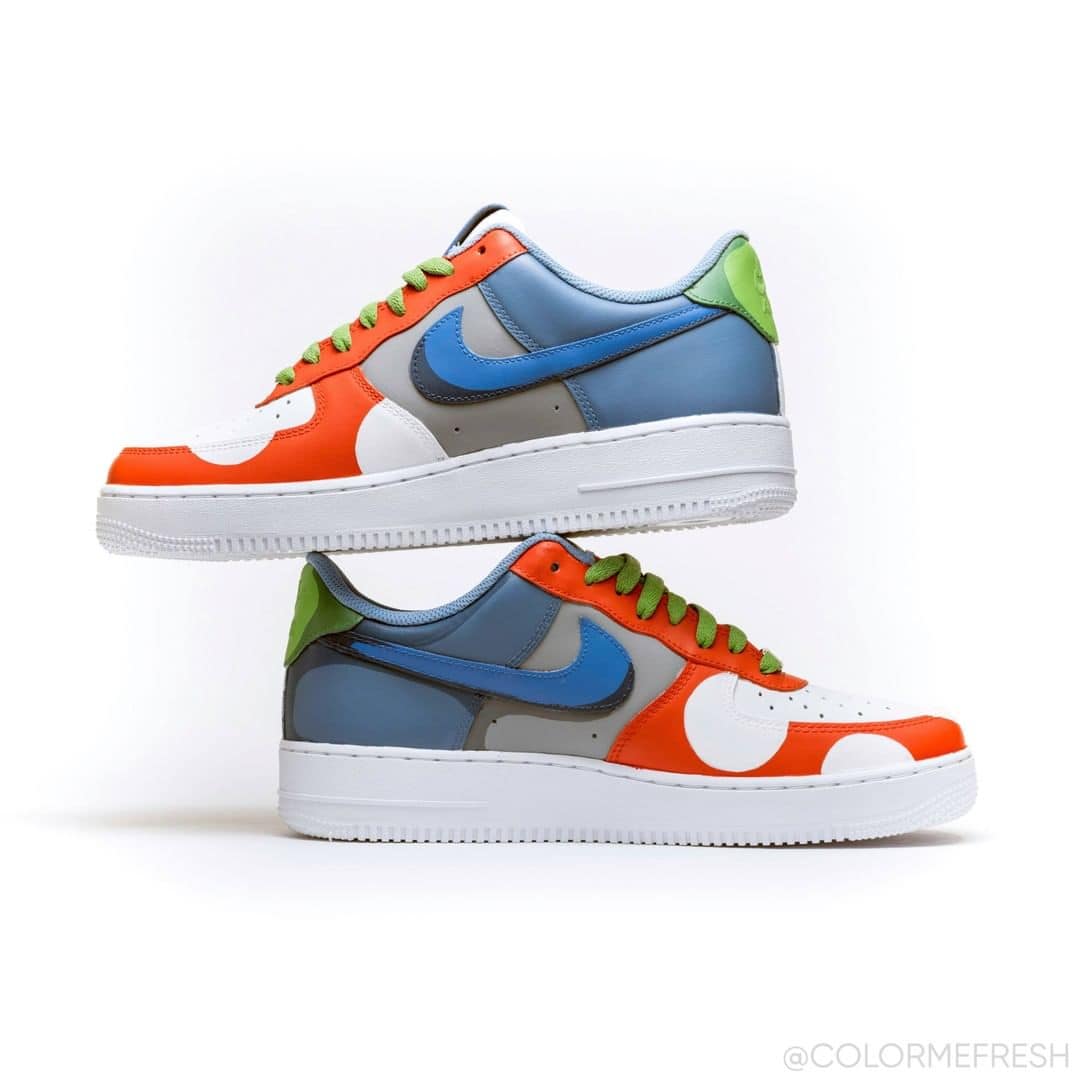 While these pairs may not be currently available, they are the perfect inspiration for your own set of custom Mario and Peach sneakers, don't you think?
RELATED: Are You Sweet On These Pink Air Jordan 1 Off-White Sneakers?
If you have not yet started following these exceptional custom artists, I recommend doing so. Their design portfolio is an absolute spectacle, and who knows, maybe their next collaboration is around the corner. But first things first, I need to get a pair of these Mario and Peach sneakers, too.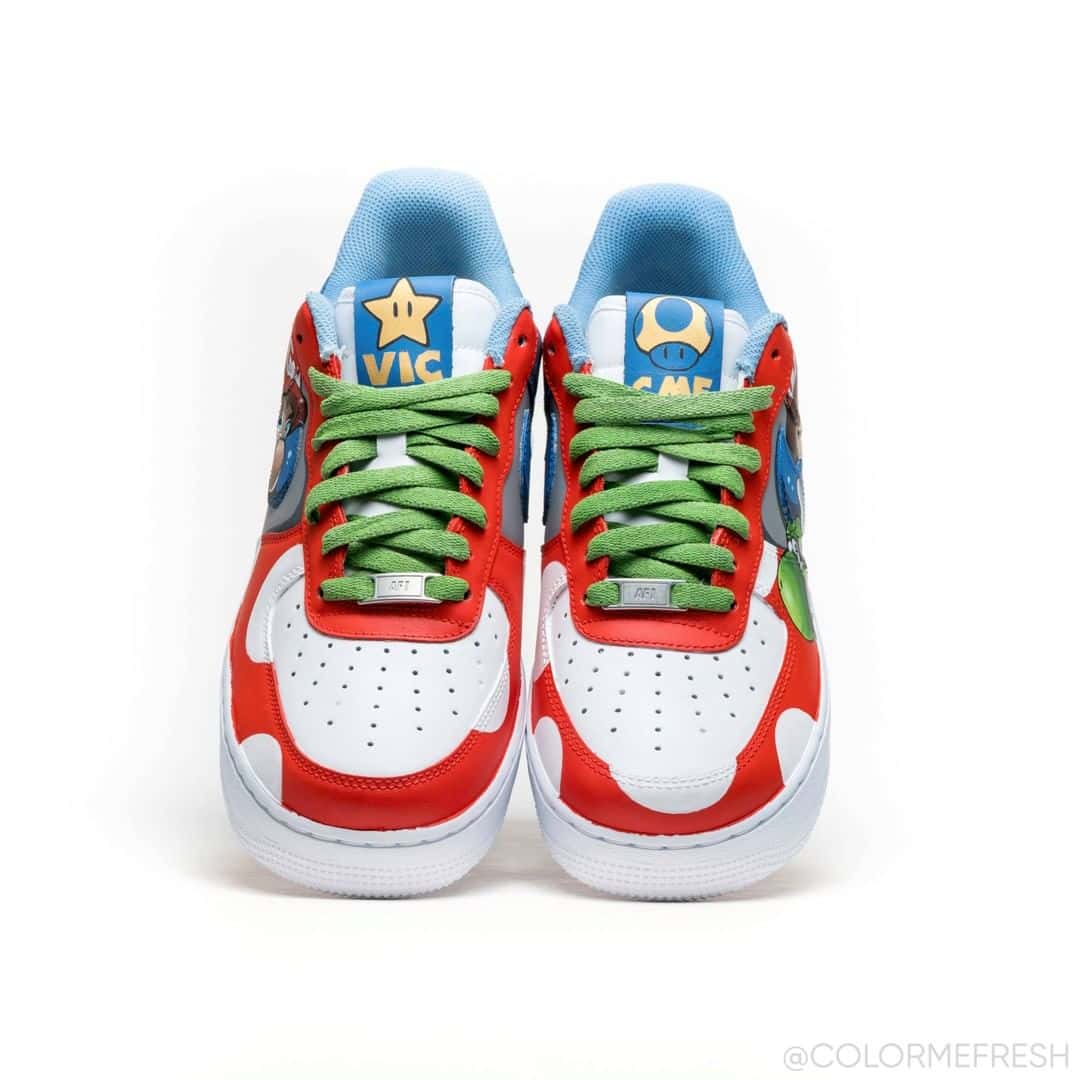 What do you think? Should Vuong and Fontenot bring back their Mario and Peach sneakers?