At Sneaker Fortress, we never shy away from expressing our love for custom sneakers that pay homage to memorable pop culture fixtures from the 80s and 90s. From the much-loved Teenage Mutant Ninja Turtles to the timeless classic Back to the Future, these sneaker designs often strike a chord with us. This time, we've found a treasure in the form of a pair of Knight Rider sneakers inspired by none other than the timeless TV series. This exceptional sneaker creation hails from the masters at Mache Customs (@mache275), courtesy of Dan Gamache and the team at Evolved Footwear (@evolvedfootwear).
RELATED: Nike Air Force 1 "Art History" Sneakers Are Museum Worthy

These wizards of custom sneaker design have waved their craft over a pair of Nike LeBron 7 sneakers, transforming them into a fantastic embodiment of the iconic Knight Rider vehicle, more familiarly known as KITT. The sleek design and well-thought-out details reflect an intrinsic translation of KITT's futuristic appeal.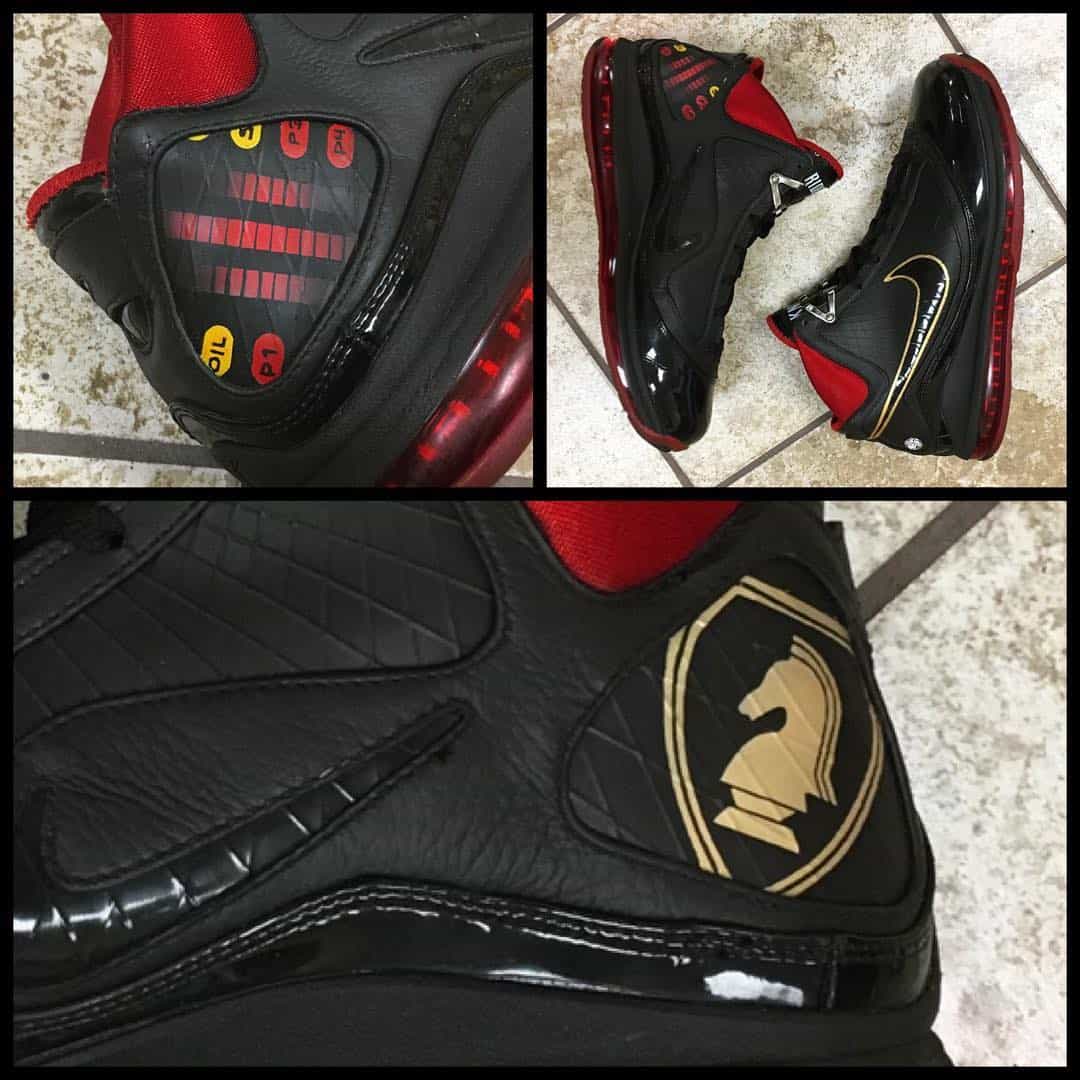 Diving straight into the design, the sneaker sports a black tumbled leather base. A darker patent leather then envelops the bottom of the upper, beginning at the toe and extending to the heel. Complementing this design is the deep black shiny leather Nike Swoosh, outlined in stunning gold trim. These features reflect KITT's polished exterior, imbuing the sneaker with a futuristic sophistication.

Other exclusive additions include an illustration of KITT's control panel gracing the lateral heel of the right shoe and an ornate golden Knight chess piece on the left shoe, both adding their charm and symbolism.
RELATED: The Air Jordan 11 "Gentleman's Game" Is Nothing Short Of Perfect

The absolute standout feature, however, is the custom LED lights integrated into the transparent red midsole. These illuminate to resemble KITT's signature red scanner light, rendering an eye-catching dynamic aspect to the sneaker. Suppose you're ever considering having a pair of custom Knight Rider sneakers made. In that case, this LED addition should be a non-negotiable component – just make sure it's an element you can switch on and off as per your preference.
Our favourites. Available now at Nike.com

The design finishes with a red rubber outsole that harmonises with the colour of the midsole. This meticulous detailing is undoubtedly a fitting tribute to the revered TV series and its iconic vehicle, making these sneakers a must-have for any fans of the beloved 80s series.

Though this particular design hails from 2016, it's never too late to get your own pair of custom Knight Rider sneakers inspired by this LeBron 7 design. You're always welcome to order your unique Knight Rider custom sneakers from the creative minds at Mache Customs and Evolved Footwear. Continual creators of beautifully hand-crafted custom sneakers, they've earned their reputation among dedicated sneakerheads. Placing an order is as simple as visiting their website, and they have worldwide shipping, too. While you contemplate having your own custom pair of kicks crafted by these master sneaker artists, be sure to follow us for more custom sneakers and innovative concepts.
RELATED: The Nike Air Jordan 1 "Black Toe" Is The Sneaker Everybody Wants
What are your thoughts on these Knight Rider sneakers by Dan Gamache and Evolved Footwear?