We have seen the Super Mario Bros-inspired custom Nike Dunk Lows, with their magnificent colours, patterns, and textures inspired by various elements from the movie and the games. However, everyone always forgets about Bowser! He only had a tiny portion of representation on the sneakers. He is technically the villain behind most Super Mario games and the movie. Still, if you think about it, he is also crucial. Without Bowser constantly kidnapping Princess Peach, we wouldn't have any epic Super Mario games to play, so the king should get some representation with some Nike Dunk Lows. Luckily for us, AI has us covered.
RELATED: Super Mario Bros Inspires Design for Custom Nike Dunk Lows
Bowser-Inspired Nike Dunk Lows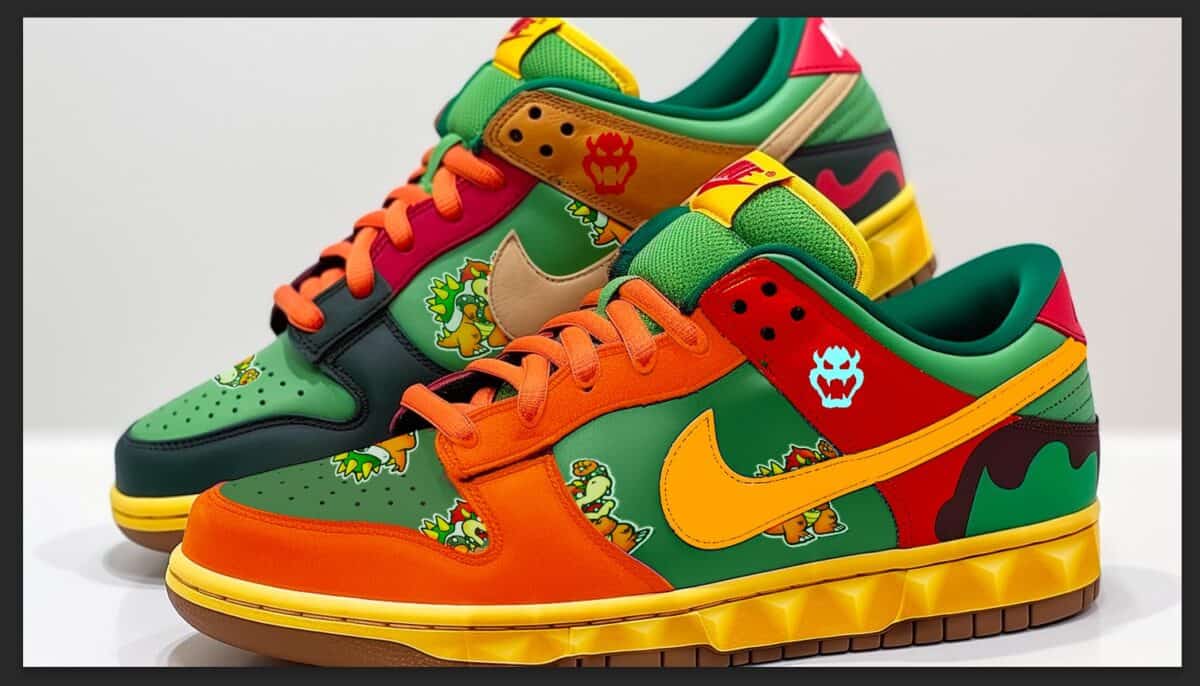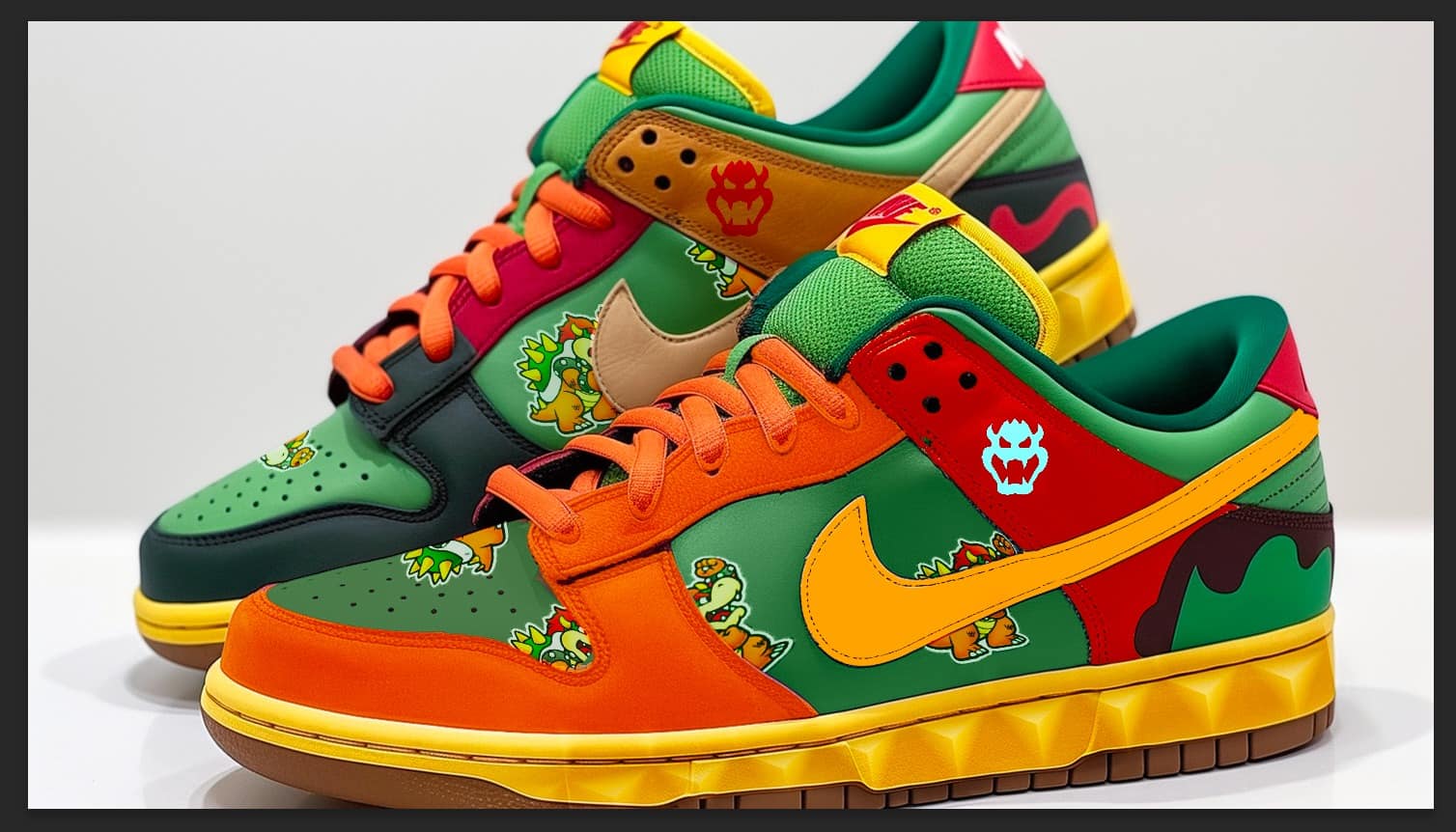 Unlike the custom sneakers by Andrew Chiou, these Bowser-inspired sneakers are, sadly, entirely fictional, as we created the design for them using AI. That being said, AI did a fantastic job designing them, and they have many of the aspects of a custom pair of Nike Dunk Low sneakers.
First of all, the sneakers have all of Bowser's signature colours, including the yellow of his body on the outsole of both sneakers and the Nike Swoosh of the left sneaker, the green of his head and shell for the majority of the upper, which features a ton of Bowser motifs. The orangey-red of his hair and eyebrows is represented by orange and red, orange for the laces of both sneakers, the lace stays and toe cap of the left sneaker, and red for the heel tabs, the lace stays of the right sneaker. The right sneaker's Nike Swoosh is a nod towards the colour of Bowser's face and horns, and a decal of the king's face can be seen near the collar above the Swoosh. No detail goes missed, as even Bowser's leather adornments are represented by the toe cap of the right sneaker with an appropriate black leather.
The amount of detail in the design of these sneakers would make sneakerheads and Super Mario fans wish that they were real, and who knows? If we get to work with Nike one day, perhaps we can make these epic sneakers a reality.
AI-Generated Sneaker Designs
Sometimes you just don't feel like waiting to see the concept you dream of made into reality by sneaker companies, and you want to see what it would look like sooner rather than later. AI has become a magnificent and sophisticated tool for making this happen. Although it doesn't produce a physical pair of sneakers for you, it does bring your ideas to life.
We have used AI to bring more epic sneakers ideas to life, like these mystical Game of Thrones sneakers that you could use to represent your loyalties in the realm of Westeros. Want to see more inspiring sneaker designs? Check back with us regularly to see what our team and the AI come up with!
Our favourites. Available now at Nike.com
RELATED: The Game of Thrones Sneakers Fans Dream Of
We thought that Bowser deserved a bit more representation, so we decided to see what an AI could come up with for a Bowser-inspired Nike Dunk Low, and it didn't disappoint.
We love using AI to see what some epic ideas would look like represented as sneakers.
The only downside to this design is that they aren't physical sneakers. Wouldn't it be amazing if they were?
What do you think of these Bowser-inspired Nike Dunk Lows?