It's almost time for the fall décor to return to hiding and for the Halloween décor to come out. Once we pass that point, then it is time for Christmas and the cold holidays. There's nothing better than The Nightmare Before Christmas, which rolls all of that into one. If you are looking for the perfect sneakers to add to your outfit, celebrating Halloween this year, or just loving the film, these The Nightmare Before Christmas Jack & Sally x Nike SB Dunk Low sneakers are perfect for you.
RELATED: These Coraline x Nike Dunk Low Sneakers Are From The Other World
The Nightmare Before Christmas is a classic Tim Burton-written and Henry Selick-directed movie that has inspired generations since 1993. Jack Skellington and Sally have since been an essential part of both Halloween and Christmas celebrations thanks to the mix of themes in the film. So whether you are a movie fan or just want a fabulous pair of sneakers to complete your Halloween costume this year, check out this epic pair.
Can't choose who you want to represent between the iconic pair? Have no fear. Dariyn Enriquez from @dope_don_designs has us covered with the right shoe representing Jack Skellington and the left sneaker representing Sally. As the name starts with Jack, let's also start with him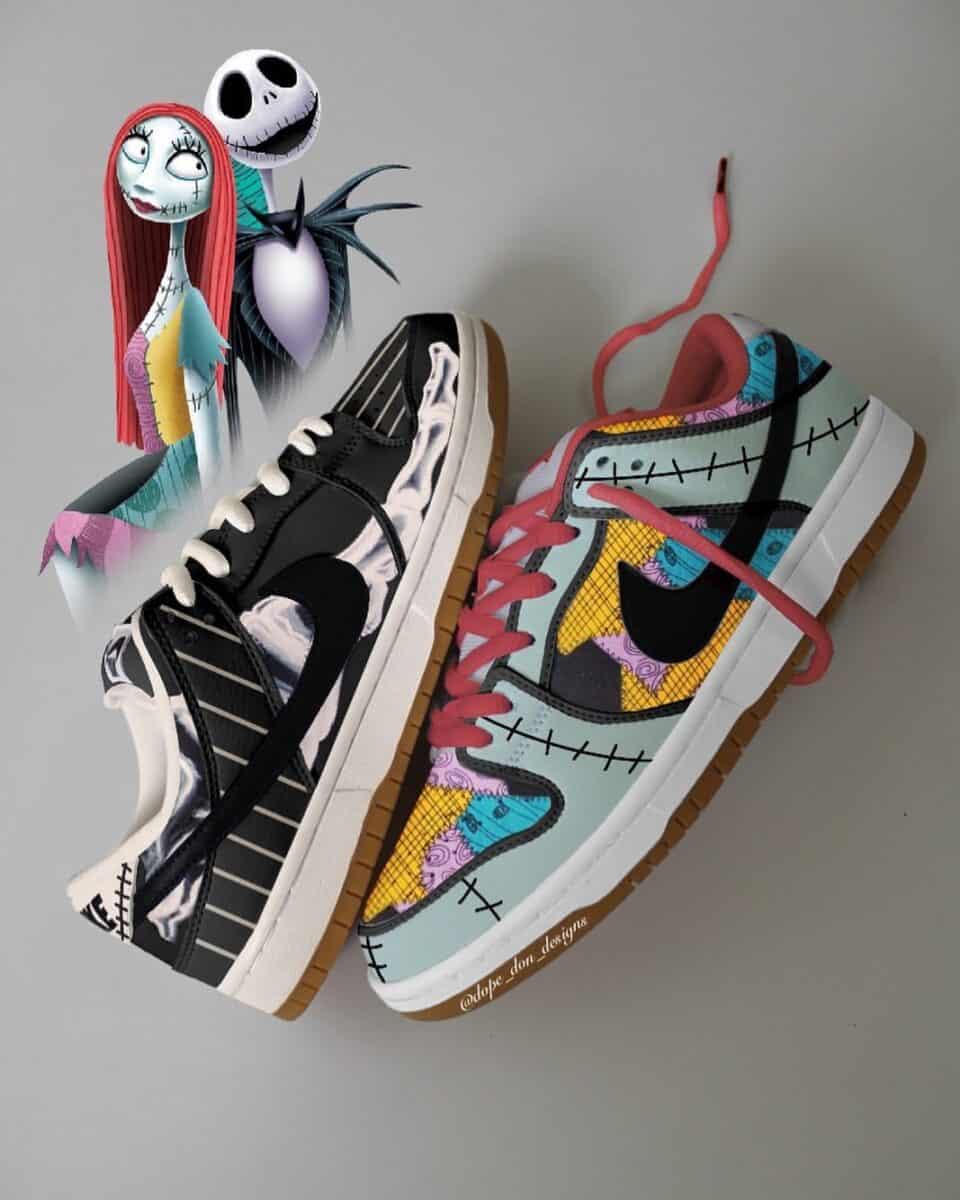 . Both sneakers have a brown outsole and a white midsole that makes a person think of frosted gingerbread and a pitch-black suede-looking Nike Swoosh logo before the sneakers diverge entirely in design.
RELATED: What The Halloween Nike Dunk SB Sneakers
Of course, it wouldn't be Jack Skellington without representing his iconic pinstripe suit, seen on sections like the perforated toe box and the panelling around the heel. The mudguard and the mid-foot panelling are plain black so they can display the white design of Jack's bony foot within the sneaker, contrasted by the dark Swoosh logo.
Our favourites. Available now at Nike.com
Sally's side is filled with a ton more colour, as her actual design is, including yellows, purples, blues, reds and a touch of greyish green. The mudguard, lace unit and the panel that wraps around the heel are all that greyish green that matches her skin and even includes all the visible stitching over her body. The toe box and the base of the upper panelling are the patchwork goodness of her dress, including yellows, blacks, purples with designs, and blue, the same way that her dress does. The laces and inner lining are red, like her lips and hair, with her hair remarkably resembling the laces.
Luckily for you, these stunning sneakers are actually still available for pre-order on @dope_don_designs' website for the shockingly affordable price of $250, which is an absolute steal for custom sneakers, considering you can find some out there for up to $1000, so if you love this pair, grab them for that affordable price while you can.
RELATED: "The Mystery Machine" Nike Dunk Low Sneakers Are Perfect For Halloween
Would you wear these The Nightmare Before Christmas Jack & Sally x Nike SB Dunk Low custom sneakers?