For those nestled comfortably at the intersection of Dragon Ball fandom and sneaker obsession, this Nike Dunk Low concept by DJ Enriquez of @dopev_don_designs will surely be a dream come true. Enriquez has ingeniously blended two distinct worlds, infusing the Nike Dunk Low silhouette with a touch of Dragon Ball magic. The creative inspiration? One of the most popular and beloved characters from the famed anime series, Vegeta. However, this concept goes beyond just any ordinary representation of the Prince of Saiyans. Instead, this stunning sneaker design visually narrates Vegeta's evolution into his most formidable form yet: Ultra Ego.  
RELATED: Wear These Green Lantern x Nike Dunk Sneakers On The Brightest Day & Blackest Night
Fans first got a glimpse of Vegeta going Ultra Ego in Dragon Ball Super when the anti-hero unleashed his immense power during a climactic battle against the Cerealian warrior Granolah. This intriguing state enables the beloved anime character to draw upon an astounding level of power, an ability enhanced every time he suffers damage or indulges his fierce lust for battle. But most noteworthy for this sneaker design is Vegeta's physical transformation when he achieves Ultra Ego. His hair takes on a striking shade of tyrian purple, and his aura pulsates with an intensely energised radiance. This awe-inspiring essence of transformation has been captured through the sneakers' colour scheme and sleek aesthetic.
The Vegeta Ultra Ego x Nike Dunk sneaker concept draws inspiration directly from Vegeta's Ultra Ego form, represented in a colour palette of royal blues, crisp whites, golden hues, and a vibrant burst of tyrian purple.
The combination of three unique shades of blue (visible on the toe box, mid-panel, and collar) encapsulates the variation and depth of colour observed on this enigmatic anti-hero's suit.
RELATED: Everybody Wants These Nike SB Dunk Low "Lion-O" Sneakers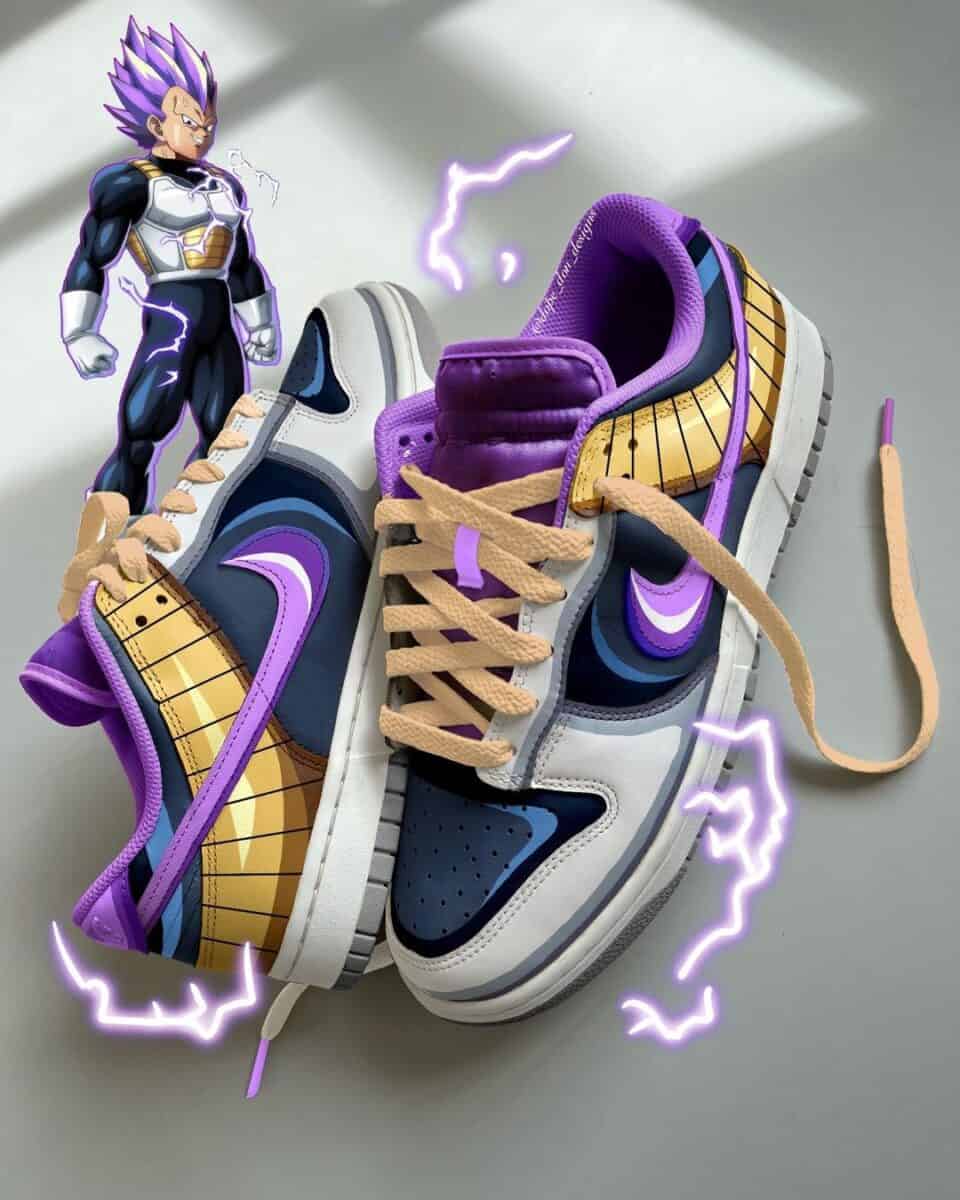 Interspersed in this sea of blue are pops of white and grey, which can be seen on the mudguard, eyestay, and sole. These lighter shades serve the dual purpose of contrast and depth enhancement while subsequently making the sneaker's overall design more compelling by echoing Vegeta's polished armour.
Our favourites. Available now at Nike.com
Reflecting on Vegeta's distinctive armour, a golden hue finds its home on the ankle flap and laces. However, it's the resplendent tyrian purple that immediately hooks one's attention. This striking hue is the mainstay for the Nike Swoosh, tongue, and lining, alluding to Vegeta's striking hair colour and the enthralling purple aura he emanates during his Ultra Ego transformation. This colour is definitely the highlight of the design, making the sneaker instantly recognisable as a tribute to Vegeta's Ultra Ego form.
It would have been nice to see a dash of magenta incorporated into the shoe design, echoing the intense hue Vegeta's eyes dazzle with when he slips into his God of Destruction form. However, though this detail may be missing, its absence does not take away from the overall impact of the design. It's still a fantastic Vegeta Ultra Ego concept sneaker.
RELATED: Airwolf Comes Alive In These Nike Air Jordan 11 Sneakers
Though Enriquez's sneakers are still budding concepts, he's been tirelessly channelling his creativity into turning them into bespoke sneaker designs. With fingers crossed, we're looking forward to seeing this particular idea come to life. The combination of Vegeta's powerful Ultra Ego aesthetic with the modish frame of the Nike Dunk Low is undoubtedly a standout in his ever-growing portfolio.
What do you think of the Vegeta Ultra Ego x Nike Dunk Low concept? Would you like to see more collaborations between sneaker brands and popular anime franchises like Dragon Ball Z?