July 20th marked 50 years since the untimely death of Bruce Lee, the world's most iconic and influential martial artist. Despite only gracing the world with his presence for a short period of time, Lee's impact on the martial arts community and popular culture is immeasurable. His life and philosophy continue to inspire and resonate with people from all professions and walks of life, including legends of the game of basketball like Kyrie Irving and the late Kobe Bryant, leading to amazing sneaker creations like the Kyrie 3 "Mamba Mentality".
RELATED: Bruce Lee's Off White Satin Air Jordan 1 Lux Sneaker is Here
Bruce Lee's famous quote, "Always be yourself, express yourself, have faith in yourself", strongly impacted both Irving and Bryant. Both players have drawn inspiration from Lee's philosophy of self-expression and confidence, incorporating it into their own playing styles and personal lives.
Irving, known for his flashy style of play and unique ball-handling skills, exudes a sense of individuality and fearlessness on the court, much like Bruce Lee did in his martial arts performances. Similarly, Bryant's relentless work ethic and determination to be the best mirrored Lee's philosophy of always striving for greatness. Both players have become iconic figures in the basketball world, not only for their exceptional skills but also for their ability to stay true to themselves and inspire others to do the same.
Back in 2017, Irving paid homage to both Bryant and Lee with the release of a special edition Nike basketball shoe called the Kyrie 3 "Mamba Mentality. The sneaker referenced when Kyrie laced up a pair of Kobe's signature Bruce Lee sneakers during a Nike Extravaganza tournament in high school. Of course, his team won the event solidifying the sneaker as one of his favourite pairs of all time and later inspiring him to create his own version.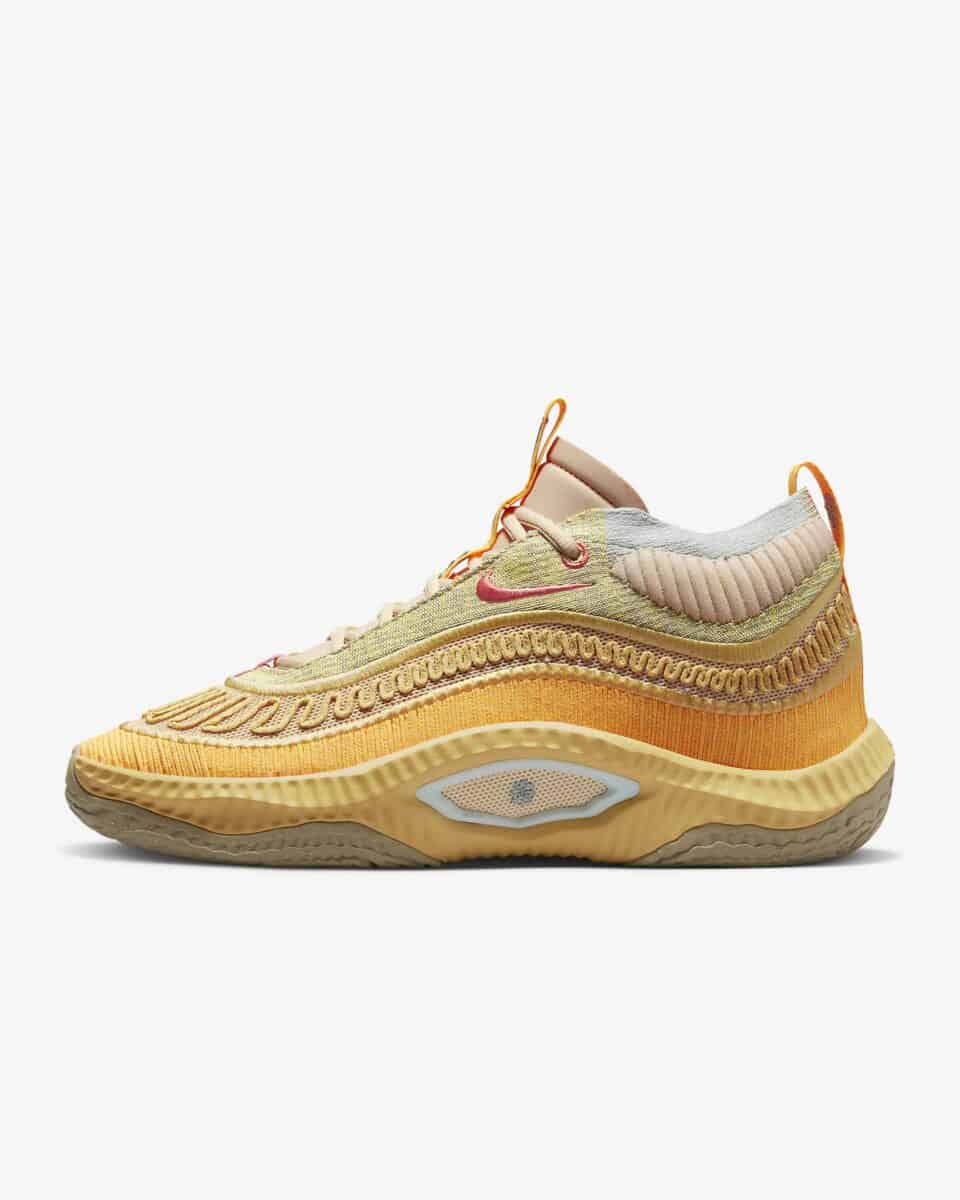 #Nike_DV2757-200
RELATED: These Bruce Lee-inspired Air Jordan 35 "Dynasties" Sneakers Are A Beautiful Homage
Our favourites. Available now at Nike.com
Irving's take on the Bruce Lee sneakers, which would come to be known as the "Mamba Mentality", featured a vibrant yellow and black colourway. This colour scheme paid tribute to Bruce Lee's iconic yellow and black jumpsuit from his movie "Game of Death". The shoe also incorporated four red slash marks, reminiscent of the scratches on Bruce Lee's chest in the movie "Enter the Dragon". These design elements not only captured the essence of Bruce Lee's iconic style but also added a dynamic flair to the sneaker's overall look.
A snakeskin-inspired medial panel represented the black mamba (Kobe's nickname), while the Samurai textile print on the lateral side represented Kyrie.
The sneaker also showcased a special "Kyrobe" logo (a combination of Kyrie and Kobe's signature Nike logos) on the tongue, further emphasizing the collaboration between the two basketball legends.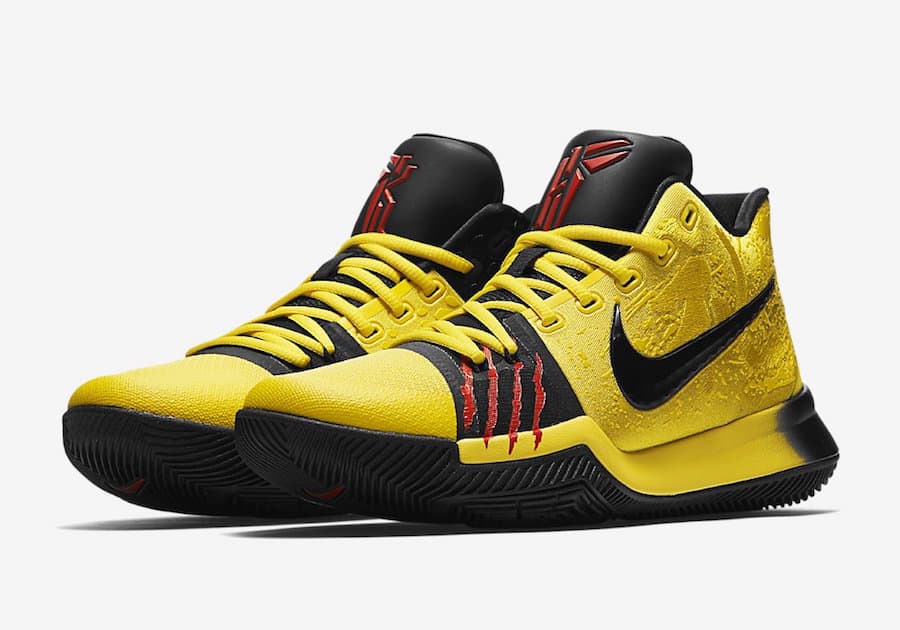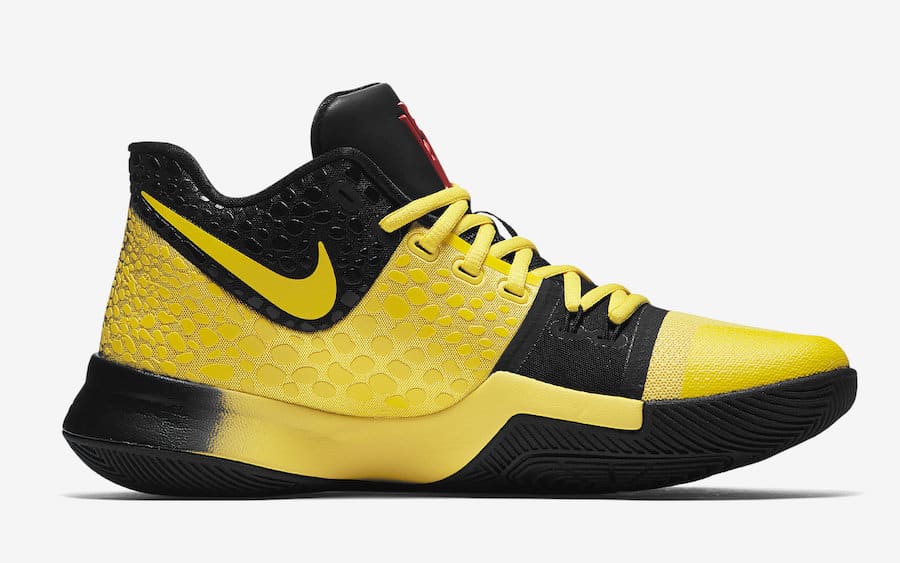 RELATED: Nike Cortez Channels A Bruce Lee Yellow & Black Aesthetic
The demand for the Kyrie 3 "Mamba Mentality" was incredibly high, leading to limited availability and frustration for many fans. Despite the difficulty in obtaining a pair, those lucky enough to secure one were treated to a unique and highly sought-after sneaker that paid tribute to three iconic figures: Kyrie Irving, Kobe Bryant, and Bruce Lee.
Kyrie 3 "Mamba Mentality" showcased the influence of Kobe Bryant and Bruce Lee on Kyrie Irving's game and highlighted the interconnectedness of basketball, martial arts, and mental toughness. Here's hoping that Nike will bring back this collaboration in the future, allowing more fans to experience the fusion of these legendary figures as a tribute to the two late legends.
Would you buy the Kyrie 3 "Mamba Mentality" if it were re-released?