As the globe progresses, fashion does too; however, some classic designs never go out of style, like the iconic Vans brand. With over a half-century of experience, Vans have kept its signature style intact. In this article, we'll focus on the top Vans sneakers for 2023, featuring the classics, the new, and some personal favourites.
RELATED: We Attended House Of Vans Johannesburg 2019
History
Since The Van Doren Rubber Company opened for the first time in Anaheim, California, it has been one of the most popular brands of skate shoes out there. The store was founded by Paul Van Doren, his brother James Van Doren (also known as Jim Van Doren), and their partners Gordon Lee and Serge Delia on the 16th of March, 1966.
Their first pairs of shoes were created with skateboarders in mind. They manufactured these skate shoes and sold them directly to the public. Thanks to their thin soles and being designed specifically for skaters, the classic vans became an instant hit and were considered the best shoes for skateboarding.
"Vans are not just shoes. They represent a culture and a way of life." – Steve Van Doren, Vans Vice President
In recent years, Vans has moved away from just making their classic shoes to include other silhouettes like trainers and high and low tops. Still, they always have that classic look.
They have historically had many different models and colourways. Still, their white colourways have always been a favourite of the brand for many skaters like Stacy Peralta and the Z-Boys. Their sneakers also used to be made of canvas, such as their famous white Vans. Still, they have recently moved on to include other materials like synthetic material like rubber and leather, to give their customers many more options for these timeless shoes.
Our favourites. Available now at Nike.com
"Vans aren't just shoes, they're a piece of history." – Tony Alva, Professional Skateboarder
While the classic models like their half cabs and slip-on shoes remain popular thanks to their iconic silhouette, they have a ton of signature colourways and casual styles for customers to choose from, all of which are the perfect fit for them. They still make the best skate shoes out there. While they might still make the best white sneakers, many new pairs have come out since the first day the brand hit the streets. If you love timeless classics but want something new, here is a list of the best Vans sneakers and Vans shoes in 2023.
"Vans are the perfect canvas for self-expression." – Kristy Van Doren, Vans Director of Lifestyle Footwear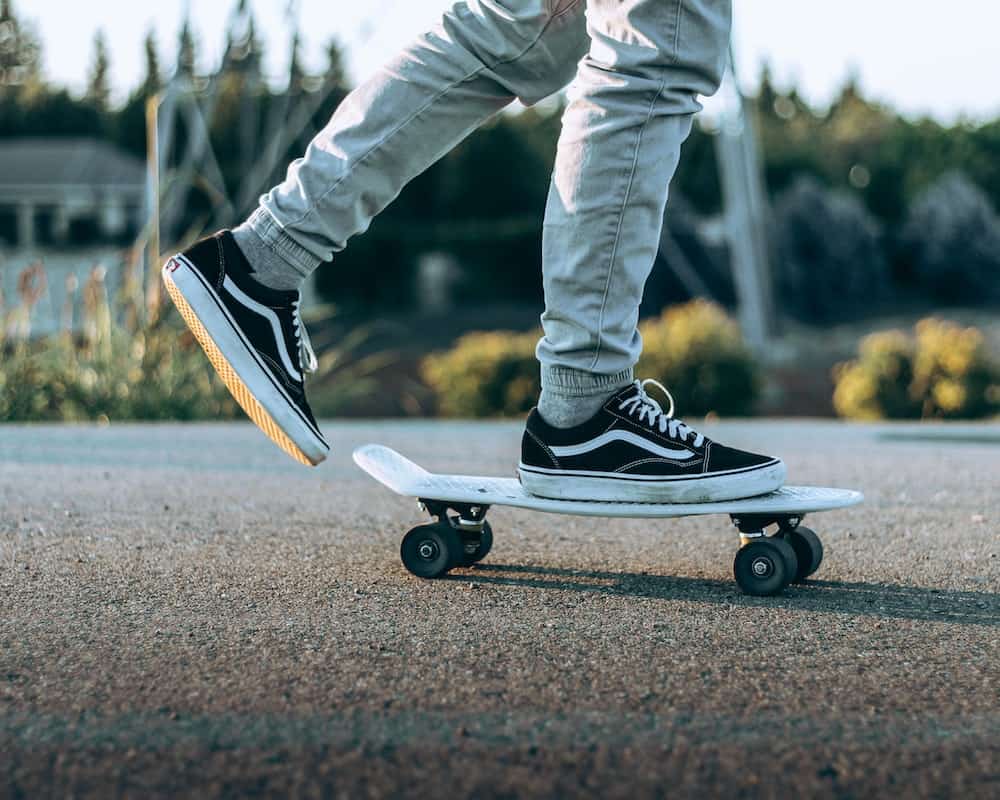 Quality: Vans sneakers are made from top-notch materials like canvas, leather, and suede, chosen for their breathability, comfort, and strength. Plus, the construction and stitching of the shoes are also of excellent quality, meaning they can handle regular use.
Durability: Vans sneakers are renowned for their durability, thanks to their tough rubber soles and resilient canvas and leather uppers. Designed to handle frequent use, they can last several years with proper care.
Safety: Vans sneakers are a great choice for safe footwear; they boast features like slip-resistant soles, padded collars and tongues, which not only provide support and protection for the feet, but also reduce the risk of slipping and falling.
Price
Some people may assume that Vans are expensive due to their popularity and trendy appeal, but in reality, Vans aren't pricey at all.
Compared to other popular footwear brands like Nike or Adidas, Vans are often more affordable. The classic Vans Old Skool sneaker, for example, typically ranges from $50 to $65 USD depending on the colour and style. This price point is comparable to other popular casual shoe brands like Converse and Keds.
In addition to their affordability, Vans are also known for their durability and quality. The shoes are made with sturdy canvas or leather materials and feature a vulcanized sole for added durability. This means that Vans are not only affordable but also long-lasting, making them a practical investment for any wardrobe.
Sizing and Care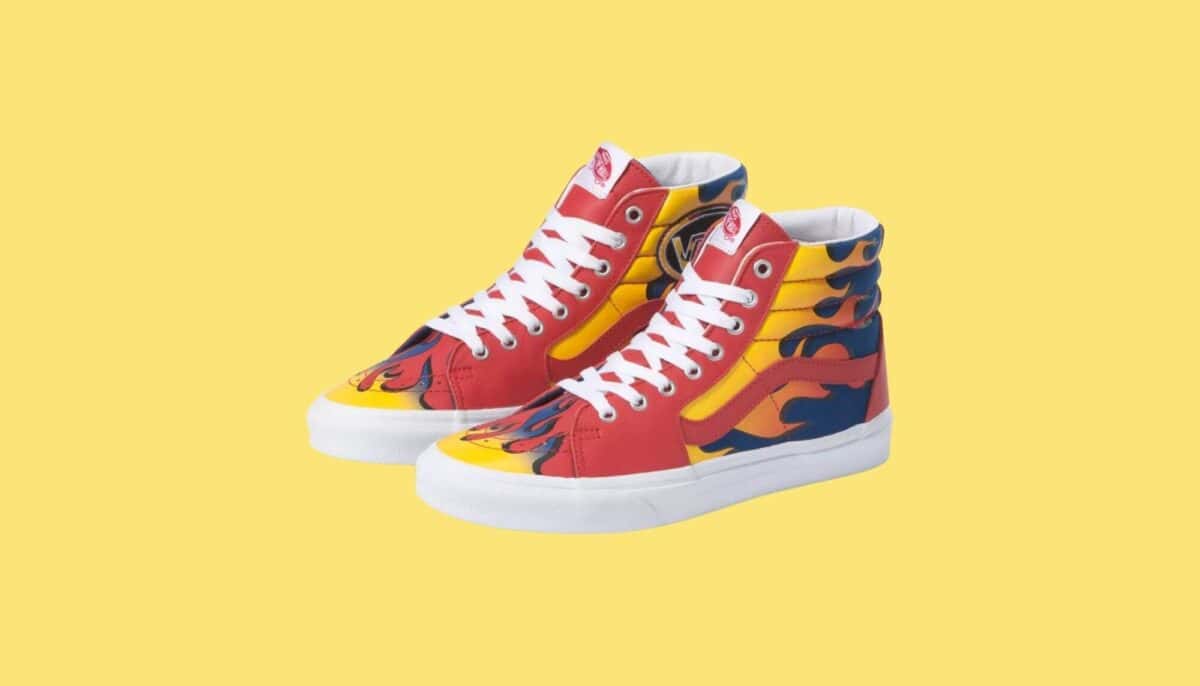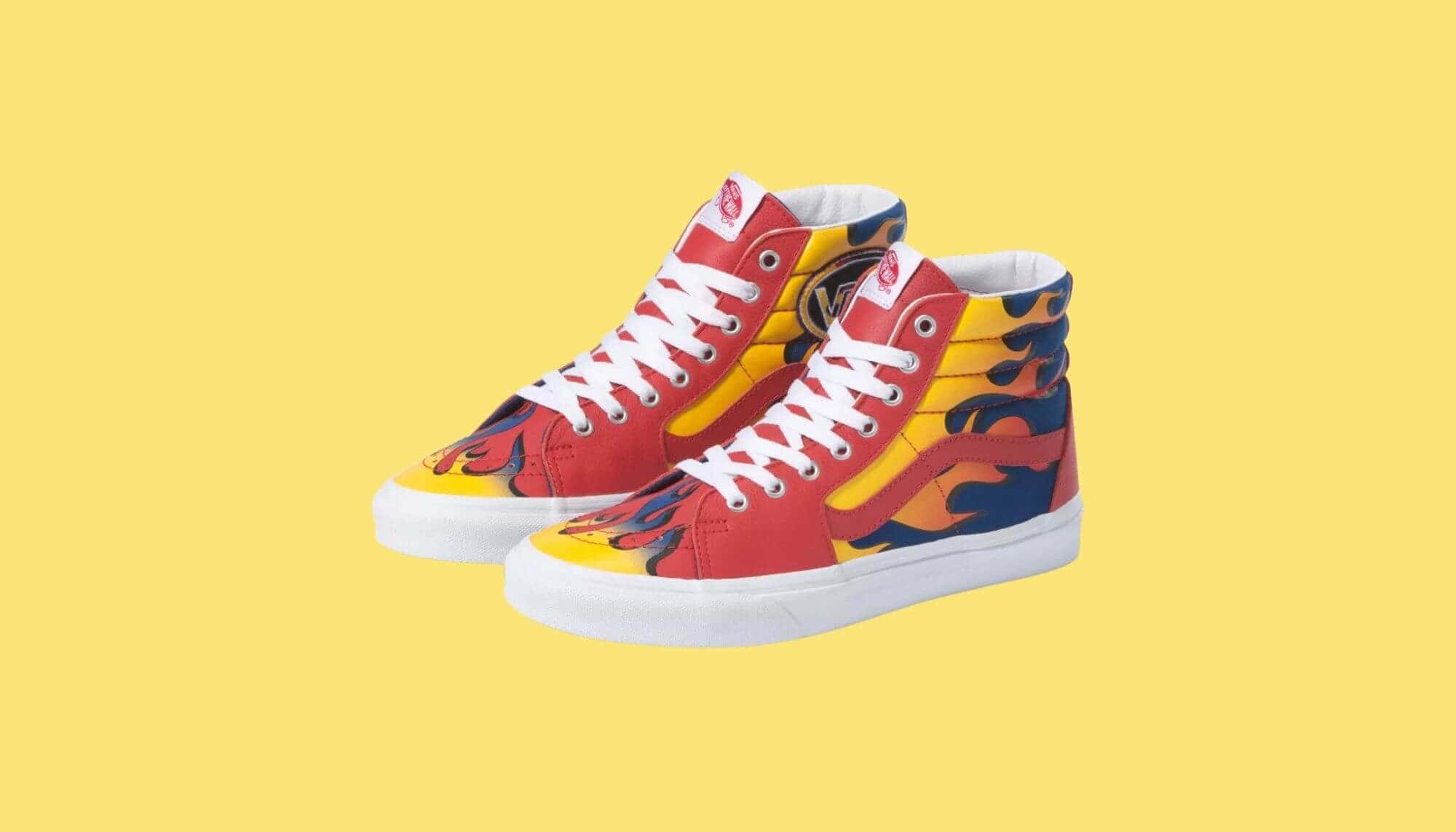 Sizing: Vans sneakers are available in both men's and women's sizes. The brand recommends that customers choose their regular shoe size when purchasing Vans sneakers. If you're unsure about your size, you can measure your foot and refer to the brand's sizing chart for guidance. Keep in mind that some Vans sneakers may fit differently than others due to differences in style and design.
Fit: Vans sneakers are known for their comfortable and casual style. They're designed to fit snugly around the foot without being too tight or too loose. When trying on Vans sneakers, make sure to walk around in them and check that there's no slipping or sliding of the foot. The heel should fit comfortably and securely, and there should be enough room in the toe box for your toes to move freely.
Care Instructions: To keep your Vans sneakers looking great, it's important to take care of them properly. Here are some care instructions to follow:
Clean your sneakers regularly with a soft brush or cloth and a mild soap solution.
Avoid getting your sneakers wet, and if they do get wet, let them air dry.
Do not put your sneakers in the washing machine or dryer, as this can damage the material.
Use a protective spray or conditioner to help prevent stains and keep the material looking fresh.
Store your sneakers in a cool, dry place when not in use.
By following these sizing, fit, and care instructions, you can ensure that your Vans sneakers look and feel great for years to come.
RELATED: Vans Tiger Patchwork Gets Patchy – But In a Good Way
12. Vans BMX Old Skool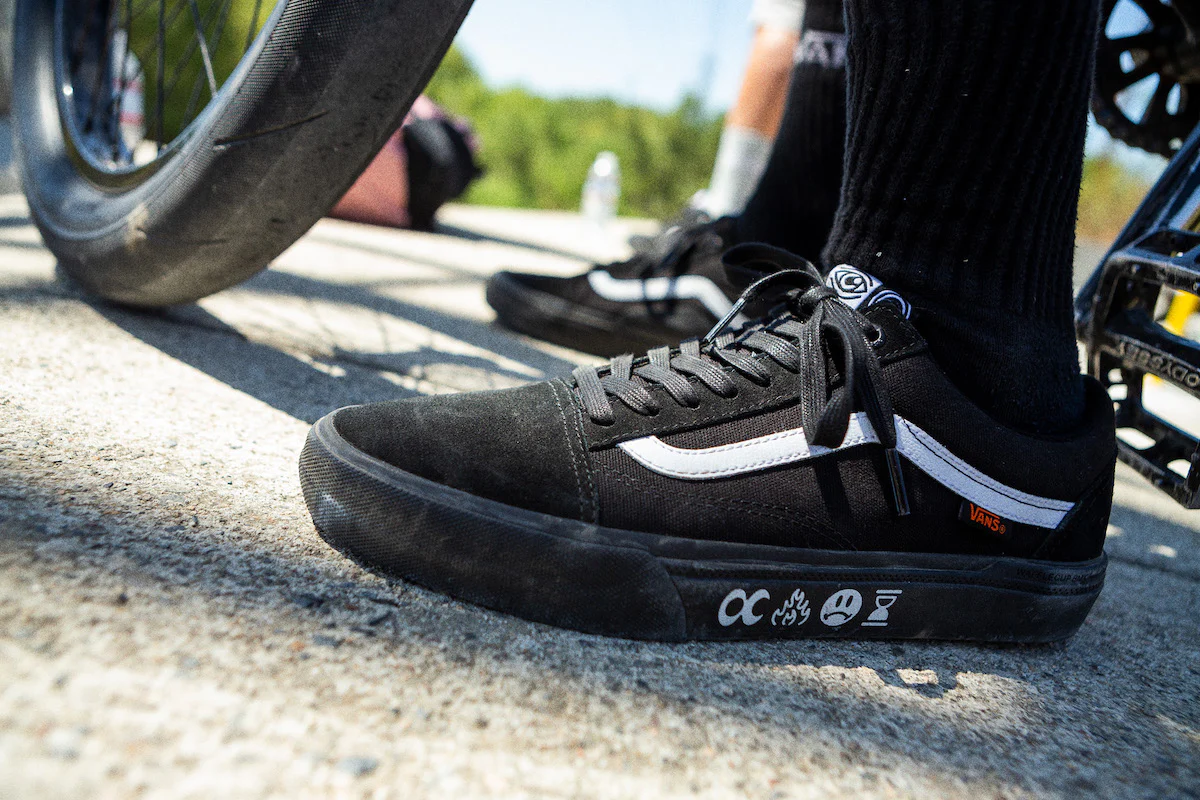 BMX Old Skool shoes became the rage with BMX riders in southern California in the late 90s, and it's easy to tell why. Most of the sneakers come in black with the classic white strip. Loved for their function and appearance, these sneakers became icons in the sneaker world for generations.
11. The Zahba shoes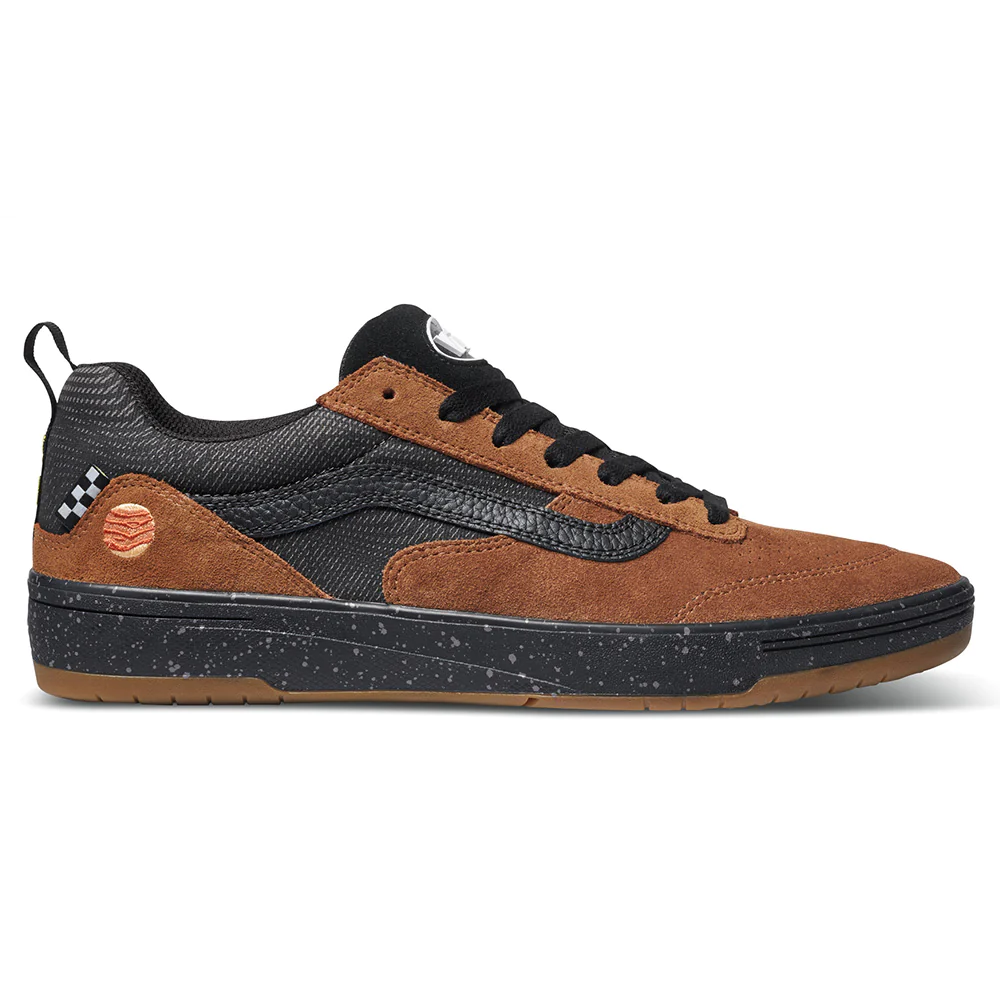 Before they brought out this one, Vans hadn't introduced an entirely new design in a long time. The Vans Zahba is the first brand new sho design since the 2022 drop of the Lizzie Pro sneakers. These sneakers are an unofficial pro-model shoe featuring their new 'Impact Waffle' sole, offering the heaviest duty impact support in a Vans style that has ever been made. This is a leap for Vans because it differs from anything they have made. Still, it has the potential to attract many new customers with these new vans.
"Vans are timeless, they never go out of style." – Jeff Spicoli, Fast Times at Ridgemont High
10. Skate Old Skool Black White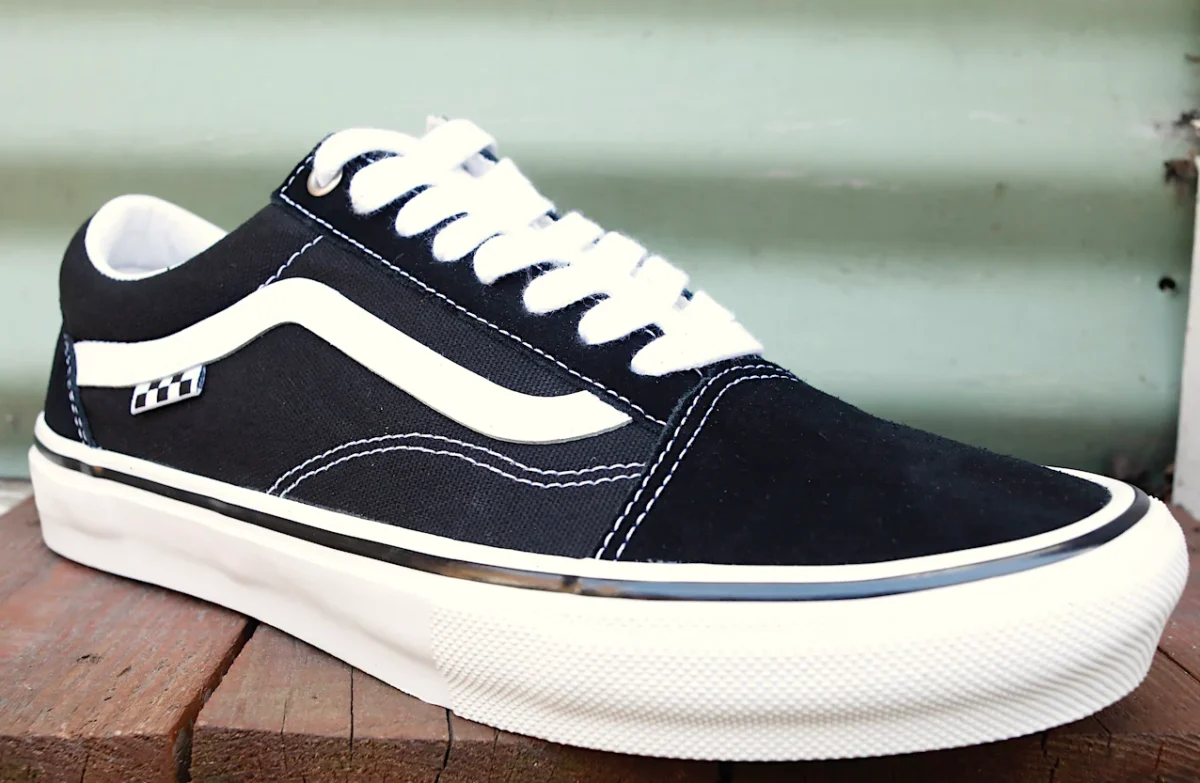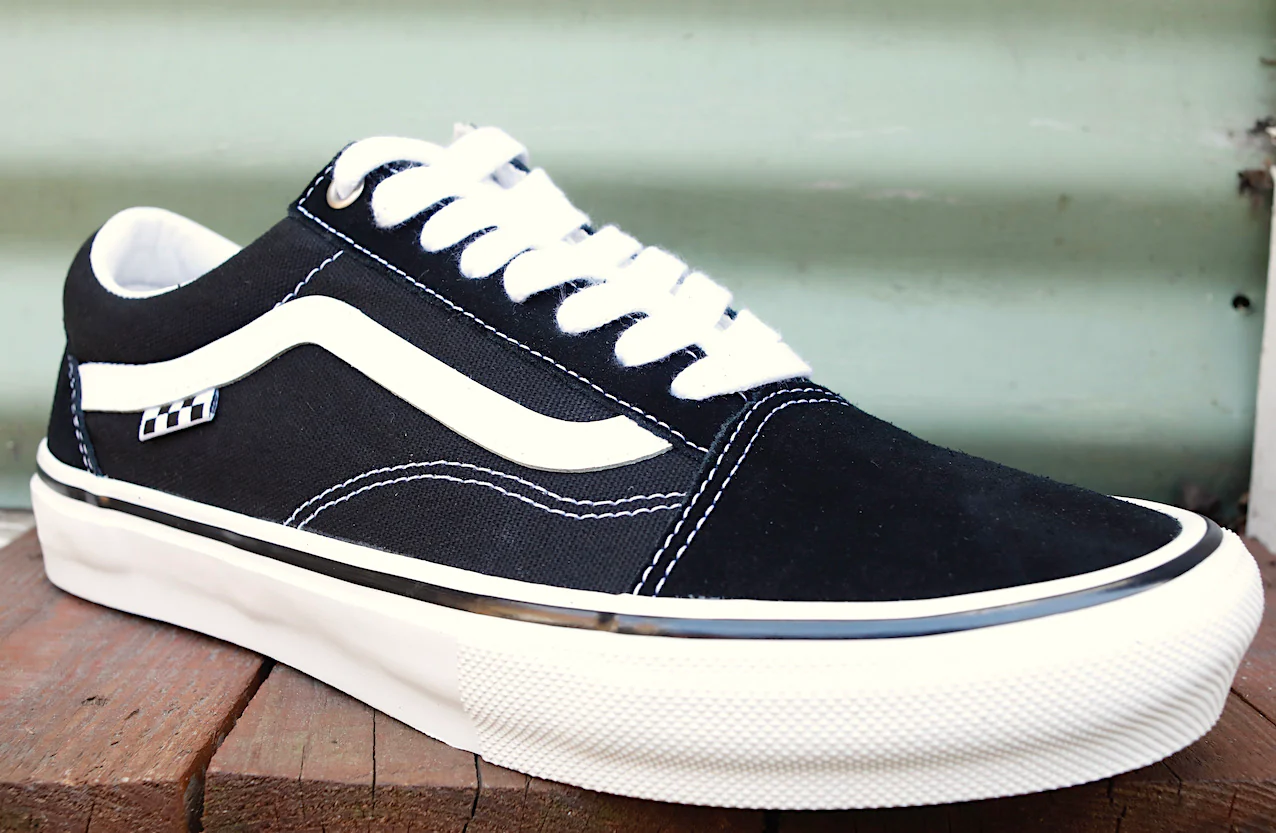 You can't go wrong with a pair of Old Skool Vans, especially not with a classic black-and-white aesthetic. This is one of Vans' more simple colourways from the sneaker brands' collection but still features the timeless design that makes the Old Skool pro sneakers an old-school favourite. This style of sneakers has been around for the last 40 years and has made it faithfully through the years with their durability, board feel, and ankle support found in most Vans sneakers, thanks to their padded collar.
9. Anderson .Paak x Vans Old Skool 36 "Capers"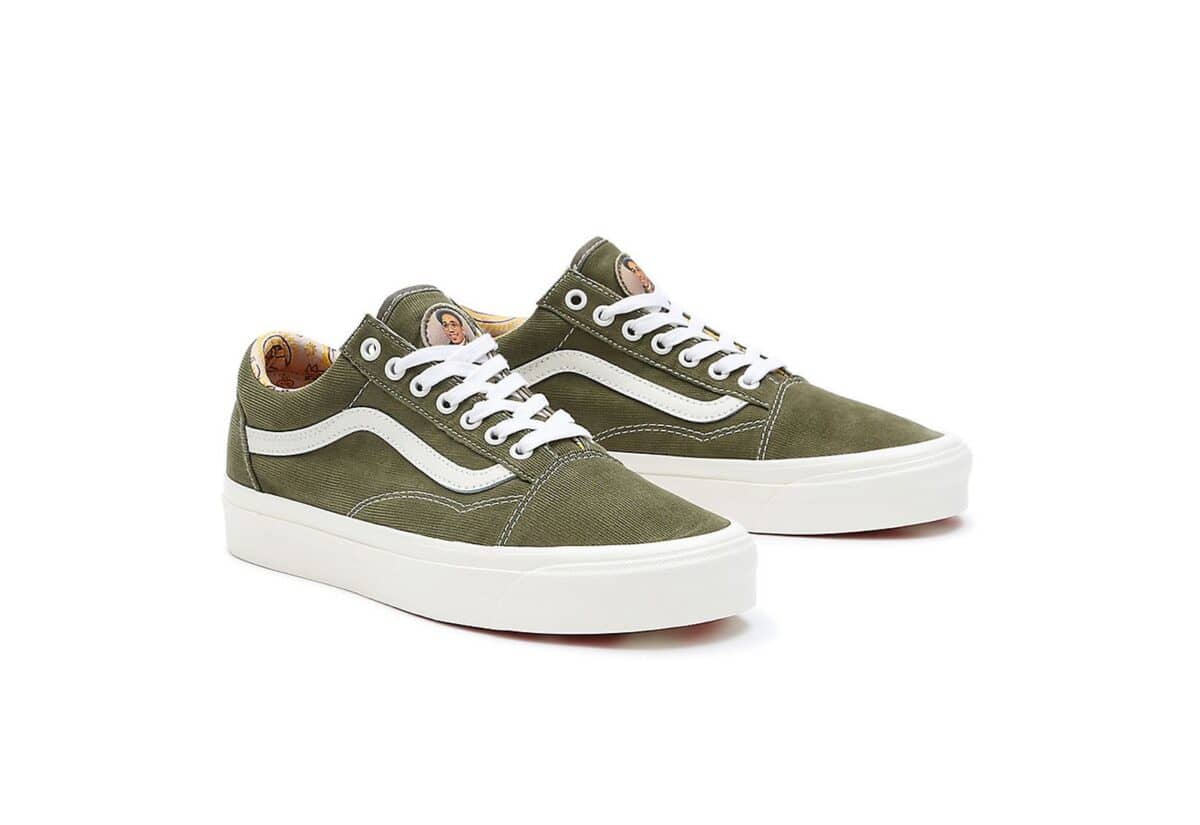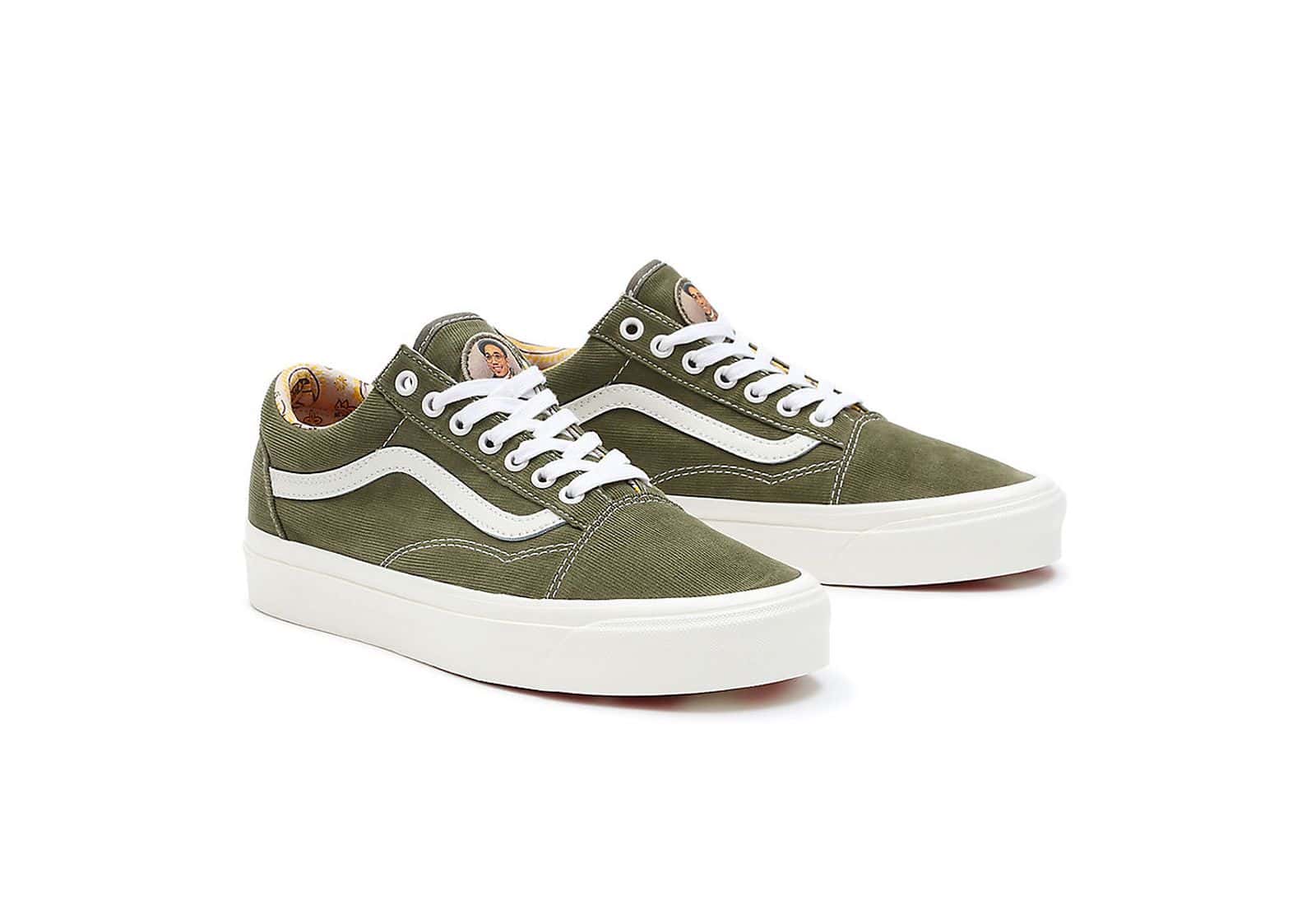 This is arguably one of the best sneaker collaborations with a music artist of all time. For these sneakers, Vans partnered with Anderson .Paak, one of the industry's favourite rappers. These sneakers stand out thanks to their dark green and white colourway that combines bright pops of orange and yellow across the custom insoles and the lining. These sneakers also have a detailed graphic of the artist himself on the tongues, making them super unique and the perfect sneakers for fans of the rapper.
"Vans are the embodiment of the creative spirit of youth culture." – Warped Tour Founder Kevin Lyman
RELATED: Vans Drops Four New Collections For The Upcoming Season
8. A$AP Worldwide x Vans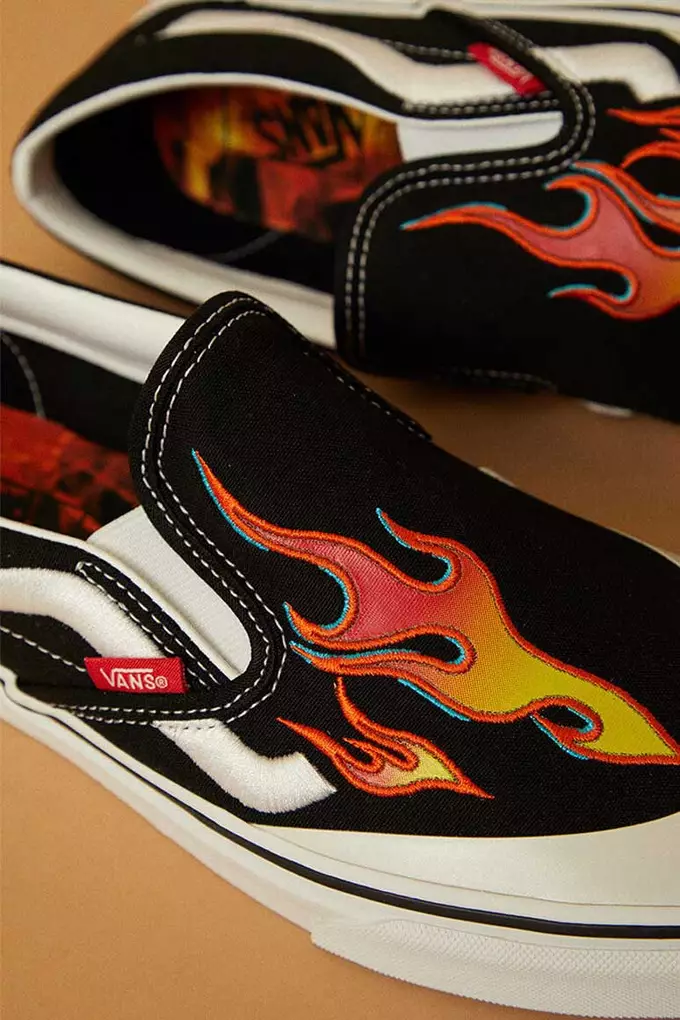 We can't leave A$AP Rocky and his flaming slip-on mules out of the equation now that we have mentioned a rapper and Vans collaboration. These sneakers hit the market on the 14th of January, 2022. The sneakers have a classic white toe-box and mid-sole, while the rest of the shoe is mostly black, with flames creeping up the front of the slip-ons
7. Vans Sk 8-Hi "Black/White"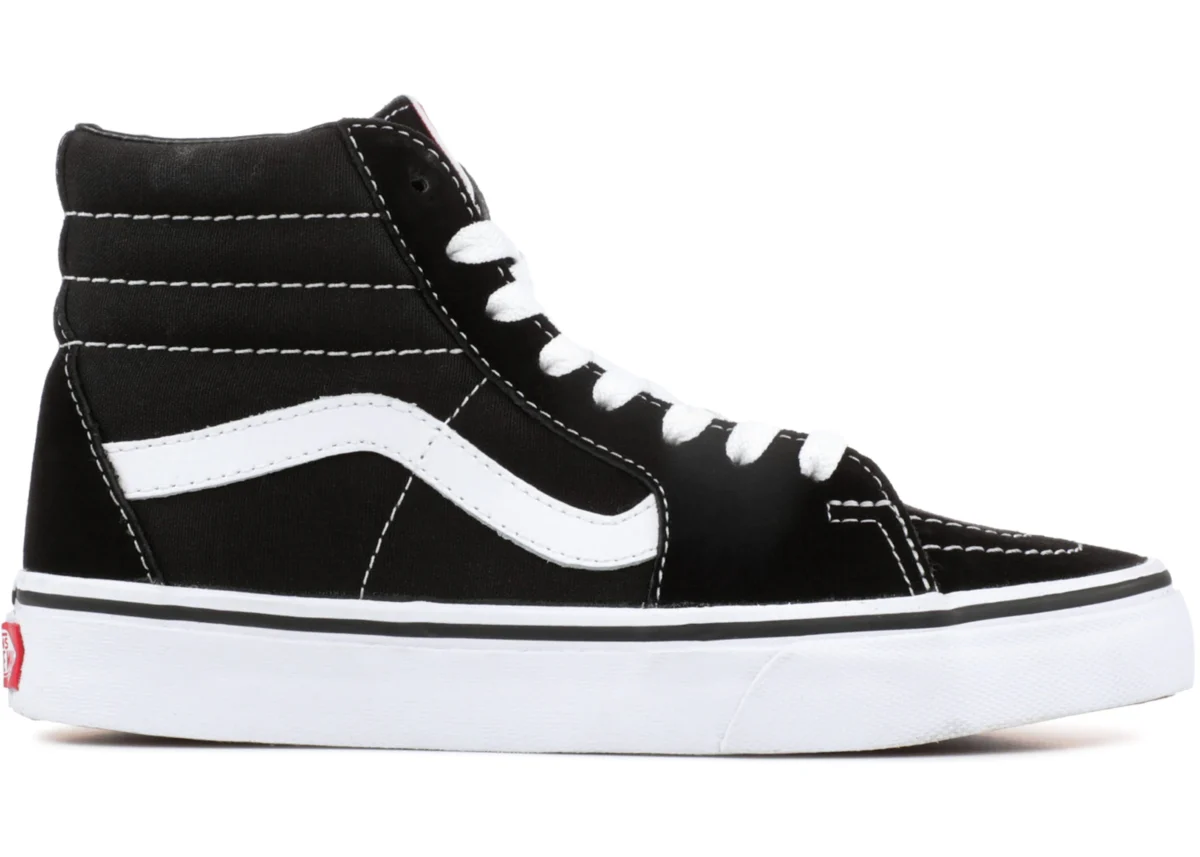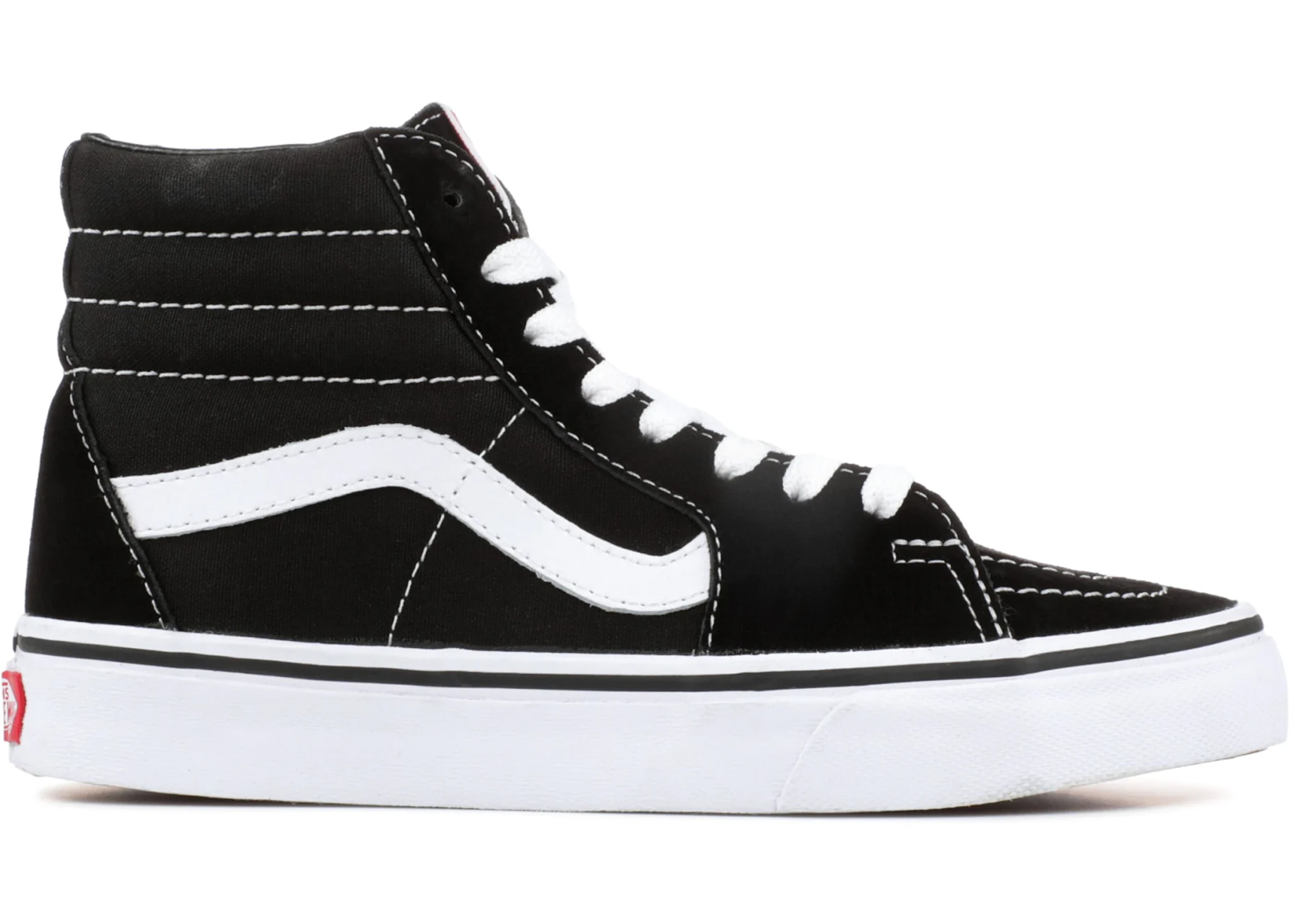 Yet another classic silhouette from the Vans era when they first stepped out onto the skate scene in 1978. With the tall profile, bold white rubber midsole, and sturdy suede upper instead of their usual canvas, these sneakers are a favourite for those looking for a pair of Vans with good impact protection and great support for skaters' ankles.
6. Vans x WTAPs Drop 2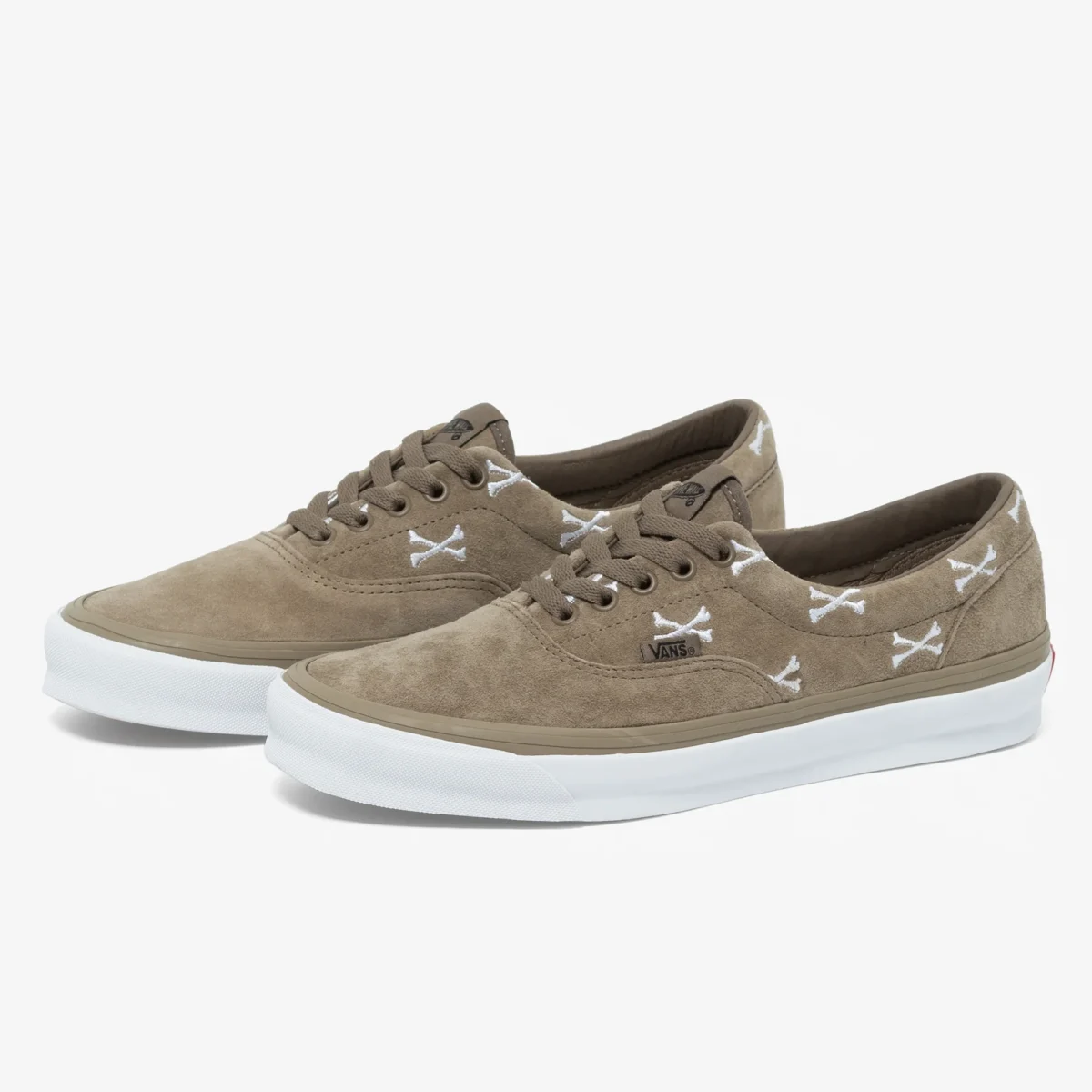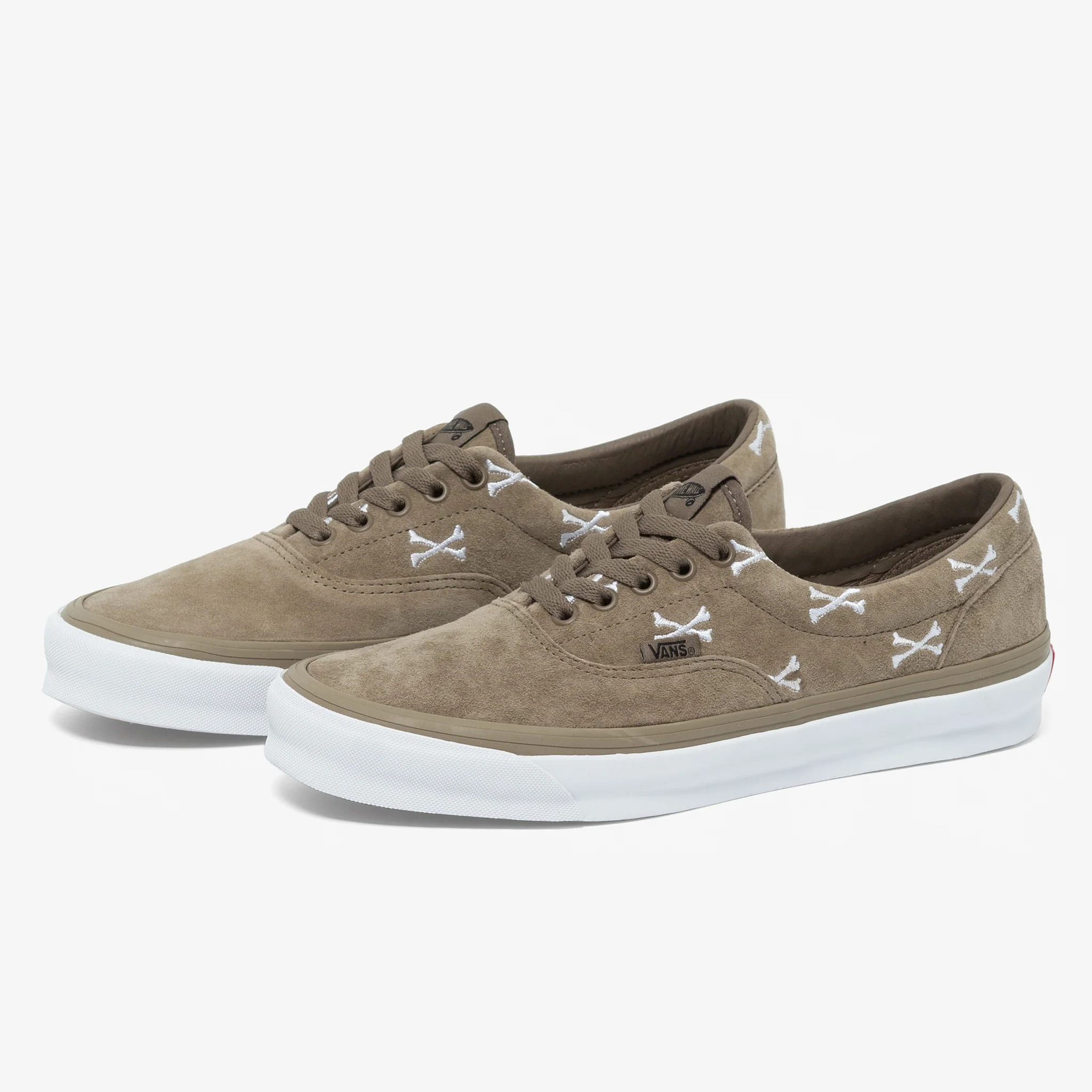 Where have you been hiding if you last saw these sneakers everywhere in the last couple of weeks? This is one of their latest collaborations with Vault by Vans. They are better suited for the cold weather season, bringing snowboarding to mind. These monotone, earthy hues hide a great secret inside, as the sneakers use their V3 PopCush footbed for ultimate support for whatever activities you might have. In addition, the Superenduro outsole, as they call it, uses a rubber compound to increase performance. They look fantastic, and they are the perfect performance shoes.
"Vans are more than just shoes, they're a way of life and a symbol of self-expression." – Ryan Guzman, Actor
5. Vans Classic Slip-on "Checkerboard"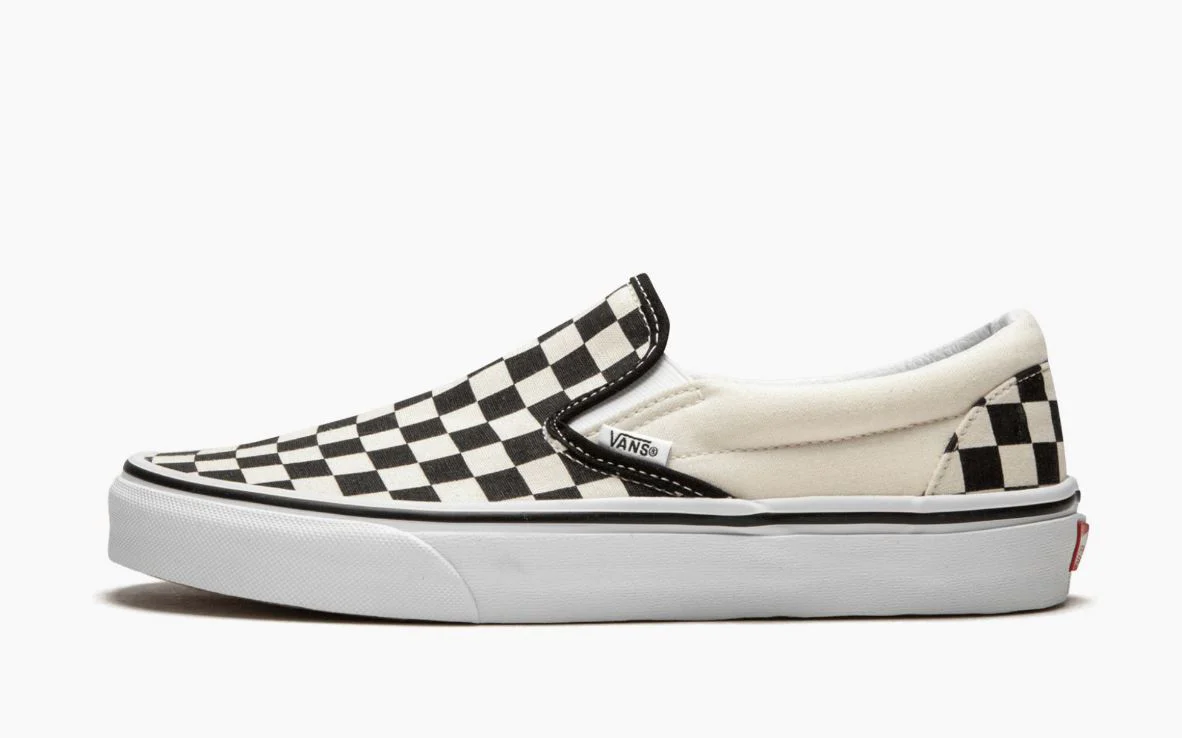 Dubbed the unofficial sneaker of southern California, these sneakers are a mainstay in everyday wear and the skateboarding world. These are easily some of the most loved and sought-after casual shoes of all time and one of the most popular Vans slip-ons that the brand has made while being perfect for the warmer weather of California. The sneaker design is so popular that it was used to make the Checkered Vans grip tape that skateboarders love to use on their boards for a non-slip finish if their sneakers need a little bit of help.
RELATED: Vans x Boys of Summer Release First Collaboration
4. Vans Era "Camp Positive"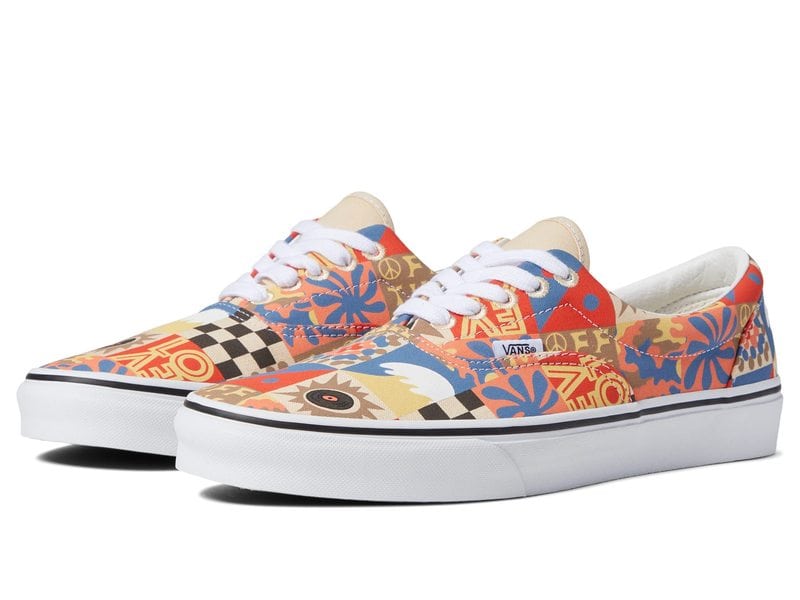 Unsurprisingly, this bold multi-coloured print inspired by images of joy and happiness makes it onto the list of the best Vans sneakers. This colourful pair of sneakers is unisex, and features a ton of inspiring messages like peace symbols, the message of love, and the typical imagery that you would have seen in skater culture during the 70s all the way into the 90s. These sneakers also make use of the brand classic silhouette, their supportive impact protection soles, and ankle supports, making the perfect blend between fashion and function for all of your skating needs.
3. Vans Comme Des Garcons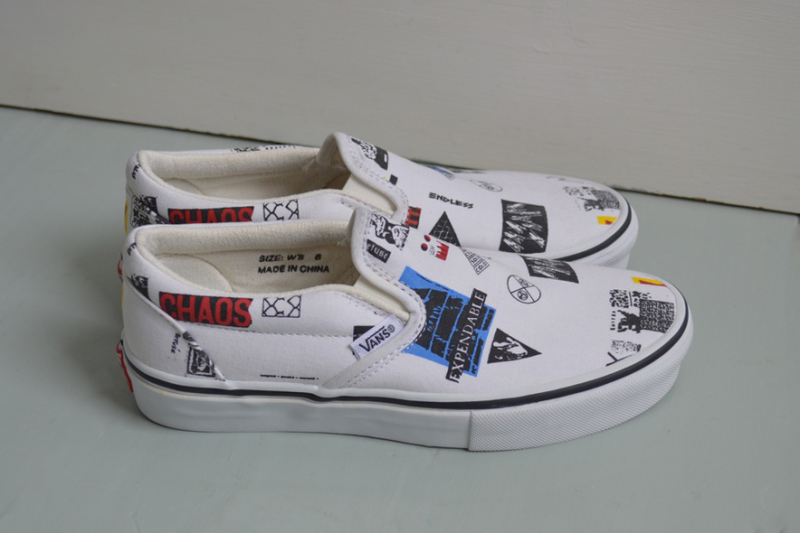 Speaking of really colourful and exciting designs, Raf Simons's first shoe with Vans couldn't have come at a better time. After a long history of working together to make exciting and beautiful sneakers, they created these eccentric slip-on sneakers. Featuring their classic low and slip-on design, these sneakers have a base colourway of white, with blue accents and decals. This was actually a collaboration with Raf Simons and Colette, and is an extremely rare pair of sneakers.
2. Vans Authentic 44 DX Anaheim Factory "Barbed Wire Black"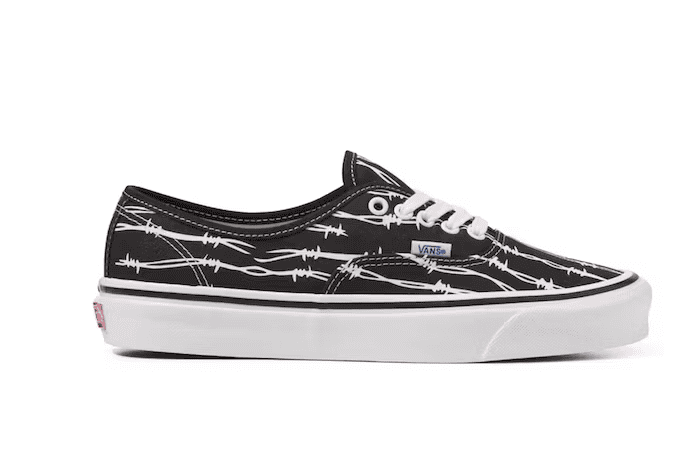 Looking at these sneakers will make it clear where it gets their namesake from, with their epic barbed wire details covering most of the shoes' upper. As usual, the brand doesn't overpower their sneakers with their design but needs to know exactly where to put their pieces in the right place. These sneakers have many details of the original classics, like the thick supportive white heel, the support around the ankle that made the brand famous in the first place, and the same shoe style but with a different look that you can find throughout their collection.
"Vans are the classic sneaker that always feels relevant." – Gigi Hadid, Model
RELATED: Aye, Captain, the Vans SpongeBob SquarePants Is Hot
1. Vans x Fear of God Sk8-Hi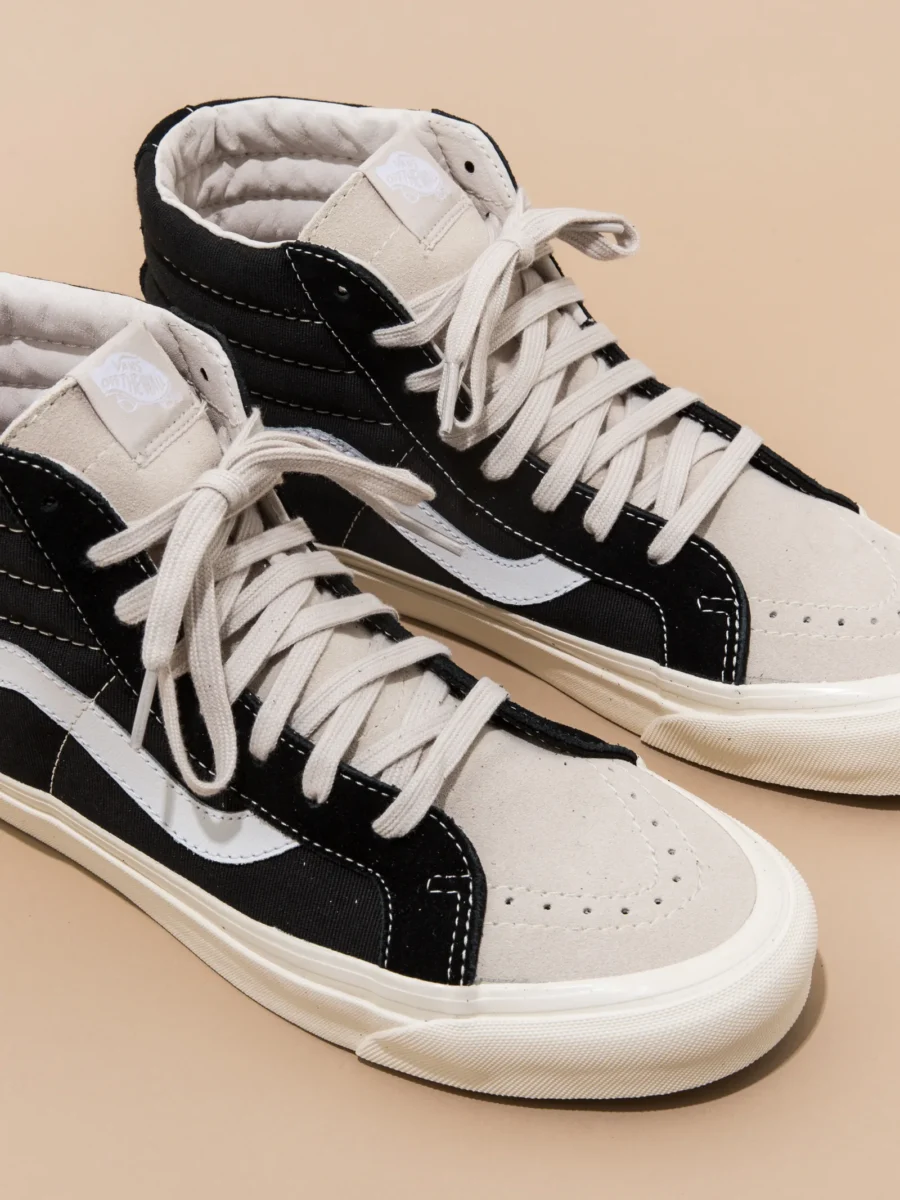 A collaboration with Fear of God's Jerry Lorenzo, these sneakers are among the most loved vans because of their designer connection, aesthetic, and label. Fear of God is known for making sneakers that speak for themselves and have worked with multiple sneaker brands throughout the years. Although this collaboration brought two pairs of sneakers into the world, the focus here is on their minimalistic high tops. With a dominant black upper with white and grey-ish-cream accents, they have a simplistic look that would paint them as part of Jerry Lorenzo's collection. With all the markings of Vans' fantastic and functional sneakers but with the design elements from Fear of God, these are the perfect, simple sneakers.
"Vans are the sneaker of choice for skateboarders, artists, and anyone who wants to stand out from the crowd." – Complex Magazine
No matter which style you are getting, when you buy a pair of Vans for your skateboarding journey, you know you have reached the brand that is a top choice for many extreme sportsmen. Despite being a leading designer brand, you can often find the best deals for epic sneakers with them. In addition, you can often find a promo code here or a Vans coupon to make the brand even more affordable.
RELATED: Vans Old Skool Proves That Classics Never Fade
Tell us, what do you think are the best Vans of all time?