The Nike x Doernbecher Freestyle collection holds a dear place in the hearts of many sneakerheads. This powerful collaboration stems from Nike and the Doernbecher Children's Hospital and represents youthful creativity, strength, and positivity. With every annual release, not only is a fantastic cause – directly benefitting the Oregon Health and Science University (OHSU) Doernbecher Children's Hospital – supported, but it also brings the release of Doernbecher sneakers, a highly anticipated event amongst sneaker enthusiasts. One of the more memorable releases in previous years being an Air Jordan 3 "Doernbecher.
RELATED: 2024 Nike Flower-Powered Dunk High Doernbecher Has Been Leaked
Since its inception in 2004, the partnership between Nike and Doernbecher Children's Hospital has become a significant event in the sneaker community's calendar. The young patients who design the collection are given a platform to showcase their creativity, turning their artwork into in-demand, collectable sneakers. Of course, this year, the Air Jordan 3 is back and ready to make a splash in the sneaker world. So, why don't we look closer at the Air Jordan 3 "Doernbecher" and see what makes it unique to the previous iteration?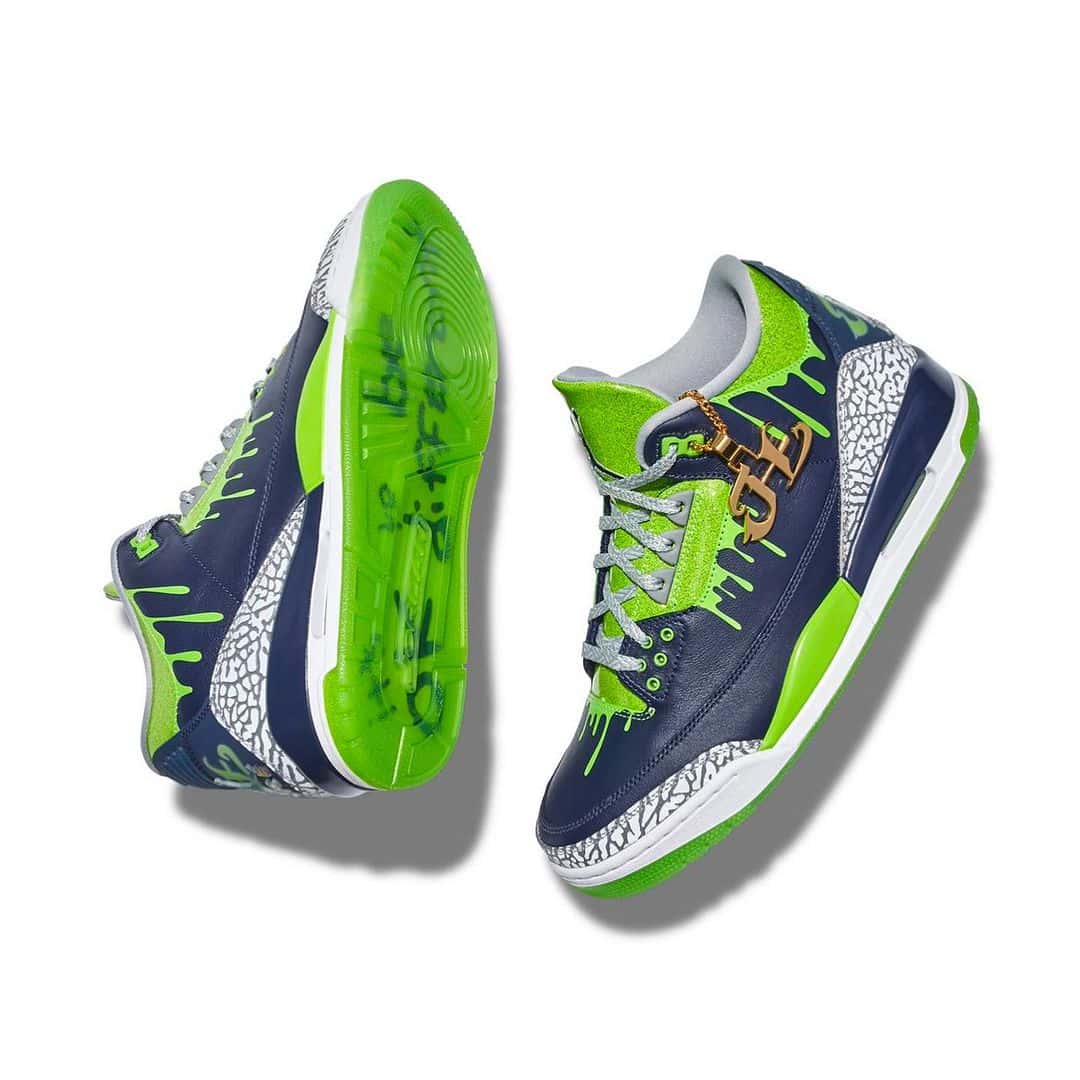 The mastermind behind this intricate design is a young talent named Hugo "Juice" Covarrubias Molina. The model exhibits a rich array of details and lush colours that breathe life into the AJ 3. You can see a clear inspiration drawn from his favourite American Football Team, Seattle Seahawks. The sneakers sport a palette of navy blue, green, and grey, a homage of sorts to his beloved team.
The majority of the sneaker's leather upper is decked in navy blue. The iconic elephant print pattern proudly remains on the toe cap and heel, adding an authentic AJ 3 sprinkling. But what makes this design pop is the vibrant neon green accents.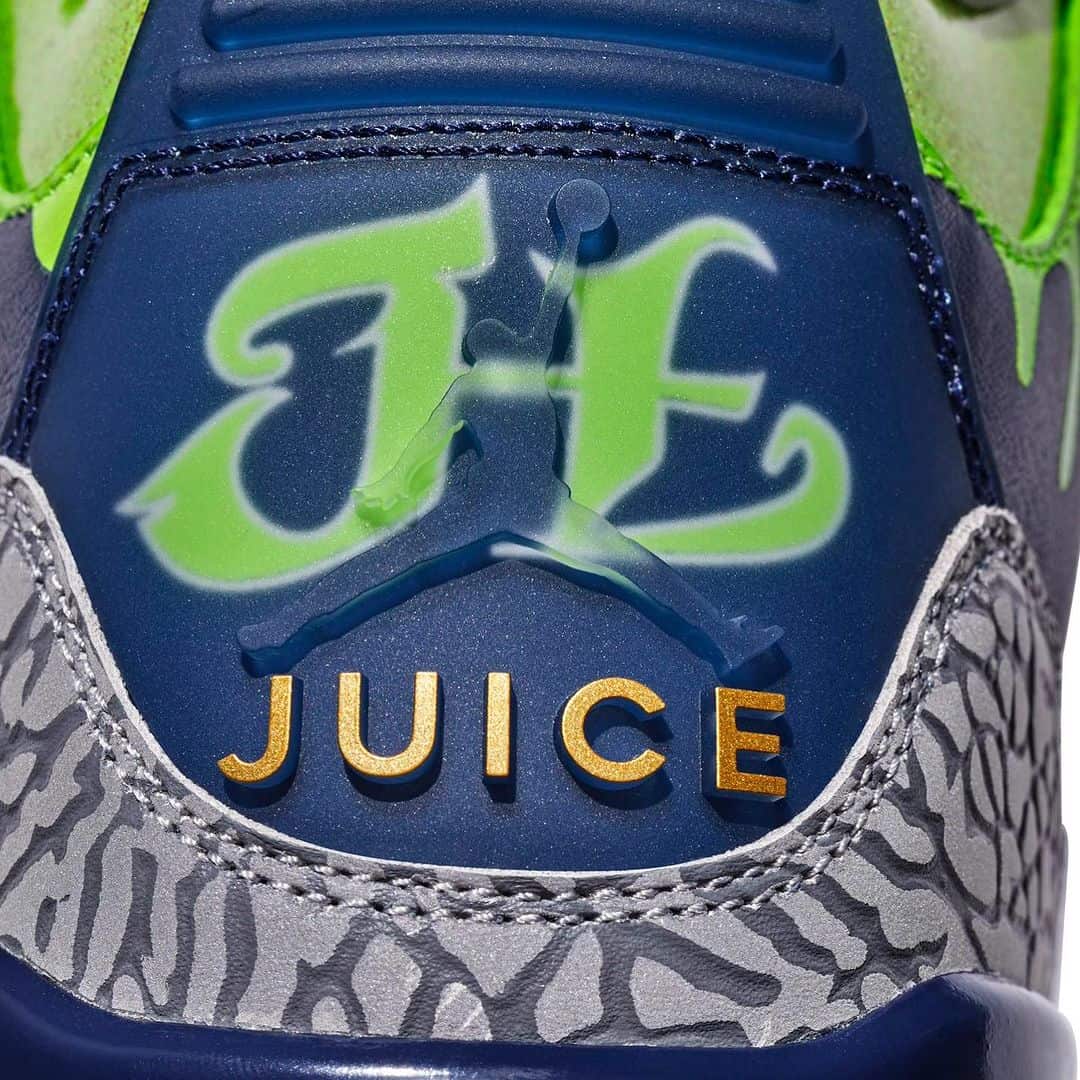 Daring glittery green leather strategically placed on the collar, eye-stays, and tongue sing out against its navy blue counterpart. From these areas flows a neon green drip design, a playful nod to his nickname "Juice". His nickname isn't just reserved for this element, though.
If you turn your gaze to the heel, you'll notice a personal logo with 3D gold lettering spelling out his nickname below. And in the spirit of co-branding, a transparent Jumpman logo is placed atop this special feature. Further channelling his love for gold, Hugo includes a gold-plated hangtag carrying his logo too.
Our favourites. Available now at Nike.com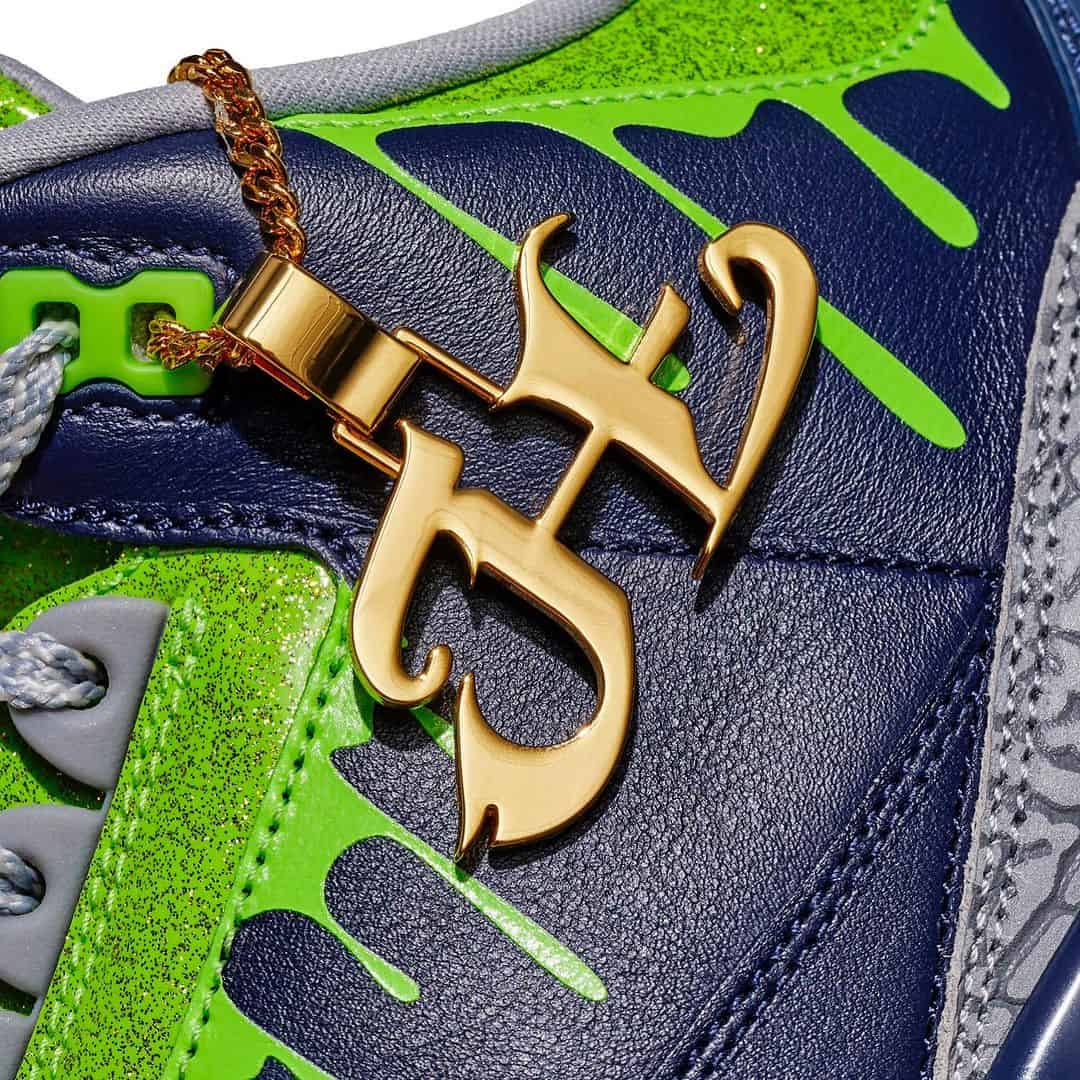 RELATED: Air Jordan 4 "Oxidized Green" Celebrates The 35th Anniversary In Style
Rounding up this unique design is a white midsole and translucent green outsole that proudly claims, "It's okay to be different" underneath. This powerful mantra is Hugo's own reminder to embrace his unique condition named Klippel-Trenaunay syndrome – a rare disorder featuring a disproportion in body growth. Having grown comfortable with his distinct appearance, he now encourages others to cherish their own individuality too.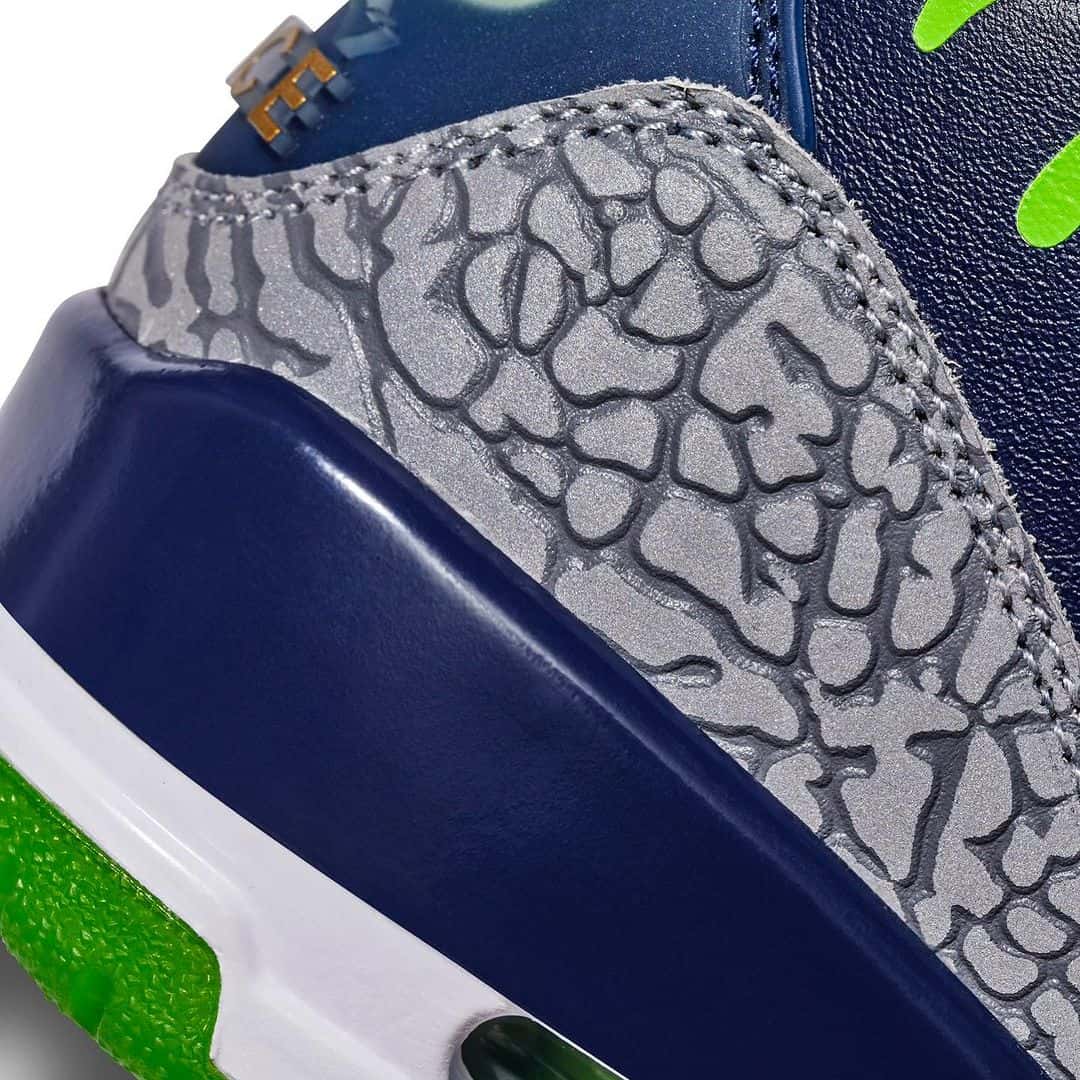 Lastly, tying the look together is a pair of grey laces. But these aren't just any plain grey laces. These laces have a unique feature—they glow in the dark—yet another stroke of individuality added to an already distinctive design.
The Air Jordan 3 "Doernbecher" sneakers are set to be released as part of the general Doernbecher sneaker collection in December. The sneakers will accompany his Jordan Flight Fleece Hoodie with a similar drip pattern and a two-tone pair of Sweatpants with the same theme.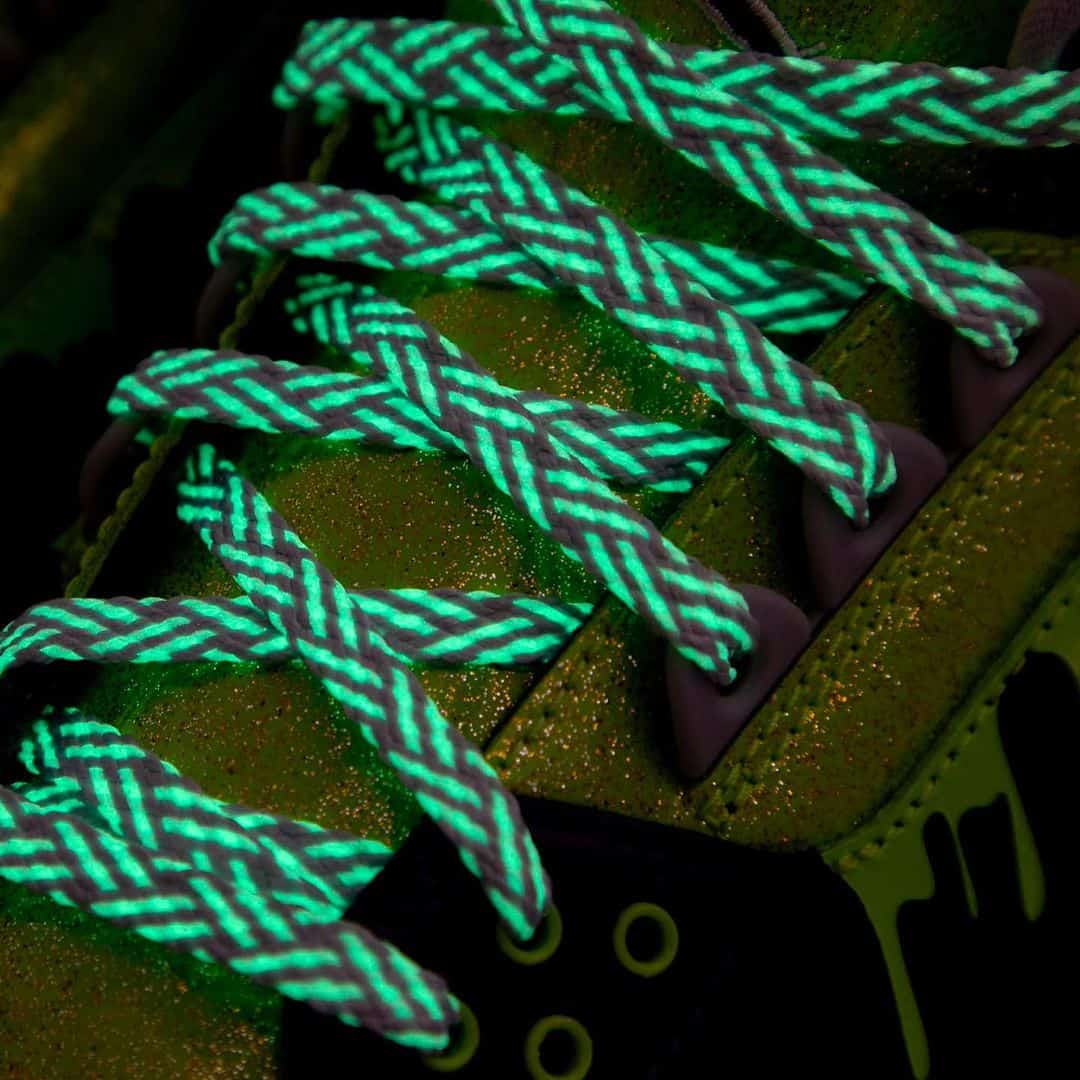 The Nike x Doernbecher Freestyle collection always promises excitement and anticipation amongst sneakerheads and collectors. Being a series known for its unparalleled designs and noble cause, make sure you stay tuned for more details on the exact date and retail pricing so you don't miss out. And, as always, remember to follow us for more sneaker drops and reviews.
RELATED: Lakers Fans Will Love The Nike "Be True To Her School" Air Force 1 Low "Purple/Gold" Sneakers
So, are you joining in the support for this noble cause and getting yourself a pair of Doernbecher sneakers?
Source: Complex