Looking for the best Air Jordan 5 colourways? Look no further! From the iconic "Grape" to the sleek "Black Metallic," our comprehensive ranking will guide you through the top picks of all time.
RELATED: MJ Signed Air Jordan XIII At Auction For $4 Million
Designed by Tinker Hatfield, the 5th sneaker release from Nike's Jordan Brand was inspired by Michael Jordan's fierce playing style and WWII American Mustang fighter jets. The Air Jordan 5 features a bulky leather upper, mesh sidewall inserts, and a sharktooth midsole, making it a unique and stylish sneaker. Over the years, the AJ5 has been released in a variety of different colorways, including the popular 'Grape' and 'Transformers' editions. Here are the top 20 Air Jordan 5 colourways released in the last 22 years.
1. Air Jordan 5 Black Metallic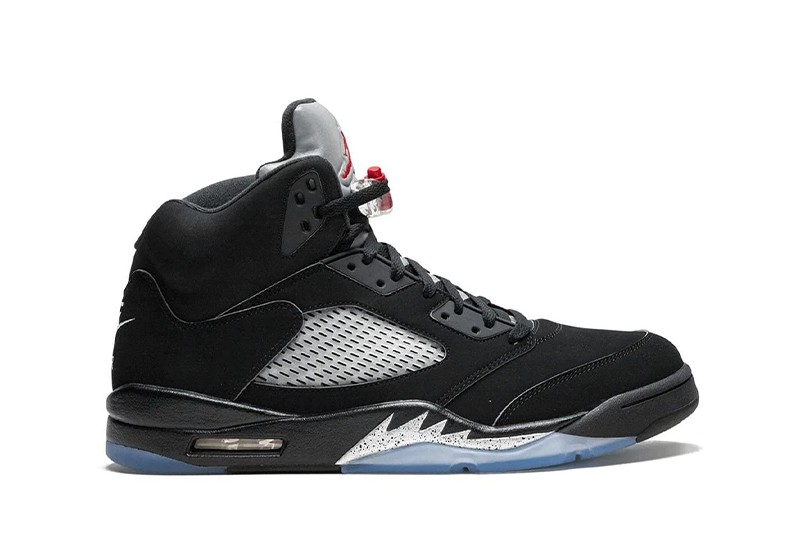 The Air Jordan 5 in the Black Metallic colourway is the perfect example of timeless sneaker design. First released all the way back in 1990, this AJ5 has since become a must-have for any sneaker enthusiast. The sleek black suede upper is highlighted with silver accents on the midsole, tongue, and Jumpman logo, while the transparent outsole shows off the Nike Air cushioning, completing the classic look. These 'Black Metallic' jays are often at the top of sneaker wishlists. Unfortunately, the classic colourway has not been reissued since 2016, but fans are hopeful for a re-release in the near future.
2. Air Jordan 5 Fire Red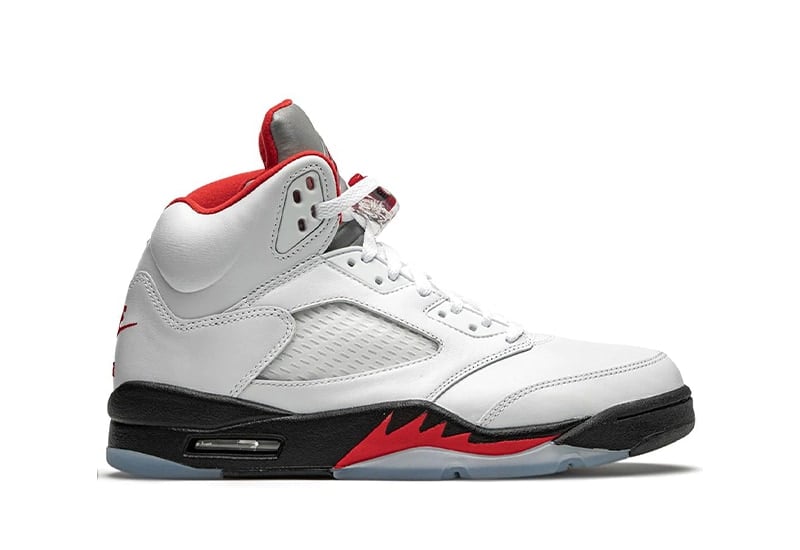 If you want to stand out, the Fire Red AJ5 colourway is the perfect pick. The white leather upper is complemented by bold red accents on the midsole, lining, and Jumpman logo, while black details and a transparent outsole complete the shoe's design. In 2018, sneakerheads were treated to a blast from the past with the reissue of the Air Jordan 5 'Fire Red'. Originally released in 1990, these iconic kicks were a fan favourite, and the 2018 release brought back the original Nike Air branding on the heel, adding to its nostalgic appeal.
3. Air Jordan 5 Grape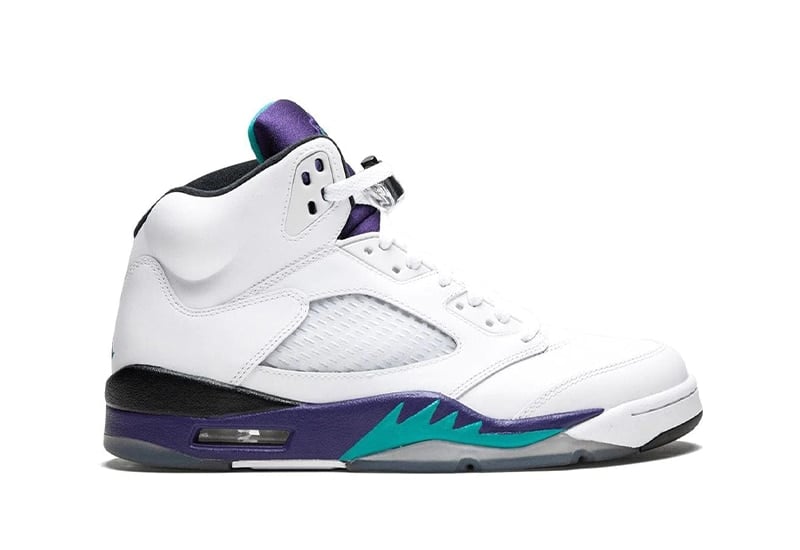 Although not as well-recognized as the other colourways, the AJ5 Grape is sure to turn heads with its unique combination of white leather, purple and teal accents on the midsole, lining, and Jumpman logo, and a translucent outsole showcasing the Nike Air cushioning. This OG colourway was made famous by its appearance on the feet of Will Smith during the first season of The Fresh Prince of Bel-Air.
RELATED: The 20 Best Air Jordan 4 Colorways Of All Time
Our favourites. Available now at Nike.com
4. Air Jordan 5 Off-White Muslin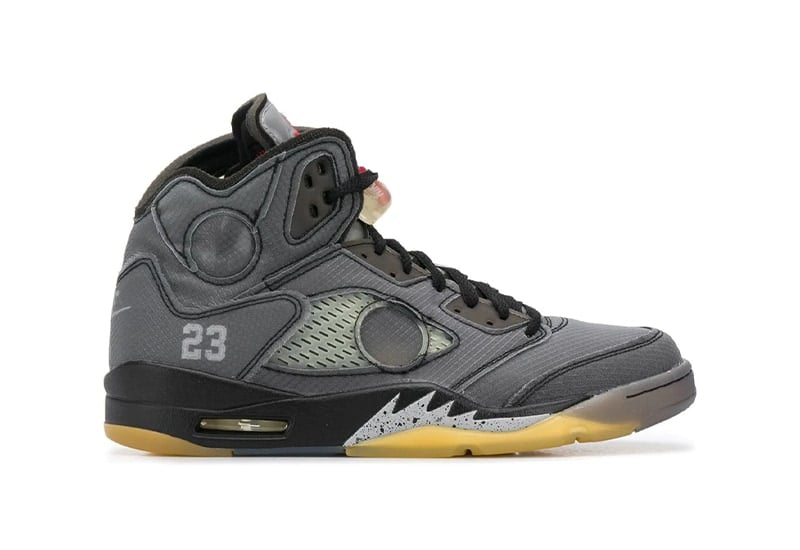 The Jordan 5 Retro Off-White Muslin is a stylish and versatile shoe designed by Virgil Abloh. It is a modern take on the classic Air Jordan 5 'Black Metallic' and is perfect for pairing with utilitarian outfits. These kicks feature a black textile mesh upper with translucent netted panels and circular window inserts, giving it a unique and eye-catching look. It's the perfect addition to any fashion-forward wardrobe and can be paired with a variety of different styles.
5. Air Jordan 5 Tokyo T23
This Tokyo T23 colourway is a rare and exclusive release from Japan. It has a yellow suede upper with black and white accents on the midsole, lining, and Jumpman logo. The design is completed with a unique translucent outsole and Japanese characters on the heel.
6. AJ5 Transformers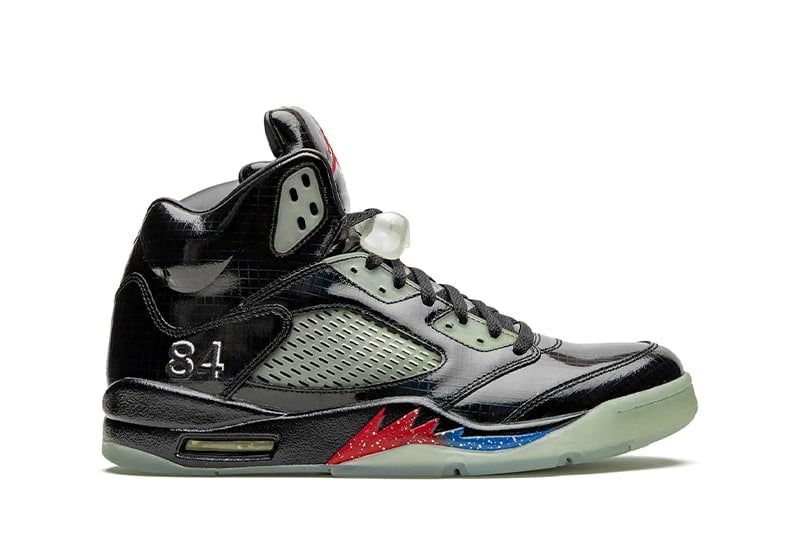 The Air Jordan 5 'Transformers' is a limited edition sneaker that was created to celebrate Mark Wahlberg's role in the movie Transformers: The Last Knight. This unique colourway features an Optimus Prime-inspired sharktooth midsole and a glow-in-the-dark outsole adorned with the Transformers logo. Due to its rarity, the Air Jordan 5 'Transformers' has become a highly sought-after collector's item among sneaker enthusiasts.
7. Supreme x Air Jordan 5 Desert Camo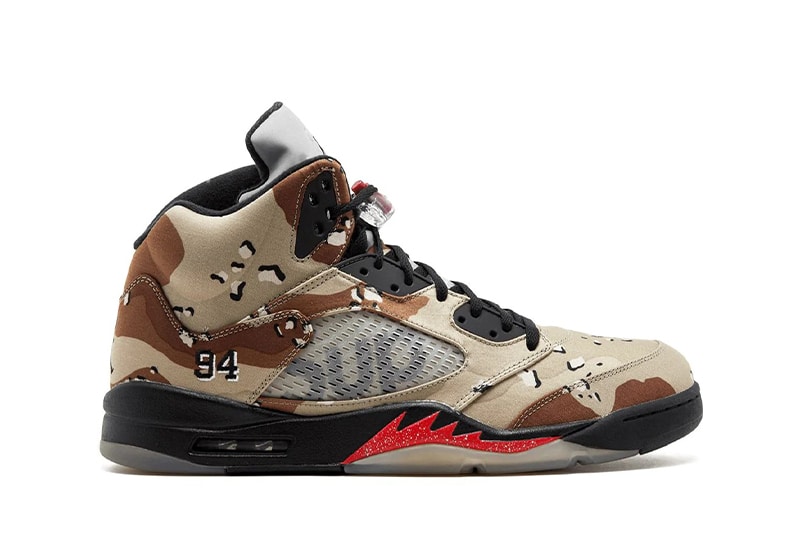 The Supreme x Air Jordan 5 'Desert Camo' sneaker is a nod to the iconic fashion and culture of the 1990s. With its bold colourway and the number 94 prominently displayed, it pays homage to the year that Supreme was founded and the era that inspired its unique style. This collaboration between two iconic brands is a must-have for sneakerheads and fashion enthusiasts alike.
8. Supreme x Air Jordan 5 Black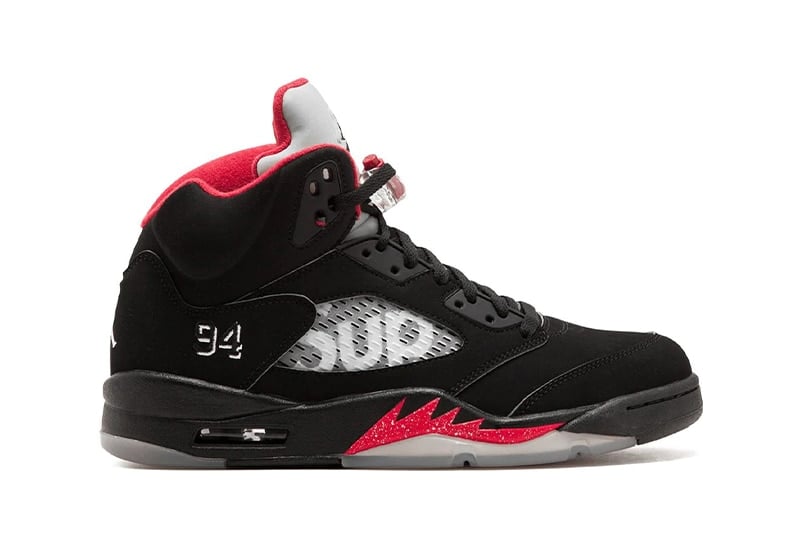 The Supreme x Air Jordan 5 'Black' is a sleek and sophisticated design, a perfect balance between the signature Jordan and Supreme brands. Featuring a black, red and white combination, this shoe is the ideal canvas for the unique features it has to offer, like the Supreme-branded mesh inserts and the signature Jumpman logo. This colourway allows the intricate details to stand out without being overpowered by flashy colours. It's a timeless design that continues to be a favourite among sneakerheads.
9. AJ5 Burgundy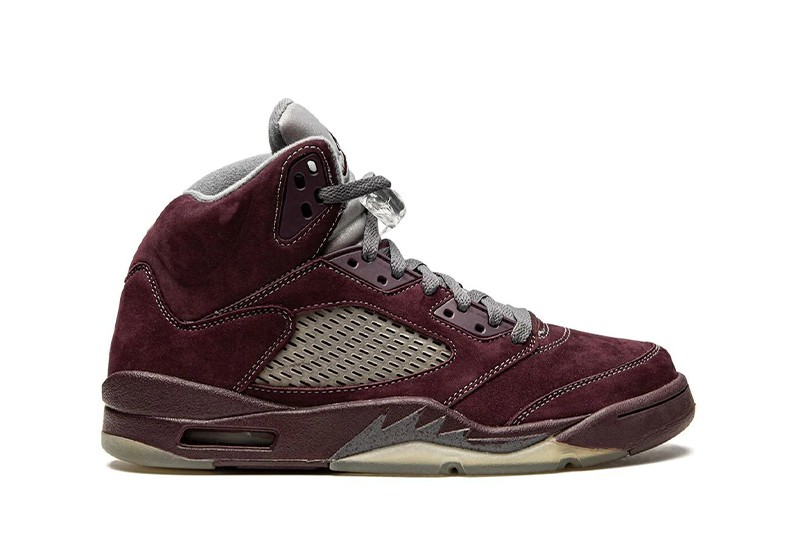 The Air Jordan 5 'Burgundy' is a standout release that has yet to be surpassed by any non-OG colourway. Its luxurious feel is due in part to the premium suede upper, which exudes a regal quality fit for royalty. Originally released in 2006, a pair of these continues to be in demand in the sneaker world.
RELATED: Ranking The 8 Best Air Jordan 11 Sneaker Colourways of All Time
10. AJ5 Oregon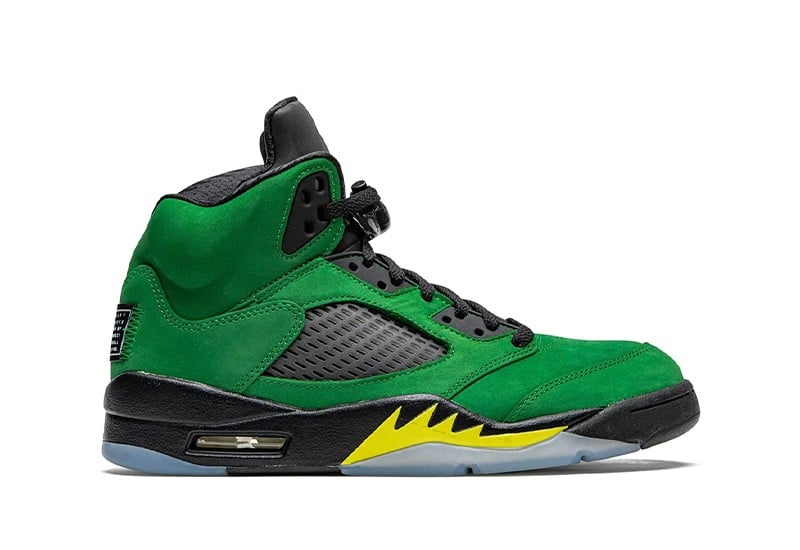 The Air Jordan 5 'Oregon' is a sneaker that celebrates the state of Oregon and its famous football team, the Oregon Ducks. The shoe features the team's signature colours of apple green and yellow, which give the classic '90s silhouette a fresh and vibrant look. It's a must-have for any sneakerhead who loves bold and eye-catching designs.
11. Air Jordan 5 What The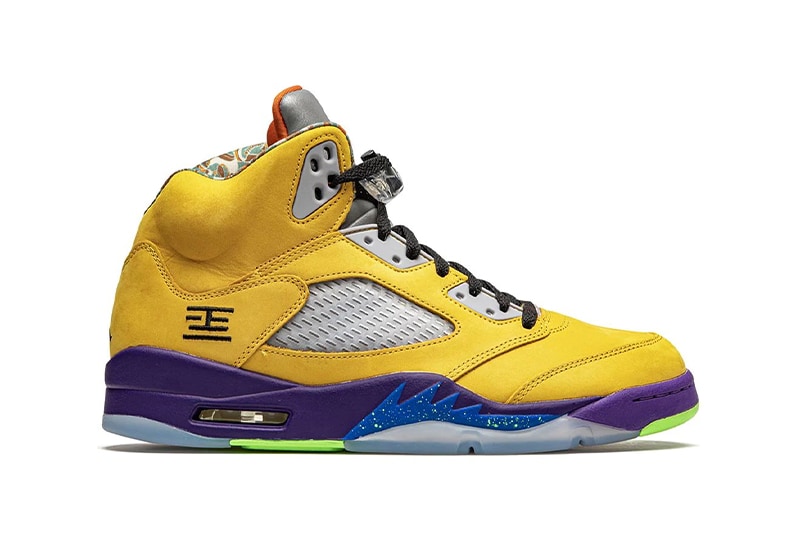 For sneakerheads who can't decide on just one Air Jordan 5 colourway, the 'What The' edition offers a solution. This shoe combines elements from some of the most iconic AJ5 releases, including the 'Tokyo', 'Shanghai', and 'Raging Bull' editions. With a bold mix of colours and patterns, this shoe is definitely not for the faint of heart.
12. Air Jordan 5 Laney
The Laney was first released in 2000, paying homage to Michael Jordan's high school, Emsley A. Laney. The shoe design incorporated the school's colours in a subtle way. Nearly two decades later, a new version of the shoe was released, featuring a bold fusion of vibrant shades. Fans of the iconic Air Jordan line were thrilled to see this updated take on a classic design.
RELATED: The 10 Best Jordan Sneakers for Women, Ranked
13. Shattered Backboard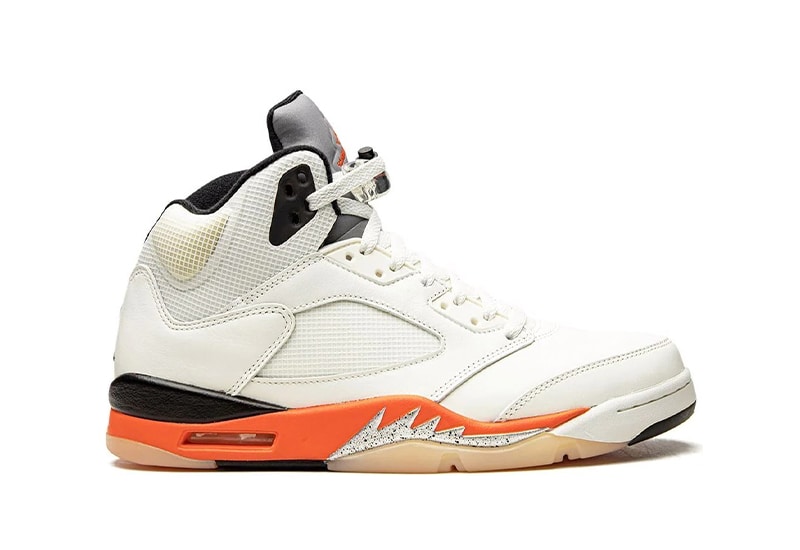 The Air Jordan 5 'Shattered Backboard' is a highly sought-after sneaker that draws inspiration from the iconic Stefanel Trieste colourway. Originally seen on the Air Jordan 1, this colourway has now made its way onto the jay Vs, featuring warm orange accents that make it a perfect addition to any autumn sneaker rotation.
14. Wings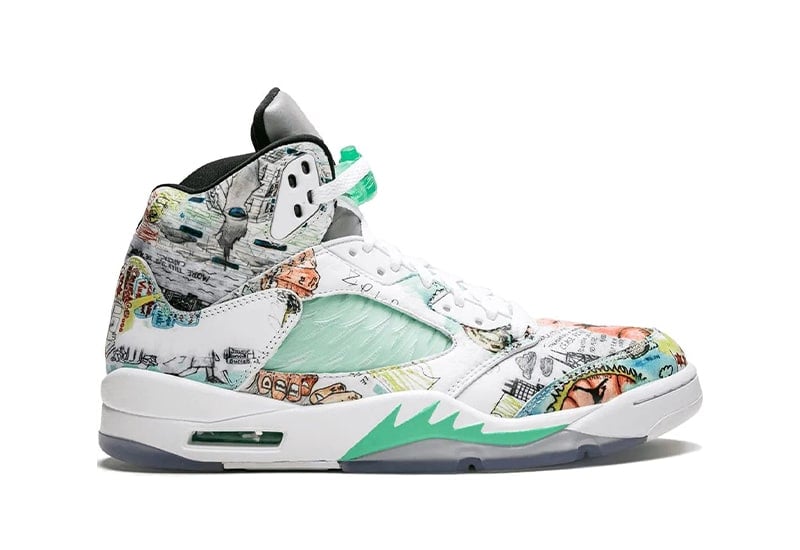 These Wings jays are a sneaker that stands out with their bold and intricate design. The shoe features a unique collection of doodles created by students from the Little Black Pearl Art And Design Academy in Chicago. The purpose of the design is to promote The UNCF Wings Scholar Program, a scholarship program supported by Jordan Brand. With its eye-catching design and meaningful message, the AJ5 'Wings' is a must-have for any true Jordan sneaker fan.
15. Red Suede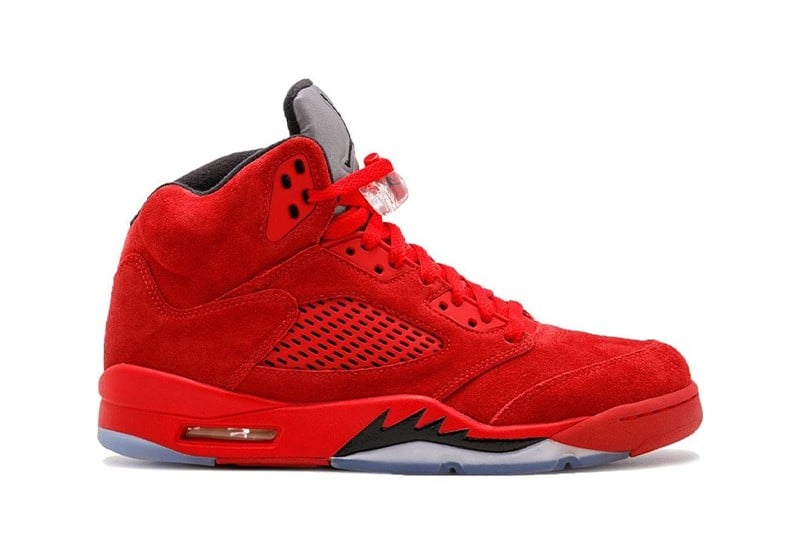 In 2017, Jordan Brand released a special edition of the AJ5 sneaker called the 'Red Suede', which was a tribute to Michael Jordan's former team, the Chicago Bulls. The shoe features a smooth and velvety red suede upper, with black and silver accents adding a touch of contrast and detail. This unique take on the classic 1990 silhouette is a must-have for any sneakerhead or Jordan fan.
RELATED: Air Jordan 2: Ranking The 12 Best Sneaker Colourways of All Time
16. TROPHY ROOM x Air Jordan 5 Ice Blue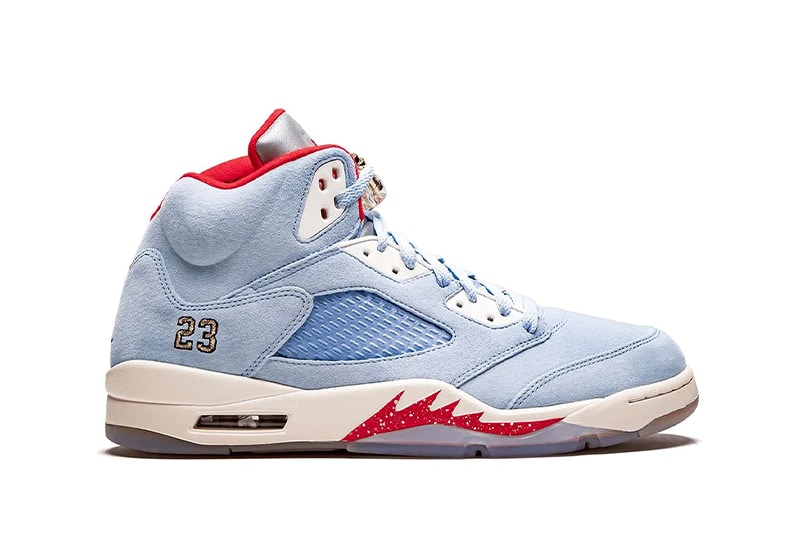 The TROPHY ROOM x Air Jordan 5 'Ice Blue' is a highly coveted sneaker collaboration between Jordan Brand and TROPHY ROOM, a boutique founded by none other than Michael Jordan's son, Marcus Jordan. The ice blue colourway, released in 2019, was an instant hit and sold out within minutes of its launch. Since then, sneaker enthusiasts have been clamouring to get their hands on a pair of these limited-edition kicks.
17. Doernbecher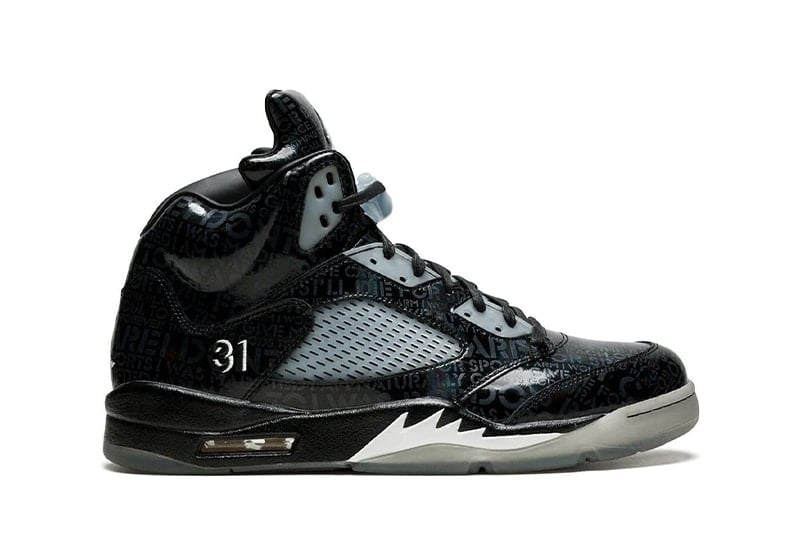 The Air Jordan 5 'Doernbecher' is a special edition sneaker that was designed by a patient of the Doernbecher Children's Hospital in Oregon. The Doernbecher Freestyle Program, created by Nike, allows young patients to put their own spin on classic sneaker designs. The 'Doernbecher' colourway was created by Isaac Arzate, who sadly passed away before the release of the shoe. The sneaker is a tribute to his creativity and spirit.
18. Air Jordan 5 Olympics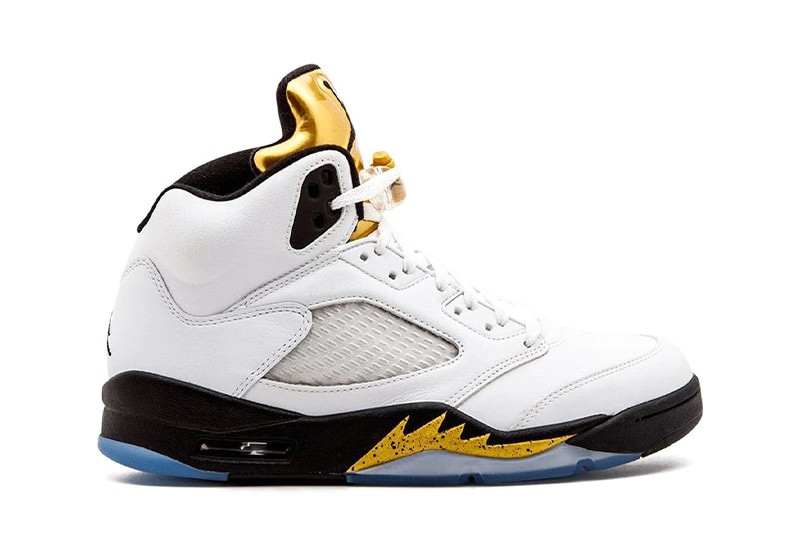 In honour of the 2016 Summer Olympics in Rio, Jordan Brand released a special edition of the AJ5 sneakers with a shiny metallic gold finish. Fans of the brand were thrilled to get their hands on a pair of these coveted shoes, feeling like champions themselves.
19. Air Jordan 5 Michigan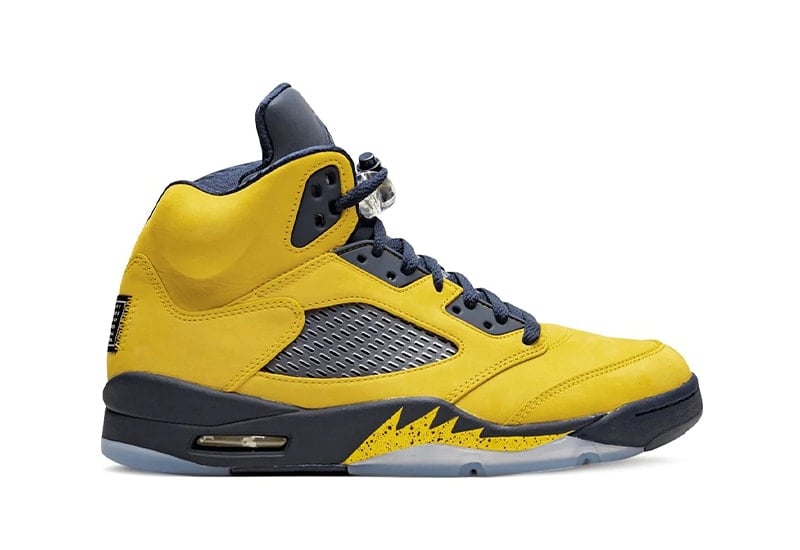 These Michigan jays pay tribute to the University of Michigan with its colour scheme, featuring the school's signature yellow and blue. This release came before the 'Oregon' version, which also pays homage to a university. Wolverine fans will love it!
RELATED: The 20 Best Jordan 3 Retro Sneakers: Top Colourway Picks
20. Air Jordan 5 DJ Khaled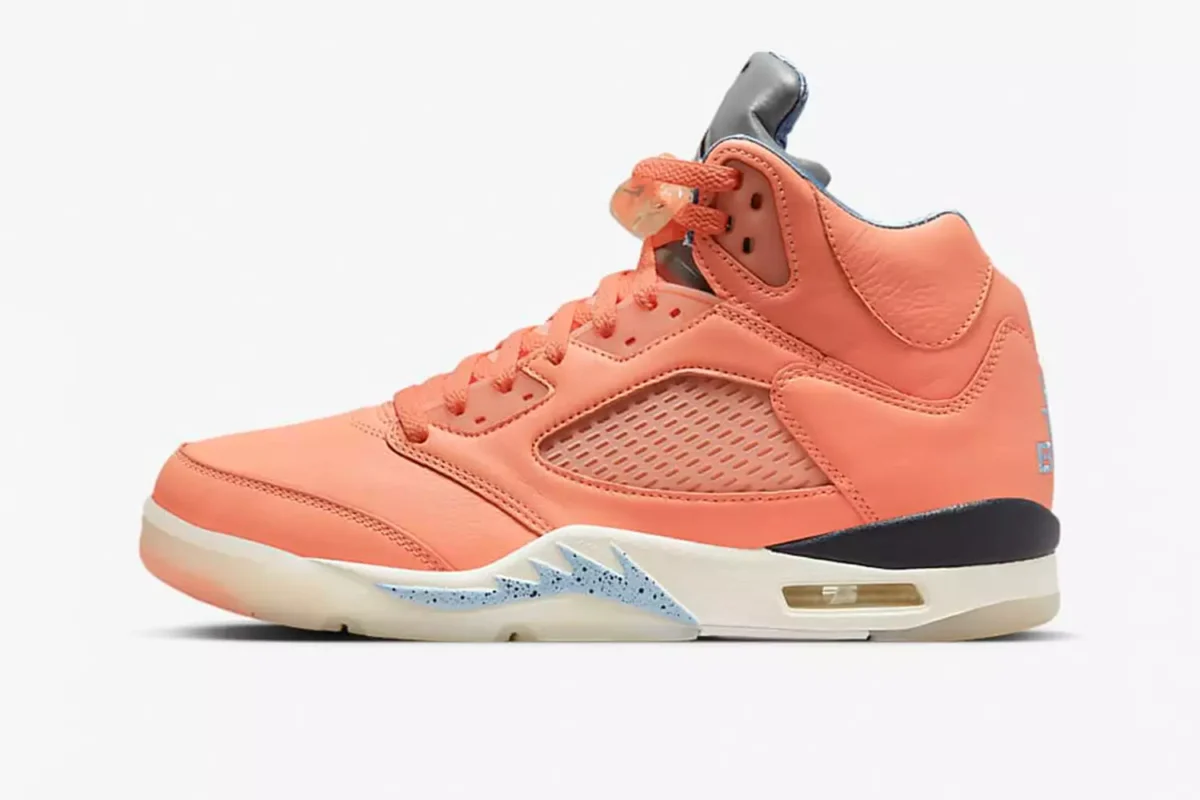 The Air Jordan 5 collaboration with DJ Khaled is a highly sought-after sneaker. The luxurious leather uppers are a beautiful peach colour with light blue accents, making them a standout addition to any sneaker collection. One heel features Nike Air branding, while the other proudly displays the phrase "We The Best." But the motivational message inside the tongues is what really sets these sneakers apart. Don't miss out on the chance to own a pair of these coveted kicks!
21. Jordan 5 Retro Aqua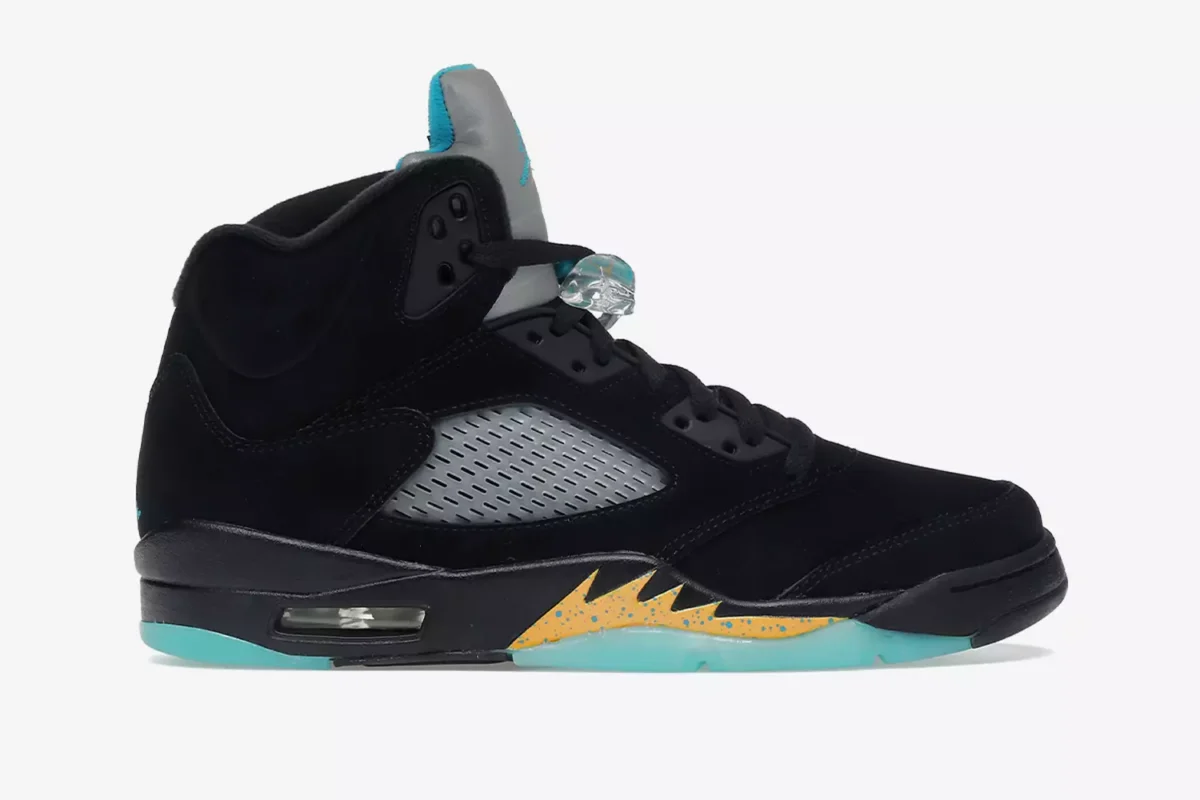 The Retro Aqua boasts a sleek black suede upper that perfectly complements its vibrant sole unit. Set to release in 2023, this shoe hints at a promising year for the Jordan 5 line. With colourways as striking as this one, it's safe to say that Jordan Brand has big things in store for sneakerheads everywhere.
22. Jordan 5 Dunk on Mars
The release of the Dunk on Mars proves that women's sneaker releases are no longer an afterthought. This highly sought-after drop has even left some men wishing they had smaller feet to cop a pair.
23. Jordan 5 Retro UNC University Blue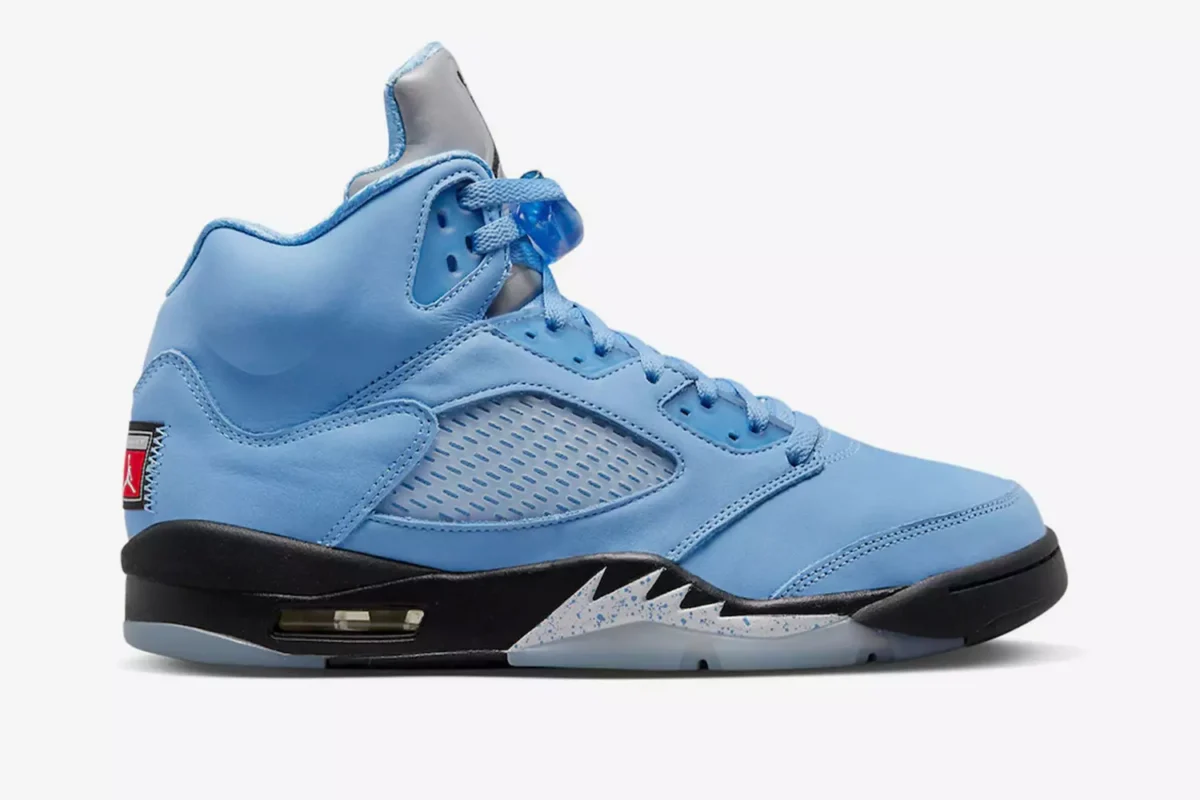 The Retro UNC University Blue colourway is highly coveted among sneaker enthusiasts. This iconic colourway has been featured on some of Nike's most legendary releases and continues to generate buzz even before its official release. The anticipation for this colourway is already evident on StockX, where it is causing a stir among sneakerheads.
RELATED: 10 Best Jordan 6 Rings Sneaker Colourways
Tell us, what are your favourite AJ5 colourways of all time?