No colour exudes opulence and luxury quite like gold. Nike has embraced this timeless hue in some of their most iconic sneaker designs, offering a range of gold colourways that meet every budget. From the classic Air Max models to its latest lifestyle offerings, the Oregon-based footwear company has curated a collection of gold sneakers that are both stylish and statement-making. Whether you're looking for a subtle touch of gold or a bold and eye-catching head-to-toe colourway, Nike has the perfect gold sneaker to elevate your collection. So, let's dive into some of the best gold sneakers the Swoosh brand currently has on offer.
RELATED: The Game Changer: Jordan Two Trey Rose Gold Sneakers
Nike Dunk Low LX "Gold Suede"
#Nike_DV7411-200
The Dunk Low is one of Nike's most popular sneaker offerings, and this "Gold Suede" iteration is no exception. The luxurious gold suede upper gives the sneakers a premium look and feel, while the iconic Dunk silhouette adds a touch of nostalgia. If you want to add these gorgeous gold sneakers to your collection, act fast because they are selling out quickly.
Nike Jumpman MVP "Team Gold"
#Nike_FB9019-700
The Jumpan MVP sneaker is a true representation of Jordan's legacy, combining the legendary Michael Jordan's iconic championship moments with contemporary design elements. The incorporation of elements from the Air Jordan 6, 7, and 8 models adds a nostalgic touch to the sneaker and highlights MJ's dominance during his first three consecutive championships. At the same time, this "Team Gold" colourway offers a stylish look that can be easily paired with a variety of outfits. While the gold hue on the upper certainly adds to the appeal of the sneaker, it's the abstract detailing on the transparent tongue and foxing that elevates the overall aesthetic. This detailing features geometric patterns and shapes, which give the sneaker a modern and artistic feel, making it a standout piece in any sneaker collection. 
RELATED: The Nike LeBron NXXT Gen "Wolf Grey" Is Finally Available
Our favourites. Available now at Nike.com
Nike Court Vision Mid Winter "Elemental Gold"
#Nike_DR7882-700
Carry your retro hoops vibes into the winter season with the Nike Court Vision Mid Winter "Elemental Gold." This sneaker features an updated traction pattern, durable material, and metal hardware for added durability and style. Pair these bad boys with jeans or cargo pants, and you'll be ready to take on any weather while still looking fresh. For me, it's the almost boot-like look and unexpected price tag that really seal the deal on this one.
Nike LeBron 2 "White/Metallic Gold"
#Nike_DJ4892-100
These Nike LeBron 2 "White/Metallic Gold" sneakers are a retro run of the highly sought-after 2004 Zoom LeBron 2 "Maccabi". The "Maccabi" was a player exclusive that King James himself wore in a preseason exhibition game against Maccabi Elite Tel Aviv. Now, fans can get their hands on a similar style with this "White/Metallic Gold" colourway that exudes the same opulence as its predecessor. The "Maccabi's" aesthetic is perfectly replicated throughout the two-toned white leather and golden textured upper of this sneaker, making them a must-have for any sneakerhead looking to add a classic piece to their collection…and you're in luck because these gold and white sneakers are currently on sale at Nike.com.
RELATED: Air Jordan 1 Mid "UNC to Chicago" Sneaker Celebrates Michael Jordan's Journey
Nike Air Max 97 "Gold Bullet"
#Nike_DQ9131-700
Dressed predominantly in gold leather and mesh, the Nike Air Max 97 "Gold Bullet" exudes a luxurious and eye-catching appeal. The iconic bullet train-inspired design of the Air Max 97 is enhanced by this glistening gold colourway, creating a truly striking sneaker. The combination of premium materials and the sleek silhouette make this a must-have in any sneaker enthusiast's collection. They may be anything but subtle, but that's exactly the allure of these.
Nike Tawa "White/Metallic Gold"
#Nike_CI2952-171
If you're looking for the perfect shoe for wrestling (or even boxing), the Nike Tawa sneakers are a top choice. This particular colourway, "White/Metallic Gold," adds a touch of gold to the Swoosh and branding that offers a luxe and stylish look. The sneaker boasts zonal Flyknit and a rubber-wrapped sole, providing exceptional flexibility and traction. With their lightweight construction and supportive fit, these Nike Tawa sneakers are exactly what you need if you're going for gold in your athletic performance.
RELATED: The 10 Rarest & Coolest Nike Air Jordan Sneakers
Nike Inflict "White/Metallic Gold"
#Nike_325256-100
Another wrestling shoe destined for greatness is the Nike Inflict in the "White/Metallic Gold" colourway. This shoe not only offers a stylish and luxurious look with its gold accents on the Swoosh and adjustable ankle strap, but it also provides superior performance on the wrestling mat. With its durable rubber outsole and flexible upper, the Nike Inflict is designed to help wrestlers excel in their sport and strive for gold in every match.
Jordan Granville Pro "Club Gold"
#Nike_DV1235-100
The Jordan Granville Pro "Club Gold" is the lifestyle sneaker everybody is sleeping on. With its stunning mix of materials, gorgeous pops of red, and all its hidden details, this sneaker is actually pretty fire. Not only does it offer a stylish design, but the Jordan Granville Pro also provides exceptional comfort with its cushioned insole and supportive midsole. Whether you're hitting the streets or attending a casual event, these sneakers will keep you looking fresh and feeling comfortable all day long.
RELATED: The Beautiful Air Jordan 1 "Enter The Dragon" Pays Tribute To Bruce Lee
Bonus Sneakers
We can't talk about gold colourways without mentioning these two sneakers. While both are not currently available (the Jordan 4 "Sail Gold has yet to be released, and the Jordan 6 "DMP" was last released in 2020), they are definitely worth keeping an eye out for.
Jordan 4 "Sail/Gold"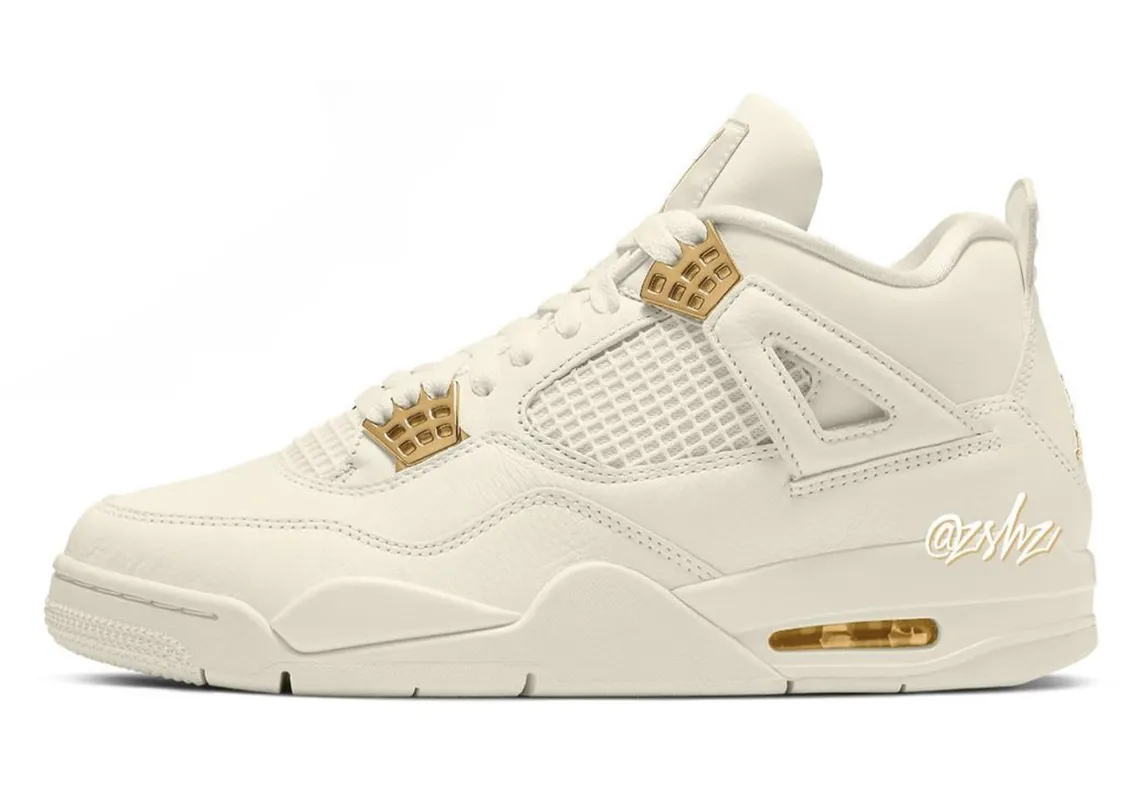 #Nike_AQ9129-001
This colourway hasn't dropped yet, but based on the success of previous Jordan releases, it's safe to say that the Jordan 4 "Sail/Gold" will be a sought-after release. The clean sail upper and luxurious gold accents give this sneaker a sophisticated and elevated look that pays a subtle nod to the famous 2020 Off-White x Air Jordan 4 "Sail" release. If you couldn't get your hands on the AJ 4 collab, then this colourway is a great alternative. Make sure to keep a close eye out for this drop in March 2024.
Jordan 6 "DMP"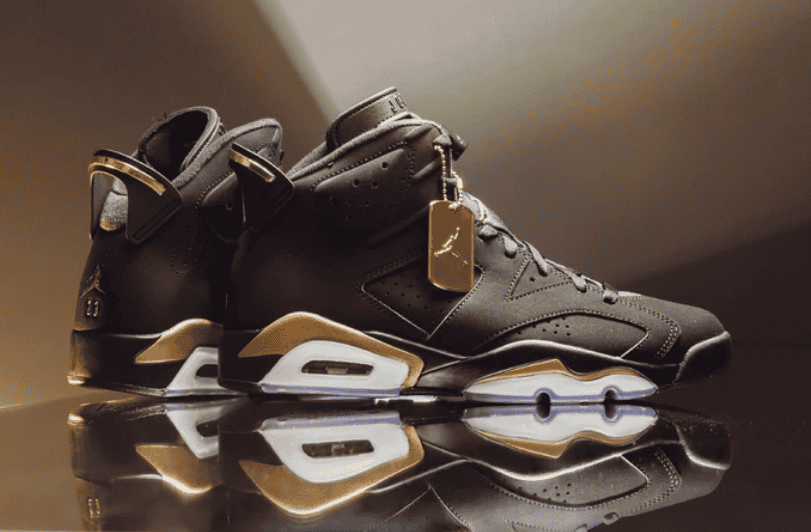 This sneaker is an oldie but a goodie. The only black and gold colourway on this list, the Jordan 6 "DMP" really speaks for itself. With its sleek black leather upper and metallic gold accents, the "DMP" colourway exudes timeless elegance. This is one we are really hoping the Jumpman brand will release again soon. You can currently find this sneaker on the resale market for a hefty price as the demand for the Jordan 6 "DMP" remains high. Sneaker enthusiasts continue to search for opportunities to add this sneaker to their collection, making this a must-have if you can get your hands on one.
RELATED: The Air Jordan 12 Retro SE 'Field Purple' Is One Of The Best Looking Sneakers of 2023
Which gold colourway from Nike is your favourite?