With decades of experience being in the spotlight, we've seen many faces of the Batman actor. From teenage heartthrob to ambitious young adult, he's gone through it all in his various eras. Affleck's current form might just be his best one yet. Ben Affleck is enjoying the hard-earned profits from a long career, and he's also giving the fans something new to look forward to with his Nike & Jordan sneakers.
RELATED: Think Pink With The New Nike Air Max 1 Sneaker Colourway
The 51-year-old actor has shown off a newfound love for Nike sneakers in 2023. In this year alone, we've seen him rock the swoosh far more often than before, and he has owned it. The fits are immaculate, but only a few can make a list compiling his most iconic sneakers worn in 2023. This list has some hard hitters that you can't miss in your collection, so pay close attention. Here are the best Jordan and Nike sneakers worn by Ben Affleck (in public) in 2023.
Jordan 4 Retro x Union LA 'Guava Ice'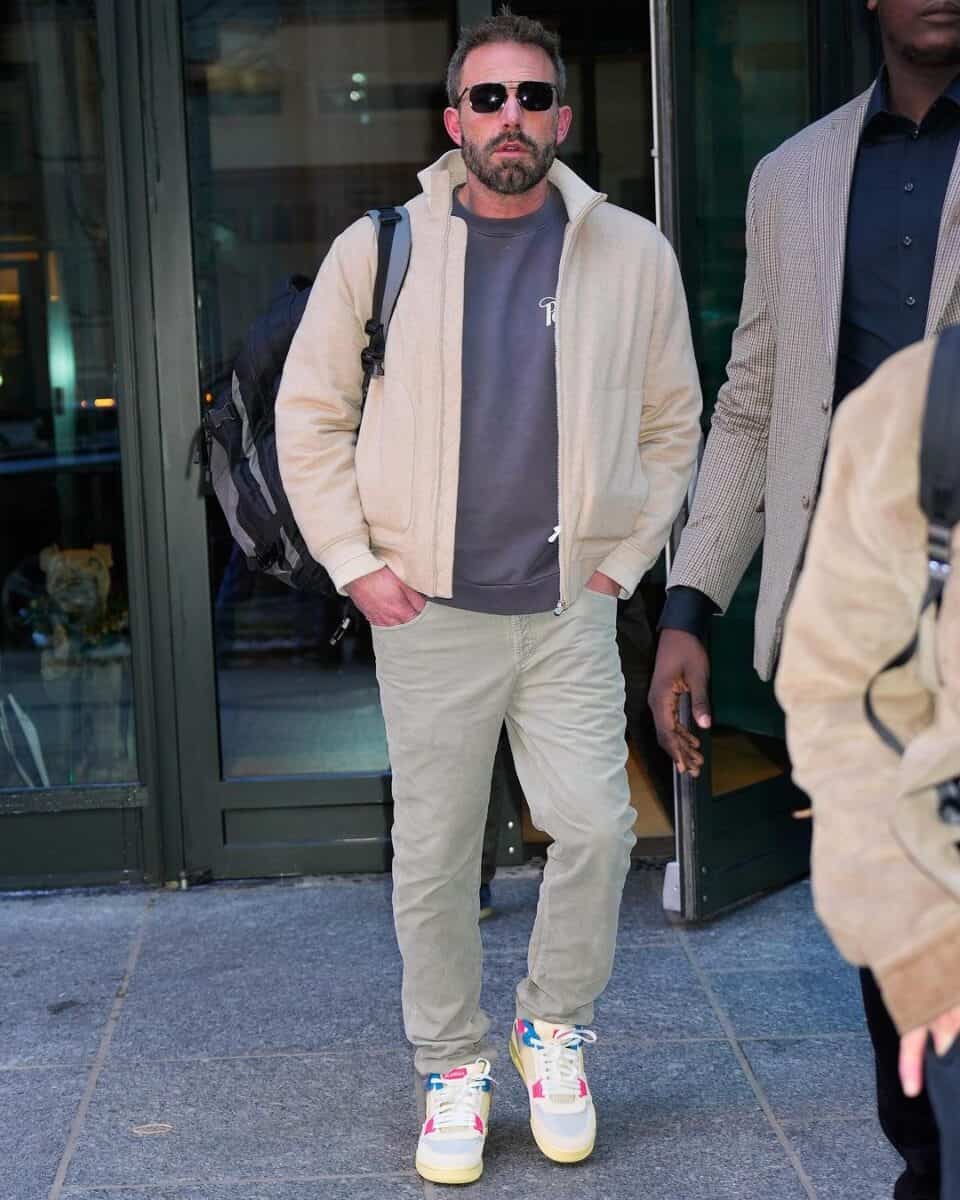 After filming an iconic movie like Air, any rational person would begin to appreciate the Jordan Brand a lot more. In that spirit, Ben Affleck wearing the Jordan 4 Retro sneakers in the Union LA 'Guava Ice' colourway is an amazing way to express that love for the brand.
As the second collab between Union and Jordan Brand, the 4's Guava Ice colourway is a nice change of pace. With a vintage style to it, the sneaker holds a vibrant design that instantly captivates anyone around. Using the classic silhouette of Jordan 4's was the right move with this collab. It allows for all the colours to stay in the spotlight. The main pull here is the soft pink suede on its upper. Combining that with a yellow Union tab and the woven Air Jordan tag, it's like this sneaker was intentionally designed to become an instant classic.
RELATED: adidas Gazelle Originals Collection Celebrates 1970s Soccer Teams
Air Jordan 1 Low Fragment Design x Travis Scott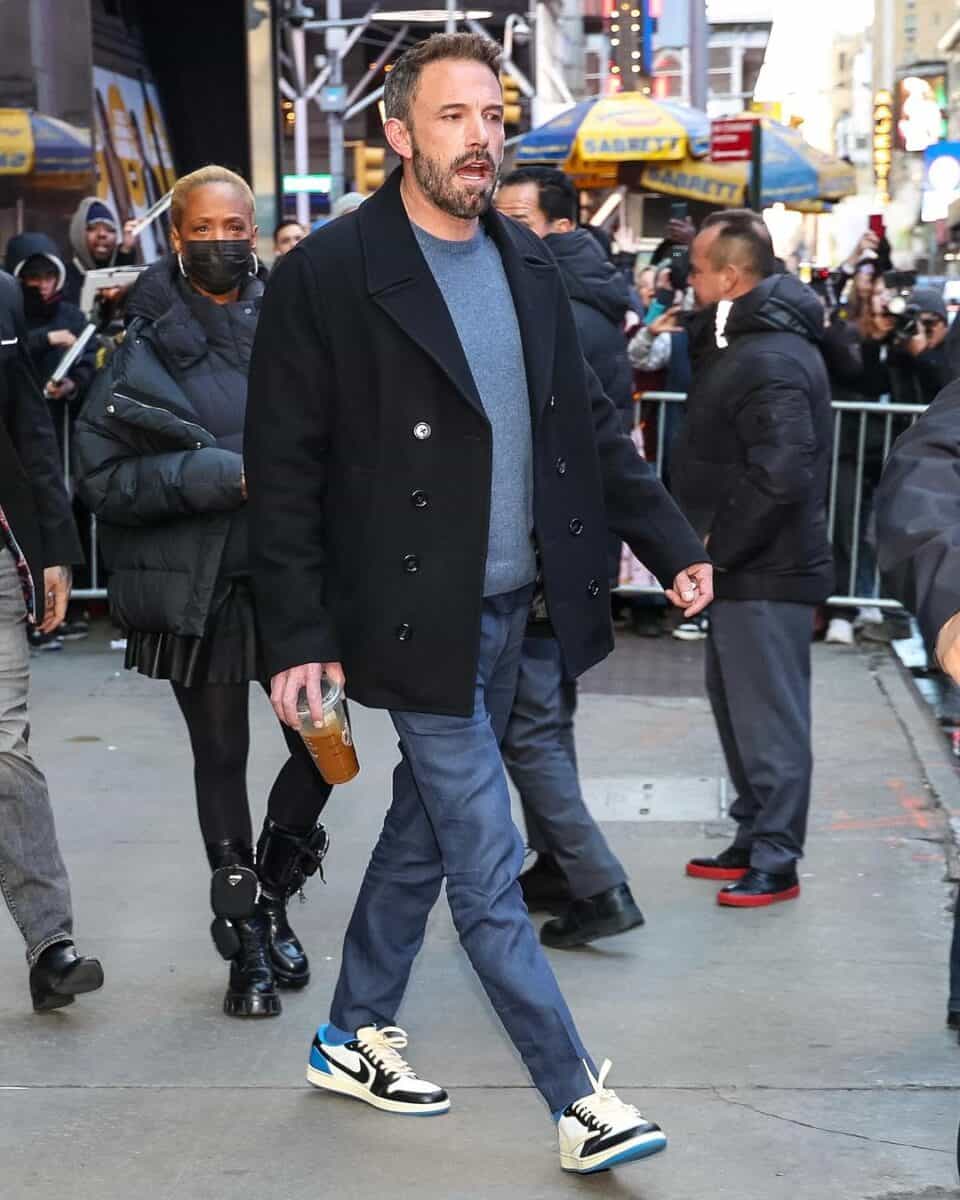 Walking through the streets of New York in a pair of Fragment Lows is something reserved for the most elite sneakerheads. When you're an icon at the level of Ben Affleck, doing this is pretty easy. Without showing off too much, the actor styled his fragments with a simple blazer and a pair of dark blue pants. Allowing the sneakers to get all the attention.
Our favourites. Available now at Nike.com
Based on the original 2016 Jordan 1 Fragments, the Travis Scott Fragment Lows are a pair that is highly coveted. The simple colours of royal blue leather combined with black are too much to underrate. Combine that with Cactus Jack's iconic reverse swoosh and yellowed soles, and we've got a sneaker that can easily stand the test of time. As a classic sneaker silhouette, the smoothness and unique identity make them special. On an icon like Ben Affleck, these sneakers are timeless.
Travis Scott X Dunk Low Premium QS SB 'Cactus Jack'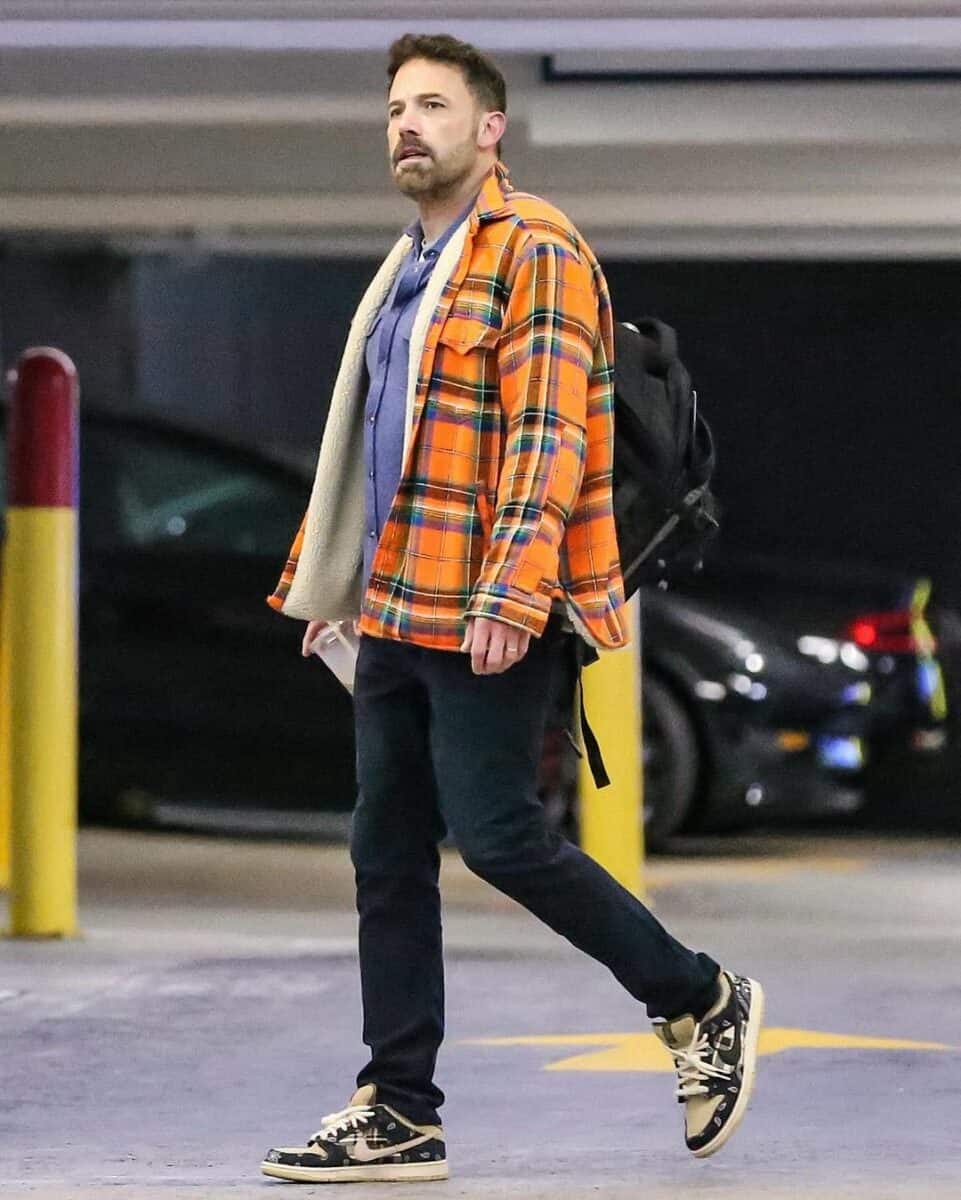 Out of all the Travis Scott Nike collabs, there's something about these Dunk Lows that feels like perfection. The Nike PRM branding on this gives them an extra buff in quality control, but that's not what makes them special. The true charm of these sneakers lies in how they feature a patchwork design mixed with tan suede. These two elements make for an outstanding look that rivals anything you can think of immediately.
RELATED: The Nike Air Jordan 3 Craft "Ivory" Is Super Clean
On the overlays, you'll notice that they are designed to fully wear away and eventually reveal an elephant print. Meanwhile, there's a lateral swoosh on the side that sports a cool pink finish. Ben Affleck managed to pull off the look with an orange plaid shirt that worked well enough against the sneakers' understated plaid design. It's a shoe that has a lot of value, and the amount of effort that made the collab possible is also impressive.
Nike Air Force 1 Low Travis Scott Cactus Jack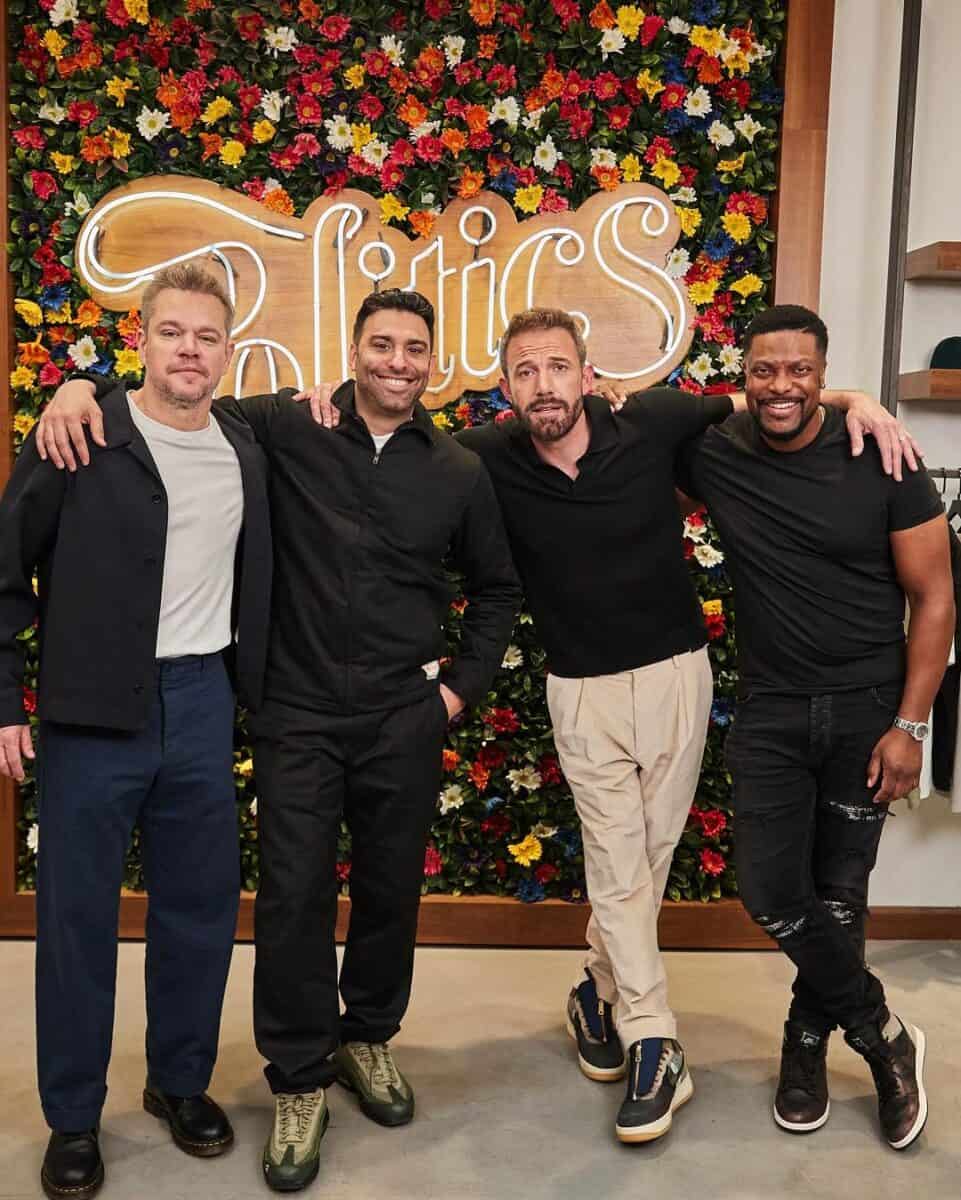 The Travis Scott and Nike Air Force 1 design is a force to be reckoned with. With multiple Air Force collabs, this one is a variant that strays off the conventional path one might expect from a pair of Forces. Instead, there's a twist added to Nike's collaborative effort with Cactus Jack in the form of a heavy brass zipper. This zipper adds a new dynamic to the sneaker that makes it feel like something completely new instead of a regular Air Force 1.
Featuring some patchwork and camouflage mixed together, it's a design that uses a lot of earthy looks to give it the feeling of a day-to-day sneaker, even with a somewhat futuristic design. The Cactus Jack insignia makes a bold display here as it's placed through the silhouette. There's also a sail midsole and a gum rubber outsole that helps elevate the whole sneaker.
RELATED: Air Jordan 11 "Satin Ballerina" Is Another Beautiful Christmas Sneaker Design
Jordan 6 Retro Travis Scott British Khaki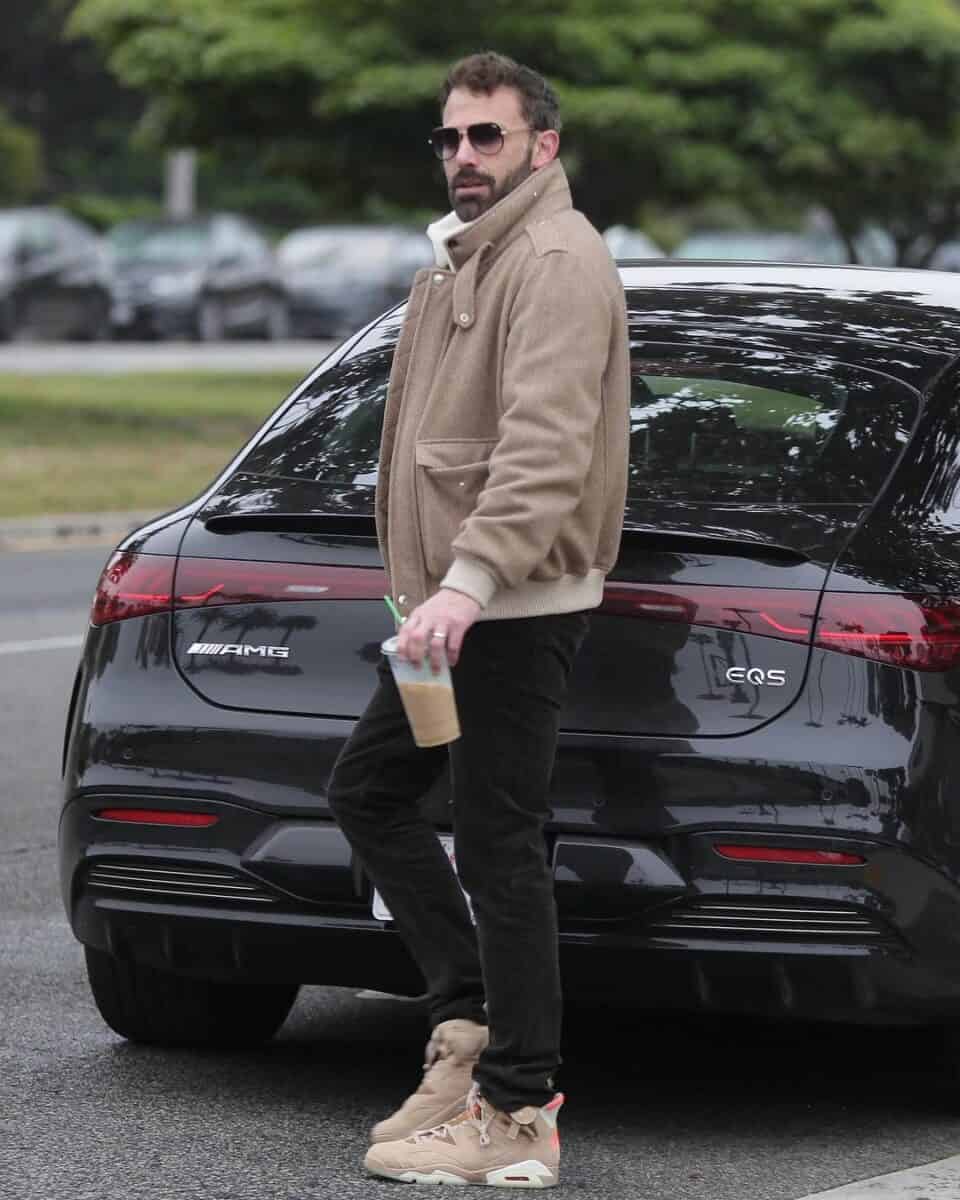 A cool beige look that goes with the current era of Ben Affleck, the Jordan 6 Retro sneakers are yet another one of Travis Scott's collabs that have left an impression on the iconic actor. It's also the second sneaker from the Jordan 6 silhouette that we've seen. The first version was a 2019 Jordan 6 Travis Scott.
The Air Jordan 6 Retro Travis Scott British Khaki sneaker is one that is made completely from British Khaki suede. A material that just works seamlessly with Affleck's aesthetic. On the upper, you'll find two cargo pockets. A convenient design, but one that most people won't be using unless they've got something that feels right in that storage spot.
The rest of the design is also amazing, and it features a translucent tongue, heel tab, and an outsole that glows in the dark for a perfect finishing touch.
RELATED: PUMA x Gremlins All-Pro NITRO Sneakers Are The Perfect Christmas Gift
Nike SB Dunk Low Sean Cliver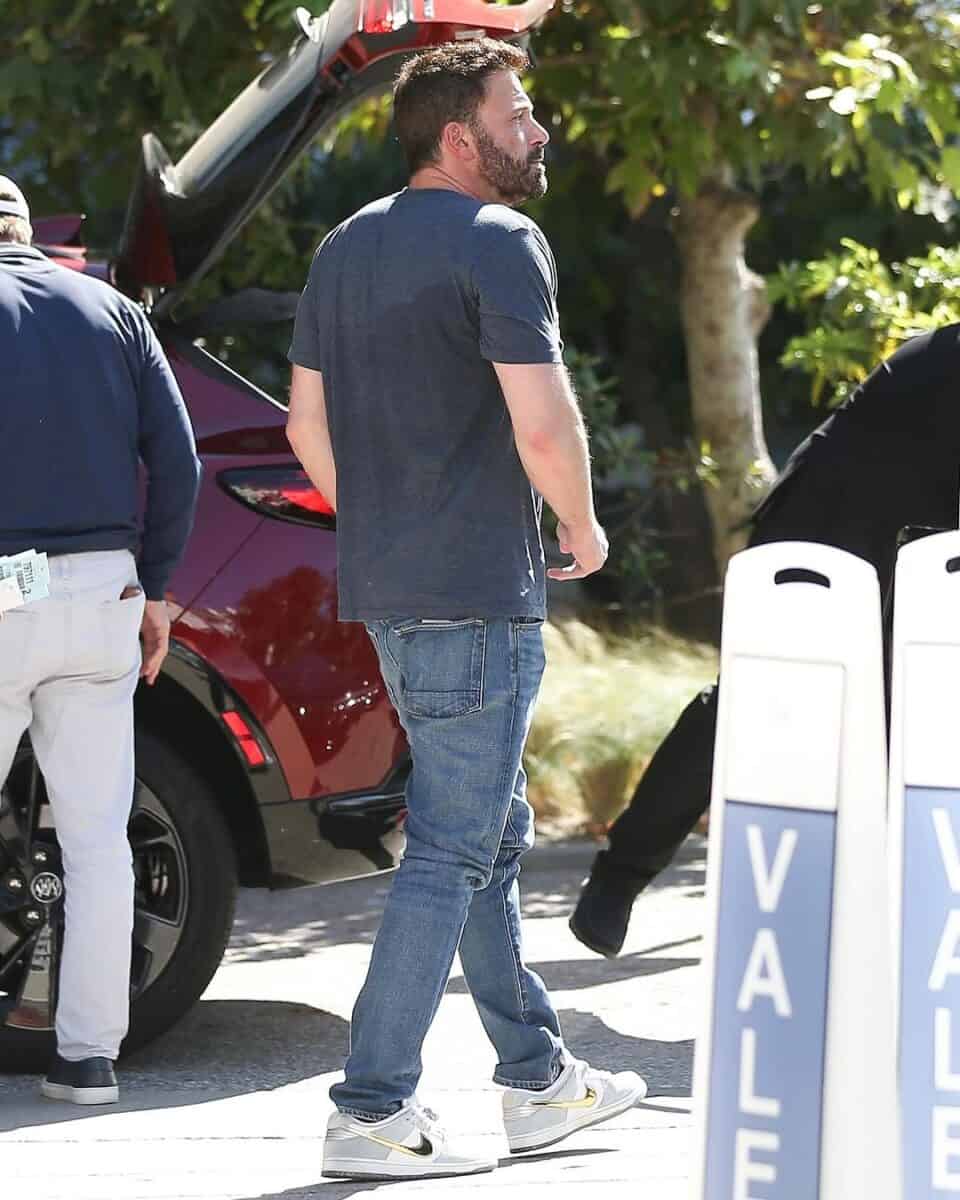 The Nike SB brand has always been a huge one for the younger audience. But in recent times thanks to some amazing collabs, they've also made their way into the lens of older sneakerheads. As a part of that population, Ben Affleck has shown a level of stylistic finesse by rocking the Sean Cliver collab elegantly.
This sneaker is one that's made especially for the holidays. It's a Christmas-themed sneaker, but it's also understated enough to feel like a regular shoe outside of that holiday. The upper area uses a mix of white tumbled leather and a sky-blue suede to create an amazing display that instantly pulls you into a whole new world. However, the highlight here is the gold embroidered Nike logo on the heel. It's an instant classic that makes them stand out next to other SB Dunks.
Jordan 1 Retro Low OG SP Travis Scott Reverse Mocha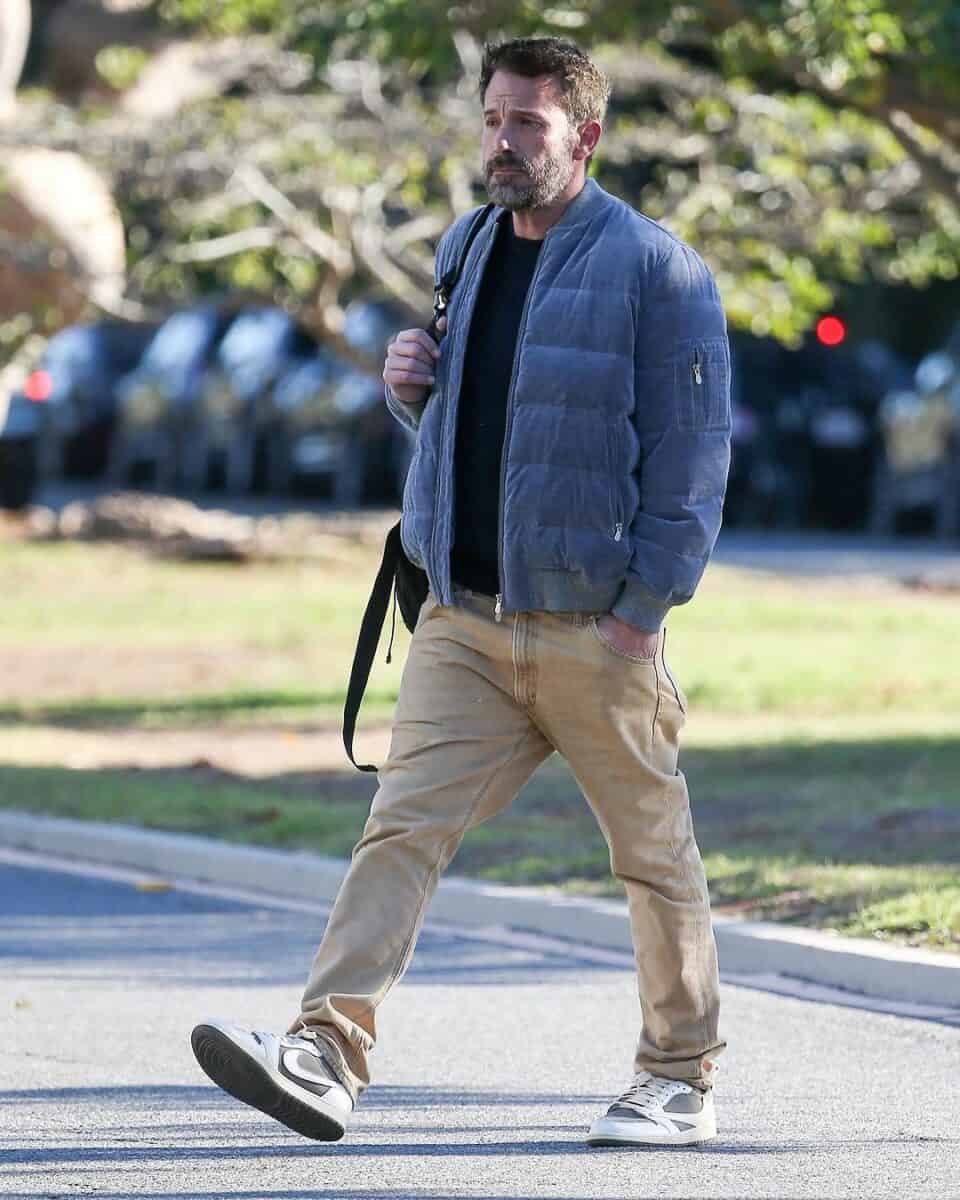 A classic in the Travis Scott x Jordan brand collabs. If you're a fan of these unique sneakers, it's important to pay homage to one of the most iconic pairs in the form of the Reverse Mocha. These sneakers use an off-white palette in a special reverse-style colour blocking. The upper uses a Mocha Duraback base along with white leather overlays. Most importantly, the sneaker has the reverse swooshes here.
RELATED: The 10 Best Nike Boots Perfect For Winter
Ben Affleck wearing a pair of these sneakeres is quite iconic to see. As one of the main actors who has endured through multiple generations of fans, he's able to still deliver a style that resonates with all members of his audience. The red wings logo at the back is also a great feature here. It's also embroidered and woven at the tongue, giving it a sharp contrast to the regular design's neutral looks.
Travis Scott Jordan 1 High 'Chicago'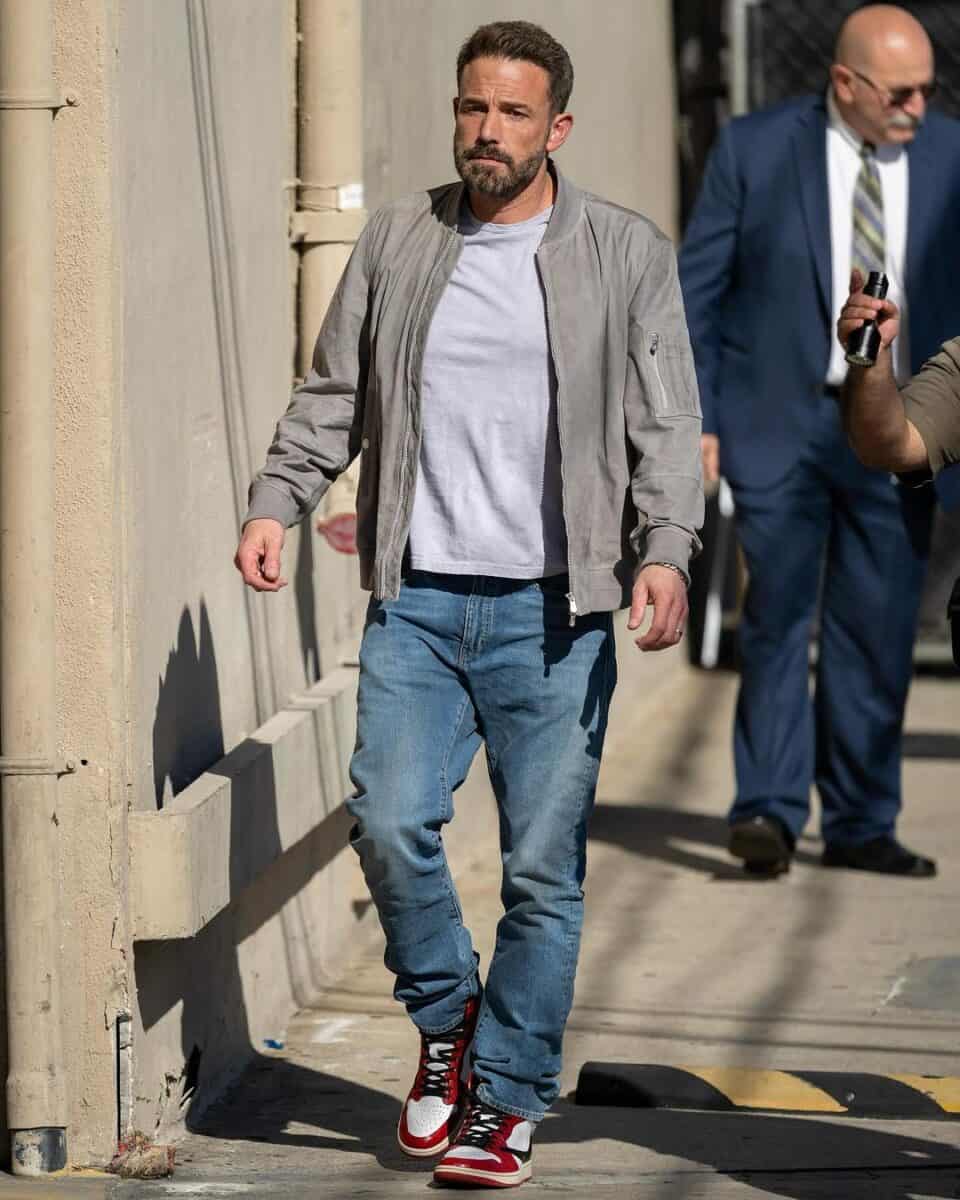 A pair that is extremely difficult to cop in this day and age, Ben Affleck has really shown that he is far ahead of anyone else in the sneaker game by wearing this pair out during his press runs for 'Air.' This sneaker is highly coveted, but the hype alone isn't what makes them special. One thing you have to remember is that the classic Jordan 1 Retro silhouette usually remains untouched in most collabs. Your brand has to be something special in order to play on that classic look.
One iconic spin was the Off-White Jordan 1's, and they rose to insurmountable levels of popularity. These Travis Scott joints might not have the same level of fame, but they are still pretty special in the grand scheme of things.
RELATED: Nike Cosmic Unity 3 Is Now Part Of The "Swoosh Fly" Collection
Air Jordan 1 Retro Low x Zion Williamson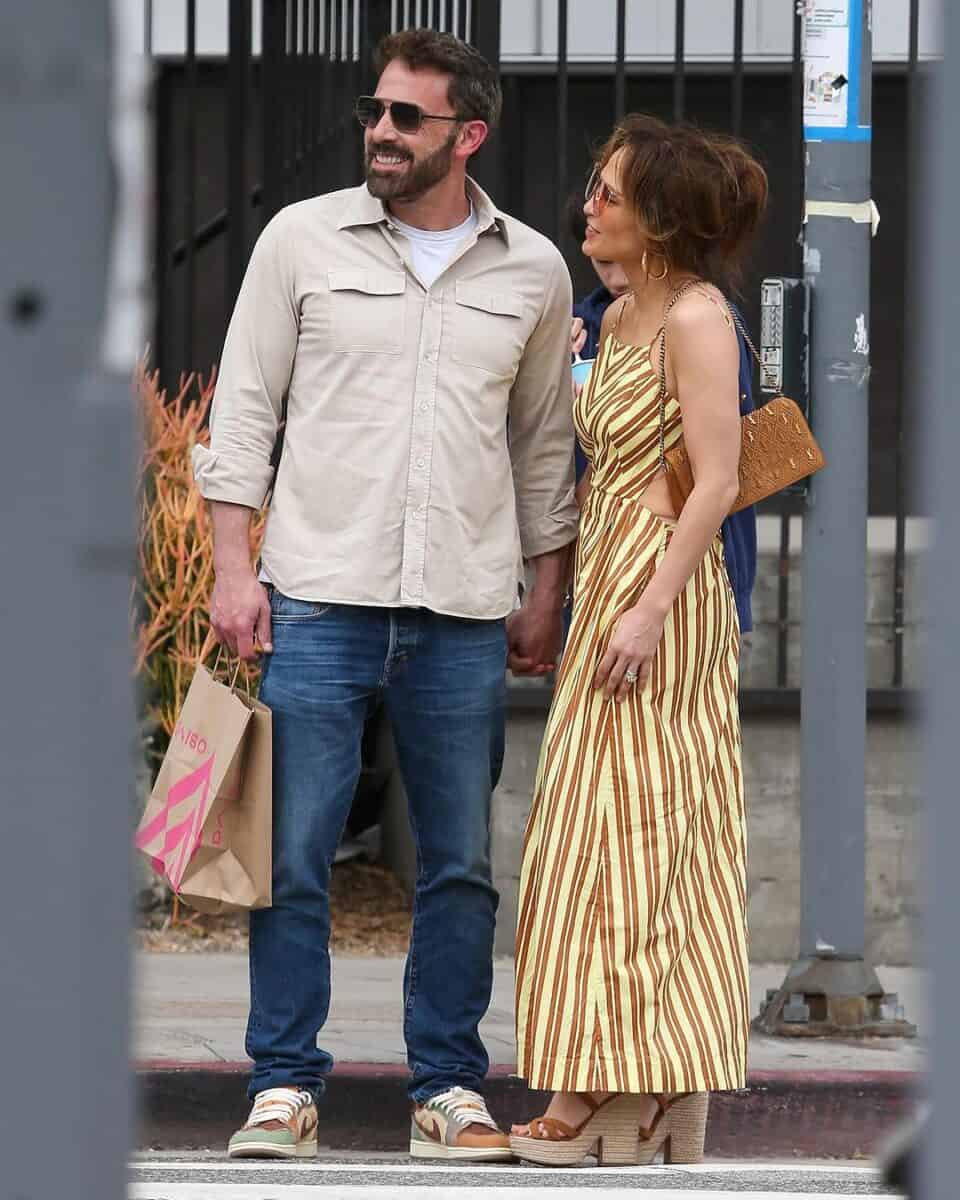 The Air Jordan 1 Retro Low OG collab with Zion Williamson is a sneaker that feels like it has a lot going on. At first sight, this might be due to the colours or patches, but after a while, you start to notice that they are pretty special in terms of craftsmanship.
Using a brown suede toe box combined with beige suede quarter panelling, they intelligently blend the two styles. The brown upper uses some overlays in the form of oil-green hues, pale brown, and fossils to beautifully contrast the rest of the design. On the lateral heel of the shoe, you'll find a stitching voodoo doll, a thematic element that keeps up with the Voodoo branding behind the sneaker.
With a sneaker that had so much going on already, Ben Affleck kept things simple with his outfit and opted for a clean look, leaving the Voodoos to do all the heavy work.
RELATED: James Harden Reveals Epic New Adidas Harden Vol 8 Sneakers
What are your thoughts on Ben Affleck's Nike sneakers?
Source of images: @complexsneakers