Patrick Star has been a beloved fixture on our TV screens since the debut of the hit animated series SpongeBob SquarePants back in 1999. Known for his lovable and goofy personality, Patrick has become a fan-favorite character. In fact, it's hard to imagine a world without Patrick Star and his iconic pink starfish shape. That's why, to celebrate Patrick's enduring popularity, @jerzy_kickz has conjured up a Patrick Star Nike SB Dunk Low so fitting; you may just mistake it for the cartoon starfish himself.
RELATED: These Harley Quinn x Nike Dunk Low Sneakers Are A-Okay, Mr. J
The attention to detail in these conceptual kicks is astounding, resulting in an instantly recognisable homage to Patrick Star. Drawing inspiration from Patrick's signature pink and green colour combination and adding a flair of purple, the sneaker captures the character's visual charm. A vibrant lime green dresses the sneaker's toe box, tongue, quarter panel and heels. Purple flower accents then adorn the quarter panels and collar, giving the perfect nod to Patrick's unmistakable green shorts.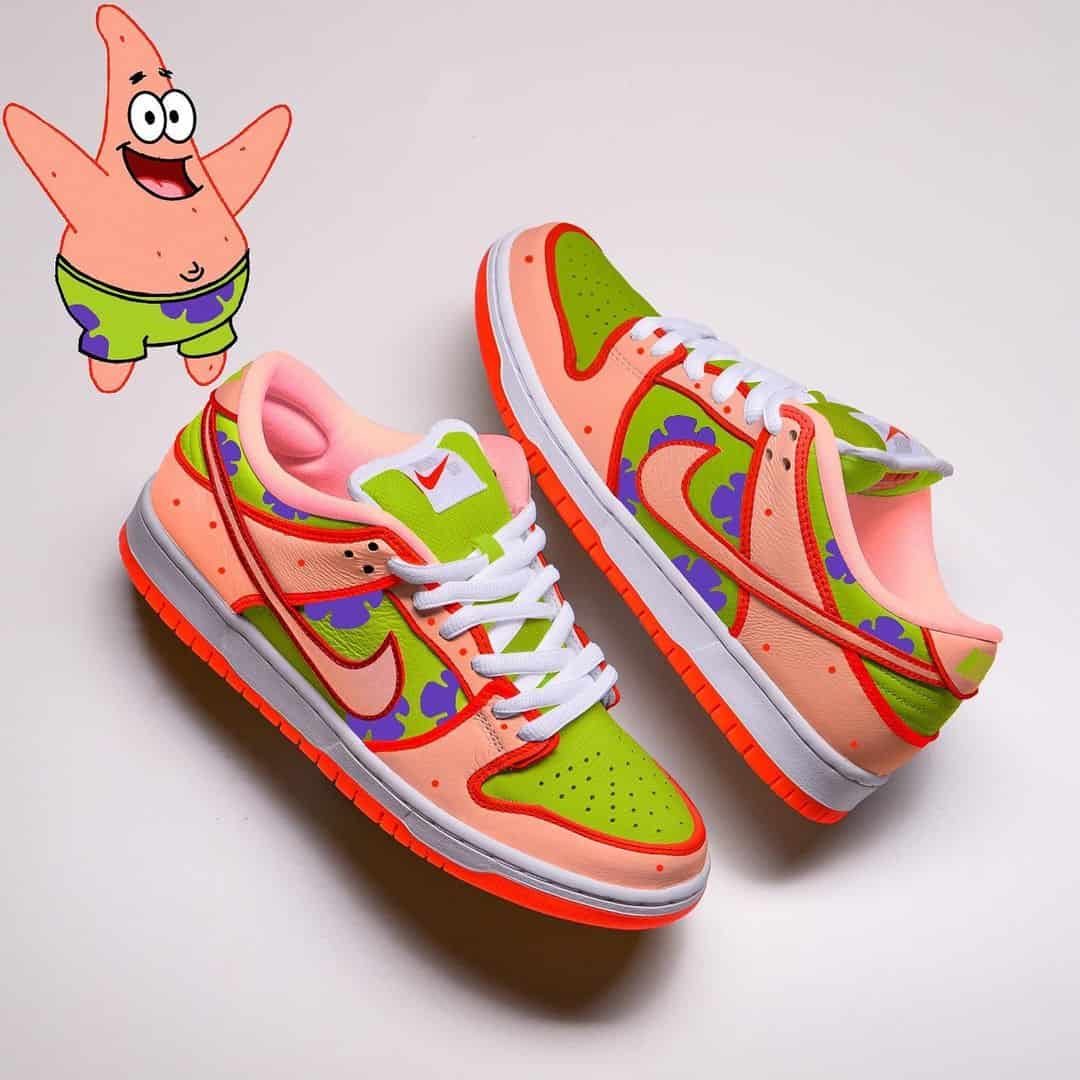 The overlays and Nike Swoosh are bathed in a warm pink hue, delicately enclosed by a red rim reminiscent of Patrick's distinctive skin tone and outline. Even the minutest detail hasn't escaped the designer's keen eye, with red dots speckled through the overlays as a playful nod to Patrick's skin details. The design harmoniously comes together with laces, a midsole and tongue details, all in stark white, resting atop a bold red outsole for an emphatic finish.
Whilst we can't see within, we like to envision the insoles replete with images of Patrick's favourite snack – the Krabby Patty. Or perhaps a design with the hit TV series iconic flower clouds floating across the insoles. What do you think?
RELATED: Mighty Morphin Power Rangers x Nike Dunk Lows – You Ooze, You Lose
Watching our treasured characters inspire unconventional creations is undoubtedly exciting, and the Patrick Star Nike SB Dunk Low sneakers do precisely that. Prior to this design, we encountered the sea star taking over the Nike Kyrie 5 basketball shoe. However, the Patrick Star Nike SB Dunk Low takes the persona of Patrick to a whole new level, emphasising the trademark colour play and texture that is purely Patrick.
Our favourites. Available now at Nike.com
Very few can balance capturing a character's essence and creating a stylish sneaker, but these Patrick Star Nike SB Dunk Low sneakers do it flawlessly. We look forward to seeing more of Bikini Bottoms' beloved characters translated into unique and stylish footwear options, courtesy of @jerzy_kickz.
While Patrick Star's spin-off show may not have matched the successful strides of the original SpongeBob SquarePants, we are hoping for his solo act on these Patrick Star Nike SB Dunk Low concept sneakers to make a big splash in the sneaker community someday. Until then, be sure to follow us for more sneaker customs and concept designs featuring your favourite characters and so much more.
RELATED: These TMNT Villians x Nike Sneakers Were Made For Fans
So, what are your thoughts? Would you like to see @jerzy_kickz bring these Patrick Star Nike SB Dunk Low sneakers to reality?
Source: IMDB