While renowned for its groundbreaking sneaker designs, Nike's mastery of building anticipation and excitement reaches far beyond its shoes. The brand's exclusive special edition packaging is considered an art form in itself, often becoming a collector's item and enhancing the overall brand experience. Reflecting their limited-edition releases' exclusivity and unique style, Nike's packaging ranges from custom-designed boxes for collaborations to intricate wrapping techniques highlighting the premium materials used in their sneakers. Some, however, surpass the norm and become masterpieces, encapsulating creativity and artistry. To appreciate such craft, let's embark on a journey through 15 of the most outstanding Nike special edition packaging designs introduced over the years.
RELATED: Nike Reveals Kids "What The" Sneaker Collection
1. Nike Air Pressure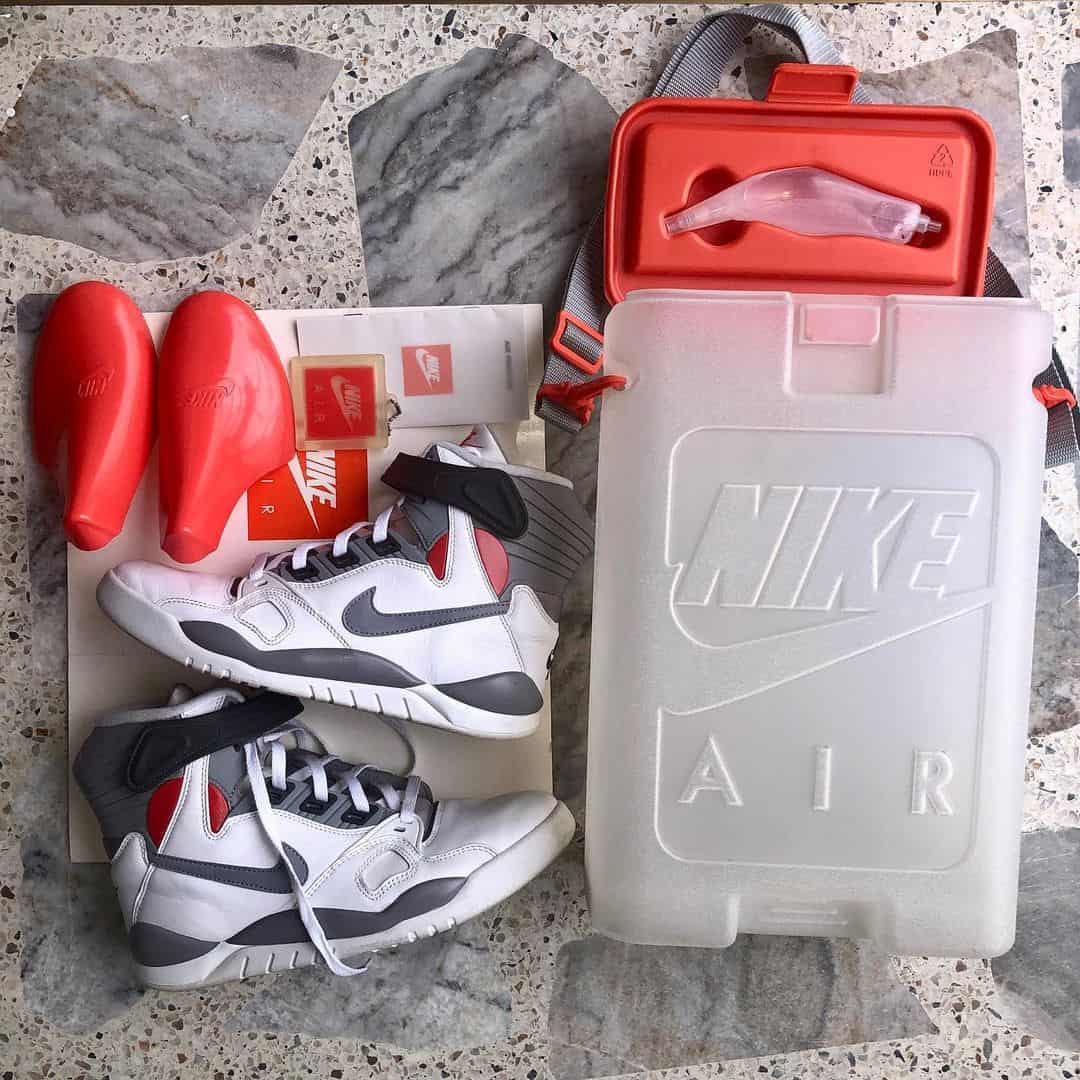 Back in 1989, Nike introduced the Air Pressure, not long after Reebok had unveiled their popular Pump technology. Given its late entry into the market, it needed something extraordinary to help it stand out. To create a unique selling point and distinguish it in the market, Nike incorporated an unconventional translucent plastic case to present these inflatable shoes. This unique packaging showcased the inflatable sneakers and their portable inflation device in a way which felt distinctly cool for its time. Sadly, the Air Pressure was never quite as popular as its Reebok counterpart, but we still love its incredible packaging.
2. Air Jordan 17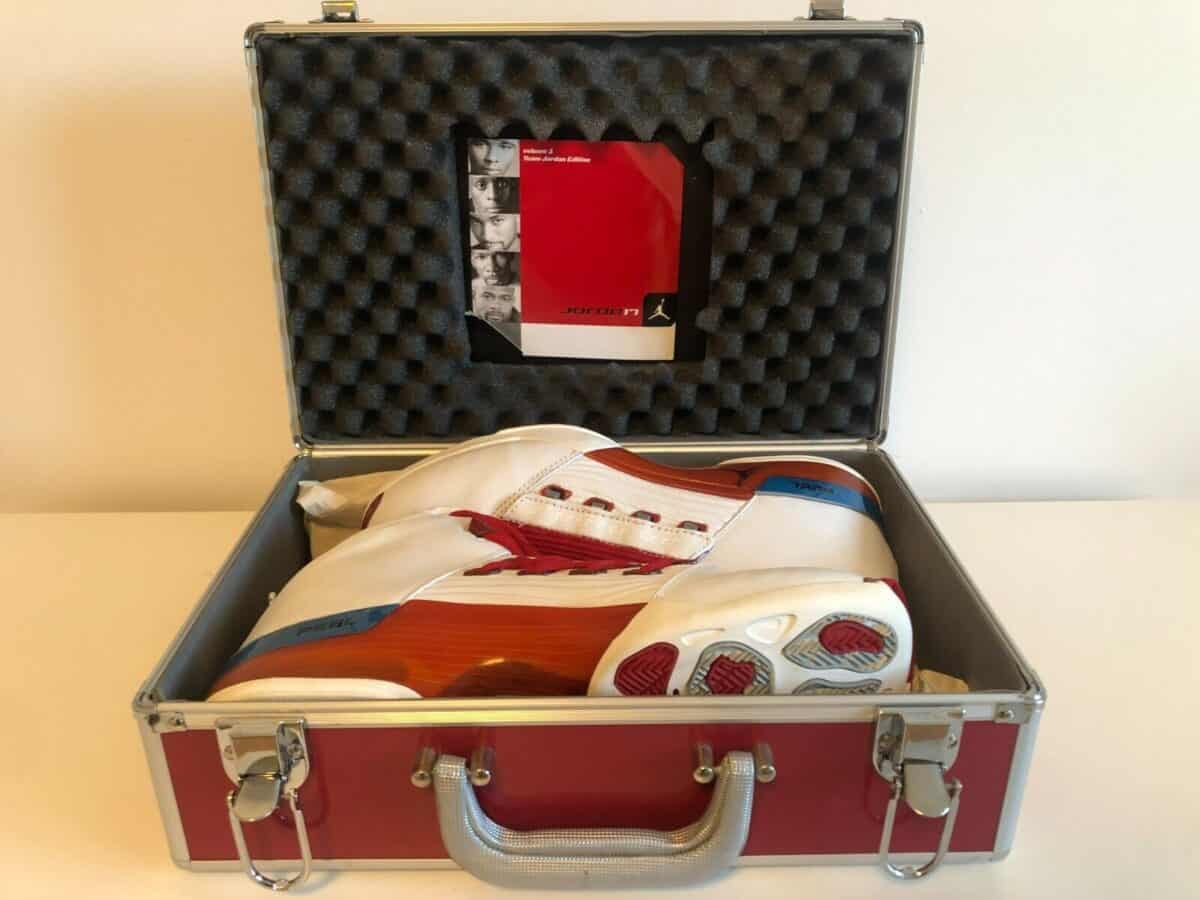 We bet many of you remember the luxurious metal carrying case housing the Air Jordan 17 on its grand release in 2002. The innovatively designed case added a lavish vibe to the Air Jordan 17, making them the talk of the town. Although its absence in recent releases has caused a void, the promise of its comeback with future Air Jordan 17 releases (possibly as soon as next year) is definitely thrilling.
3. Nike "Champ Pack"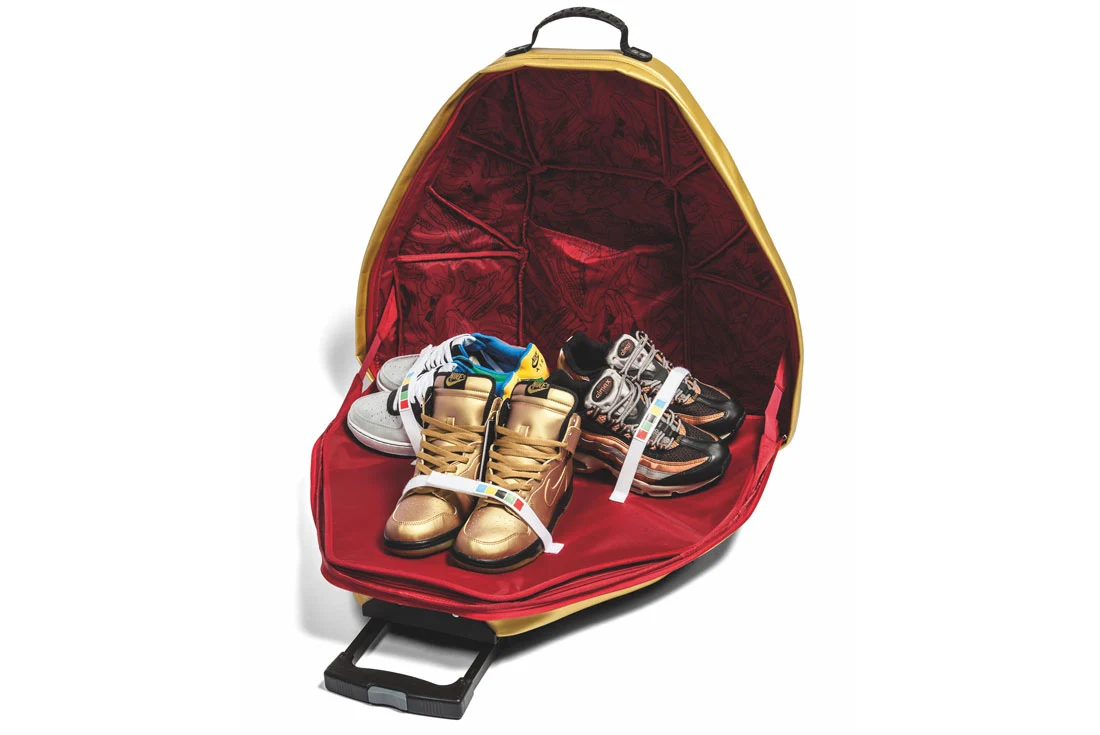 In 2004, Nike released a trio of sneakers, forming the "Champ Pack" for the Athens Games. This trio of dynamic sneakers encompassed a golden Dunk High, a silver-toned Air Force 1 Low, and a bronze Air Max 95. Customers had the luxury of either picking one of the gems or going all out by acquiring the entire collection. The full set further enhanced the spectacle with a radiant golden zip-up "clamshell" case adorned with stunning red lining and even attached wheels for effortless transportation. The exclusivity of this pack is displayed by only 777 units released worldwide. Along with this rarity, a bonus t-shirt and keyrings were rewarded for the case's purchasers. Talk about Nike going for gold with their packaging!
4. Nike SB Blazer "Fly Milk"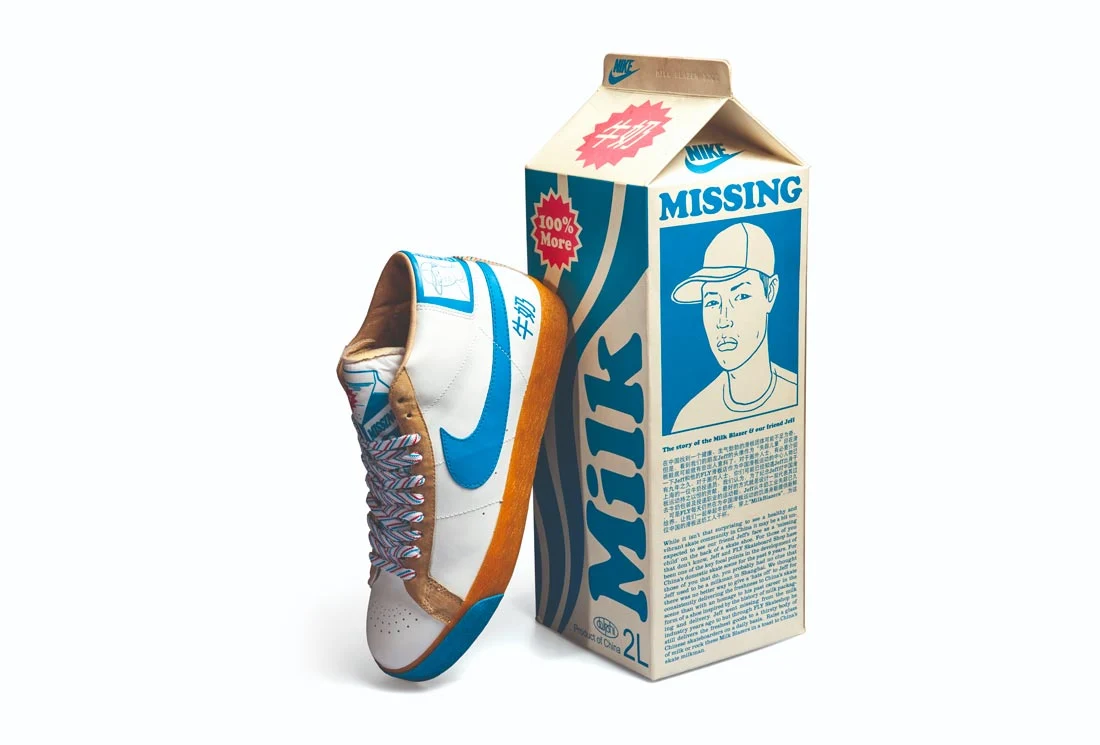 Where else have you seen a sneaker that pays homage to a milk factory worker, in this case, alluding to Fly's owner Jeff Han, who swapped the dairy world for the skateboarding industry? As you can see the crisp white leather sneakers are adorned with a "missing" portrait and a description of Jeff on their heels. And to match? The brand released a milk carton to house the sneaker boasting a similar "missing" portrait, description and colour scheme as the sneakers. This designs nod to the yesteryears, when such portraits were synonymous with milk cartons, adds a certain nostalgic charm and celebrates Jeff's adventurous shift from a humble milk factory to the skateboarding industry. While only a select number of drops played into the theme for this release with the milk carton packaging, the rest received a standard black and purple SB box. Though the carton might not top the list in terms of luxury or flamboyance, the devotion to detail and unique storytelling certainly make it an unforgettable contender.
5. Michael Lau x Nike SB (China BMX)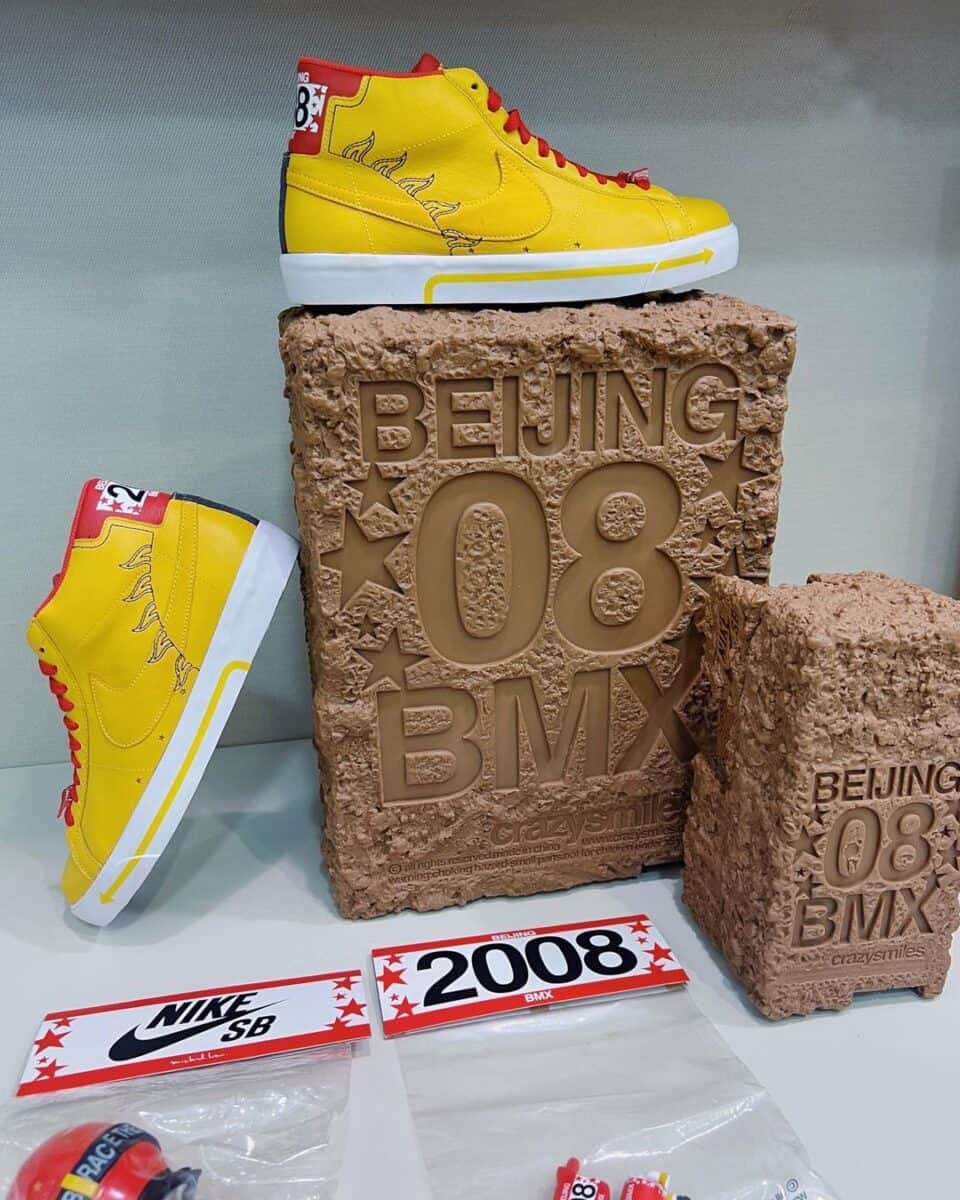 When BMX secured its place in the 2008 Olympics, Nike SB collaborated with artist and toy designer Michael Lau to celebrate. Together, the two created a shoe that embodied China's BMX culture, displaying a brilliant yellow hue with red accents…but let's not forget about the packaging. While the standard packaging came in a gold Nike SB box, special edition packaging was something else completely. The box was designed to resemble a muddy BMX track, complete with tire marks and branding. Adding the icing on the cake was a complementary vinyl BMX figure, making it an absolute collector's treasure.
Our favourites. Available now at Nike.com
RELATED: The 5 Best Nike Halloween Sneakers of 2023
6. Concepts x Nike SB Dunk Low "Lobsters"
Concepts' packaging for their "Lobster" series truly sets a standard for thematic consistency and creativity. Each unique "Lobster" colourway arrived in its bespoke packaging, complete with limited-edition accessories. Each unique colourway is completed by individually designed packaging filled with limited-edition complementary items. This journey started with the "Red Lobster" in 2008, packed within a wooden crate similar to those used in lobster transport, even incorporating lobster accessories like tongs and an apron. The "Blue Lobster" followed in 2009, and its presentation in a styrofoam container-style box encased inside a hazmat bag was sure to catch any eye. The "Green" and "Purple Lobster" made their appearance in 2018. The former is packaged in a plastic box resembling fishery containers, and the latter with a container mimicking an ice block. Lastly, the "Orange Lobster" broke the ice in 2022 with a Salvador Dali-inspired box mimicking his surreal "Lobster Telephone" artwork. But Concepts' genius doesn't stop here. We could mesmerize you all day recounting their "Holy Grail" collection, the "Ugly Sweater Pack", or their distinctive "Turdunken" boxing. But let's pause here for now.
7. Clot x Nike Air Force 1 "1 World"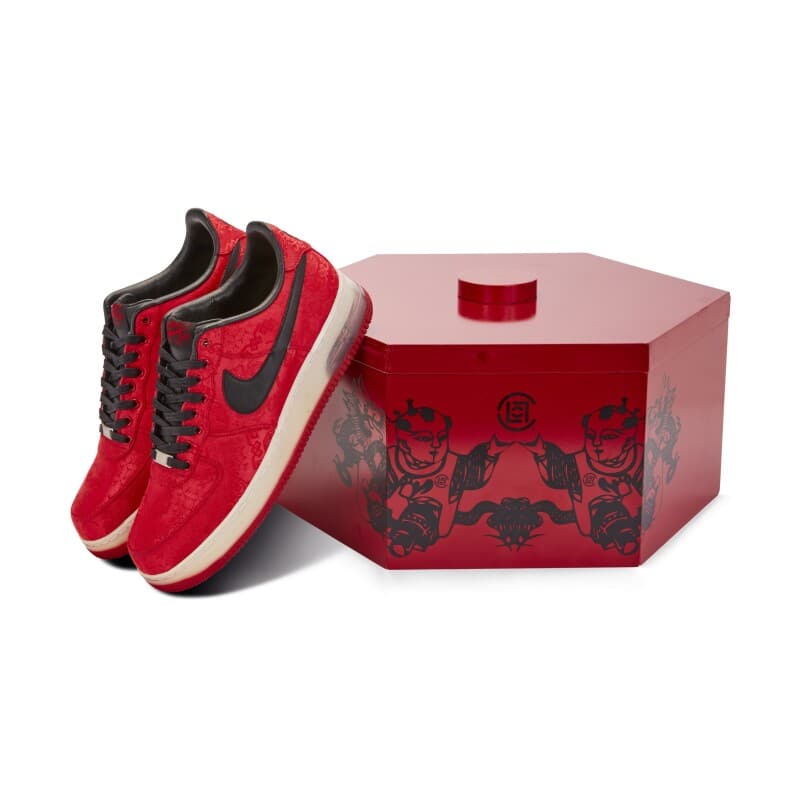 Nike's "1 World" collection is a testament to global harmony, with 18 artists worldwide infusing their distinct flairs into the classic Air Force 1 silhouette. The one that truly steals the limelight, though, is the intricate Clot x Nike Air Force 1. This design is the brainchild of the hip Hong Kong-based streetwear brand Clot, blending traditional Chinese inspiration and innovative aesthetics. The sneakers are a celebration of heritage, featuring elaborate embroidery influenced by traditional Chinese patterns alongside sumptuous silk and leather materials. This striking pair came nestled within a vibrant red hexagonal lacquer box, graced by Clot's striking black chinese graphics. Inside the box was a partitioned tray layer to store the additional six laces that came with the sneaker. The packaging further honoured Chinese tradition with a design emulating the Lunar New Year candy box, adding a delightful and reminiscent touch to an already remarkable shoe design.
8. Nike Mag 2011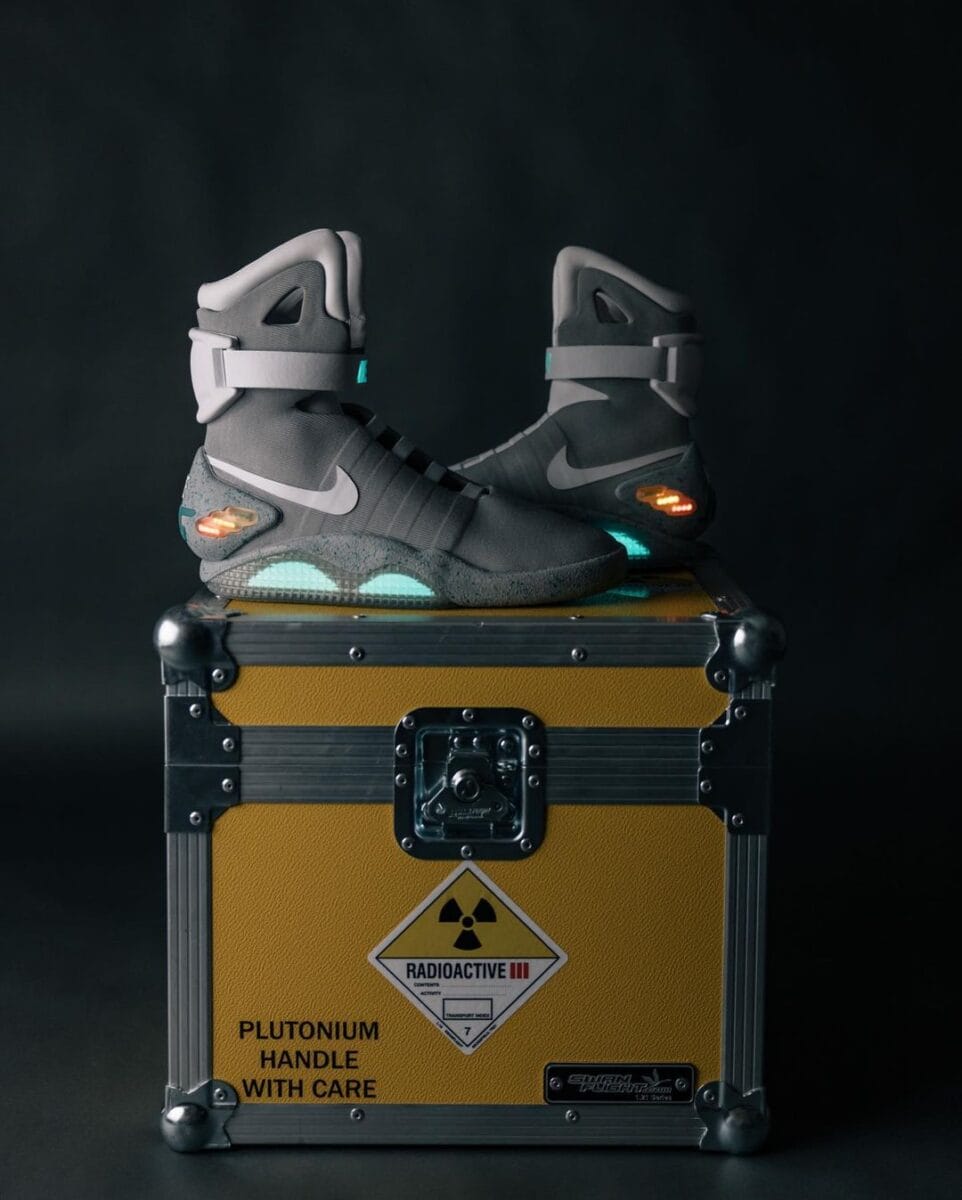 2011 saw the release of a pair of self-lacing sneakers inspired by the iconic shoes worn by Marty McFly in the movie "Back to the Future II" come to life in aid of the Michael J. Fox Foundation for Parkinson's Research. These rare collectables stirred up quite the frenzy at auction, partly due to their limited availability but also the unique, yellow Plutonium case-inspired packaging, a direct reference to Dr. Emmett Brown's film prop. While the standard box was a yellow carboard box with a magnet seal, the special edition was a full on case. It even had a clear pull-up chamber that revealed the iconic Nike Air Mag sneakers inside. It isn't difficult to tell why this is one of the best Nike special edition packaging of all time.
9. Nike Air Force 1 "Year of the Rabbit"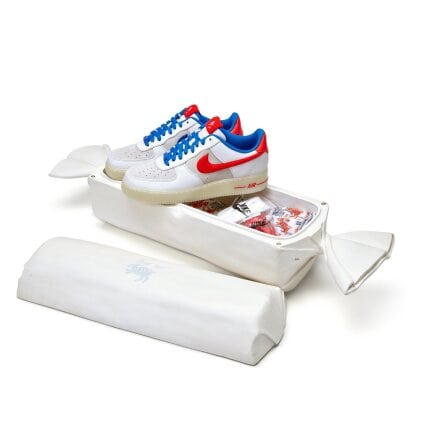 Unfailing in their tradition, Nike drops a special edition sneaker each year celebrating the Chinese Zodiac, typically accompanied by exquisitely themed Nike special edition packaging. An unforgettable instance must be the 2011 "Year of the Rabbit" design, inspired by the deliciously addictive White Rabbit candies. The box replicates the candy wrapper and includes a special tissue paper imprinted with the brand's distinctive bunny logo. It's tough to say which is more beloved—the candies themselves or this innovative box.
10. Unheardof x Anonymous x Nike SB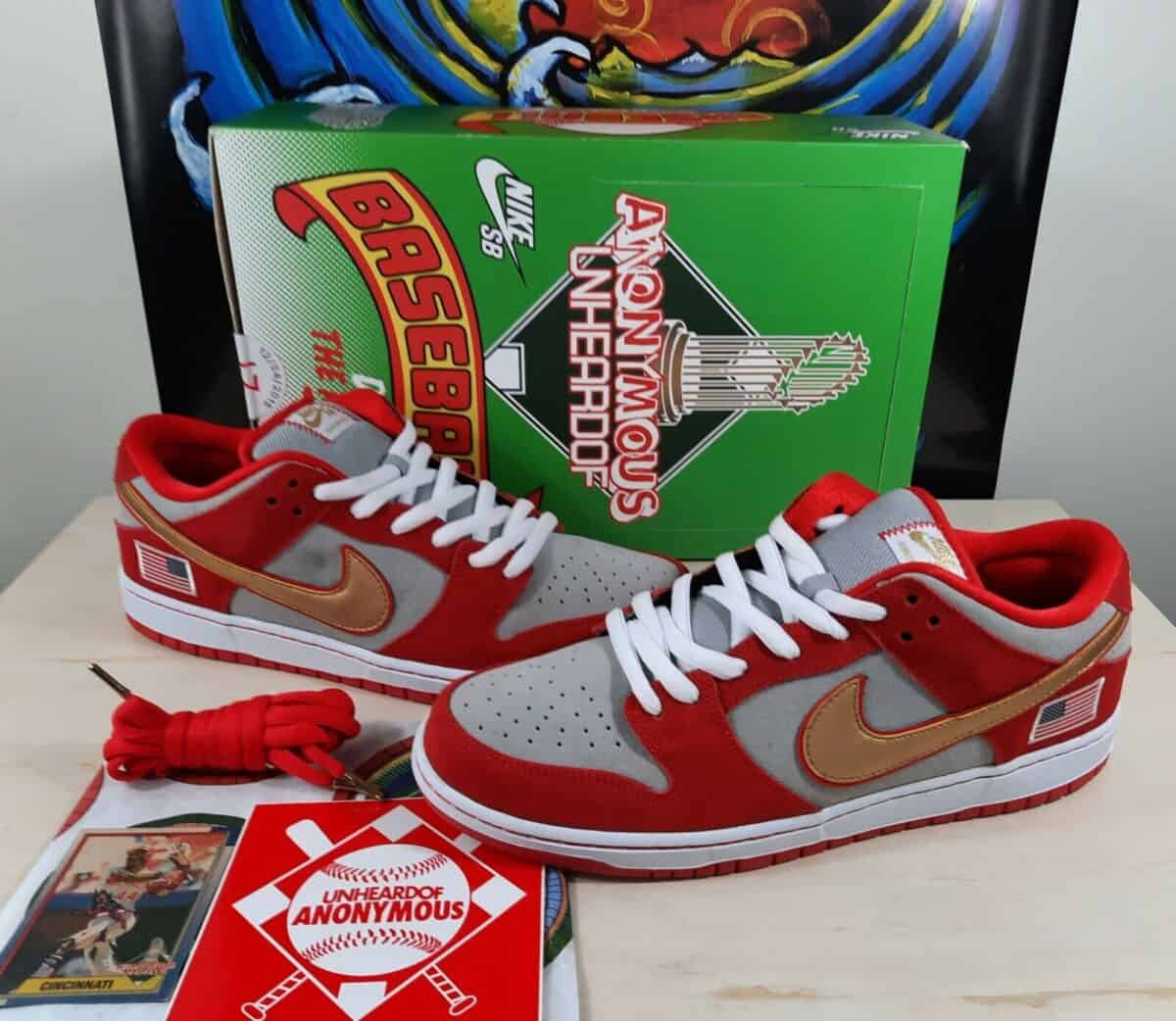 Who could resist the thrill of unveiling a brand-new set of trading cards? Anonymous and Unheardof collaborated with Nike in 2015 to reinvent that joy for sneaker lovers. They prepared bespoke packaging for their Nike SB pack, mirroring the vibrant packaging of baseball cards from the nostalgic '90s, adorning it liberally with the same nostalgic lettering and outsized baseball graphics. What they achieved was a perfect blend of the anticipation of unwrapping trading cards, coupled with a salute to the 90's golden era of baseball. We can confidently say this trio knocked it out of the park with this unique concept.
RELATED: The 5 Best Nike Sneaker Collaborations of 2023
11. Nike Kyrie 4 "Cereal Pack"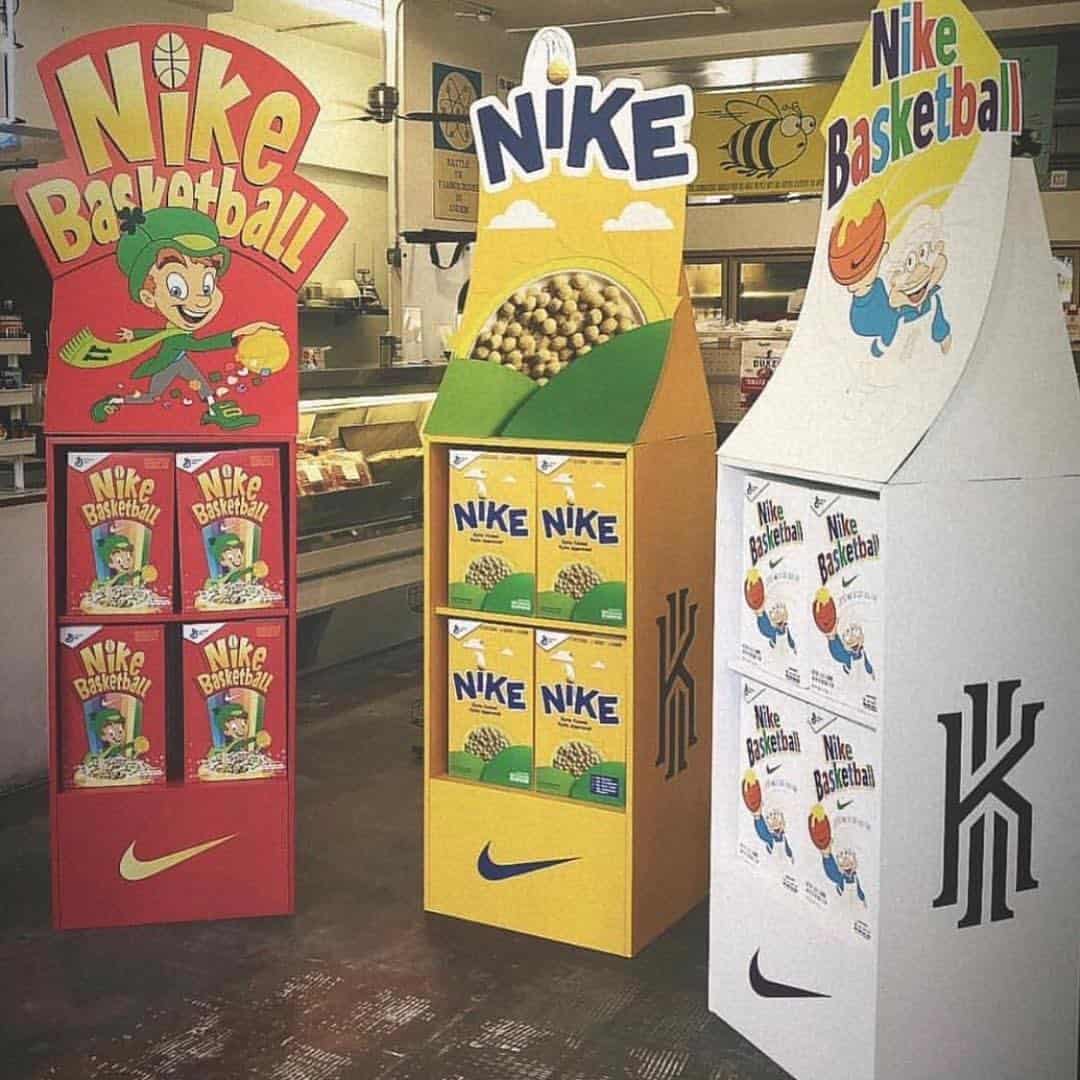 Nike and Kyrie are no strangers to stunning special edition packaging, with noteworthy launches like the Nike Kyrie 2 "Inferno" and "Ky-Rispy Kreme" in 2016. The "Inferno" packaging was designed like a fire extinguisher case, while the "Ky-Rispy Kreme" took its cue from a delightful (and always welcome) doughnut box. But our favourite is undoubtedly the 2018 "Cereal Pack", featuring four distinct cereal boxes. Each shoe in the pack engaged with a popular cereal brand (Lucky Charms, Cinnamon Toast Crunch, and Kix), complete with a co-branded cereal bowl and spoon. It was a playful and unique way to connect Kyrie's love for cereal with his sneaker line; and fans couldn't get enough of the Nike special edition packaging.
12. Ben & Jerry's X Nike SB Dunk Low "Chunky Dunky"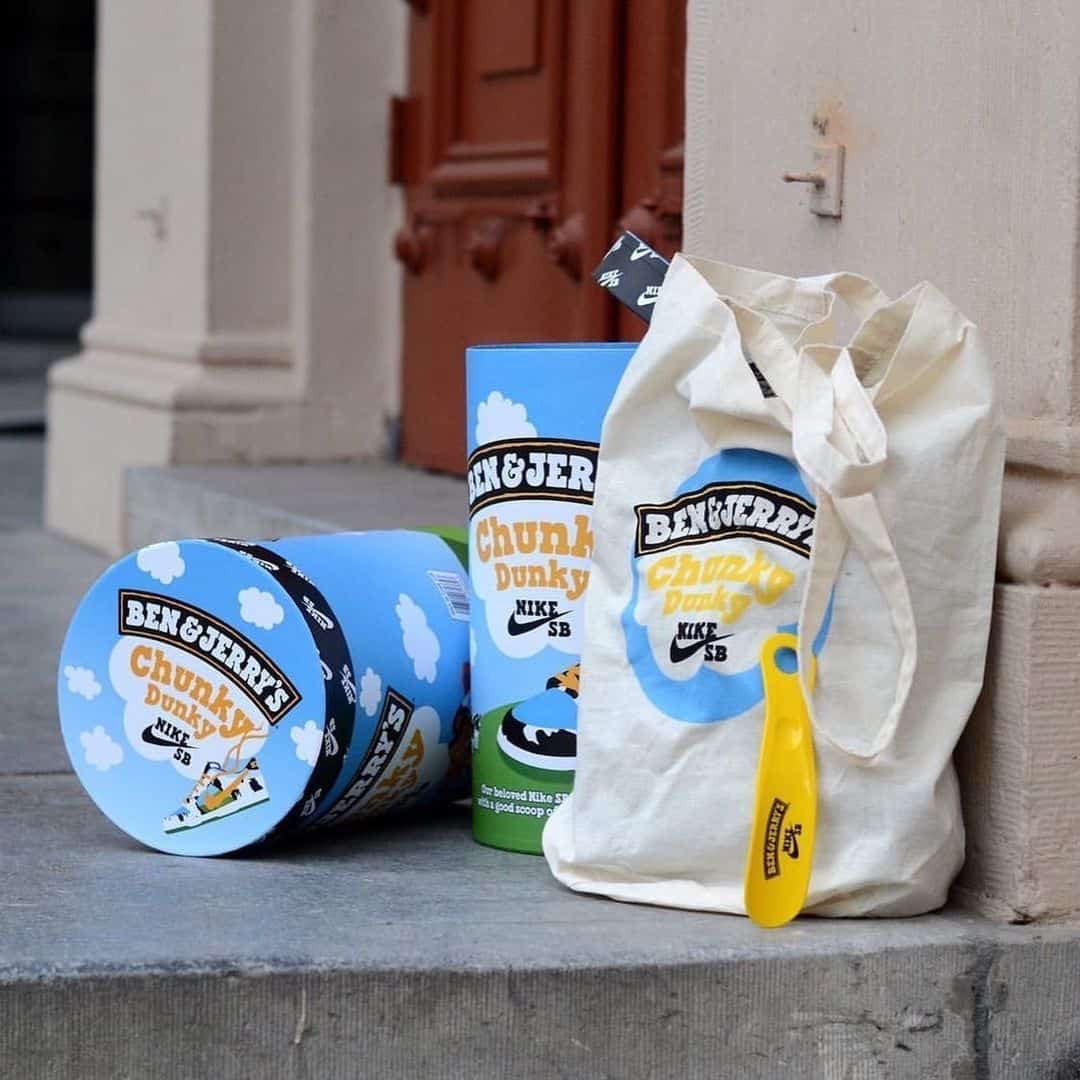 Can you imagine a more ingenious way to launch an ice-cream-themed sneaker than in a box that mirrors a pint of Ben & Jerry's ice cream? That is precisely what the brains behind Nike SB must have thought when releasing their Ben & Jerry's collaboration in 2020. A select few were lucky to secure these coveted Dunk Lows housed in their special edition packaging, which mimicked the beloved ice cream brand's famous pint containers. However, the rest had to settle for a standard shoebox, but hey, even those were quite colourfully decorated.
13. Louis Vuitton x Nike Air Force 1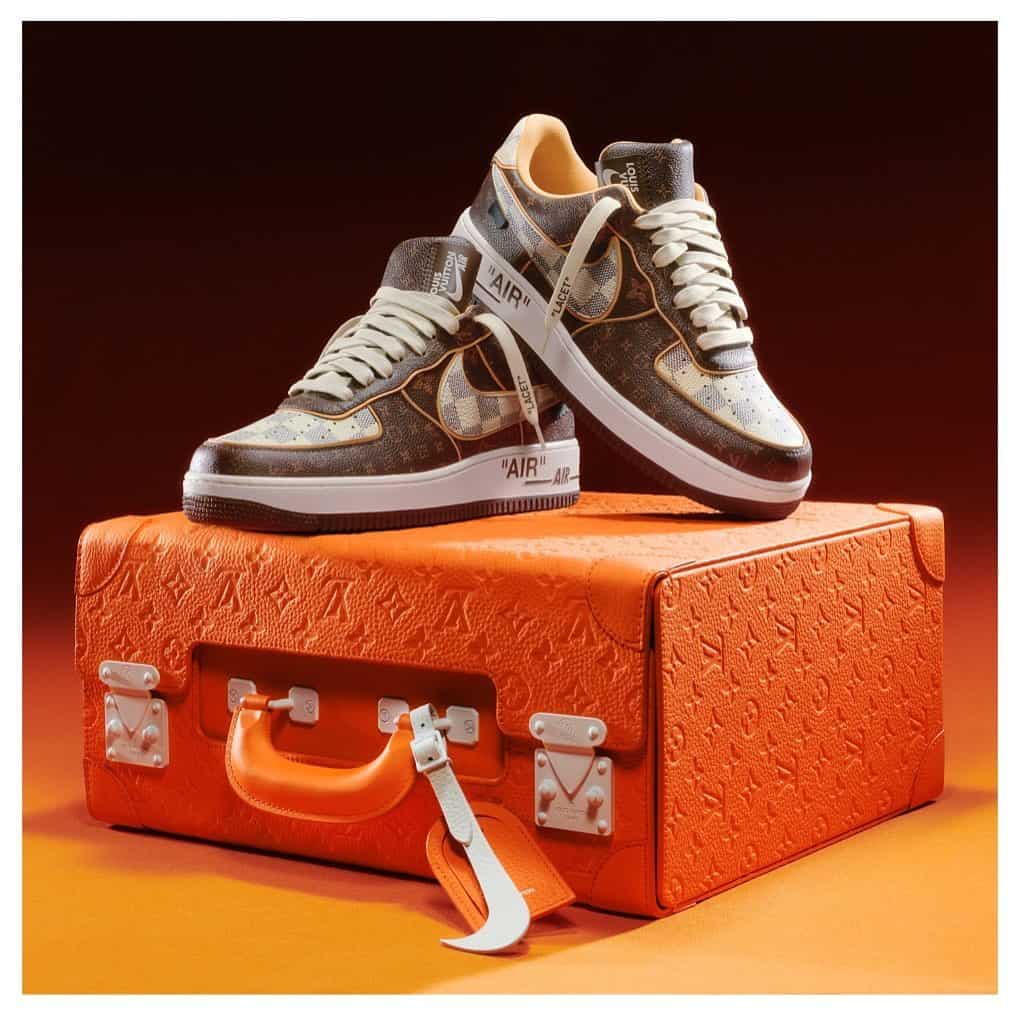 Before his untimely departure, Virgil Abloh worked alongside Nike to craft a limited edition Louis Vuitton x Nike Air Force 1 sneaker. Descending upon us in 2022, Louis Vuitton released a limited run of 200 pairs of their exclusive Nike Air Force 1 through Sotheby's Auction. As opulent as the sneaker is, the limited edition packaging is equally eye-catching. Each pair is accompanied by a radiant orange Louis Vuitton pilot case crafted from Monogram Taurillon Leather. Embellished with a white metal S lock closure and a Nike Swoosh-shaped luggage tag, this pilot case is as desirable as the shoe pair it secures. As if we expect anything less from Louis Vuitton.
14. SB Dunk Low x Fly "Gardenia"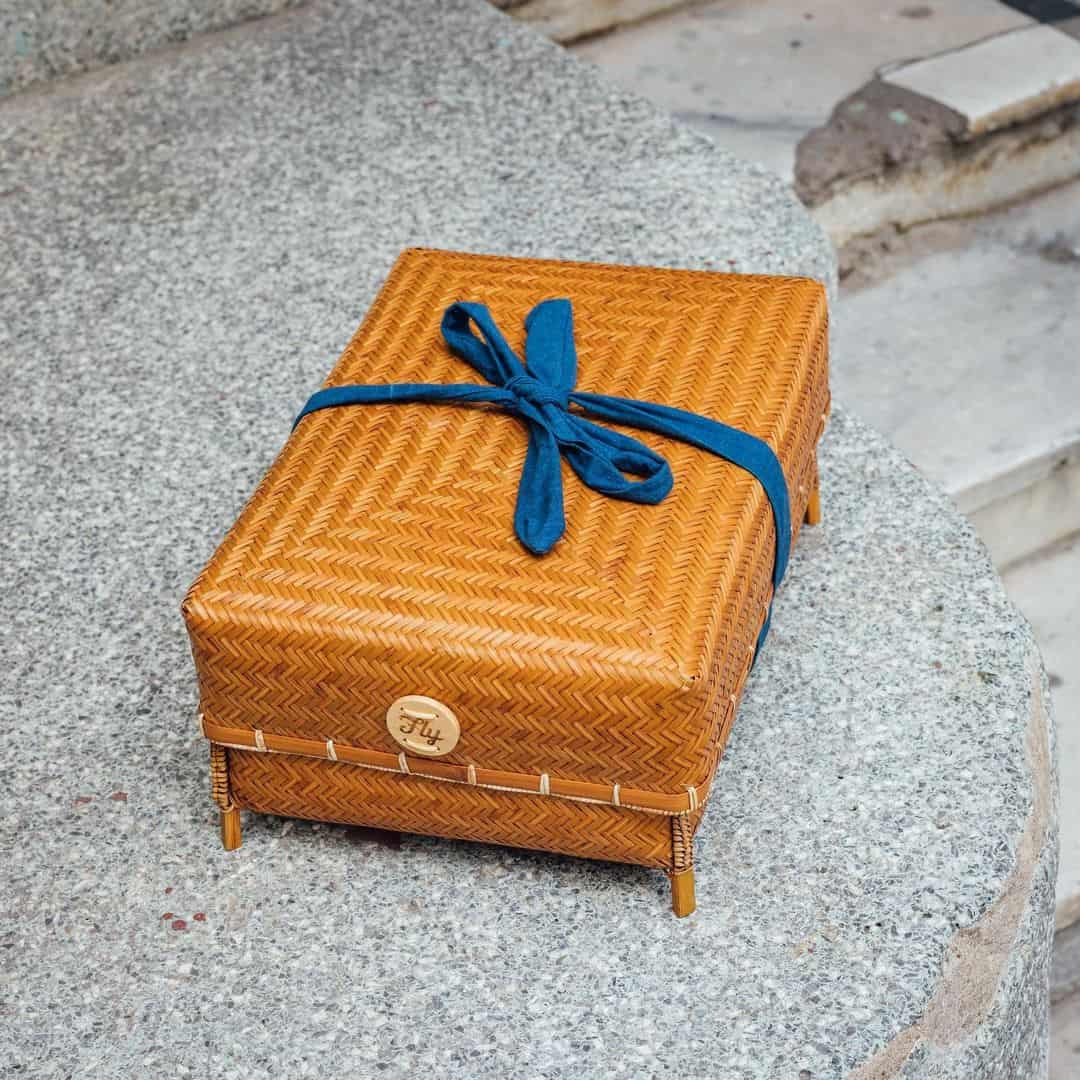 Nike SB certainly knows how to conjure up magic. Whether it be their stylish sneaker designs or their special edition packaging. Their collaboration with Fly Streetwear on the "Gardenia" SB Dunk Low turned heads thanks to its fuzzy overlays and a reimagined Swoosh, emulating the fragrant gardenia bundles central to its story. However, the packaging is potentially the most impressive part of this release. Each shoe was nestled within a handmade Chinese flower basket, lined in blue and sealed with a matching blue ribbon. It's definitely one of the more detailed packages of 2023.
15. Jarritos x Nike SB Dunk Low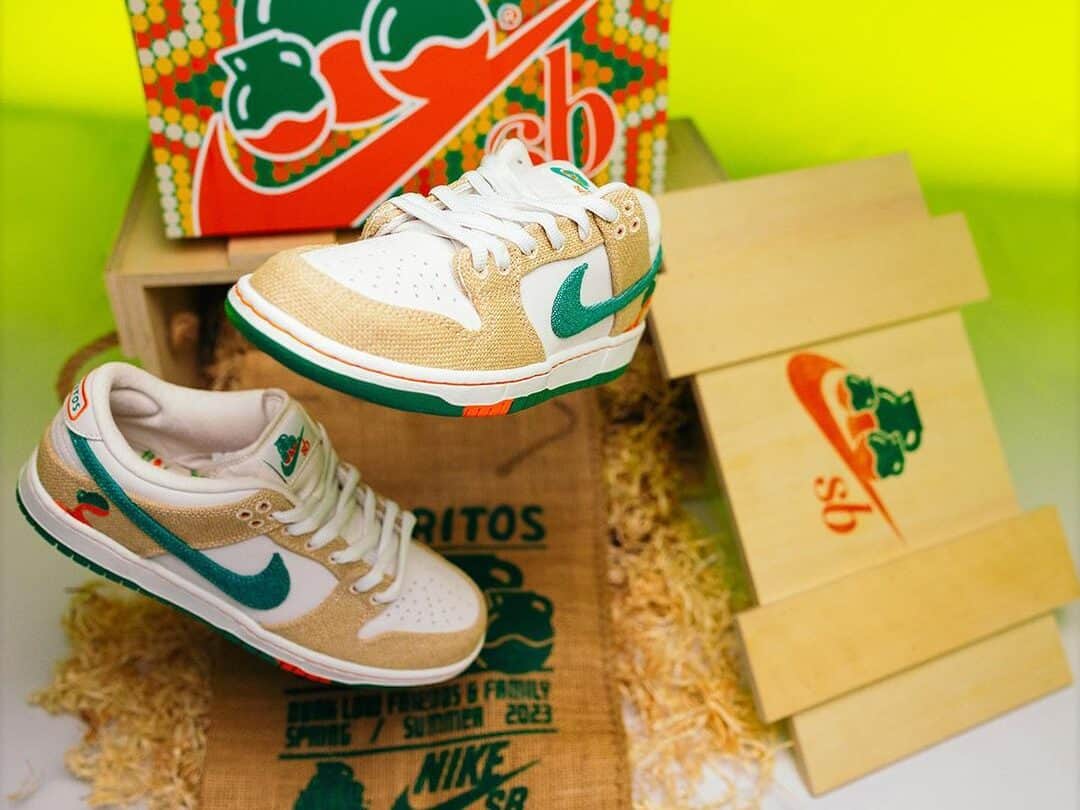 This year, Nike SB joined forces with Jarritos, a well-loved Mexican soda brand, presenting us with a visual treat. The sneaker certainly turned heads, but we must admire the special edition packaging that accompanied it. Lucky friends and family received a wooden crate modelled after traditional Mexican drink crates with a unique shoe box tucked inside. Each pair comfortably sat in a canvas fruit bag awaiting their new owner. But wait – there's more! Included in the package were co-branded Jarritos drinks, enhancing the joy of unboxing!
RELATED: 5 Beautiful Nike Sneakers Inspired by Vintage Aesthetics
BONUS BOX
16. Tiffany & Co. 23LB Silver Nike Shoe Box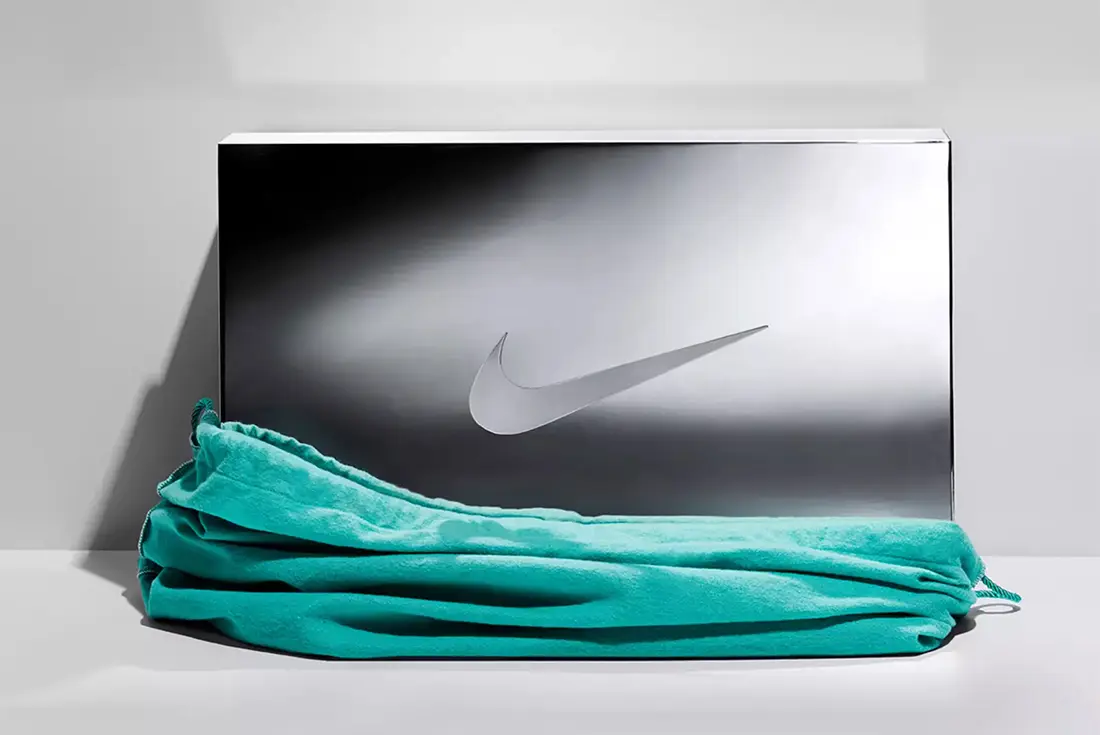 The Tiffany & Co. x Air Force 1 collaboration made its mark with a minimalist yet striking Tiffany blue box. However, it was the one-of-a-kind silver Nike shoe box that really stole the show. This unexpected surprise is crafted from .925 silver, weighs a hefty 23 pounds, and demanded a staggering 155 person-hours to create. Now resting in the hands of a seasoned investor, this spectacular box is not only a collector's item but also a testament to Tiffany & Co.'s lavish aesthetics. This box alone secures this collaboration a resounding applause and the much-deserved title of a "Legendary Pair."
Which Nike special edition packaging is your favourite?
Source: @sole_forecast, @nikesbornothing, @sonni3ds, Sneaker Freaker,Complex , Sothebys